RHINO / WEA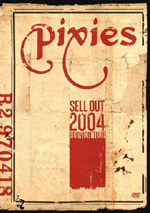 MOVIE INFO
Director:
Unknown
Cast:
The Pixies
Writing Credits:
Various
Synopsis:
One of the best and most influential bands of the 1980s, the Pixies broke up in 1992, seemingly for good. Though only together for about six years (and five albums), the Pixies earned themselves a passionately devoted fan base and became a major influence on artists ranging from David Bowie to U2 to Nirvana. Their mixture of punk, pop, and surf-rock was melodic, catchy, and--set to lead singer Black Francis's oddball lyrics - often both bizarre and innovative. In 2004 they reunited to play triumphant - and quickly legendary - comeback concerts all over the world, often in front of significantly larger and more appreciative crowds than they'd ever attracted in their first incarnation. Francis (also known as Frank Black), Kim Deal, Joey Santiago, and David Lovering hadn't missed a step since the release of the Pixie's last album, TROMPE LE MONDE, in 1991. This concert footage features excellent live renditions of some of the Pixies' best work, including "Bone Machine," "Velouria," "Where Is My Mind," "Gigantic," "Here Comes Your Man," and "Monkey Gone to Heaven." This program's main section encompasses 27 songs from the band's concert in Belfort, France; the nine bonus songs are culled from performances all over the world, from Austin, Texas, to Fuji Rock, Japan.
MPAA:
Rated NR


DVD DETAILS
Presentation:
Widescreen 1.78:1/16x9
Audio:
English Dolby Digital 5.1
English PCM Stereo
Subtitles:
None
Not Closed-captioned

Runtime: 82 min.
Price: $19.98
Release Date: 10/4/2005

Bonus:
• Bonus Performances
• MX Monkeyís Choice




PURCHASE @ AMAZON.COM

EQUIPMENT
Sony 36" WEGA KV-36FS12 Monitor; Sony DA333ES Processor/Receiver; Panasonic CV-50 DVD Player using component outputs; Michael Green Revolution Cinema 6i Speakers (all five); Sony SA-WM40 Subwoofer.


[an error occurred while processing this directive]
---
The Pixies: Sell Out (2004 Reunion Tour) (2004)
---
Reviewed by Colin Jacobson (October 7, 2005)

In their day during the late Eighties and early Nineties, the Pixies earned cult success and not much else. But a funny thing happened over the years. As time passed, more and more prominent bands showed a Pixies influence, and the music world finally caught up with them. That meant a world ripe for a comeback.

And that also meant that a band once largely ignored was able to sell better than they ever did during their first go-round. The Pixies reunited in 2004 and managed to obtain a whole new audience. People like me who dismissed them the first time realized our mistakes, and folks barely alive back then discovered them as well. The Pixies will never be a chart-topping band who appeal to a huge audience, but itís nice to see them go through this period of renewed appreciation and vitality.

We see their reunion documented on a DVD called Pixies Sell Out. The title offers an ironic pun as it implies that theyíre back just for a cash grab, but it also works in a literal sense since the band moved tickets very well during their modern shows. I guess the world caught up with them over their absence, since their reunion tour was a definite financial success.

And I suppose it was an artistic success as well, though Iím not sure this DVD documents the band terribly well. The opening version of ďBone MachineĒ presents a compilation of shots from many different shows and does so with a twist. When it cuts to a new venue, the audio changes along with the video. This can be a little disconcerting and doesnít serve much of a purpose.

Happily, the rest of the show concentrates on one concert and avoids this annoying gimmick. Most of Pixies comes from the bandís performance at a July 3, 2004 festival in Belfort France. It covers 27 tunes that span the bandís short career, albeit with a concentration on their biggest albums. We hear 11 songs from 1989ís Doolittle and another eight from 1988ís Surfer Rosa. Thereís no new material on display; indeed, itís unclear if Pixies plan to record in the studio or if theyíll just be a touring concern.

While I enjoy the Pixiesí music, I donít think theyíre a great live band. Sure, they sound just fine, but they donít do anything to offer a particularly compelling concert. Thatís largely because they simply plow through the songs and fail to expand on anything. Look at this setlist: 28 tunes with a running time of 82 minutes! Thatís less than three minutes a track, and no one in the band does anything to embellish matters. They donít chat with the audience or create any form of involving environment on stage.

Many will welcome the straight-ahead nature of the shows, and I canít say itís a problem, per se. I do like the concentration on the music and the lack of shenanigans. To be sure, itís hard to complain about a setlist with so many songs; at least it becomes less likely theyíll omit one of your favorites.

However, the show falters because of the lack of involvement. With the best performers, the times they chat with the audience are almost as entertaining as the musical numbers themselves. Heck, when I see Foo Fighters I often wish Dave Grohl would drop the songs and just yak since heís so amusing. Many others like Bowie, McCartney and Springsteen also bring out fun stories and comments that enliven the experience.

Youíll hear none of that in Pixies Sell Out. In fact, the band rarely even acknowledges the existence of the audience, as theyíre in too much of a hurry to plow through the songs. You want to tell them to slow down and enjoy the moment, but theyíre already in the next tune before you get the chance.

Another problem with the Pixies is their lack of stage presence. This is a band without much visual appeal, and they do little to enhance their stage show. They plant themselves pretty firmly in their particular spots and rarely move from them. This doesnít make for an entertaining production. No, I donít expect Ė or want - pudgy Frank Black to dance a jig, but boy, itíd be nice to see someone act like their feet arenít glued to the floor.

The DVDís producers try to enliven the show with the usual concert production tricks. We get a lot of quick-cutting to make the action seems more vital. It doesnít work, as the rapid editing just serves to annoy. Shots of the goofballs in the audience donít help. Many Americans already hate the French; when they see these boneheads, matters will get even worse.

I donít want to get too negative toward Pixies Sell Out since the music is really quite good. The setlist encompasses a broad range of material, and the band plays it all well. Unfortunately, as a concert program, Pixies lacks much life and itís simply not a lot of fun to watch.
---
The DVD Grades: Picture C-/ Audio B-/ Bonus B
---
Pixies Sell Out appears in an aspect ratio of approximately 1.78:1 on this single-sided, double-layered DVD; the image has been enhanced for 16X9 televisions. Unfortunately, the picture didnít look very good for a modern program shot on anamorphic cameras.
I often found problems with definition. Sharpness varied from pretty good to moderately flawed. Much of the time the show looked oddly loose and failed to deliver great clarity; it was generally watchable but not any better. Quite a few examples of jagged edges occurred, but shimmering wasnít a problem and I didnít notice any edge enhancement. I also found no issues with source defects.
As with many concert programs, most of the colors came from the lighting. These tended to be murky and somewhat messy. The hues appeared a bit too dense and lacked much life. Blacks were a little inky, while shadows veered into the range of slightly opaque. At times, Pixies offered pretty good visuals, but too many problems occurred for it to earn a grade over a ďC-ď.
Similar inconsistencies marred the Dolby Digital 5.1 soundtrack of Pixies Sell Out, though not to as substantial a degree. Some of these related to the soundfield. As one expects of a concert DVD, the audio usually focused on the front channels. The surrounds added a layer of crowd noise but I didnít notice any other active audio from the rear.
At times, the stereo imaging in the front lacked definition. One distraction came from the placement of Kim Dealís singing. Although she stood on the right side of the screen, her voice came from the left. This created an annoying disconnect. Other elements ended up in similarly wishy-washy spots. Guitars sometimes popped up in the expected spots, but then theyíd mush into a different realm. Usually the stereo presentation worked fine, but it failed to create a consistently broad and accurate spectrum.
Audio quality also was erratic. I noticed particular variation in the sound of the drums. Sometimes they pounded with a nice snap, while other parts seemed dull and flat. Vocals also lacked consistency, though not to the same degree. At times Blackís singing showed more ďstadium ambienceĒ than others, as it displayed varying degrees of reverb. The vocals usually appeared reasonably natural and full, though.
Guitars seemed good, as they chimed and stung well. Bass response was also solid. The mix included perfectly positive low-end material that embellished the audio. At its best, this mix sounded strong, but the lack of consistency and the various flaws meant it ended up with a ďB-Ē.
As for the DVDís extras, the big attraction comes from a collection of 14 Bonus Performances. Eight of these repeat songs found in the main program, which leaves seven ďnewĒ tracks. These come from a mix of seven different venues across the 2004 tour. For historical purposes, the songs from the Coachella Festival are the most interesting since that was their first reunion show, but all are good to see. Honestly, virtually everything comes across better here than in the French concert. Maybe that just wasnít a great night for them, but they usually seem looser and livelier in these snippets than during the full concert.
These tunes come with or without optional interview segments. With this activated, the collection lasts 58 minutes, 25 seconds. In those, we hear from tour manager Richard Jones and production manager/lighting designer Myles Mangino. They discuss what the band did after their break-up, how they reunited, and aspects of the 2004 tour. They donít tell us anything fascinating, but they add a nice behind the scenes aspect to the package. Too bad none of the band members appear, though.
An interesting extra finishes the set: MX Monkeyís Choice. This allows you to use the ďangleĒ feature to make your own version of ďMonkey Gone to HeavenĒ. It includes six different angles for a festival concert performance of the tune. Itís odd that all the musicians get their own angles except for Kim Deal, but itís still a cool way to check out the different shots.
Although I ignored them during their initial incarnation, Iíve come to like the Pixies in recent years and have developed an appreciation for their music. As a record of their tunes, you could do much worse than Pixies Sell Out, a good document of their 2004 reunion shows. However, while it succeeds musically, it doesnít make for a very interesting visual program. The band simply isnít a lot of fun to watch on stage.
The DVD offers fairly drab picture quality along with decent but erratic audio and a pretty nice set of extras. Iíd like to recommend Pixies Sell Out but find it tough to do so. The main concert is somewhat boring, and the quality of the package seems lackluster. This acts as a great compilation of the bandís work, but it falls short of becoming a really strong DVD.
| | |
| --- | --- |
| Viewer Film Ratings: 4.5 Stars | Number of Votes: 12 |