SONY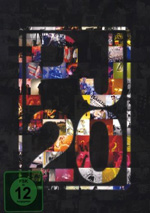 MOVIE INFO
Director:
Cameron Crowe
Cast:
Pearl Jam (Eddie Vedder, Jeff Ament, Stone Gossard, Matt Cameron, Mike McCready)
Writing Credits:
Various
Synopsis:
In honor of Pearl Jam's twentieth anniversary, Academy Award®-winning director and music journalist Cameron Crowe created a definitive portrait of the seminal band carved from over 1,200 hours of rarely and never-before-seen footage, plus 24 hours of recently shot concert and interview footage. Pearl Jam Twenty chronicles the years leading up to the band's formation, the chaos that ensued soon after their rise to megastardom, their step back from center stage, and the creation of a trusted circle that would surround them giving way to a work culture that would sustain them. Told in big themes and bold colors with blistering sound, the film is carved from over 1,200 hours of rarely seen and never before seen footage spanning the band's career. Pearl Jam Twenty is the definitive portrait of Pearl Jam: part concert film, part intimate insider-hang, part testimonial to the power of music and uncompromising artists.
Box Office:
Opening Weekend
$102.448 thousand on 10 screens.
Domestic Gross
$454.784 thousand.
MPAA:
Rated NR


DVD DETAILS
Presentation:
Aspect Ratio: 1.78:1/16X9
Audio:
English Dolby Digital 5.1
English PCM Stereo 2.0
Subtitles:
English
Dutch
French
German
Italian
Spanish
Polish
Closed-captioned
Supplements Subtitles:
None

Runtime: 120 min.
Price: $19.98
Release Date: 10/24/2011

Bonus:
• "Mike McCready Writing 'Faithfull'"
• "Jeff Ament in Montana"
• "Stone Gossard Seattle Driving Tour"
• "Boom Gaspar Joins the Band"
• "Eddie Vedder House Tour"
• "Matt Cameron Writing 'The Fixer'"
• "No Anything"
• "Come Back"




PURCHASE @ AMAZON.COM

EQUIPMENT
Panasonic 50" TH-50PZ77U 1080p Plasma Monitor; Sony STR-DG1200 7.1 Channel Receiver; Panasonic DMP-BD60K Blu-Ray Player using HDMI outputs; Michael Green Revolution Cinema 6i Speakers (all five); Kenwood 1050SW 150-watt Subwoofer.


[an error occurred while processing this directive]
---
PJ20 (Pearl Jam Twenty) (2011)
---
Reviewed by Colin Jacobson (November 2, 2011)

Back when "grunge rock" exploded in 1991, who knew that we'd still care about it 20 years later? But care we do, as evidence by two different retrospectives. The deluxe reissue of Nirvana's seminal Nevermind and related efforts allows for a renewed appreciation of a great band that left us before its time.

For a take on a band that keeps on going, we check out PJ20. In this documentary, we find a take on Pearl Jam and the long, twisty road they've followed since their debut with 1991's massively successful Ten. Narrated by writer/director Cameron Crowe, the modern interviews come from Pearl Jam members Jeff Ament, Stone Gossard, McCready, Matt Cameron and Eddie Vedder as well as musician Chris Cornell and "Kevin the T-shirt guy".

PJ20 looks at the Seattle music scene circa the mid-to-late 1980s as well the development of Ament and Gossard's pre-PJ band Mother Love Bone. From there we observe that group's 1990 dissolution after singer Andrew Wood's death due to a drug overdose and how Ament/Gossard picked up the pieces to form Pearl Jam later that year.

As it continues, PJ20 examines the band's early days and their development. We watch as Ten comes out and the band slowly grows more popular and successful to the point at which they're arguably the biggest in the world by 1993's Vs – and what they did from there.

If you expect a concise chronological history of Pearl Jam, you'll not get it from PJ20, though you also won't find a rambling, free-form offering. Much of the movie does go along a logical path, though it doesn't always dig into the usual subjects.

That's because it tends to examine the band from an emotional/experiential viewpoint rather than a simple "nuts and bolts" take. Sure, we do get the needed details about the band's formation and development, but the film barely touches on the creation of various songs/albums. How did PJ get a record contract? How did they make their recordings? I don't know, as the movie doesn't deal with these subjects.

Heck, it barely touches on the band's admittedly Spinal Tap-style parade of drummers. That's one of the more glaring omissions, honestly. Sure, the film does eventually address the subject, but not until the 85-minute mark. Even then, it rips through the topic so quickly that we barely get to know any of the drummers, much less find out how they came/went from PJ. More detail would've been nice.

Still, PJ20 does a lot more right than it does wrong. It presents a terrific array of archival clips and gets great access to the band. That means an open vault to allow the film to present a fine mix of historical elements.

PJ20 also digs into the experience of being in Pearl Jam. That's where it excels, really, as it provides a nice take on the band dynamics and how they dealt with aspects of their career. We get a good feel for what it must have been like to go through the "grunge craze" of the 1990s and live through the public pressures.

I suspect PJ20 could've run much longer and been even more satisfying, but as a two-hour feature film, it does well for itself. This is a movie that remains accessible enough for casual fans but gives enough depth to sustain more diehard partisans as well.
---
The DVD Grades: Picture C+/ Audio B-/ Bonus C-
---
PJ20 appears in an aspect ratio of approximately 1.78:1 on this single-sided, double-layered DVD; the image has been enhanced for 16X9 televisions. With its mix of new interviews and archival footage, PJ20 looked fine for this sort of program.
As always, I viewed the old material and the new shots with different expectations. The archival stuff jumped all over the place. It could look pretty good at times, but we also got some messy, clips. I didn't have any real problems with those, however, as I figured they were about as good as we could get. In any case, the flaws of the old bits didn't interfere with my enjoyment of the program. They blended just fine and didn't cause distractions.
Overall, the new footage offered nice visuals. Sharpness was usually fine, though some elements could become a bit fuzzy at times. Those instances weren't major, though, and the interviews generally appeared concise. Only a little blockiness ever occurred. Colors were reasonably natural, and no notable defects affected the new footage. Blacks and shadows followed suit, as they seemed perfectly positive. Overall, the visuals were more than acceptable for this kind of show.
As for the Dolby Digital 5.1 soundtrack of PJ20, its reliance on music made it a little livelier than I'd expect from a documentary. Songs were a nearly constant companion, and they spread to the side and rear speakers. I couldn't say that stereo delineation was always great, though, as some songs worked better than others. Still, the soundfield seemed acceptable and never became a distraction. It even threw in some effects at times, such as during the opening tour of Seattle.
Audio quality was solid. The new interview comments sounded just fine, as they offered perfectly acceptable clarity. No issues with edginess or intelligibility occurred, as they provided warm and natural tones. Music also demonstrated good range and definition, while the rare effects appeared decent. This mix did enough right to earn a "B-".
In terms of extras, we mostly find bonus clips from the members of Pearl Jam. These include Mike McCready Writing 'Faithfull' (4:49), Jeff Ament in Montana (3:42), Stone Gossard Seattle Driving Tour (5:06), Boom Gaspar Joins the Band (2:43), Eddie Vedder House Tour (9:00) and Matt Cameron Writing 'The Fixer' (2:38). Essentially, these offer deleted/extended scenes, as we see related footage in the final film. All offer some value, but the two "Writing" bits and "House Tour" are the best, as they dig into some good insights.
Two additional clips finish the set. No Anything (1:25) shows how Eddie blasted a hole in the stage at a 1993 concert and the band left through that spot, while Come Back (7:36) delivers a 2006 performance of that song in Chile. Both are interesting additions.
As a long-time Pearl Jam fan, I looked forward to PJ20, and the career retrospective didn't disappoint. Sure, it lacked some "nuts and bolts" details, but it compensated with emotional depth and insight. The DVD provides acceptable picture and audio as well as a few supplements. It's too bad the DVD doesn't pack more bonus features, but it's still a strong examination of a great band.
| | |
| --- | --- |
| Viewer Film Ratings: 4.5 Stars | Number of Votes: 2 |