PLAYBOY HOME VIDEO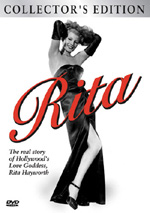 MOVIE INFO
Director:
- Unknown -
Cast:
Rita Hayworth
Writing Credits:
- Unknown -
Synopsis:
Adored by millions all over the world for her extraordinary beauty and talent as an actress and a dancer, screen legend Rita Hayworth was Hollywood's definitive femme fatale. This touching and captivating documentary illustrates the many sides of the American entertainment icon who was brash and openly sexual on camera yet charming, sincere and shy off the set. Featuring interviews with friends, family and contemporaries in addition to rare outtakes, color camera tests, behind-the-scenes footage, never-before-seen home movies and more than 300 rare photographs. DVD extras include additional archival footage, extended interview segments and a bonus disc containing Trouble in Texas, a full-length 1937 Western starring Rita and Tex Ritter.
MPAA:
Rated NR


DVD DETAILS
Presentation:
Fullscreen 1.33:1
Audio:
English Dolby 2.0
Subtitles:
None
Not Closed-captioned

Runtime: 58 min.
Price: $24.98
Release Date: 6/15/2004

Bonus:
Disc One
• Outtakes
• Additional Interviews
• Archival Footage
• Photographic Gallery
• Filmography
Disc Two
• Trouble In Texas Full-Length Feature Film




PURCHASE @ AMAZON.COM

EQUIPMENT
Sony 36" WEGA KV-36FS12 Monitor; Sony DA333ES Processor/Receiver; Panasonic CV-50 DVD Player using component outputs; Michael Green Revolution Cinema 6i Speakers (all five); Sony SA-WM40 Subwoofer.


RELATED REVIEWS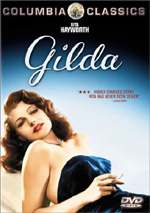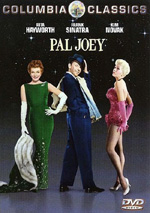 [an error occurred while processing this directive]
---
Playboy: Rita (2003)
---
Reviewed by Colin Jacobson (August 11, 2004)
They had style, they had grace/Rita Hayworth gave good face - Madonna, "Vogue"
One of Hollywood's original sex goddesses, Rita Hayworth lit up the screen and became a dream girl for the masses during World War II. Narrated by Kim Basinger, Rita combines movie clips, archival materials, and interviews. We hear from actors Nicole Kidman, Anthony Franciosa, Marc Platt, Ann Miller, Terry Moore, Eli Wallach, Tab Hunter, Juanita Moore, and Michael Callan, daughter Princess Yasmin Aga Khan, sister-in-law Theresa Cansino, nephew Richard Cansino, writer/producer James Hill, friend/makeup artist Bob Schiffer, casino employee/WWII veteran Don MacLean, Columbia employee Bob Board, agent Budd Moss, and directors Vincent Sherman, Delbert Mann and George Sidney. We also get some old audio comments from Hayworth.
The film follows Hayworth's early life and family, the development of her career as a dancer, her movement into movies and her first marriage, her growth in the industry and various problems and successes, and her emergence as a major star. It delves into Hayworth's romances and additional marriages, various personal highs and lows, the impact of Gilda, battles with the press, personal and professional developments with Orson Welles. Eventually it gets into Hayworth's departure from Hollywood to marry Prince Aly Khan and eventual stresses there, her return to Hollywood and ensuing poor roles, additional personal problems, comeback attempts and even more marriages. Lastly, we learn about her later years and her descent into alcoholism and Alzheimer's Disease.
Much of the program focuses on a general look at Hayworth's personality. We learn how her public personality differed from her action character. The show especially emphasizes the negative role of men in her life, as we hear about how her many husbands used, manipulated, and occasionally abused Hayworth.
For the most part, Rita gives us a fairly good look at both personal and professional issues. At times, it seems somewhat rudimentary, as it progresses in a logical but low-key way. It lacks a dynamic feel, which causes problems since it doesn't convey Hayworth's sex appeal and spark. Hayworth was a major babe in her day, but we don't get that feeling strongly from the program.
It also comes across as a bit sensationalistic at times. Did we need to hear Sherman's story about bedding Hayworth? No, and it comes across as tacky. In addition, the show gives us some odd juxtapositions, such as when Rita implies Citizen Kane came out in the late Forties.
Still, despite some flaws, Rita covers its subject pretty well. It balances her personal and professional issues tightly, though it does emphasize the former areas. I'd have preferred more discussion of her work, but the dynamic gives us a decent glimpse of her films. Although Rita doesn't offer a stellar documentary, it presents a reasonably informative piece.
---
The DVD Grades: Picture C/ Audio C/ Bonus B
---
Rita appears in an aspect ratio of 1.33:1 on this single-sided, single-layered DVD; due to those dimensions, the image has not been enhanced for 16X9 televisions. The picture quality of Rita seemed acceptable but unexceptional.
Any program with this much archival footage will be tough to rate, but Rita appeared watchable. Sharpness varied, and I found the new interview footage to look a little soft at times. Those shots came across as a bit muddy and flat, and they lacked much pizzazz. They failed to present strong clarity, and colors seemed somewhat bland and flat. The hues appeared reasonably positive, but they didn't present much depth or flair. Source flaws seemed absent during the newly-created moments.
Archival materials varied quite a lot, as one might expect. Rita included footage that dated as far back as seven decades, so some of the work demonstrated a lot of flaws. Nonetheless, those pieces came across as reasonably clean and distinct given their age. Some edge enhancement appeared throughout the program. For the archival footage, colors seemed erratic but usually tended to be somewhat flat and drab. Ultimately, Rita looked watchable but nothing better than that.
The monaural soundtrack of Rita remained modest from start to finish. Audio quality appeared decent but unexceptional. Speech sounded reasonably distinct and natural, and I noticed no issues related to edginess or intelligibility. Effects played an extremely small role in the production, but they came across as clean and accurate. Music popped up virtually constantly throughout the show, but it remained a background element. The score was subdued but it seemed acceptably vibrant and bright. Ultimately, the audio of Rita appeared lackluster but worked fine for this sort of program.
A pretty solid roster of extras fills out the package. On DVD One, we start with Outtakes. This presents additional comments from interview subjects Michael Callan (34 seconds), Richard Cansino (1:57), Anthony Franciosa (0:41), Ann Miller (0:48), Princess Yasmin Aga Khan (1:05), Robert Schiffer (0:44), Eli Wallach (1:25), Delbert Mann (1:47), Marc Platt (1:20), and Juanita Moore (0:35). Obviously due to the length of the segments, not much of depth pops up here. Many of the comments deal with personal reflections of Rita, and they emphasize the effect of her Alzheimer's.
Similar material shows up in Additional Interviews. This area includes comments from two folks who didn't make the final cut of Rita: Ruta Lee (1:40) and Robert Walker Jr. (0:46). That's it? Couldn't the sessions from these two provide more than two minutes, 26 seconds of comments? Maybe these are the only moderately interesting statements from the pair, which could be why they didn't show up in the completed project.
Within Additional Archival Footage we get a few interesting bits. This area includes "Additional Clip from the Carol Burnett Show" (1:00), "Rita's honeymoon with the Prince Aly Khan" (1:41), and "Additional clips from personal home movies" (5:10). The Burnett piece is fun, though it's too bad the DVD doesn't show it from start to finish. The other two mostly consist of silent footage accompanied by some explanatory text. Nephew Richard Cansino and daughter Princess Yasmin Aga Khan also provide a few details around some of the snippets.
DVD One finishes with some basics. The Photographic Gallery offers a running three-minute and 49-second program of stills. We get 39 of them, and they seem like a nice collection. Filmography lists all her movie appearances along with the studios that produced the flicks, the years of release, and the identity of Rita's characters.
On DVD Two, we get one component: the 1937 Hayworth flick Trouble in Texas. The movie lasts 63 minutes and also stars Tex Ritter. Picture and sound quality seem absolutely dreadful, even for a film of this era. The movie itself is no better. Incompetently directed, stiffly acted, and generally silly, Trouble is a cool addition to the DVD for archival reasons, but the flick itself stinks.
No doubt about it – Rita Hayworth was a classic babe, and the documentary Rita offers a competent examination of her life and career. It rarely shines, but it also infrequently falters, as it explores its subject fairly well. The DVD presents adequate picture and sound with a decent set of supplements. With an MSRP of almost $25, Rita seems somewhat pricey for what you get, but the package nonetheless does its job.
| | |
| --- | --- |
| Viewer Film Ratings: 4.125 Stars | Number of Votes: 8 |