PARAMOUNT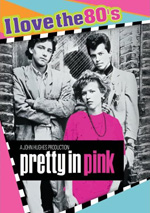 MOVIE INFO
Director:
Howard Deutch
Cast:
Molly Ringwald, Harry Dean Stanton, Jon Cryer, Annie Potts, James Spader, Andrew McCarthy, Jim Haynie, Alexa Kenin, Kate Vernon, Andrew Dice Clay, Emily Longstreth, Margaret Colin, Jamie Anders, Gina Gershon
Writing Credits:
John Hughes
Tagline:
Blane's a pretty cool guy. Andie's pretty in pink. And Ducky's pretty crazy.
Synopsis:
Pretty but poor, Andie's (Molly Ringwald) a good student who develops a crush on Blane (Andrew McCarthy), the sensitive, well-born preppie. But Blane runs with a fast crowd of haughty rich kids, the kind of clique Andie and her new wavy best friend Duckie (Jon Cryer) can't stand. Going against her fretting father (Harry Dean Stanton), peer pressure and social expectations, she decides to date him. But their big plans for the senior prom ultimately fall apart when Blane heeds his friend Steff's (James Spader) warning to "quit slumming." Will Blane find the courage to claim what he really wants and give up the so-called friends he doesn't need?
This classic 1980s teen film from the master of the genre, writer-producer John Hughes features plenty of great '80s pop tunes from the Psychedelic Furs, The Smiths, Echo and The Bunnymen, New Order, and more. The continued success of Hughes' films and actors ushered in the era of the "brat pack" and teen films as pop culture.
Box Office:
Opening Weekend
$6.065 million on 827 screens.
Domestic Gross
$40.471 million.
MPAA:
Rated PG-13


DVD DETAILS
Presentation:
Widescreen 1.85:1/16x9
Audio:
English Dolby Digital 5.1
English Dolby Surround 2.0
French Monaural
Subtitles:
English
Closed-captioned
Supplements Subtitles:
None

Runtime: 96 min.
Price: $14.99
Release Date: 8/5/2008

Bonus:
• Bonus CD




PURCHASE @ AMAZON.COM

EQUIPMENT
Sony 36" WEGA KV-36FS12 Monitor; Sony DA333ES Processor/Receiver; Panasonic CV-50 DVD Player using component outputs; Michael Green Revolution Cinema 6i Speakers (all five); Sony SA-WM40 Subwoofer.


[an error occurred while processing this directive]
---
Pretty In Pink: I Love The 80's Edition (1986)
---
Reviewed by Colin Jacobson (August 6, 2008)

After the success of 1984's 16 Candles and 1985's The Breakfast Club, filmmakers John Hughes returned to the teen angst well with 1986's Pretty in Pink. The film introduces us to high school senior Andie Walsh (Molly Ringwald). She lives with her boozehound, underachieving dad Jack (Harry Dean Stanton) and maintains her own quirky sense of individuality at school. She debates whether she wants to attend the upcoming prom, an issue complicated since most of the guys she attracts aren't her type. Nerdy Duckie Dale (Jon Cryer) crushes on her, but she doesn't feel any sizzle for him, and smarmy Steff (James Spader) just wants to use her for sex.

Into her life steps rich kid Blane McDonnagh (Andrew McCarthy). They share a few fleeting moments but don't get a chance to truly connect. When they finally make a date, she's too embarrassed by her impoverished home life to have him pick her up there. The film follows their attempts to overcome the rich vs. poor peer pressures that affect their relationship, and we also see what their interactions do to Duckie and some others.

Since I was in my teens when Hughes' flicks hit it big, I was a part of their basic target audience. This means that if nothing else comes from screenings of his works 20 years later, I should probably dig them for basic nostalgia value. Unfortunately, the dull and forgettable Pink can't even muster that level of interest in me.

Maybe the problem stems from the fact that Pink shoots for more of a feminine audience. I suppose this acts as a chick flick fantasy for all the quirky girls who can maintain the dream that they can be themselves, beat the generic blonde girls and get the smart, sensitive cute boy. I don't know if this ever happens in real life, but those misfit babes sure ate up this tripe.

Frankly, I could never figure out why all these guys were so attracted to Andie. I guess I understand Duckie since he's a weirdo, but the others think she's way hotter than she really is. She's not particularly good-looking, and she dresses like a New Wave bag lady. I certainly see no particularly memorable or endearing personality traits in Andie, so we have to believe that her looks and her looks alone lure in the non-Duckies of the world. I just find that tough to accept.

I hate to admit it, but I identify more with Duckie than anyone else in the movie. That means I should like him the most, but honestly, I couldn't stand the little freak. Duckie's far too annoying to be the lovable loser. He feels like an artificial cinematic creation and he just gets on my nerves. I really grew to hate him as the film progressed. Duckie's charmless and irritating, issues exemplified by the long, pointless bit in which he lip-synchs to "Try a Little Tenderness".

Pink is as Eighties as it gets. From the music, fashions, and general style, it hasn't aged particularly well, so it serves as little more than an exercise in nostalgia. Maybe I'm just too far from my high school years to connect to this kind of thing, but I'd think that should carry it to some degree. Unfortunately, we just get unmemorable characters without much of interest to move along the plot.

Footnote 1: if you want to see the one scene that most dates the movie, head to chapter 13 to check out Iona's (Annie Potts) "modern" outfit. She's another one with a quirky sense of fashion, so we're supposed to think she looks great when she goes Eighties. This is actually the worst look she sports at any time during the movie, a fact that makes the scene laughable.

Footnote 2: Pink presents a few interesting glimpses of actors who'd go on to bigger things later. Andrew "Dice" Clay shows up as the nightclub bouncer, and Gina Gershon plays a student. Margaret Colin also pops up as a teacher and Kristy Swanson is the girl who ends up with Duckie. No, none of these folks became enormo-stars, but it's fun to check them out in these small parts.
---
The DVD Grades: Picture C+/ Audio C+/ Bonus D
---
Pretty in Pink appears in an aspect ratio of approximately 1.85:1 on this single-sided, double-layered DVD; the image has been enhanced for 16X9 televisions. Pink provided a decent but erratic presentation.
Sharpness seemed fairly distinct and detailed, though the movie displayed some general blandness that was likely due to the film stock of the era. Many Eighties pictures haven't held up especially well in this regard, and Pink looked like a product of its era. Exterior shots appeared nicely crisp and clear, but interiors could be somewhat drab and flat. I saw no problems with jagged edges or shimmering, but I noticed moderate edge enhancement at times. Print flaws cropped up on a fairly consistent basis. I saw a smattering of specks as well as some small hairs and blotches. These never became heavy, but they were a distraction.
Colors appeared acceptably natural and accurate throughout the movie, but at times they could look drab and bland. The worst examples occurred during interior shots, which were a bit murky. The red lighting of a nightclub was especially muddy. Exteriors offered better definition and looked pretty solid. Black levels seemed acceptably dark though a little dull, and shadow detail was similarly flat. Low-light scenes generally appeared fairly easy to discern, but they looked too lackluster to be anything impressive. This was a watchable transfer but not any more than that.
I felt the same about the lackluster Dolby Digital 5.1 soundtrack of Pretty in Pink. The forward spectrum dominated and showed some decent stereo imaging. The music spread cleanly across the front speakers, and I also heard occasional use of discrete effects. These panned relatively well across the channels, and the forward audio seemed cleanly integrated. Very little came from the surrounds. They throw out some musical reinforcement but little else.
Audio quality wasn't impressive. Speech seemed fine, though, as the lines only suffered from a smidgen of edginess. Usually they were clean and distinctive. Effects played a minor role. They appeared acceptably accurate but not particularly rich. Music was the biggest disappointment. Bass response was an issue, as the various pop/rock songs lacked notable low-end. All of this left us with a rather mediocre soundtrack.
How did the picture and sound of this 2008 "I Love the 80s Edition" compare to those of the special edition from 2006? For the most part, I thought the pair were comparable. The 2006 disc seemed a little cleaner, but not by a ton. Overall, the two releases had a lot in common.
This "80s Edition" of Pink actually is a reissue of the movie's original release from 2002. That means it drops the extras from the 2006 SE but it throws in a Bonus CD with four hits from the era. We find INXS's "Need You Tonight", a-ha's "Take On Me", Echo and the Bunnymen's "Lips Like Sugar" and Erasure's "Chains of Love". I have no clue how they chose these songs and why we get a mere four. I suppose the disc is a decent extra if you want the DVD anyway, but I can't imagine it'll be a decision-maker for any fans on the fence about this disc.
In the Eighties, John Hughes milked teen drama for all it was worth, but that doesn't mean he did so with consistent success. As someone who went to high school in that era, I should enjoy this nonsense if just due to my memories, but Pretty in Pink is so overwrought and cheesy that I found it tough to take. The DVD presents fairly mediocre picture and audio along with no substantial supplements.
Fans of Pink will want to go with the 2006 Special Edition. It provided slightly superior picture quality along with more significant extras. All that and it actually retails for a couple dollars less than this "I Love the 80s" version. Skip this one and go with the SE.
To rate this film visit the "Everything's Duckie" Edition review of PRETTY IN PINK