WARNER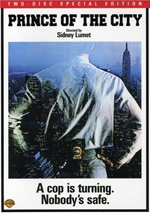 MOVIE INFO
Director:
Sidney Lumet
Cast:
Treat Williams, Jerry Orbach, Richard Foronjy, Don Billett, Kenny Marino, Carmine Caridi, Tony Page, Norman Parker
Writing Credits:
Robert Daley (book), Jay Presson Allen, Sidney Lumet
Tagline:
A cop is turning. Nobody's safe.
Synopsis:
Based on a true story, Prince of the City stars Treat Williams as Danny Ciello, a conflicted New York cop who reluctantly decides to go undercover for the feds to ferret out police corruption. At first, he recklessly gets off on the danger, but as the feds tighten the screws, the guilt-wracked Ciello is forced to compromise his partners and friends, and his own checkered past inexorably catches up with him.
Box Office:
Budget
$75 million.
Opening Weekend
$45.033 million on 3471 screens.
Domestic Gross
$102.543 million.
MPAA:
Rated PG-13


DVD DETAILS
Presentation:
Widescreen 1.85:1/16x9
Audio:
English Monaural
French Monaural
Subtitles:
English
French
Spanish
Closed-captioned
Supplements Subtitles:
None

Runtime: 167 min.
Price: $19.98
Release Date: 5/22/2007

Bonus:
• "Prince of the City: The Real Story" Featurette
• Trailer




PURCHASE @ AMAZON.COM

EQUIPMENT
Panasonic 50" TH-50PZ77U 1080p Plasma Monitor; Harman/Kardon DPR 2005 7.1 Channel Receiver; Toshiba A-30 HD-DVD/1080p Upconverting DVD Player using HDMI outputs; Michael Green Revolution Cinema 6i Speakers (all five); Kenwood 1050SW 150-watt Subwoofer.


RELATED REVIEWS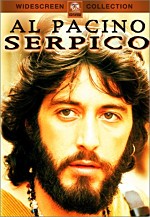 [an error occurred while processing this directive]
---
Prince Of The City: Special Edition (1981)
---
Reviewed by Colin Jacobson (February 27, 2009)

In the spirit of gritty police dramas such as 1973's Serpico comes 1981's Prince of the City. Here we meet Detective Danny Ciello (Treat Williams), a member of the NYPD's elite narcotics Special Investigations Unit (SIU). When District Attorney Richard Cappolino (Norman Parker) looks into police corruption, he starts his search with the SIU. They're some of the most powerful cops, regarded as "princes of the city".

Danny steadfastly denies any corruption in the SIU, but he knows the truth – especially since he participates in various sordid activities. Danny's guilt gnaws at him and he eventually agrees to participate in the investigation. This puts him in a series of dangerous situations. The film depicts these as we watch Danny's tortured journey.

I suppose it shouldn't come as a surprise that Prince reminds me of Serpico since Sidney Lumet directed both. However, Prince comes across as both more three-dimensional and less believable at the same time. On one hand, this flick paints Danny as a more complicated character when compared to the heroic Serpico. Danny shows all sorts of flaws, while Serpico was pretty true-blue.

Unfortunately, as played by Williams, Danny feels thinly drawn. Williams turns in a broad, cartoony performance with little to no psychological depth. He either seems so hyper that we think Danny's coked up, or he's mopey and weepy. Williams doesn't appear able to find any middle ground. Danny remains a superficial character in whom we rarely invest any emotion or interest. He may be the movie's lead, but in Williams' hands, he can't ground the story.

Lumet also fails to create a coherent story here. Perhaps the nature of the tale – inspired by real events – made it more difficult to form a concise narrative, but I think Lumet could've done better. While I understand that the story covers a great deal of factual territory, I feel it needs to be whittled down into something tighter and more dynamic.

At nearly three hours, Prince is a long movie. Even worse, it feels long. Lumet takes a somewhat scattershot and episodic approach to the material, and that makes it disjointed and plodding. The film fails to concentrate on anything specific for long enough to involve us. Instead, it flits from one subject to another and never coalesces into anything absorbing.

Another problem stems from the simplistic nature of the film's themes. Early on we see that the ostensible bad guys – the corrupt cops – will be viewed as loyal and true, while the feds that pursue them seem self-absorbed and opportunistic. Lumet doesn't present this concept in a subtle manner. He beats us over the head with it and rarely allows for any shades of gray. Danny "does the right thing" and gets rewarded with tragedy. I'm not quite sure what point Lumet wants to make, other than "never rat on your friends", but it doesn't work.

I respect Lumet as a filmmaker but Prince of the City ends up as a definite disappointment. Dull, excessively long and plodding, it fails to generate much heat or drama. Instead, it saunters along for almost three hours of slow storytelling.

Quirky cast footnote: both Bob Balaban and Lance Henriksen appear here as feds. Four years earlier, that pair served as assistants to the Francois Truffaut character in Close Encounters of the Third Kind.
---
The DVD Grades: Picture C/ Audio C/ Bonus C
---
Prince of the City appears in an aspect ratio of approximately 1.85:1 on these single-sided, double-layered DVDs; the image has been enhanced for 16X9 televisions. Overall, the DVDs offered a rather drab and flat picture that usually seemed watchable but no better.
Sharpness generally looked adequately distinct, but much of the movie appeared somewhat soft and ill-defined. I didn't feel that the movie looked terribly unfocused, but a general fuzziness often occurred that left the image vaguely unclear. No significant examples of moiré effects or jagged edges appeared, but I did witness some instances of edge enhancement, and print flaws were a modest concern. Light grain manifested itself during a number of scenes, and I also occasionally witnessed a few specks. It wasn't a consistently dirty image, but it could've been cleaner.
No one should feel surprised to learn that a gritty drama like Prince offered a muted palette. The film left many of the hues as muddled and lackluster. Granted, exceptionally vivid colors would have seemed out of place, but the dinginess of the hues appeared excessive. Black levels came across as similarly thin, and shadow detail displayed some problems. This was a mediocre transfer.
Similarly lackluster was the monaural soundtrack of Prince of the City. The flick offered a very chatty experience, and dialogue strongly dominated the film. Music appeared occasionally but infrequently, and effects usually remained subdued; a few scenes became louder, but the vast majority of the movie stuck with minor ambience.
Audio quality appeared thin but acceptable. Midrange seemed most prevalent, as highs were somewhat flat and bass response appeared minor. Speech came across as trebly and tinny with some signs of edginess. Effects were also less-than-distinct but they represented their objects adequately and lacked significant distortion. In regard to the music, the elements were flat and without much definition. Ultimately, the audio lacked any serious flaws, but it seemed bland and uninvolving nonetheless.
Though Prince comes as a two-disc set, you shouldn't expect a ton of extras. In addition to the flick's trailer, we get a featurette called Prince of the City: The Real Story. The 28-minute and 35-second show mixes movie clips, archival materials and interviews. We hear from director/screenwriter Sidney Lumet, "real Danny Ciello" Robert Leuci, author Robert Daley, screenwriter/executive producer Jay Presson Allen, production designer Tony Walton, producer Burtt Harris, and actors Treat Williams, Lance Henriksen, and Bob Balaban. "Story" looks at the facts behind the film, what life was like on the SIU and aspects of the subsequent investigation. It also gets into the source book by Leuci and Daley and its adaptation for the screen, cast and performances, cinematography, locations and sets, Lumet's work during the shoot, and reactions to the flick.
"Story" tries to cover a lot of ground in a fairly short period of time. Along the way it cuts some corners and doesn't dig into the subjects as well as I'd like, but it still proves pretty interesting. The show manages to be concise as it goes through all the different topics. This ends up as an informative piece that I simply wish lasted longer.
I wanted to like Prince of the City but found a flick that disappointed. Too long, too slow and too disjointed, it takes a promising premise and squanders it. The DVD provides mediocre picture and audio. I like the set's featurette, but since that's the only supplement, that side of things doesn't satisfy. I can't recommend Prince as either a film or as a DVD.
| | |
| --- | --- |
| Viewer Film Ratings: 3 Stars | Number of Votes: 6 |