WARNER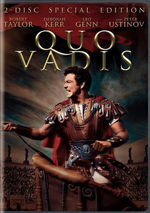 MOVIE INFO
Director:
Mervyn LeRoy
Cast:
Robert Taylor, Deborah Kerr, Leo Genn, Peter Ustinov, Patricia Laffan, Finlay Currie, Abraham Sofaer, Marina Berti, Buddy Baer
Writing Credits:
S.N. Behrman, Sonya Levien, John Lee Mahin, Henryk Sienkiewicz (novel)
Tagline:
Three Years in the Making! Thousands in the Cast! Filmed in Rome!
Synopsis:
Quo Vadis is a fabulous saga that dramatizes a decaying Rome under the rule of an insipid, grandiose Nero. All the accoutrements of Ancient Rome are depicted here: chariot races, persecuted Christians battling lions in the arena, Nero's extravagant lifestyle, Rome going up in flames, and more. This was the biggest of the Biblical box-office blockbusters in its time. Peter Ustinov's performance as the lazy, debauched Nero is a standout.
Box Office:
Budget
$7.623 million.
MPAA:
Rated NR


DVD DETAILS
Presentation:
Fullscreen 1.33:1
Audio:
English Monaural
French Monaural
Subtitles:
English
French
Japanese
Spanish
Closed-captioned
Supplements Subtitles:
Japanese
Thai

Runtime: 174 min.
Price: $20.97
Release Date: 11/11/2008

Bonus:
• Audio Commentary with Film Historian FX Feeney
• "In the Beginning: Quo Vadis and the Genesis of the Biblical Epic" Documentary
• Trailers




PURCHASE @ AMAZON.COM

EQUIPMENT
Panasonic 50" TH-50PZ77U 1080p Plasma Monitor; Harman/Kardon DPR 2005 7.1 Channel Receiver; Toshiba A-30 HD-DVD/1080p Upconverting DVD Player using HDMI outputs; Michael Green Revolution Cinema 6i Speakers (all five); Kenwood 1050SW 150-watt Subwoofer.


---
Quo Vadis: Special Edition (1951)
---
Reviewed by Colin Jacobson (October 5, 2008)

Although Biblical epics have been around almost since movies began, they didn't really come into their own until the 1950s. For a look at a seminal effort in that genre, we examine 1951's Quo Vadis. The flick takes us to Rome circa 64 AD during the reign of Emperor Nero (Peter Ustinov). Led by Marcus Vinicius (Robert Taylor), the 14th legion returns to Rome after a long campaign but finds their path altered by an imperial order.

The Emperor asks Vinicius and his soldiers to wait for the arrival of another army before they re-enter Rome. During this sojourn, Vinicius visits the estate of General Plautius (Felix Aylmer), and he makes the acquaintance of the General's semi-adopted daughter Lygia (Deborah Kerr). Vinicius tries to woo Lygia, but she initially resists his charms, largely due to religious differences, as Lygia is a Christian.

Vinicius doesn't readily accept defeat, though, so he plots to obtain Lygia – by any means necessary. Though Plautius views Lygia as his daughter, she's really a hostage and under the control of the state. Vinicius gets Nero to bring her to the palace so he can attempt to force himself on her. This he does, as he takes formal custody of her whether she likes it or not.

This doesn't last. Christians smuggle Lygia out of town, so Vinicius chases after her. Eventually he learns about Christianity, and Lygia slowly tries to bring him over to her cause. We follow their relationship, related complications, and the destruction of Rome.

I suppose Quo Vadis deserves credit as a pioneering effort in the Biblical epic domain, and it does wear its grand ambitions on its sleeve. As the DVD's case touts, it boasts "110 speaking parts, 30,000 participants and a filmed-on-location panoply of marching legions, and magisterial spectacle". Indeed it does, as the movie often offers excellent production values; though some scenes feature obvious soundstages, much of the flick looks great.

Unfortunately, the epic scope of the production proves to be its sole true asset. Or almost its only positive element, as at least two of the actors rise above the material. Ustinov excelled at the portrayal of fatuous gasbags, and in Nero, he found his match. The Emperor was one of history's all-time great fatuous gasbags, so Ustinov connects well with the part. He gives the role the appropriate level of dithering madness and brings the movie to life whenever he appears.

Too bad the rest of Vadis tends to amble and bore. I expect a certain level of vivacity from an epic of this sort, but the flick almost completely lacks any sense of energy. I wouldn't mind so much that the film comes without the great drama of better-known epics like Ben-Hur, but I need something more compelling than this. Vadis provides such a long-winded affair that it rarely provokes our interest. Instead, it plods along without much to keep us involved.

I will admit that the flick's second half manages to provide greater drama. Rome burns, nobles commit suicide, and lions devour Christians. That should be enough to give the movie oomph, and I expect it would – if any of this occurred during its first 90 minutes. By the time something actually happens in Vadis, it feels like too little, too late. The tedium of the film's first half means that we just don't care very much when the tale takes a more dramatic turn.

Except for Ustinov, most of the actors do little to add to the project. Leo Genn deserves credit for his sly, subtle performance as Petronius. Genn shows a real James Mason vibe, and he pulls off the part with nice dry wit. He and Ustinov are the class of the film.

Otherwise, the actors falter. I didn't used to think much of Charlton Heston, but the more I see of bland non-entities like Taylor and Fall of the Roman Empire's Stephen Boyd, the more I appreciate Heston's charismatic charms. Put bluntly, Taylor feels all wrong here. He's too flat, too stupid and too insipid. As you watch Taylor, you wonder how Vinicius rose above the rank of spear carrier; he seems like a meathead.

While certainly much more talented than Taylor – Kerr can't do much with Lygia. Lovely but lifeless, she tends to sleepwalk through the flick. At no point does Kerr threaten to make Lygia an intriguing character; like much of the rest of the film, she just blends into the scenery.

And it's appealing scenery much of the time, though as I mentioned, those soundstages tend to sabotage the grandness of the flick's bigger sequences. Unfortunately, Quo Vadis doesn't have nearly enough to offer to keep us occupied over its nearly three-hour running time. Expect a lot of blather and insufficient drama.
---
The DVD Grades: Picture C+/ Audio C/ Bonus B-
---
Quo Vadis appears in an aspect ratio of 1.33:1 on these single-sided, double-layered DVD; due to those dimensions, the image has not been enhanced for 16X9 televisions. Across the board, this was a pretty average transfer.
Some of the problems stemmed from source flaws. Throughout the movie, I detected examples of specks, marks, blotches, nicks and other small distractions. These weren't a consistent nuisance, though, as they seemed most prominent during the film's first act. I saw some weird jumps as well, such as at the 52:48 mark, when the image of Petronius showed a strange color-related blip.
Sharpness seemed erratic. Parts of the movie looked concise and distinctive, but others came across as rather muddy and soft. No rhyme or reason accompanied these variations, as they'd pop up in the same scene; it wasn't like I could pinpoint specific locations during which more notable softness materialized. I noticed no issues with jagged edges or shimmering, but mild edge enhancement appeared at times.
Like everything else, colors varied. Some shots looked lively and dynamic, but others came across as runny and flat. I'd say the majority of the hues seemed good, but those elements lacked consistency. Blacks were reasonable dark and dense, while shadows appeared acceptable. A few shots looked a bit too thick, but the low-light images were usually fine. Given the movie's age, I thought it merited a "C+", but it didn't do much to impress.
I found the monaural sound of Quo Vadis to seem acceptable for its era but no better. Dialogue tended to be thin and without much fullness. Though the lines remained intelligible, they also suffered from some edginess.
Music also suffered from lackluster definition. Louder passages showed shrill qualities, and the score could be a bit rough, though it usually seemed decent. Similar tendencies affected the effects, which were clear but not particularly lively. The problems didn't seriously damage the audio, but this remained a mediocre track.
When we head to extras, we start with an audio commentary from film historian FX Feeney. He offers a running, screen-specific look at cast and crew, the film's development, story and the adaptation of the source material, themes, historical elements, and basic production notes.
Feeney starts out well but loses steam before too long. Granted, I can't fault him too much for that, given the movie's length, it's tough to provide strong content for such an extended period. Still, the film's first half proves much more informative, so expect spotty material during the final 90 minutes.
I do like much of what Feeney tells us. He combines useful production notes with some neat trivia to make this a reasonably informative piece. I especially like the details about John Huston's early involvement, especially since it sounds like his version of Quo Vadis would've been more effective. Sure, the commentary fades as it goes, but it's still worth a listen.
DVD One includes some trailers. This area includes both the theatrical and teaser promos for Vadis.
Over on DVD Two, we get a documentary called In the Beginning: Quo Vadis and the Genesis of the Biblical Epic. In this 43-minute and 51-second show, we find a mix of movie clips, archival elements, and interviews. We hear from Feeney, University College London's Dr. Maria Wyke, Gladiator writer/producer David Franzoni, USC School of Cinematic Arts' Dr. Drew Casper and Dr. Richard B. Jewell, Royal College of Art rector Sir Christopher Frayling, AFI's Patricia King Hanson, film critic/historian Richard Schickel, matte artist's son Harrison Ellenshaw, film historian Rudy Behlmer, and Epic Films author Gary Smith. The show looks at the source material and early adaptations, the development of the 1951 Quo Vadis and related snarls, cast and performances, the director's impact on the project, sets and locations, the film's grand scale and various effects, the score, the flick's release and reception, and its legacy.
Overall, "Beginning" provides a good look at Quo Vadis. We find some inevitable repetition after the commentary, but there's actually not a ton of redundant material. I especially like the glimpses of the silent versions of the flick, and we get a lot of nice perspective from this informative piece.
1951's Quo Vadis may have done much to launch the Biblical epic as a film genre, but that doesn't make it good. Despite some strong production values and a solid supporting turn from Peter Ustinov, too much of movie shoots itself in the foot with bland performances and a slow story. The DVD provides fairly average picture and audio along with a few useful extras. I can't say this long, dull epic does anything for me.
| | |
| --- | --- |
| Viewer Film Ratings: 3.9 Stars | Number of Votes: 10 |