PARAMOUNT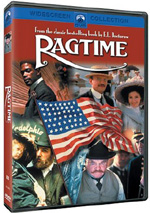 MOVIE INFO
Director:
Milos Forman
Cast:
James Cagney, Brad Dourif, Moses Gunn, Elizabeth McGovern, Kenneth McMillan, Pat O'Brien, Donald O'Connor, James Olson, Mandy Patinkin
Writing Credits:
E.L. Doctorow (novel), Michael Weller
Tagline:
The passion, the violence, the birth of America's Gilded Age.
Synopsis:
Based on the acclaimed and popular E.L. Doctorow novel, Ragtime tells the intricate story of four New York families - three of which are fictional--at the turn of the 20th century, each indicative of that time in American history, and highlighting some of the downsides of following the American Dream. Starving immigrant artist Tateh (Mandy Patinkin) will eventually set off to make his fortune in Hollywood, but not without a chance encounter with Evelyn Nesbit (Elizabeth McGovern in the role of the real-life showgirl). Nesbit was the center of the infamous (and, in the film, the very compelling) Thaw-White murder case, in which her mentally unstable millionare husband Harry K. Thaw (Robert Joy) murdered her lover, the famed architect Stanford White (Norman Mailer). Another storyline follows the disintegration of an upper-class American family headed by Mary Steenburgen (simply named Mother) and James Olson (Father). Their seemingly perfect existence is shattered when black ragtime pianist Coalhouse Walker (Howard E. Rollins), loosely modeled on Scott Joplin, begins to romance a pregnant young woman living in their home (Debbie Allen). Walker, a dignified man, turns to rage when he is tormented by local racists. One of the most impressive moments in this ambitious film is the appearance of veteran actor James Cagney who, at 81, plays feisty Police Commissioner Waldo.
Box Office:
Domestic Gross
$21.015 million.
MPAA:
Rated PG


DVD DETAILS
Presentation:
Widescreen 2.35:1/16x9
Audio:
English Dolby Digital 5.1
English Monaural
French Monaural
Subtitles:
English
Closed-captioned

Runtime: 155 min.
Price: $14.99
Release Date: 11/16/2004

Bonus:
• Audio Commentary with Director Milos Forman and Executive Producer Michael Hausman
• "Remembering Ragtime" Documentary
• Deleted Scene




PURCHASE @ AMAZON.COM

EQUIPMENT
Sony 36" WEGA KV-36FS12 Monitor; Sony DA333ES Processor/Receiver; Panasonic CV-50 DVD Player using component outputs; Michael Green Revolution Cinema 6i Speakers (all five); Sony SA-WM40 Subwoofer.


RELATED REVIEWS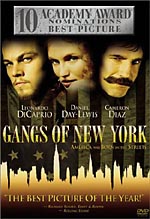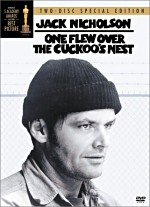 [an error occurred while processing this directive]
---
Ragtime (1981)
---
Reviewed by Colin Jacobson (November 5, 2004)

Adapted from the successful EL Doctorow novel, Ragtime hit the big screen in 1981 via director Milos Forman. Set in the first decade of the 20th century, the film initially introduces us to former showgirl Evelyn Nesbit Thaw (Elizabeth McGovern) and her wealthy husband Harry (Robert Joy). A nude statue for which Evelyn apparently modeled gets posted in public, which upsets Harry. He confronts Stanford White (Norman Mailer) - who also Evelyn's former lover - and demands its removal but gets nowhere. Eventually Harry kills White and goes to trial.

In the meantime, we meet a suburban New York family that includes Father (James Olson), Mother (Mary Steenburgen), and Younger Brother (Brad Dourif). Their lives get turned upside down when a black infant appears on their property. The police find Sarah (Debbie Allen) nearby, but she refuses to confirm if the baby's hers. A doctor establishes her maternity, however, and Mother decides to take in both Sarah and baby temporarily against Father's wishes.

Essentially the movie follows dual story lines. We see what happens to Harry in his trial, but mostly we follow Evelyn's point of view. Harry's mother (Eloise O'Brien) bribes her to lie in court to exonerate her son. For a million bucks, Evelyn agrees to do so and also to divorce Harry after the trial. Eventually, Younger Brother meets her and they become a couple, though in an erratic fashion that bothers him.

Back in the suburbs, piano player Coalhouse Walker Jr. (Howard Rollins Jr.) comes to find Sarah. He's the baby's father, and he claims he abandoned her solely because he lacked the financial wherewithal to care for her and the child. He now has a steady job, so he tries to get back Sarah.

Coalhouse becomes the major focus of much of the movie's action after Sarah agrees to marry him. He heads out in his new car but some racist firefighters harass him. They eventually damage his car and Coalhouse tries to force the authorities to get them to fix it. This goes nowhere and leads to frustrations. Ultimately Coalhouse engages in terrorist tactics to exact justice, all of which leads to a standoff with police during which he negotiates with Chief Rheinlander Waldo (James Cagney).

That synopsis badly simplifies the story, but it juggles too many situations and characters for me to take the time to provide greater detail. As with virtually all Forman flicks, the focus remains on the personal domain and it concentrates on the relationships of the characters. If we were to establish an overall theme, it would have to be the casual racism seen.

By that I don't mean the scenes with the firefighters, as led by Chief Conklin (Kenneth McMillan). He's a loud, blustery racist without the slightest sense that he does or says anything wrong. Instead, the movie looks at the quieter, more accepting form of racism.

The movie comes set in an intriguing period from that point of view. Civil rights campaigns just started to emerge around that time. Blacks had left slave status behind for decades, but they'd not gotten the broader liberties or acceptance that would allow the actions of the Fifties and Sixties. There was a growing awareness of racism but society lacked the same sense of injustice seen in later decades.

Ragtime uses Coalhouse's experiences to show these elements. The movie uses a mix of approaches to show his frustration and all the obstacles in his way. To its credit, the flick doesn't make him a saint. None of the movie's characters come without flaws, and that goes for Coalhouse. Many stories of this sort would present him as a fully noble and right-thinking personality, but this one makes sure we see his issues. We empathize with him but don't fully buy into his methods.

Even his goals don't come across as simplistic. On one hand, we could easily see Coalhouse as a martyr for his race, the one black man who's willing to fight for what's right and not just go along with what the whites will hand to him. Even black leaders like Booker T. Washington (Moses Gunn) advocate slow progress, not the radical measures Coalhouse uses. Is this realism or stagnation? The movie doesn't really espouse a point of view, which means we get both sides of things.

Beyond its philosophical and sociological overtones, Ragtime manages to be a darned entertaining flick. It balances the various storylines well and deftly integrates them. We see the connections among the various parties, and it doesn't bother to become too explicit. It allows the viewer to connect the dots and respects our intelligence.

Despite the large roster of characters, Ragtime draws them well. We get a good feel for them naturally and they grow smoothly. The flick loses some plot threads and personalities at times, but it usually keeps things going in a concise manner.

I can't call Ragtime Forman's best flick, as it lacks the grandiosity and lyricism of Amadeus or the incisive deftness of One Flew Over the Cuckoo's Nest. Nonetheless, it summarizes a dense story into a fairly tight package and makes it all quite entertaining. It's definitely an above average flick.
---
The DVD Grades: Picture B+/ Audio B+/ Bonus C
---
Ragtime appears in an aspect ratio of approximately 2.35:1 on this single-sided, double-layered DVD; the image has been enhanced for 16X9 televisions. Sharpness seemed excellent. The movie remained nicely crisp and detailed from start to finish, as very few instances of softness appeared. Overall, the picture was accurate and well defined. Jagged edges and moiré effects created no concerns, and I saw only a smidgen of light edge enhancement. Print flaws caused moderate issues. I saw occasional examples of specks and marks periodically during the flick. These didn't dominate, but they caused a few distractions.
Ragtime boasted a natural but frequently lively palette. The colors consistently seemed vivid and bright, and they appeared wonderfully rich. Scenes with live performances like the one at which Harry shoots White offered the best range of tones, as the costumes and settings were quite lush. Black levels also were deep and dense, while shadow detail seemed appropriately heavy but not excessively thick. Only the smattering of source flaws kept this flick from "A" level, as Ragtime otherwise seemed very concise and detailed.
As for the Dolby Digital 5.1 soundtrack of Ragtime, it presented a moderately vivid affair. Not surprisingly, the focus remained on the music. The score displayed good stereo imaging and really added a lot of kick to the mix. Otherwise, much of the track stayed fairly heavily oriented toward the center channel. I noted reasonably good general ambience throughout the film, and some more heavily populated scenes – mostly on bustling streets – provided a greater level of activity. The surrounds seemed fairly passive throughout the movie, but they contributed a nice sense of reinforcement, particularly in regard to the music.
Audio quality appeared excellent. Speech came across as natural and crisp, with only a smidgen of edginess at times. Effects played a minor role in the film, but they always seemed accurate and well defined, with no issues related to distortion or other areas. The occasional explosion or blast managed surprising oomph. Of course, the music remained the most important element, and the mix provided very solid reproduction of the score. The pieces of music sounded bright and vivid, and they boasted fairly good dynamic range. Honestly, I felt quite impressed with the terrific fidelity of this mix, as it sounded much better than I expected for a movie from 1981.
We don't get a ton of extras on Ragtime, but we find a few. We open with an audio commentary from director Milos Forman and executive producer Michael Hausman. Both of them sit together for this running, screen-specific chat. They chat a little about the cast, the music, sets and locations. When I say "a little" I mean "almost never". The commentary does start out fairly well as we learn how Forman lured James Cagney out of retirement.
However, after that it goes almost nowhere. What notes we get tend to be extremely rudimentary, and we're often left with the feeling of unfulfilled potential. Occasionally Forman sounds like he's on the verge of a good story, but these useful anecdotes fail to materialize. Instead, we find basic banalities and lots of dead air. And I do mean lots! All of these factors conspire to make this a genuinely bad commentary and a true disappointment.
A more satisfying look at the production comes from a documentary called Remembering Ragtime. This program goes for 18 minutes and 31 seconds and presents the normal mix of movie snippets, archival materials, and interviews. We locate notes from Forman, Hausman, art director Patrizia von Brandenstein, and actor Brad Dourif. They discuss how Forman took on the project, adaptation issues, locations and sets, the film's look and visual elements, casting and the performers.
"Remembering" covers almost all of the territory examined in the commentary, which leaves us virtually no reason to listen to it; Forman tells most of the same stories here. It became fairly redundant for me since I'd already taken in the commentary, but it's definitely the preferred way to get this information. It gives us all the necessary material in more than two hours less time. It's not a great program, but taken on its own merits, it offers a fairly informative look at the film.
Finally, the DVD includes one deleted scene. It lasts 10 minutes and 12 seconds as expands on the sequence in which Tateh boots his wife. It focuses on a protest from anarchist/proto-feminist Emma Goldman. After she confronts Tateh, she then takes Evelyn back to her place to tout her cause. It also implies some lesbian desire on Goldman's part, though it doesn't explicitly develop that theme. It's an interesting scene but not a necessary one, as it mostly points out Evelyn's dopiness. Oddly, the segment uses digital masking to cover shots of McGovern's bare breasts. Considering how much we see of them in the final feature, it appears weird to hide them here.
Ragtime examines society in the early 20th century with a lively tale. It manages to jump among various stories and characters well to create a good picture of the period. The DVD offers very good picture and audio but lacks strong supplements, mainly because it includes one of the worst audio commentaries I've ever heard. Nonetheless, the disc portrays the movie itself well, and with a very low list price of only about $15, I definitely recommend it.
| | |
| --- | --- |
| Viewer Film Ratings: 4.0454 Stars | Number of Votes: 22 |