FOX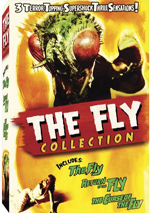 MOVIE INFO
Director:
Edward Bernds
Cast:
Vincent Price, Brett Halsey, John Sutton, David Frankham, Dan Seymour, Danielle De Metz
Writing Credits:
George Langelaan (story), Edward Bernds
Synopsis:
This collection pays tribute the Fly in all the character's classic incarnations with 1958's The Fly, 1959's The Return Of The Fly, 1965's The Curse Of The Fly, as well as bonus material.
Box Office:
Budget
$225 thousand.
MPAA:
Rated NR


DVD DETAILS
Presentation:
Widescreen 2.35:1/16x9
Audio:
English Stereo
English Monaural
Spanish Monaural
Subtitles:
English
Spanish
Closed-captioned
Supplements Subtitles:
None

Runtime: 80 min.

Price: $39.98
Release Date: 9/11/2007

Bonus:
• None

Available Only as Part of "The Fly Collection"




PURCHASE @ AMAZON.COM

EQUIPMENT
Sony 36" WEGA KV-36FS12 Monitor; Sony DA333ES Processor/Receiver; Panasonic CV-50 DVD Player using component outputs; Michael Green Revolution Cinema 6i Speakers (all five); Sony SA-WM40 Subwoofer.


RELATED REVIEWS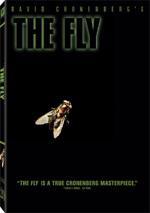 [an error occurred while processing this directive]
---
Return Of The Fly: The Fly Collection (1959)
---
Reviewed by Colin Jacobson (December 6, 2007)

While 1989's The Fly II remains one of filmdom's most universally-despised sequels, I was unaware of any such animosity toward an earlier sequel to the original, 1959's Return of the Fly. I don't know if that's because more people like this film than enjoyed the 1989 flick or if it's just due to the fact fewer people are aware of the earlier piece. In any case, while I found Return to be decidedly less interesting than its predecessor, the contest is a lot closer than the match between the Eighties pictures. In that case, the sequel is radically less compelling than the original, but the discrepancy between the 1958 and 1959 flicks is much smaller.

Actually, Return bears a fair number of similarities to The Fly II. As with that movie, this one features the son of our original man-fly as the protagonist. The difference is that the later picture's grows up as a mutant, whereas this one's Philippe - already seen as a 10-year-old boy in the first movie - gets deformed the same way as dear old Dad.

There's a much greater lapse in time between the events of the first and second films in each pair also. The Fly II starts only a few months after the previous movie's proceedings, although it ends up about five years in the future. Return, however, jumps ahead roughly 16 years, a figure I base this on the differences in age between Charles Herbert, who played young Philippe in The Fly and Brett Halsey, who takes on the adult role in the sequel. This fast-forward isn't explained in the film, so we're left to ponder it on our own and think of how much the world of 1974 looks like the environment of 1959. It also seemed remarkable how little Philippe's Uncle Francois (again played by Vincent Price) has aged in the interim; why, he looks just like he did when the boy was only ten!

Okay, I recognize that it's probably a waste of time to nit-pick these kinds of gaffes in a movie of this sort, but I thought some of these seemed awfully sloppy. At least the 1986 and 1989 films took some pains to deal with the issue of contamination during transportation; all runs through the cycle were done nude in those flicks. However, in the Fifties versions, everyone who goes through the ringer does so clothed, which makes me wonder why they didn't turn into half-man/half-slacks creatures. Geez, in the first movie, André actually dispatches a cat while she drinks milk from a bowl; how bizarre could that combination have been?

In any case, both Fifties films have their plot faults, so I won't penalize either in regard to the other. Return is less interesting than the original mainly because - as with the 1989 film - it becomes little more than a typical monster movie. Some attempts at psychological depth are attempted in Return - Philippe remains deathly afraid of flies, something that's used against him by a baddie - but these nuances feel like little more than cheap devices to allow lightning to strike twice. After all, what were the chances the son would happen to run himself through the transporter as another fly sneaks into the machine? Pretty slim, I'd think, so the story needed to find a way to plant a bug in there with him, and it does so, but in a pretty silly way.

Unlike The Fly II, Return of the Fly isn't a terrible movie, but it's not a very good one either. As it stands, Return presents a dopey but mildly entertaining take on the subject matter.
---
The DVD Grades: Picture B+/ Audio C+/ Bonus F
---
Return of the Fly appears in its original theatrical aspect ratio of approximately 2.35:1 on this single-sided, single-layered DVD; the image has been enhanced for 16X9 televisions. Although not flawless, this picture presented a very strong impression.

Sharpness looked uniformly detailed and crisp. There's nary a soft moment to be found, as the flick was consistently accurate and well-defined. I saw little evidence of jagged edges or moiré effects, and edge enhancement seemed minimal. Print flaws also were minor for such an old movie. I witnessed the occasional speck but nothing else intrusive interfered.

The film's low budget left it as a black and white production. I won't complain too much because the shading looked terrific for the most part. The contrast presented a nicely gray image that seemed very clear and distinct. Black levels looked dark and deep but never were excessively thick, and shadow detail appeared appropriately heavy but not overly opaque. A few outdoor scenes caused mild problems, as they tended to seem too dark, but these were a minor concern in what otherwise is a fine looking film.

Return of the Fly provided two separate English soundtracks, but their differences seemed to be virtually non-existent. The stereo mix bore a very strong resemblance to the original monaural audio that also appeared here. Indeed, I could detect virtually no differences between them, as the "stereo" version did little to nothing to spread out the soundscape. It was glorified mono at best, as I couldn't discern anything to open up the image.

Audio quality was acceptable for a movie from 1959. Speech remained intelligible at all times, but the lines tended to seem a little brittle and thin. Music was similarly lightweight, as the score showed little range; those elements tended to be lackluster. Finally, effects were clean enough, but they also suffered from the absence of dynamics. There just wasn't much punch to be found in this mediocre mix.

How did the picture and sound of this 2007 release compare to those of the old 2000 release? Audio was pretty similar, but the new transfer provided substantial improvements. It seemed significantly cleaner and better defined than its predecessor.

While the new special edition of The Fly offers an audio commentary, no such bonus material accompanies its sequel. This disc comes with absolutely no supplements.

At no point can I call Return of the Fly a terrible movie, as it offers some cheesy entertainment. However, it's not a good movie either. The DVD presents very solid visuals along with average audio and no supplements. It's a decent to positive presentation of a forgettable film.

Note that this version of Return of the Fly comes only as part of the four-disc "The Fly Collection". That set also includes The Fly, Curse of the Fly, and a fourth disc with supplements. The "bonus" grade provided here only reflects the content of this particular platter; the review of the fourth disc will give an extras grade for the set as a whole.
| | |
| --- | --- |
| Viewer Film Ratings: -- Stars | Number of Votes: 0 |