WARNER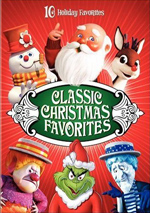 MOVIE INFO
Director:
Jules Bass, Arthur Rankin Jr.
Cast:
Red Buttons, Ethel Merman, Mickey Rooney, Alan Sues, Jackie Vernon, Shelley Winters, Paul Frees
Writing Credits:
Romeo Muller
Synopsis:
Christmas is a time for snowmen, log fires, and, of course, holiday TV specials! This collection bundles together some of TV's most beloved Yuletide programs featuring Santa Claus, Frosty the Snowman, and Rudolph the Red-Nosed Reindeer. For some a nostalgic reminder of holidays past, and the start of new memories for others, this release includes How The Grinch Stole Christmas, The Leprechaun's Christmas Gold, The Little Drummer Boy Book II, The Stingiest Man in Town, The Year Without A Santa Claus: Deluxe Edition, Rudolph's Shiny New Year, Nestor, The Long-Eared Christmas Donkey, Frosty's Winter Wonderland, 'Twas The Night Before Christmas, and Rudolph and Frosty's Christmas in July.
MPAA:
Rated NR


DVD DETAILS
Presentation:
Fullscreen 1.33:1
Audio:
English Monaural
Subtitles:
English
Closed-captioned
Supplements Subtitles:
None

Runtime: 97 min.
Price: $39.98
Release Date: 10/7/2008

Available as Part of "Classic Christmas Favorites"

Bonus:
• Sneak Peeks




PURCHASE @ AMAZON.COM

EQUIPMENT
Sony 36" WEGA KV-36FS12 Monitor; Sony DA333ES Processor/Receiver; Panasonic CV-50 DVD Player using component outputs; Michael Green Revolution Cinema 6i Speakers (all five); Sony SA-WM40 Subwoofer.


RELATED REVIEWS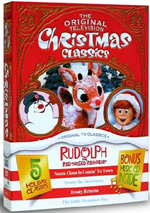 [an error occurred while processing this directive]
---
Rudolph And Frosty's Christmas In July (Classic Christmas Favorites) (1979)
---
Reviewed by Colin Jacobson (December 15, 2008)

Two holiday icons unite in 1979's Rudolph and Frosty's Christmas in July. At the start, Santa (voiced by Mickey Rooney) details a prologue. We learn of an evil wizard named Winterbolt (Paul Frees) who ruled the north in a cruel manner. Lady Boreal put a stop to his nastiness and allowed life to return to the north; that's what brought Santa and his folks up to the North Pole.

Unfortunately, Lady Boreal's powers eventually wane, and Winterbolt emerges from his icy slumber. He aspires to take over the North Pole from Santa, and he uses his dragons to create an impenetrable storm that will ground his reindeer. Of course, if you saw Rudolph, you'll know what happened to his plan. July teaches us that Lady Boreal gave Rudolph (Billie Mae Richards) his glowing nose, but that power came with a condition: he can never use his abilities for bad purposes.

Back in the present, Winterbolt tries to sabotage Rudolph but realizes that he won't be able to do so as long as the reindeer remains in the north. When a circus's financial problems affect the love life of Milton the ice cream man (Red Buttons), Rudolph and Frosty agree to go south and help. They'll perform as part of the circus and bolster its bottom line. This sets them up for problems with Winterbolt and many dramatic challenges.

Though many Rankin-Bass specials stretched to the one-hour mark, I believe that July was the only one to go past the 90-minute point. Indeed, when it first aired, it filled a two-hour block, so it lasts almost twice as long as shows like Rudolph or The Year Without a Santa Claus.

Kid-oriented Christmas specials usually offer quick, breezy entertainment, so the choice to push July close to the two-hour mark seems dicey. I'd like to report that July fills its time well, but it tends to drag. While most of these shows go with simple storylines and entertain us with various songs and scenes, July bogs us down with a complicated plot. Even if it stayed solely with the antics of Winterbolt, it'd be more muddled than most. However, it tosses in a few other elements and becomes awfully complicated for a show of this sort.

Perhaps the producers intended July as the Christmas special to beat all others. Not only does it nearly double the length of its predecessors, but also it packs a more star-studded cast than usual. Oh, all of the Rankin-Bass shows featured aging "names", but July brings in more than usual. In addition to Rooney and Buttons, we get folks like Ethel Merman and Shelley Winters.

I assume that Rankin-Bass used older stars to appeal to the adults in the audience. After all, as a kid, I didn't squeal with delight when I saw Merman's name on the marquee. I don't know if this tactic worked, but I will admit that the stars bring some credibility to the project.

That minor credibility is about all July has to offer. Actually, the story does present a few slightly clever twists such as the note about how Lady Boreal gave Rudolph his powers. The seedy Scratcher the reindeer character also seems moderately intriguing.

And that's about all she wrote. In addition to its muddled plot, July suffers from slow pacing and lackluster songs. To fill its time, the show packs in quite a few little production numbers, none of which will make us forget the better tunes of programs from the past. The songs seem half-hearted and forgettable.

Which is true for pretty much everything in July. Rudolph and Frosty themselves often feel like afterthoughts, and the show seems awfully lacking in inspiration. That makes for a long, tedious 97 minutes.
---
The DVD Grades: Picture D/ Audio D+/ Bonus D-
---
Rudolph and Frosty's Christmas in July appears in an aspect ratio of 1.33:1 on this single-sided, single-layered DVD; due to those dimensions, the image has not been enhanced for 16X9 televisions. The folks at Warner Bros. clearly spared no expense when they created this transfer. By that I mean that it looked like they spent nothing on this poor presentation.
I could tell something was wrong within the program's first few minutes. When we saw Frosty and Rudolph speak to each other, the dialogue showed poor synchronization; the dialogue would stop well before their mouths ceased to move. This wasn't just cheap animation; clearly the show wasn't in synch. The problem wasn't as noticeable for music and effects, at least.
Other problems occurred as well. Sharpness was mediocre at best. Much of the program looked soft and blurry, an issue exacerbated by some prominent edge haloes. I noticed no problems with jagged edges or shimmering, at least, but source flaws were a frequent distraction. Various examples of specks, marks, lines, debris and other defects cropped up through much of the special.
Colors appeared bland. Even the scenes with potentially bright hues came across as flat and lifeless. Blacks were muddy and drab, while shadows tended to be too opaque and dense. All of this added up to a bad transfer.
Don't expect much more from the monaural audio of July. I wasn't sure if the synch problems meant I should dock points from the visuals or from the sound, so I blamed both areas. Not that audio quality was pleasing in other ways. Speech tended to be brittle and somewhat sibilant, while effects were thin and edgy. Music showed little life, as the score and songs appeared flat. This was a problematic auditory presentation.
No real supplements show up here. All we find are Sneak Peeks for Nine Dog Christmas: The Movie, Aloha Scooby-Doo, What's New, Scooby-Doo, Vol. 4: Merry, Scary Holiday, Kangaroo Jack: G'Day USA! and Cartoon Network Christmas: Yuletide Follies.
While arguably the most ambitious of the Rankin-Bass specials, Rudolph and Frosty's Christmas in July doesn't stand up as one of the best. Indeed, its long running time makes it slow and ponderous, as it lacks much inspiration or cleverness. The DVD suffers from poor picture and audio; it also fails to provide notable supplements. Even if you like the show, I can't recommend this abysmal DVD release.
Note that you can buy Rudolph and Frosty's Christmas in July on its own or as part of a boxed set called "Classic Christmas Favorites". The package also includes holiday specials such as The Year Without a Santa Claus, Dr. Seuss' How the Grinch Stole Christmas and Frosty's Winter Wonderland. With a list price of $39.98, it's a good deal if you want all the shows.
| | |
| --- | --- |
| Viewer Film Ratings: 3.7142 Stars | Number of Votes: 7 |