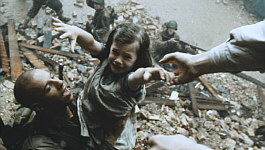 This single-sided, dual-layered DVD of SPR is shown in its original theatrical aspect ratio of 1.85:1. The DVD is also anamorphically-enhanced. Because Spielberg attempted to give SPR something of a "documentary" appearance - especially during the battle scenes - many critics have commented on the difficulty they had in rating the image. Much of the film is overexposed, jerky, and/or grainy, aspects that we'd usually consider faults.
I thought I'd be conflicted when I reviewed the picture quality, because it is hard for me to decide how to rate intentionally flawed images. Really, the "picture" grade should be based on the quality of the transfer, not of the appearance of the image itself. In other words, a picture could look terrible, but if that's exactly how the filmmaker intended it to appear, then it should get a good rating. In reality, since I don't live inside the head of a filmmaker, I try to balance what I think the intended image was and how well the DVD reproduces it; it's not a perfect system, but it's about the best I can do.
As such, I was concerned about this review, since I expected SPR to look flawed at many times. I know that the recent laserdisc release certainly was, but I thought that the defects were intentional. How wrong I was, on both counts! I had no trouble choosing a rating for the image of the SPR DVD because it looks uniformly terrific, subjectively and objectively. This is an absolutely fantastic transfer.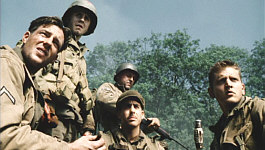 First of all, let me document the few flaws I saw. For one, moiré effects are an occasional problem; shimmering wasn't bad, but jagged edges sometimes interfered with the clarity of the image. However, I must acknowledge that these issues often are DVD player based; I had them, but you may not. Also, if you're watching SPR on a 16X9 TV, I'd bet the "jaggies" aren't there. Since I've watched every DVD I've reviewed on the same TV and the same DVD player and most of them don't have this problem, I have to take away from my rating of SPR because of it, but I do want to emphasize that this is one case where I think they may offer less substantial - or no - interference in other setups.
The only other flaw I found while watching the SPR DVD was two minor print faults. When the military personnel drive up to Ma Ryan's house, I saw a brief glimpse of a hair on the film, and when Miller gets his assignment, I saw a small scratch. That's it. Other blemishes may exist, but I didn't see them. I was surprised to see these flaws in such a recent film, but they're not a significant detraction, to say the least. Other reviewers have noted the (apparently intentional) grain, but I didn't see it myself; I think that the jerkiness of the camera movements that might include grain obscured it for me. Anyway, even if you see grain, it's so well integrated into the picture that it shouldn't be a problem.
So much for the flaws. Everything else about this DVD's image is virtually perfect. The picture itself offers an absolutely stunning level of clarity and definition. The image is so strong that it occasionally seems almost three-dimensional. Spielberg intentionally used a very muted color palette, and although the image often seems purposefully "washed out," I still thought that hues looked absolutely accurate. That's admittedly a bizarre state of affairs, but it's the case here. Much of the film sticks with greens and earth tones, and they all look flawless.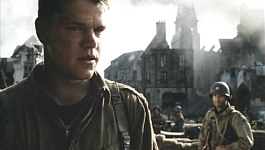 The incredibly rich contrast levels really make this film, though. There's no murkiness whatsoever when parts of the shot are in shadows or lean toward the dark side of the frame; blacks and darks all stand as very deep and rich and the definition of the image remains razor sharp. One thing's for sure: this DVD puts the LD - which I had thought looked good - to shame; I came very close to giving SPR an "A+" for image quality.
Which I had no qualms doing for its audio counterpart. If I can't give the Dolby Digital 5.1 mix of SPR an "A+," then nothing deserves that rating. Whatever soundtrack you used to use as your "demo" to show off your system - put it back in the closet. Here's your new fave.
Without question, SPR offers a tremendously active audio environment. The D-Day scene shows what the sound designers could do, and it's such a show-stopper that it's actually distracting at times; I became so overwhelmed at the apocalypse that surrounded me that I occasionally lost track of the film. That tendency really only occurs during that opening action sequence; in truth, some of the later scenes - especially the climax - rival it ferocity, but my ears had adjusted by that point so they didn't stun me to the same degree.
That's a good thing, because it let me appreciate the mix and how it complements the film much better. As I mentioned earlier, the opening scene is all about chaos, so it works to the film's advantage that the audio helped make me disoriented; that was the whole point. Such an effect would not benefit later scenes, so while they are equally impressive auditorily, they remain more focussed.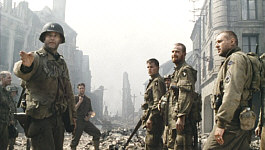 In addition to possibly the most active and involving surround environment yet recorded, the quality of the audio for SPR is quite good. At times during battles dialogue gets lost in the mix, but that's appropriate and apparently intentional. Don't worry - if you need to hear the words, you'll hear them; no necessary dialogue gets obscured. It's all part of the chaotic experience, so don't feel concerned if you have to strain to understand what someone's saying.
Throughout the film, the sound seems perfectly captured. Speech is rich and natural, effects seem realistic and lack extra distortion, and the score appears full-bodied and appropriately musical. Ultimately I'll be reviewing the DTS sound mix for SPR, which I'll be interested to hear, but I have trouble seeing how it could improve on this Dolby track.
Although SPR is touted as a special edition - a "Special Limited Edition," actually - it's a little weak on the supplement side of the equation, though it offers some tasty extras. Easily the most compelling and significant piece here is Into the Breach, a 25-minute documentary behind the making of the film. Actually, the program spends much less time talking about SPR than it does relating historical data. In addition to some fine interviews with veterans, we get a fascinating glimpse at the roots of Spielberg's interest in the war, including some amazing clips of his early home movies. This is a great little documentary, and it actually manages to be more moving than the film itself! My only fault with it? Not long enough!
One unique feature of this DVD is the inclusion of an Exclusive Message from Spielberg. Others have mistakenly described this as his "introduction" to the film. In fact, it appears after the end of the closing credits. (It's also available from the "special features" menu.) In this two-minute clip, Spielberg briefly discusses his motivations for making the film and he offers a pitch for the National D-Day Museum. Can't say I'll want to watch it again, but I don't mind having it here. (A one-page flyer for the museum is also included in the DVD case.)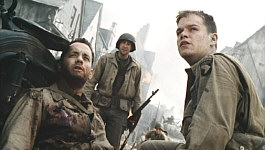 In addition to the documentary and Steve's speech, the DVD provides some of the old "standbys." We get cast and crew biographies for a surprisingly high number of participants; instead of the usual five or six, there are eleven cast bios and ten crew bios. All of these articles are above-average but not spectacular. Still, the quality's good, and the quantity makes the stand out even more.
More text information is offered through the DVD's production notes. These are fairly brief but are nicely informative. In fact, they may provide more actual details of the making of SPR than we hear in the documentary! They're definitely worth a look. (The production notes are available both on the disc itself and inside the DVD's booklet.)
Finally, the SPR DVD includes two theatrical trailers. One is the film's original ad, and the other was issued for the movie's pre-Academy Awards re-release. (How odd is it for a fifteen-month-old movie to feature a re-release trailer?) Both are effective - especially the original - and are presented well; the image is clean and the sound is actually 5.1. Nice job!
Overall Saving Private Ryan is another class-act production from Dreamworks. The movie's flawed but overall very good, and the DVD offers picture and sound quality second to none. The supplements aren't extensive, but what appears here is very high quality. It may have taken nearly three years for Spielberg to finally loosen up and allow a movie studio to release one of his big-ticket movies on DVD, but it was indeed worth the wait.