SEVERIN FILMS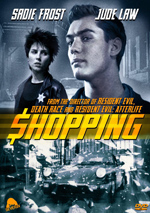 MOVIE INFO
Director:
Paul W.S. Anderson
Cast:
Jude Law, Sadie Frost, Sean Pertwee, Fraser James, Sean Bean, Marianne Faithfull, Jonathan Pryce, Daniel Newman
Writing Credits:
Paul W.S. Anderson
Tagline:
Crash & Carry.
Synopsis:
Billy and his girlfriend Jo steal expensive cars and speed them into shop windows (ram-raiding), which they find exciting and gives them an addictive adrenaline rush. There are many fast chases and encounters with the police. Rivalry grows between Billy and Tommy, as both want to be seen as "the hero". Jo wants her and Billy to change their way of life, but Billy wants first to ram-raid the Shopping Mall, because it has never been done before. But, who will get there first, Billy or Tommy? Hard-hitting, fast-moving, ultraviolent drama.
MPAA:
Rated NR


DVD DETAILS
Presentation:
Aspect Ratio: 1.85:1/16X9
Audio:
English Dolby Digital 5.1
English Dolby Digital 2.0
Subtitles:
None
Closed-captioned
Supplements Subtitles:
None

Runtime: 106 min.
Price: $19.98
Release Date: 2/1/2011

Bonus:
• Audio Commentary with Director Paul WS Anderson and Producer Jeremy Bolt
• "Shallow Grave: The Burying of Shopping" Featurette
• EPK Interviews
• Trailer and Previews




PURCHASE @ AMAZON.COM

EQUIPMENT
Panasonic 50" TH-50PZ77U 1080p Plasma Monitor; Sony STR-DG1200 7.1 Channel Receiver; Panasonic DMP-BD60K Blu-Ray Player using HDMI outputs; Michael Green Revolution Cinema 6i Speakers (all five); Kenwood 1050SW 150-watt Subwoofer.


[an error occurred while processing this directive]
---
Shopping (1994)
---
Reviewed by Colin Jacobson (February 11, 2011)

Before he became known as the director of futuristic action flicks like Event Horizon, Resident Evil and Alien Vs. Predator, Paul WS Anderson started with something that took a grittier look at modern society: 1994's Shopping. In Anderson's debut feature, we meet recent ex-con Billy (Jude Law). He emerges from prison after three months but shows no signs of remorse or rehabilitation; when asked what lesson he learned, he replies "don't get caught".

Billy reunites with his girlfriend Jo (Sadie Frost) and the pair immediately embark on a crime spree during with they steal a car, break into businesses, and lead the police on a high-speed chase. They hang out with pals who do the same: they call it "shopping", as they smash cars into businesses, steal goods and then fence them.

All's not total fun and games for Billy and crew. They go up against rival gangs as well as the police, as the authorities find themselves under pressure to combat the wave of car heists. This leaves Billy and his gang under constant threat from a variety of sources.

If you look at Anderson's filmography, you see a consistent pattern. He tends to make flashy action flicks that lack much real punch. Oh, he's created some enjoyable movies, but he never delivers films that stand out as truly special.

Shopping seems like an opportunity for Anderson to give us something more hard-hitting and character-based. After all, it deals more closely with the "real world" than Anderson's sci-fi efforts, and it deals with a subsociety of criminal youth. If Anderson can't make something meaningful out of this material, then it would seem that he can't ever deliver such a film.

I guess the latter must be the case, as little about Shopping separates it from Anderson's subsequent efforts. Really, the setting becomes the only notable difference, as Shopping remains Anderson's only film to exist in the "real world". All of his other flicks are either in the distant future or they deal with a radical altered society, ala the dystopia of 2008's Death Race. Shopping clearly deals with an ugly side of the modern world, but it does stick with that place nonetheless.

Unfortunately, Anderson can't do much with the material to give it an edge. Instead, he essentially tries to create a movie much like the ones he'd make in subsequent years, as he focuses more on the action than on the characters. Shopping makes vague nods toward character development, especially in terms of Billy; we get a sense of his upbringing and problematic home life. However, these are minor attempts of depth that don't go anywhere.

Instead, Shopping prefers to stick with simplicity. Take this exchange between Jo and Billy, for instance:

"You're asking for trouble, Billy!"

"What else is there?"

Really? That's the movie's attempt at clever dialogue? It feels like the flick's stab at the iconic "what're you rebelling against, Johnny?" bit from The Wild One, and it lacks punch. Johnny comes across as a purposeless rebel without the charisma or introspective nature to make him interesting.

Perhaps Shopping would be more compelling if its action sequences delivered thrills, but for a movie about violent criminals, it seems awfully chatty. I'd assume this stems from budgetary restrictions; I'm sure Anderson didn't have much money at his disposal, so that made I more difficult to depict the car chases and crashes.

Within those constraints, Anderson does appear to do the best he can. It could've been smart of him to offer a big action set piece right at the film's opening; that might leave the viewer with the impression of mass mayhem that could help smooth over the absence of many similar pieces as the story progresses.

However, I think this move mostly backfires, as the early action makes us wonder why the rest of the flick is so static. We expect more material like that opening, but we don't get much of it. Again, I don't really fault Anderson for this because he was in "rock and a hard place" territory; if he'd saved his big set piece for later, the viewer may've gotten bored and given up on the tale early.

But the impression of an action movie without much action remains. We hear a lot of talk about various crimes, but we don't see many of them, and when we do, they tend to be unimpressive. With a better sense of story or characters, these issues would be less problematic, but given the movie's inherent emptiness, the lack of compelling action makes it turn into a snoozer.

At this point, Shopping merits notice due to the number of people involved who would later gain prominence. In addition to Anderson, it offers then-unnotables like Sean Bean and Jason Isaacs. The big attraction comes from its place as Law's first feature, though; he'd done some TV work, but this became his big-screen debut.

Beyond some sense of novelty value, I can't find much to recommend about Shopping. The movie wants to portray an action-packed look at youth gone wrong, but it lacks substance and power. It's a surprisingly flat look at its subject matter.
---
The DVD Grades: Picture C-/ Audio C-/ Bonus C+
---
Shopping appears in an aspect ratio of approximately 5:1 on this single-sided, double-layered DVD; the image has been enhanced for 16X9 televisions. Though I didn't expect much from a low-budget flick like this, I still thought the DVD looked surprisingly bland.
Sharpness was inconsistent. Close-ups and two-shots demonstrated decent to good delineation, but anything wider turned fuzzy and indistinct. Overall definition remained lackluster, as even the most distinctive scenes weren't particularly concise. No real issues with jaggies or moiré effects occurred, but I saw some edge haloes, and the movie tended to be rather noisy. At least it lacked noticeable source flaws.
Colors were bland. Much of this seemed to stem from visual design, as a flick with an emphasis on gritty crimes wouldn't want to go for bright 'n' peppy tones. Even so, the hues remained awfully flat, as they lacked much clarity and tended to be mushy. Blacks were drab and somewhat gray, while shadows looked rather dense and opaque. Given the movie's roots, this wasn't an awful presentation – at its best, I assume this would remain an unattractive film – but I still thought the image was too messy for a grade above a "C-".
Other concerns connected to the inconsistent Dolby Digital 5.1 soundtrack of Shopping. Audio quality was a notable issue, mostly due to an unappealing sense of reverb that affect much of the track. This was most distracting as it connected to dialogue; lines were thin, and the echo combined with accents made them tough to understand at times.
The rest of the track sounded better but not great. Again, the reverb meant that effects seemed distant and fake much of the time. Music worked better, and some of the score actually appeared reasonably full. However, low-end was iffy across the board, so the mix audio usually rather thin and unconvincing.
As for the soundfield, it was also inconsistent. Shopping came with an active soundfield but not one that boasted especially good panning or involvement. Elements like cars popped up from all around the room but didn't move among channels in a convincing way, as the mix usually seemed rather "speaker-specific". Still, this side of things added some life to the material; the definition of the soundscape could be mushy, but it gave us a little pizzazz. Nonetheless, the combination of inconsistent audio quality and a vague soundfield left this as a "C-" mix.
A few extras fill out the DVD. The major attraction comes from an audio commentary with director Paul WS Anderson and producer Jeremy Bolt. Along with Severin Films' John Cregan as interviewer/moderator, they sit together for this running, screen-specific look at how they met and became a professional partnership, story and character issues, inspirations and influences, cast and performances, budgetary restrictions, visual design, sets and locations, controversies, music, and the film's influence on their career.
With many prior commentaries under their collective belt, Anderson and Bolt know how these work, so they make this a good chat. Cregan comes into play quite often as well; he does his best to keep the conversation and avoid dead spots, which he mostly accomplishments. The track offers a nice mix of notes about Shopping and related areas, so it's a solid listen.
A featurette called Shallow Grave: The Burying of Shopping runs 24 minutes, 10 seconds and provides notes from Anderson and Bolt. "Grave" looks at Anderson's childhood influences and the state of British cinema in the early 1990s, the development of his career and Shopping, influences, cast and performances, sets and locations, the movie's release and controversies.
On its own, "Grave" offers a good overview of various movie-related topics. However, if you've already listened to the commentary, the featurette becomes almost totally redundant; if any new info emerged, I missed it. Watch this piece only if you skip the commentary.
Next we get a collection of EPK interviews. This seven-minute, three-second reel includes notes from Anderson, Bolt, stunt coordinator Jim Dowdall and actors Jude Law, DJ Tim, Danny Newman, Fraser James and Sadie Frost. They talk about little about characters, story, performances and stunts. We get a few decent shots from the set and few decent soundbites, but this program's too short and superficial to add up to much.
In addition to the film's trailer, we get previews for Birdemic, BMX Bandits, Devolved, Eagles Over London, Hardware and Inglorious Bastards.
Shopping earns some attention for its view of various participants "pre-fame", but that's about all it has to offer. As either a gritty character piece or an action film, it flops. The DVD comes with erratic picture and audio as well as a few supplements led by a good commentary. Check out Shopping if you're curious to see the big-screen debut for Paul WS Anderson and/or Jude Law, but don't expect much from it.
| | |
| --- | --- |
| Viewer Film Ratings: 4 Stars | Number of Votes: 1 |