FOX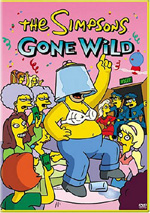 MOVIE INFO
Director:
Various
Cast:
Dan Castellaneta, Julie Kavner, Nancy Cartwright, Yeardley Smith, Hank Azaria, Harry Shearer, Tress MacNeille, Pamela Hayden, Marcia Wallace, Russi Taylor
Writing Credits:
Various
Tagline:
Simpsons Uncensored!
Synopsis:
Everyone's favorite underachieving and politically incorrect animated family is back with four episodes loosely linked by the theme of a party. The first, "Homer's Night Out," is from the show's premiere season in 1990, and features Homer going to a stag party and dancing with a stripper. Meddlesome Bart documents the occasion, and Homer is forced to explain his actions. Then, Homer is thrilled by his free trip to the Superbowl, but his excitement turns to dismay when he finds he can't actually watch the game in "Sunday Cruddy Sunday" (1999). This episode boasts cameos by Dolly Parton, Rupert Murdoch, Troy Aiken, and Dan Marino, as well as a hilarious ad for the Catholic Church! Britney Spears puts in an appearance in "The Mansion Family" (2000) where Mr. Burns leaves the Simpsons to housesit while he visits the Mayo Clinic; of course, things do not go smoothly. Finally, in "Homer the Moe," (2001) Homer takes care of the bar while Moe revisits his old college, which inspires him to renovate upon his return; R.E.M. make a voice cameo making fun of their own politically correct image.
MPAA:
Rated NR


DVD DETAILS
Presentation:
Fullscreen 1.33:1
Audio:
English Dolby 2.0
Spanish Dolby 2.0
French Dolby 2.0
Subtitles:
English
Spanish
Closed-captioned

Runtime: 90 min.
Price: $14.98
Release Date: 9/14/2004

Bonus:
• "Krusty the Clown: The King of Comedy" Featurette




PURCHASE @ AMAZON.COM

EQUIPMENT
Sony 36" WEGA KV-36FS12 Monitor; Sony DA333ES Processor/Receiver; Panasonic CV-50 DVD Player using component outputs; Michael Green Revolution Cinema 6i Speakers (all five); Sony SA-WM40 Subwoofer.


RELATED REVIEWS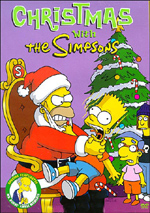 [an error occurred while processing this directive]
---
The Simpsons Gone Wild (1989)
---
Reviewed by Colin Jacobson (September 17, 2004)

While folks overseas have watched Simpsons compilation DVDs for years, those of us in the States never encountered collections of that sort. Instead, Fox did the right thing and only released full season packages for the series. Granted, it's taking them forever to do so, but at least the final product seems strong.

Perhaps as a response to that excruciatingly slow release schedule, US viewers occasionally get some theme DVDs. The Simpsons Gone Wild offers a loose conglomeration of four of the series' more anarchic episodes. I'll present story synopses mostly straight from the DVD's package and also offer my own thoughts on each program.

Homer's Night Out (aired March 25, 1990): Homer goes to a bachelor party for a coworker. On their own, Marge and the kids visit the same restaurant unbeknownst to any of them, and when Bart heads to the can, he sees the shindig. While Homer boogies with exotic dancer Princess Kashmir, Bart uses his new spy camera to take a snapshot. This image quickly makes the rounds through town, and eventually Marge gets a hold of it and boots Homer out of the house. To make up for her anger, Homer agrees to show Bart that it's not right to treat women like objects.

The concept of Marge's anger at Homer got old, but this episode managed to offer a reasonably entertaining affair. It was fun to see Homer treated like a party god, and this offered a few nice moments. The overall level of quality remained good throughout the show, but it didn't raise to any great heights.

Sunday, Cruddy Sunday (aired January 31, 1999): "Homer and Bart lead a group of Springfielders to the Super Bowl. But when they get there they find their tickets are no good and they must sneak in."

Like most guest star-ridden episodes, this one gets a bit gimmicky to fit in all the cameos. The self-referential ending fails to become clever and instead just seems silly. Still, it includes a few goods bits, especially the phone call in which Homer convinces Lenny to go to the game. And any episode in which Rupert Murdoch refers to himself as a "billionaire tyrant" is okay in my book.

The Mansion Family (aired January 23, 2000): "Mr. Burns goes to visit the Mayo Clinic, leaving the Simpsons in charge of his mansion. Homer takes Burns' yacht out to international waters, where he encounters Chinese pirates."

When we contrast "Homer's Night Out" with the later episodes, we see how much the series changed over the years. It started out as fairly reality based, but pretty much any grounding was gone by this point. That doesn't mean the show fails to depict funny bits, especially during the dark humor of Burns' hospital visit. Nonetheless, "Family" occasionally goes too far to the side of silliness; those gags are hit or miss.

Homer the Moe (aired November 18, 2001): "When Moe goes back to bartending school, Homer fills in for him. Then Moe returns and completely redesigns the bar, alienating his regulars."

"Moe" reminds me too much of Season Three's "Flaming Moe's", as both featured a change of fortune for our favorite surly bartender. Still, despite the derivative elements, it works reasonably well. Unlike "Mansion", this one grounds itself in reality and has fun with that side of things. Of course, it stretches matters, but it offers lots of good bits and stands as this DVD's best episode.
---
The DVD Grades: Picture B/ Audio B-/ Bonus D-
---
The Simpsons Gone Wild appears in an aspect ratio of 1.33:1 on this single-sided, double-layered DVD; due to those dimensions, the image has not been enhanced for 16X9 televisions. While prior theme DVDs seemed erratic, this one looked surprisingly good.
Sharpness varied but usually was solid. Much of the time the shows were reasonably distinct and detailed, but a few soft spots occurred. The programs never became grossly undefined, but they occasionally seemed somewhat bland in that department. Jagged edges and shimmering popped up sporadically but didn't cause any real problems, and I also observed no issues connected to edge enhancement.
Source flaws were a distraction in prior Simpsons theme episodes, but these shows looked consistently cleaner. Partially that occurred since three of them were pretty recent, but even the ancient "Homer's Night Out" didn't show many problems. Most of the issues actually related to poor clean up, as they showed stray marks. Otherwise I noticed occasional specks but not many other issues. Surprisingly, "Moe" - the newest show of the bunch - demonstrated the highest level of minor flaws.
Colors looked stronger than I recalled as well. I didn't find the tones to seem fantastic, but they appeared pretty clean and concise. Most of the time the hues were more than acceptable, though they didn't betray a great deal of life some of the time. Black levels were fairly deep, while shadows seemed a bit too murky and opaque. Ultimately, though, the transfers came across as pretty positive.
While the full-season sets of The Simpsons feature Dolby Digital 5.1 audio, the shows on The Simpsons Gone Wild included only the original Dolby Surround 2.0 tracks. Since the 5.1 mixes haven't exactly set the world afire, I thought the 2.0 audio seemed sufficient. The soundfields were fairly restricted. They stayed oriented toward the forward channels and didn't do much. Music offered decent stereo imaging, and some ambient audio popped up in the sides. The surrounds failed to join the party with much force, as they remained passive throughout the shows.
Audio quality was good. Most of the dialogue remained nicely natural and distinct, and only a smidgen of edginess crept into the mix. Effects were clean and accurate, and they showed quite nice bass response. Music also sounded pretty well defined and detailed, and the score demonstrated good dynamics. The audio wasn't terrific, but it came across reasonably well.
The bargain-priced Wild includes only one supplement, and it's a crummy one. We find a featurette that focuses on Krusty the Clown. It lasts a mere 145 seconds, and it simply presents a montage of clips from some of his appearances. It's a waste of time.
The Simpsons Gone Wild isn't a great set, but it should interest fans who grow impatient to get these episodes via their respective full season DVD sets. Heck, it's going to be a while before we get to most of those years, so at least we can enjoy them on DVD during the interim. Both picture and audio quality are good, but the set includes only one lame extra.
Fans who own the Season One DVD set will already possess one of the episodes. It'll take much longer for us to get to any of the other three shows; the oldest comes from Season Ten, and I don't even want to contemplate how long it'll take for them to put out that set. Because we may not see the DVD season sets that include those shows within my lifetime, I can recommend The Simpsons Gone Wild to completists. Those who want a general taste of four fairly good but not exceptional episodes will like it too. It's not The Simpsons at its best, but the programs mostly come across as positive.
| | |
| --- | --- |
| Viewer Film Ratings: 4.4848 Stars | Number of Votes: 33 |