Reviewed by Colin Jacobson
Signature Selection DVD
DreamWorks, widescreen 2.35:1/16x9, languages: English DD 5.1 [CC], French & Spanish Dolby Surround, subtitles: Spanish, French, single side-dual layer, 16 chapters, rated PG-13, 110 min., $34.99, street date 12/8/98.
Supplements:
Deleted scenes
Outtake gag reel
Behind-the-scenes featurette
Interactive game demo
Theatrical trailer
Studio Line
Directed by Joe Dante. Starring Gregory Smith, Kirsten Dunst, Kevin Dunn, Phil Hartman, Denis Leary, Ann Magnuson, Wendy Schaal, Jay Mohr, David Cross, voice of Tommy Lee Jones, voice of Frank Langella.
Big action. Big fun. Big movie! Small Soldiers is one huge adventure. Meet the Commando Elite - toy action figures with an attitude. They've escaped from their boxes along with the Gorgonites, kindhearted but unusual-looking creatures. Now teenager Alan Abernathy gets enlisted to help the Gorgonites and rescue the girl of his dreams before the whole town is turned upside down. Small Soldiers is a spectacular adventure for the whole family!
Picture/Sound/Extras (A-/A/C+)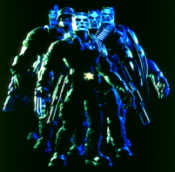 Make no mistake about it: Small Soldiers is by no stretch of the imagination a great movie, or even a very good one. It was the best movie released on July 10, 1998, (its competition was the abysmal Lethal Weapon 4) but that's about all the accolades it will receive. So why did I buy a copy of it? Two reasons: 1) It was dirt cheap; 2) I love audio commentaries.
Unfortunately, despite what my deluded little brain told me when I ordered it, Small Soldiers does not contain an audio commentary. Whoops! Stupid me - I thought it did. To be honest, if I'd known that up front, I wouldn't have ordered it. Too late now, so I'll try to make the best of it.
I saw Small Soldiers theatrically and found it to be a completely underwhelming experience. It was one of those movies that you watch and you find mildly entertaining but that you probably forget about three minutes after it ends.
On DVD, I enjoyed a very similar experience. To be sure, Small Soldiers is not a bad movie. Mainly it suffers from some bland acting and a serious case of déjà vu.
The latter problem stems from the fact that director Joe Dante already made this movie 14 years earlier when he did Gremlins. He also redid that film in 1990 as the sequel, Gremlins 2: The New Batch. Small Soldiers really just covers the same territory as those two movies, albeit with a different cast of characters.
Dante continues to show a flair for the creative mayhem on display in the two Gremlins films. The first movie was at its best when the title characters wreaked havoc. That's why the sequel almost completely dispensed with any semblance of a plot and just let the Gremmies go at it; while the first film required a fairly lengthy setup period, for G2 the nature of the beasts was already established so the movie could indulge solely in the fun stuff.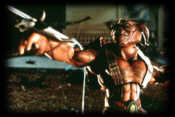 Unfortunately, Small Soldiers can't use the same cinematic shorthand, so the audience has to sit through another rather protracted setup. Somehow it seemed longer here, largely because of the cast. Dante used the same formula for the actors here as he did in the original Gremlins: bland young leading actor, cute but also fairly bland leading actress, and very capable character actors to fill out the rest of the roles.
Both films are burdened with almost impossibly dull lead actors. If anything, Gregory Smith's Alan Abernathy in Small Soldiers seems even more lifeless and unengaging than did Zach Galligan's Billy Peltzer in Gremlins. A lot of this may be due to the background of each character; while Peltzer's supposed to be a dull small town boy, Alan's got a reputation as a troublemaker and a wise-ass, a kid who's been kicked out of a couple schools because of his mischief. At no point in time do any of these characteristics seem evident in Smith's wimpy portrayal of Alan. I don't really fault the kid; this was just bad casting. Surely they could have found someone who could have played the role with a little spirit. I guess Dante likes to have ciphers as his leads. Unfortunately the movie suffers from this choice; since Smith has to carry so much of the film's exposition, the picture ends up with a lot of slow spots because of his character.
It probably didn't help that Alan's non-human cohort, "Gorgonite" Archer, is pretty sedate and uninteresting himself. In Gremlins, Billy interacted with cute little "Mogwai" Gizmo; that puppet added all the charm we needed to complement Galligan. Archer, on the other hand, is supposed to be the quiet leader of the peaceful Gorgonites; "quiet" and "peaceful" rarely add up to an interesting character. Unfortunately, Archer has to function as the foil to the villain of the piece, Major Chip Hazard of the "Commando Elite." Hazard's all ram-it-down-your-throat bombast, wittily voiced by Tommy Lee Jones. Archer needed to be a contrast to him, which is fine except for the fact that we're stuck with the team of Archer and Alan for so much of the first half of the movie; their combined lack of charisma really makes the picture drag.
Both Kirsten Dunst's Christy in Small Soldiers and Phoebe Cates' Kate in Gremlins serve the same purpose: they offer burgeoning romance with our nominal heroes, and they give the heroes someone to rescue. Dunst is a good young actress, but she adds little to the experience here. Cates didn't do much better in Gremlins, but somehow she seemed to offer a bit more oomph to her role. Anyway, Dunst functions perfectly adequately in her part; while she doesn't make the movie better, at least she doesn't hurt it.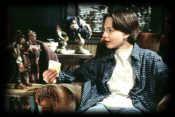 Gremlins took some fine character actors such as Dick Miller and Polly Holliday and put them to fine use in their fun roles as quirky town residents. Dante tries to repeat that formula here but he simply ends up wasting some good actors. The fact that Small Soldiers represents Phil Hartman's final screen appearance has been lamented sufficiently elsewhere, but it must be noted what a disappointing swan song it is. Hartman's just fine as technofascist Phil Frimple, but it's a small and undistinguished role, as are all of the supporting characters. In fact, he's the only one who stands out in any way; others, such as Kevin Dunn and Ann Magnuson, are completely lost along the way.
As with Gremlins, the real stars of Small Soldiers are supposed to be the toys themselves, and for the most part, they do pretty well. The only time this film shows any signs of real life of creativity involve the toys, and even then, these parts only appear sporadically until the last third of the movie. Logically cast as the Commando Elite are the original actors from The Dirty Dozen (plus Jones and Bruce Dern); their presence adds a fun touch to the film. For reasons unknown, Spinal Tap - Michael McKean, Christopher Guest, and Harry Shearer - are cast as the Gorgonites (except for Archer, who's voiced by Frank Langella). No complaints here - This Is Spinal Tap is one of my five favorite films - but it simply doesn't have the same logic behind it as casting the actors from The Dirty Dozen. No matter - all three are accomplished voice actors and they add to their small but entertaining roles.
I can't fault the special effects in the film. If anything, the great effects work on display helps make the film more palatable than it otherwise would have been. The various toys integrate with their environments virtually flawlessly, a crucial factor on making the entire story believable. Maybe they should have made a computer-animated Alan; it would have seemed more lifelike than Smith.
Really, Small Soldiers is a fairly dull little movie until the real action starts during the final third of the picture. That's when the "war" between the humans and the Gorgonites versus the Commando Elite really takes off, and much of it's terrifically entertaining, echoing the best parts of Gremlins. Only at this point does Small Soldiers display the level of creativity, wittiness, and ingenuity that we had expected from it all along. It's good that the film ends on a high note, but it remains a shame that it takes it so long to get there.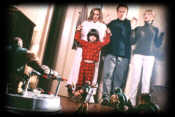 In some ways Small Soldiers fails because of the burdens of its story. Basically, the film offers a terrific premise, and it's usually hard for movies to live up to such inventive ideas because they offer the audience so many opportunities to play "what if." It's impossible to watch a film such as this and not conjure up your own "play opportunities," many of which would probably have been better than those in the actual picture. It's not a case of unrealized potential so much as it is a case of limitless potential, so much that it becomes much harder for the audience to feel satisfied with those scenarios that do appear.
Still, even with all its faults, Small Soldiers offers a decent amount of fun and entertainment and it makes for a very nice DVD. Dreamworks came late to the DVD party, but so far they're done a fine job of making up for lost time. Small Soldiers is no exception to that rule as it offers very solid efforts in all of the usual areas.
First off is the very good picture. Although at times the image seemed little fuzzy or grainy, for the most part it's quite nice. For the most part it's crisp and clean and colors seem solid and accurate. I've seen better, but nonetheless it's a very capable and good looking effort.
The Dolby Digital 5.1 soundtrack of Small Soldiers also works very well. From start to finish, the sound seems clear and lifelike, with clear dialogue and vibrant music. The rear channels receive a nice workout as they are used very extensively to create an excellent three-dimensional surround atmosphere. While the picture consistently looks good, it's this audio mix that's the real star of the show.
In regard to the supplemental materials, clearly I'm disappointed that the DVD contains no audio commentary, but I certainly won't fault Dreamworks for my mistake. The Small Soldiers DVD contains a plethora of other "extras" that are superficial but nonetheless entertaining. Key among these is the eleven minute "behind the scenes" featurette. It looks like one of those "time fillers" that appear between movies on HBO or the like; it offers a quick and dirty view at the creation of the film. Short and shallow as it is, it's still worth watching, even if the bits where the cast and crew talk about an egotistical "actor" Chip Hazard was get rather cutesy.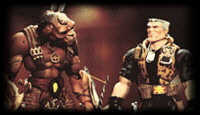 Less satisfying is the DVD's blooper reel. This offers five minutes of actors giggling as they flub lines. Okay, one bit with Kirsten Dunst that actually doesn't involve a misread line was funny, but the rest was dull and lame. Every once in a while a blooper appears that's different and entertaining, but 99% of them are just the same crap; those on the Small Soldiers DVD clearly fall into the latter category.
Much more interesting are the six minutes of deleted scenes. Most of these consist of character pieces featuring the parents from the film. These are nice to see because they add a little more context for the movie, and it gives us more information than we previously knew. Nothing revelatory here, but good to see nonetheless.
Finally, the Small Soldiers DVD also contains a very good trailer (mistakenly referred to as "trailers" on the DVD case), the usual cast and crew biographies, some mildly interesting production notes (duplicated in the DVD's booklet), and what the case calls an "interactive game demo." The latter offers nothing more than a lame advertisement for a Small Soldiers Playstation game. It's only "interactive" if you consider being able to pause and fast-forward through a video signal "interactive." I don't own a Playstation, but even if I did, I wouldn't care much about this "demo."
All in all, Small Soldiers is an erratic but fairly entertaining little action movie that owes a great debt to Gremlins. It's not as good as that movie or its sequel, but it's also not without its charms. Dreamworks has presented it in a very nice DVD package that features a solid image, even stronger audio, and a nice although superficial array of supplemental materials. The Small Soldiers DVD is clearly not worth its $35 list price, but if you can find it at a much lower price - say, in the $15 to $20 range - you might want to give it a look.
Related Sites
Current as of 5/3/99
James Berardinelli's ReelViews--"A fine piece of entertainment for all but the youngest viewers."
Roger Ebert--"Small Soldiers is a family picture on the outside, and a mean, violent action picture on the inside."
American Cinamatographer--A look at the Small Soldiers' visual effects.
The Official Kirsten Dunst Web Site--A well developed site that contains biography, movies & TV, magazines, interviews, multimedia, news, forums and lots more!
Mr. Showbiz Celebrities: Tommy Lee Jones--An excellent source for profile and credits.
The Unofficial Phil Hartman Tribute--A dedication to this late comedian/actor with biography & filmography, image & sound galleries, links and more.
TNT's Rough Cut--A full review of the music soundtrack featuring various artists: "WHAT IS IT GOOD FOR: Absolutley nothing, as the classic song "War" says. Same goes for these remixes of classic '70s and '80s songs. Well, almost nothing."
Movie Music U.K.--A full review of the original score soundtrack composed by Jerry Goldsmith: "Although Small Soldiers will certainly not be remembered as a classic Goldsmith score, it is nevertheless an enjoyable and entertaining CD."
Amazon.com--Available to purchase are the DVD at 30% off, the The Movie Scrapbook: A Look Behind the Scenes by Alex Worman, the music soundtrack by various artists and the score soundtrack composed by Jerry Goldsmith.
Reel.com--Purchase the DVD at 30% off.
Previous: Logan's Run | Back to Main Page