WARNER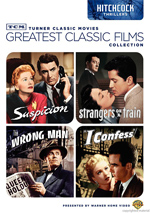 MOVIE INFO
Director:
Alfred Hitchcock
Cast:
Farley Granger, Ruth Roman, Robert Walker, Leo G. Carroll, Patricia Hitchcock, Kasey Rogers, Marion Lorne
Writing Credits:
Raymond Chandler, Czenzi Ormonde, Whitfield Cook (adaptation), Patricia Highsmith (novel)
Tagline:
A tennis star plays a match with murder!
Synopsis:
From its cleverly choreographed opening sequence to its heart-stopping climax on a rampant carousel, this 1951 Hitchcock classic readily earns its reputation as one of the director's finest examples of timeless cinematic suspense. It's not just a ripping-good thriller but a film student's delight and a perversely enjoyable battle of wits between tennis pro Guy (Farley Granger) and his mysterious, sycophantic admirer, Bruno (Robert Walker), who proposes a "criss-cross" scheme of traded murders. Bruno agrees to kill Guy's unfaithful wife, in return for which Guy will (or so it seems) kill Bruno's spiteful father. With an emphasis on narrative and visual strategy, Hitchcock controls the escalating tension with a master's flair for cinematic design, and the plot (coscripted by Raymond Chandler) is so tightly constructed that you'll be white-knuckled even after multiple viewings. Strangers on a Train remains one of Hitchcock's crowning achievements and a suspenseful classic that never loses its capacity to thrill and delight.
Box Office:
Budget
$1.2 million.
MPAA:
Rated NR


DVD DETAILS
Presentation:
Fullscreen 1.33:1
Audio:
English Monaural
French Monaural
Subtitles:
English
Spanish
French
Closed-captioned
Supplements Subtitles:
None

Runtime: 101 min.
Price: $27.92
Release Date: 11/3/2009

Available as Part of "TCM Greatest Classic Films Collection: Hitchcock Thrillers"

Bonus:
• Audio Commentary with Filmmaker Peter Bogdanovich, Psycho Screenwriter Joseph Stefano, Patricia Highsmith Biographer Andrew Wilson, Film Historians Richard Schickel and Robert Osborne, Actor Kasey Rogers (billed as "Laura Elliott" in the movie), Actor/Hitchcock's Daughter Pat, Hitchcock's Granddaughters Mary Stone, Tere Carrubba and Katie Fiala, Novelist Peter Benchley, Train Adapter Whitfield Cook, Filmmaker Joe Alves and Psycho II Director Richard Franklin
• Trailer




PURCHASE @ AMAZON.COM

EQUIPMENT
Panasonic 50" TH-50PZ77U 1080p Plasma Monitor; Sony STR-DG1200 7.1 Channel Receiver; Panasonic DMP-BD60K Blu-Ray Player using HDMI outputs; Michael Green Revolution Cinema 6i Speakers (all five); Kenwood 1050SW 150-watt Subwoofer.


[an error occurred while processing this directive]
---
Strangers On A Train: TCM Greatest Classic Films Collection (Hitchcock Thrillers) (1951)
---
Reviewed by Colin Jacobson (January 6, 2010)

Folks of my generation received their first introduction to 1951's Strangers on a Train via 1987's dark comedy Throw Momma from the Train. In that one, the characters take their inspiration from this Hitchcock flick.

What's the main plot twist? "Criss-cross". On a train trip, Guy Haines (Farley Granger) and Bruno Anthony (Robert Walker) encounter each other. The garrulous Bruno strikes up a conversation with tennis star Guy. A wealthy ne'er-do-well, Bruno hates his dad because his pop – gasp! – wants him to work for a living. Guy has troubles of his own: he wants to marry Anne Morton (Ruth Roman) but is stuck with Miriam (Laura Elliott), his wife who won't give him a divorce.

Bruno offers a solution to their joint troubles: Bruno will kill Miriam while Guy will off the elder Anthony. When Bruno asks Guy if he likes that idea, Haines humors his traveling companion. Apparently Bruno doesn't do sarcasm, however, as he takes Guy's "agreement" seriously. He stalks Miriam at a carnival and strangles her to death.

With his side out of the way, Bruno expects Guy to fulfill his part of the bargain – much to the shock of Guy, who didn't realize they'd made such a violent pact. When Guy refuses to comply, Bruno ratchets up the pressure and attempts to force his "pal" to commit murder.

Hitchcock loved to create movies about ordinary men in extraordinary circumstances. Train wasn't a perfect example of that trend, mostly because Guy doesn't seem particularly ordinary. After all, he's a famous tennis star who wants to marry a senator's daughter. That doesn't exactly make him an average Joe, does it?

Nonetheless, Train give us a character who ends up trapped in circumstances beyond his control. Unfortunately, as portrayed by Granger, Guy isn't one of Hitchcock's most interesting leads. Maybe he just seems milquetoast because I watched North By Northwest immediately prior to my screening of Train. Very few actors could match up suave, charismatic Cary Grant, so it's no surprise that Granger seems bland.

Nonetheless, I can't help but think that Granger's Guy would come across as ordinary even without the comparison to Grant. Granger had a pretty face but not a lot of obvious acting talent. We fail to feel Guy's angst because Granger lacks the ability to convey any depth or inner life. Granger doesn't ruin Train, but I couldn't help but wish Hitchcock had found someone more interesting to play Guy.

At least his opposite number proves more successful. Walker makes Bruno a flashy piece of work. He delivers an unhinged feeling to the character but also gives him enough self-confidence and suaveness to Bruno. I wouldn't call him the most realistic character, but he's consistently compelling, and Walker gives the role flair.

It's nice to see Hitchcock's daughter Pat in a mildly substantial role for once as well. I suspect viewers know her best as Janet Leigh's office mate in Psycho; here she plays Anne's sister. Pat actually has a part that means something in the plot; she's not just along for the ride. Pat wasn't a great actress, but she's fine in the role, and it's fun to see her do something more than a glorified cameo.

As always, Hitchcock brings his own strong sense of visual style to the proceedings. Probably the film's best moments come when Bruno stalks and murders Miriam. Hitchcock explores the carnival in a way that's creepy, sensual and spooky all at once. It's a great set piece, and not the only one that stands out here.

Unfortunately, the whole isn't equal to the sum of its parts. While Train is pretty good Hitchcock, it falls short of the greatness we came to expect from the director. Some of the problem comes from the fact that the story can't quite live up to the intrigue presented by its premise. Train delivers a great idea, but except for a few exceptions, the action just doesn't fulfill that set-up's promise.

That said, average Hitchcock is still pretty darned good. Could Strangers on a Train have been better? Sure – if it lost about 15 minutes from the running time and added a superior lead actor, it'd probably jump up a notch. Nonetheless, the movie displays enoiugh of the Hitchcock manage to make it enjoyable.
---
The DVD Grades: Picture B+/ Audio C+/ Bonus C
---
Strangers on a Train appears in an aspect ratio of 1.33:1 on this double-sided, double-layered DVD; due to those dimensions, the image has not been enhanced for 16X9 televisions. Though not without some flaws, the flick usually looked very good.
Sharpness looked positive. A few wide shots demonstrated minor softness, but those remained minor. Most of the movie exhibited fine delineation and accuracy. No issues with jagged edges or shimmering emerged, and edge enhancement appeared to be absent.
The black and white image demonstrated solid tones. Blacks came across as deep and rich throughout the movie, and it offered simply terrific contrast at all times. The film displayed a nicely silvery appearance. Shadow detail looked appropriately heavy but never came across as excessively dense.
Though not totally immaculate, given the flick's age, Train suffered from relatively few source flaws. I noticed a handful of specks and a thin vertical line or two. Don't worry about these, though, as they played a small part during the mostly clean presentation. Overall, I felt very pleased by this fine transfer.
While not in the same league as the picture, the monaural soundtrack of Train also worked acceptably well given the age of the material. Speech seemed reasonably accurate and distinct, though lines could be somewhat edgy at times. Music came across as fairly bright and lively, though dynamic range seemed limited. Effects also displayed generally accurate tones but lacked very clear highs or tight lows. Overall, the audio appeared decent but not spectacular.
In addition to the film's trailer, the disc includes an audio commentary. This track features a mix of participants. We hear from filmmaker Peter Bogdanovich, Psycho screenwriter Joseph Stefano, Patricia Highsmith biographer Andrew Wilson, film historians Richard Schickel and Robert Osborne, actor Kasey Rogers (billed as "Laura Elliott" in the movie), actor/Hitchcock's daughter Pat, Hitchcock's granddaughters Mary Stone, Tere Carrubba and Katie Fiala, novelist Peter Benchley, Train adapter Whitfield Cook, filmmaker Joe Alves and Psycho II director Richard Franklin. The track looks at the original novel and its adaptation, story and character issues, cast and performances, and Hitchcock as director, collaborator and person.
The commentary fares best when it looks at Highsmith and her novel. Wilson offers good details about her and gives us a fair amount of useful information. Unfortunately, the rest of the track isn't as interesting, and it can become downright dull at times. The participants tend to wander off-topic, and despite the fact we get 14 speakers, there's a surprising amount of dead air. I wouldn't call this a bad commentary, but it's not a particularly good one, either.
Strangers on a Train comes blessed with a splendid concept but cursed – or at least mildly harmed – by a dull lead actor. Despite that weakness, however, the movie offers enough suspense and intrigue to remain consistently compelling. The DVD boasts very good picture, acceptable audio, and a mediocre audio commentary. This isn't a great release, but it's perfectly acceptable.
Note that this version of Strangers on a Train comes as part of a four-movie package. Called "TCM Greatest Classic Films: Hitchcock Thrillers", the set also includes The Wrong Man, I Confess and Suspicion. "Thrillers" packs the four movies onto two DVDs; it pairs Train with Suspicion.
| | |
| --- | --- |
| Viewer Film Ratings: 5 Stars | Number of Votes: 4 |