PARAMOUNT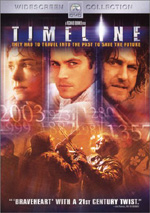 MOVIE INFO
Director:
Richard Donner
Cast:
Paul Walker, Frances O'Connor, Gerard Butler, Billy Connolly, David Thewlis, Anna Friel, Neal McDonough, Matt Craven, Ethan Embry
Writing Credits:
Michael Crichton (novel), Jeff Maguire, George Nolfi
Tagline:
They Had To Travel Into The Past To Save The Future.
Synopsis:
Popular action star Paul Walker (The Fast And The Furious) leads an ensemble cast as a group of young archaeologists who confront the intrigue and perils of time travel in Timeline, directed by Richard Donner (Lethal Weapon) and based on the best selling novel by Michael Crichton (Jurassic Park). While excavating in the Dordogne Valley of France, a scientific research team's new invention, a time-travel machine, has inadvertently sent archaeology professor Edward Johnston (Billy Connolly, The Last Samurai) back to 14th century France ... and has landed him in the middle of the raging Hundred Years War between the French and English. Johnston's only chance for rescue lies in the hands of his son Chris (Walker), his assistant professor Andre Marek (Gerard Butler, Lara Croft Tomb Raider: The Cradle Of Life), and several of his students. The intrepid time travelers must make the same treacherous journey and, with the deadline of only eight hours now ticking away, must navigate through the hostile, war-torn territory and retrieve the professor before he's lost to history forever.
Box Office:
Budget
$80 million.
Opening Weekend
$8.440 million on 2787 screens.
Domestic Gross
$19.480 million.
MPAA:
Rated PG-13


DVD DETAILS
Presentation:
Widescreen 2.35:1/16x9
Audio:
English Dolby Digital 5.1
English Dolby 2.0
French Dolby Digital 5.1
Subtitles:
English
Closed-captioned

Runtime: 115 min.
Price: $29.99
Release Date: 4/13/2004

Bonus:
• "Journey Through Timeline" Documentary
• "The Textures of Timeline" Documentary
• Trailers
• Previews




PURCHASE @ AMAZON.COM

EQUIPMENT
Sony 36" WEGA KV-36FS12 Monitor; Sony DA333ES Processor/Receiver; Panasonic CV-50 DVD Player using component outputs; Michael Green Revolution Cinema 6i Speakers (all five); Sony SA-WM40 Subwoofer.


RELATED REVIEWS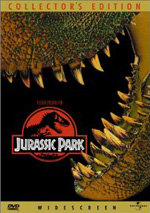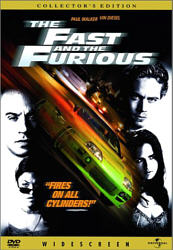 [an error occurred while processing this directive]
---
Timeline (2003)
---
Reviewed by Colin Jacobson (April 8, 2004)

2003's Timeline didn't boast much star-power in its cast. When Paul Walker – best known for The Fast and the Furious - stands as your biggest star, you know your cast includes a lot of fairly obscure actors. However, that shouldn't be a big deal, and the flick involves some other big names via director Richard Donner and novelist Michael Crichton; those two have been behind many a successful flick.

Unfortunately, Timeline offered a dud both critically and financially. It received generally negative reviews, and audiences largely ignored it; positioned as a big holiday release, it made a mere $19 million. All for good reason, as Timeline presents a pretty dull piece of work.

After a quick introduction to a corporation named ITC and an employee who dies under suspicious circumstances, the film brings us to the site of an archaeological dig. This involves the Battle of Castlegard in 1357, and we learn a little about those events. We meet Professor Edward Johnston (Billy Connolly) and his slacker son Chris (Walker) who shows no interest in his dad's work. However, Chris does take a shine to one of dad's students, the lovely Kate Ericson (Frances O'Connor). The professor goes off on a junket with the folks from ITC, who fund the dig, and the others continue their business.

When Andre Marek (Gerard Butler) and Kate go into an underground site, they find a note from Professor Johnston; dated 1357, it simply says "Help me". With the professor missing, they pester ITC to find out more. Eventually they meet with ITC bigwig Robert Doniger (David Thewlis), who explains they attempted to build a sort of fax machine to send 3-D objects from one place to another. They accidentally discovered a wormhole that just happens to go back to Castlegard in 1357. The professor ended up stuck back there, so ITC wants the archaeologists to accompany their own team to retrieve him. The film follows their exploits and all the challenges they encounter back in the 14th century.

Somewhere buried in this mess, a decent little movie exists. Unfortunately, it never emerges, and Timeline ends up as a flat and unengaging product.

Much of the problem relates to the cast. No, I take that back – the concerns blend actors and characters. The roles as written present very little to make them stand out to us. I felt lucky to remember their names, much less recall anything that would allow me to view them as anything more than generic. They all seem severely underwritten and fail to deliver any form of real personality.

It doesn't help that the actors don't contribute anything to bring life to their roles. I definitely don't fault movies when they lack big-name actors, and all the stars in the world wouldn't have helped Timeline. Still, I think it could have come across as more dynamic and distinctive with some livelier performances. The actors seem submerged in the mediocrity and don't do anything to contribute a spark or energy. They muddle through the mess and that's about it.

Make no mistake: Timeline is definitely a mess. At its heart, the story seems quite simple, but the filmmakers do their damnedest to make it absurdly complex. I often felt lost, even though the plot should have lacked the intricacy to cause that problem. Perhaps the filmmakers thought that if the flick seemed complicated that we'd feel it presented more depth, but that didn't happen. Instead, the movie simply came across as disjointed and often borderline nonsensical.

Add to that an absurd number of artificial obstacles. Of course, many movies toss semi-illogical problems at their characters; after all, if things progress too easily, there's no challenge and no opportunity for triumph at the end. Nonetheless, Timeline brings about a ridiculous series of barriers that feel like little more than cinematic conventions.

Richard Donner has proven himself to be a more than able director over the years, but he seems to be on cruise control here. He presents a lot of clunky exposition in an awkward way, and he fails to add any pizzazz to the action scenes. I'd hoped that despite the clumsy dramatic segments, he'd deliver with some fun and involving action. Alas, that fails to occur, as every element of the film lacks pizzazz.

Timeline bears all the markings of a competent production. It simply lacks any spirit or real creativity. Time travel movies boast all sorts of potential for interesting developments, but Timeline becomes so burdened with nonsense and extraneous elements that it can't overcome them. Frankly, it's a tedious mess.
---
The DVD Grades: Picture B/ Audio B+/ Bonus B
---
Timeline appears in an aspect ratio of approximately 2.35:1 on this single-sided, double-layered DVD; the image has been enhanced for 16X9 televisions. The visuals seemed good but not exceptional.
For the most part, sharpness seemed fine. Occasionally, some shots displayed mild to moderate softness, but those concerns remained fairly infrequent. Instead, the majority of the flick was acceptably concise and detailed. I saw no issues with jagged edges or shimmering, but some light edge enhancement showed up at times. Source flaws were minor, as I saw a few specks. Otherwise, the movie looked clean.
Timeline displayed a natural palette, and the DVD presented the colors well. The tones consistently came across as vivid and vibrant. They looked clear and lively at all times. Black levels appeared deep and firm, while low-light shots presented appropriately dense but not excessively dark images. Overall, Timeline offered a pretty positive picture.
The Dolby Digital 5.1 soundtrack of Timeline also functioned well. The soundfield offered a rich and varied experience that utilized all five channels nicely. The forward spectrum portrayed a broad and engaging realm in which sounds seemed to be cleanly localized and blended together clearly.
The surrounds also added a fine level of reinforcement to the package, as they bolstered the action. However, the action sequences didn't quite deliver the appropriate levels of chaos from all around the viewer. At times the rears seemed a little weak, though they generally supported the film well. A few bits – like the teleportation sequence – worked best.
Overall, audio quality seemed solid. Speech was concise and distinctive, with no issues connected to edginess or intelligibility. Music was nicely robust and dynamic, with good clarity and vividness. Effects also demonstrated solid fidelity, with clean, accurate tones that displayed good depth. The bass came across as tight and firm without any boominess. Ultimately, Timeline featured a positive auditory experience.
Only a smattering of extras round out the Timeline DVD, but they seem positive. Journey Through Timeline presents a three-part documentary. Via the "Play All" option, it runs 45 minutes and 10 seconds as it offers the usual mix of movie clips, shots from the set, and interviews. We hear from director Richard Donner, script supervisor Sioux Richards-McLane, producer/1st AD Jim Van Wyck, producer Lauren Shuler Donner, cinematographer Caleb Deschanel, co-producer Kevin De La Noy, visual effects supervisor Roger Guyett, 2nd unit director and stunt coordinator Allan Graf, swordmaster/stuntman Thomas Dupont, special effects coordinator Neil Corbould, and actors Matt Craven, Michael Sheen, Paul Walker, Frances O'Connor, Gerard Butler, Anna Friel and Lambert Wilson. They cover storytelling challenges, directing many actors in one scene, blowing up the lab, shot composition, and filming all elements of the big battle, which includes the armory explosion and sword fights.
"Journey" acts more like a production diary than a standard documentary. The interviews and movie clips take a backseat to behind the scenes material. We get a nice slice from the shoot, as it delivers a good feel for the atmosphere on the set. We watch the work as it unfolds, and the raw footage tells the story for itself. We even see a practical joke connected to continuity due to Walker's tan. "Journey" presents a solid look at the shoot.
Another documentary arrives next with The Textures of Timeline. It fills 18 minutes and 17 seconds and uses the same format as the prior show. We get notes from Donner, Shuler Donner, Guyett, costume designer Jenny Beavan, Anna Friel, Paul Walker, Frances O'Connor, Neal McDonough, key armorer Simon Atherton, visual consultant Tom Sanders, production designer Dan Dorrance, and composer Brian Tyler. We learn about costumes, set and prop design, visual effects and the movie's look, sets and locations, and the score. A tight little show, this one runs through the various topics quickly but gives us a good impression of each. It provides adequate exploration and meshes behind the scenes shots with interviews to become informative and illuminating.
In addition to two trailers for Timeline, the DVD includes some Previews. This area presents ads for Sky Captain and the World of Tomorrow, The Spongebob Squarepants Movie, Paycheck, The Perfect Score and The Stepford Wives. As usual, Paramount includes English and French subtitles for the majority of the visual extras.
Timeline had the potential to be fun and exciting, but unfortunately, it ended up as a muddled mess. The film turned a simple story into something almost incomprehensible and failed to deliver enough action and drama to make it watchable. The DVD offered generally solid picture and sound with a small but useful and entertaining set of supplements. Fans will be happy with this mostly well-executed DVD, but I can't recommend it to anyone else.
| | |
| --- | --- |
| Viewer Film Ratings: 2.6956 Stars | Number of Votes: 23 |