WARNER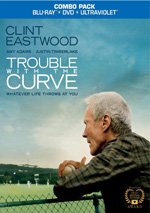 MOVIE INFO
Director:
Robert Lorenz
Cast:
Clint Eastwood, Amy Adams, John Goodman, Justin Timberlake , Matthew Lillard, Robert Patrick, Scott Eastwood, Matt Bush
Writing Credits:
Randy Brown
Tagline:
Whatever Life Throws at You.
Synopsis:
Gus Lobel (Clint Eastwood) has been one of the best scouts in baseball for decades, but, despite his efforts to hide it, age is starting to catch up with him. Nevertheless, Gus-who can tell a pitch just by the crack of the bat-refuses to be benched for what may be the final innings of his career. He may not have a choice. The front office of the Atlanta Braves is starting to question his judgment, especially with the country's hottest batting phenom on deck for the draft. The one person who might be able to help is also the one person Gus would never ask: his daughter, Mickey (Amy Adams), an associate at a high-powered Atlanta law firm whose drive and ambition has put her on the fast track to becoming partner. Against her better judgment, and over Gus's objections, Mickey joins him on his latest scouting trip to North Carolina, jeopardizing her own career to save his.
Box Office:
Opening Weekend
$12.162 million on 3212 screens.
Domestic Gross
$35.721 million.
MPAA:
Rated PG-13


DVD DETAILS
Presentation:
Aspect Ratio: 2.40:1
Audio:
English DTS-HD MA 5.1
French Dolby Digital 5.1
Latin Spanish Dolby Digital 5.1
Portuguese Dolby Digital 5.1
Subtitles:
English
Latin Spanish
French
Portuguese
Closed-captioned
Supplements Subtitles:
English
French
Latin Spanish
Portuguese

Runtime: 111 min.
Price: $35.99
Release Date: 12/18/2012

Bonus:
• " Rising Through the Ranks" Featurette
• "For the Love of the Game" Featurette
• Previews




PURCHASE @ AMAZON.COM

EQUIPMENT
Panasonic 50" TH-50PZ77U 1080p Plasma Monitor; Sony STR-DG1200 7.1 Channel Receiver; Panasonic DMP-BD60K Blu-Ray Player using HDMI outputs; Michael Green Revolution Cinema 6i Speakers (all five); Kenwood 1050SW 150-watt Subwoofer.


[an error occurred while processing this directive]
---
Trouble With The Curve [Blu-Ray] (2012)
---
Reviewed by Colin Jacobson (December 12, 2012)

For an anti-Moneyball take on baseball, we go to 2012's Trouble with the Curve. Veteran Atlanta Braves scout Gus Lobel (Clint Eastwood) can chalk up many successful signings in his long career, but he's encountered a dry spell and front office hotshot Phillip Sanderson (Matthew Lillard) feels the old man and his antiquated methods should be put out to pasture.

It doesn't help that Gus suffers from failing eyesight, which makes his important trip to scout young phenom Bo Gentry (Joe Massingill) more of a chore. Scouting chief Pete Klein (John Goodman) does his best to support his old pal, so he recruits Gus's semi-estranged daughter Mickey (Amy Adams) to accompany her dad and offer support. Mickey initially resists this request – a hard-working lawyer, she needs to devote all her attention to an important case if she wants to make partner – but she succumbs to emotion/responsibility and heads to North Carolina.

This doesn't go smoothly. Gus remains emotionally distant, and he resents Mickey's presence, mainly because he seems loath to acknowledge his own failing health. Nonetheless, father and daughter stick together to decide if the Braves should use the number two draft pick on Gentry. The guarded Mickey also falls for a Red Sox scout named Johnny Flanagan (Justin Timberlake), a former pitching prospect originally scouted by Gus.

This is a perfectly watchable movie saddled with a bad script. It telegraphs virtually every story point/emotion in such a strong way that I couldn't help but wonder if it was written by Screenplay-O-Matic. The film takes long breaks to explain the characters and the plot and just seems awfully contrived, with one-dimensional personalities.

And still, it manages to be moderately entertaining, mainly due to the cast. I must admit Eastwood's recent political ramblings have been a turn-off to me, but hell, he's Clint - even though he borders on self-parody here, he's still enjoyable. Amy Adams is a bit weak in her role - she's better at parts with more natural charm and spark - but she's fine, and Timberlake is more than competent. He gets the thinnest part of the bunch but delivers a likable, engaging turn.

I just wish the movie had been more believable and less trite/predictable. The second the Gentry and Phillip characters appear, we know they're gonna get their comeuppance - and we know Everything Will Be Just Fine for the "good leads".

As I note occasionally, I don't mind movies with predictable arcs/conclusions as long as they deliver an interesting ride. That's the problem with Curve: the hackneyed screenplay becomes so stiff that it hampers what should be an engaging trek. The movie can't move along its events in a smooth manner. It grinds to a halt for half-witted psychoanalysis, and I can't emphasize how weak the characterizations tend to be, especially for secondary roles; Bo and Phillip couldn't be more cartoony if Tex Avery directed the film.

At its best, Curve can provide some entertainment, largely due to the cast. I just wish the script had gotten a couple more rewrites and brought us something with more verve and realism – and less triteness.
---
The Blu-ray Grades: Picture B+/ Audio B-/ Bonus D+
---
Trouble with the Curve appears in an aspect ratio of approximately 2.40:1 on this Blu-ray Disc. This was a consistently positive presentation.
Only a smidgen of softness ever interfered with the presentation. I noticed a few slightly ill-defined shots, but most of the movie displayed solid clarity and delineation. Jagged edges and moiré effects failed to appear, and edge haloes remained absent. Print flaws also stayed away from this clean image.
In terms of colors, Curve went with a somewhat stylized palette, as it appeared someone turned on the "teal" switch when they shot it. The blue-ish tint didn't overwhelm, but it dominated, so expect it to cover most of the film. Within that design, the hues appeared fine; they didn't excel but they seemed accurately reproduced. Blacks showed good depth, while low-light shots boasted nice clarity. This was a solid "B+" presentation.
As for the film's DTS-HD MA 5.1 soundtrack, it worked pretty well. The audio tended to be somewhat restrained most of the time, but some sequences – such as at baseball games or at bars – opened up the spectrum in a satisfying manner. Cars and other elements moved around the room, while other effects added a good sense of ambience.
Audio quality was perfectly acceptable. Speech showed nice clarity and naturalism, and music was reasonably distinctive and dynamic. Effects lacked much to stand out, but they appeared accurate, and they showed mild punch when necessary. All of this seemed good enough for a "B-".
In terms of extras, we find two featurettes: Rising Through the Ranks (4:37) and For the Love of the Game (6:02). These offer notes from director Robert Lorenz, producer Michele Weisler, and actors Justin Timberlake, John Goodman, Amy Adams, and Clint Eastwood. We learn about Lorenz's career and his work as first-time director, cast and performances. Summary: everything and everyone was great. Do you learn more than that here? Not really. A few decent shots from the set add value, but these remain a pair of superficial shows.
The disc opens with an ad for 42. No trailer for Curve shows up here.
A second disc provides a DVD copy of Curve. It includes the "For the Love of the Game" featurette.
While a competent piece of entertainment, Trouble With the Curve seems too trite and predictable to become better than that. Saddled with a hackneyed script, the actors add some life but this remains a pretty mediocre film. The Blu-ray offers very good visuals and positive audio but lacks notable bonus materials. Curve makes for a mildly enjoyable 111 minutes but that's about it.
| | |
| --- | --- |
| Viewer Film Ratings: 3.6785 Stars | Number of Votes: 28 |