FOX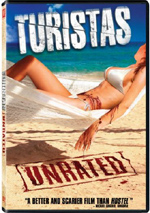 MOVIE INFO
Director:
John Stockwell
Cast:
Josh Duhamel, Melissa George, Olivia Wilde, Desmond Askew, Beau Garrett, Max Brown, Agles Steib, Miguel Lunardi
Writing Credits:
Michael Ross
Tagline:
Go Home.
Synopsis:
Rising star Josh Duhamel (TV's Las Vegas) leads a group of young backpackers who find themselves stranded on a remote Brazilian beach; an exotic paradise, with warm sunshine, cool ocean breezes, and plenty of hot bodies. But, after a night of partying, the wayward turistas are drugged and robbed, and their dream vacation becomes a gruesome nightmare. Trapped and desperate, the vulnerable travelers are lured deep into the menacing jungle and beyond, where a dark and twisted fate too terrifying to imagine awaits.
Box Office:
Budget
$10 million.
Opening Weekend
$3.582 million on 3471 screens.
Domestic Gross
$7.025 million.
MPAA:
Rated NR


DVD DETAILS
Presentation:
Widescreen 2.35:1/16X9
Audio:
English Dolby Digital 5.1
French Dolby Surround 2.0
Spanish Dolby Surround 2.0
Subtitles:
English
Spanish
Closed-captioned
Supplements Subtitles:
None

Runtime: 96 min.
Price: $29.99
Release Date: 3/27/2007

Bonus:
• ďThe Bloody Truth: The Special Make-Up Effects of TuristasĒ Featurette
• The Hills Have Eyes 2 Teaser Trailer




PURCHASE @ AMAZON.COM

EQUIPMENT
Sony 36" WEGA KV-36FS12 Monitor; Sony DA333ES Processor/Receiver; Panasonic CV-50 DVD Player using component outputs; Michael Green Revolution Cinema 6i Speakers (all five); Sony SA-WM40 Subwoofer.


RELATED REVIEWS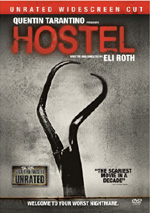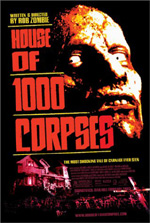 [an error occurred while processing this directive]
---
Turistas: Unrated (2006)
---
Reviewed by Colin Jacobson (March 14, 2007)

After the moderate success of 2006ís Hostel, we can expect more horror flicks in the same vein. Along those lines comes 2007ís Turistas, another low-budget gore-fest that focuses on ordinary folks subjected to terror in a strange land.

While Hostel presented college kids traumatized as they backpacked through Europe, Turistas takes us to Brazil. We meet American tourists Alex (Josh Duhamel), his sister Bea (Olivia Wilde) and her pal Amy (Beau Garrett). During a wild bus ride, the vehicle crashes and strands the passengers. This trio gets to know fellow travelers Australian babe Pru (Melissa George) along with horny British brothers Finn (Desmond Askew) and Liam (Max Brown).

As they await the arrival of a replacement bus, this group heads toward a nearby beach with a bar. This place offers a veritable paradise, so they decide to bag the new bus and stay there for the indefinite future. In the meantime, some romantic sparks fly between Alex and Pru.

The party doesnít last, however. The locals drug the tourists, rob them blind and leave them passed out on the beach. As they wander back toward some form of civilization, they encounter some of the folks who stole their stuff and nearly cause a riot. They run into Kiko (Agles Steib), a local they partied with on the beach, and he promises to lead them to safety.

Bad idea! Letís just say that their destination doesnít prove to be terribly welcoming. The rest of the film follows the horror that befalls the tourists and views their attempts to survive the attacks of a sadistic madman (Miguel Lunardi).

Hostel came out in very early 2006. That period of the year and early spring always seem to be productive times for horror flicks. They fill the gaps between the big holiday and summer releases, so the lack of competition allows them to find an audience. Hostel did well in that regard, as it made $47 million Ė or more than 10 times its $4.5 million budget.

On the other hand, Turistas hit screens in early December 2006. Thatís an act of ďcounter-programmingĒ, whereby a studio releases a film that contrasts strongly with its immediate competition. Itís like putting out a serious drama amid the action spectaculars of June. The theory is that audiences with no interest in the fare typical for the time of year will flock to something different.

That worked for Scream in 1996, another holiday season release. Such a fate did not greet Turistas. The flick earned a mere $7 million, not even enough to cover its meager $10 million budget.

Scream benefited from the fact it was actually a good movie. Since Turistas cannot make that claim, it failed. Maybe it would have fared better at another time of year, but I doubt it, as Iíd guess that the target audience saw it for what it was: just an attempt to capitalize on the success of Hostel.

Although both pictures offer similar themes and Turistas clearly used an ad campaign to make it look like the South American cousin of Hostel, in reality the movies donít bear many similarities. Hostel was closer to a snuff film than a traditional horror flick. It took its characters and subjected them to a seemingly unending array of gruesome assaults from a long list of sickos.

On the other hand, Turistas more closely resembles an action thriller than anything in the horror genre. Once it gets past its extended set-up period, that is. The flick teases us with its nastiness at the very start; Iíd guess the filmmakers realized that the movie took forever to get where it needed to go, so an opening flash-forward reminds us why we bought our tickets/DVDs right up front.

From there, however, we must wait quite a long time to get to the bloody action, and even then, the movie doesnít deliver much. It throws out one particularly unpleasant scene but otherwise stays within the range of the standard action effort. Thereís really little here to distinguish the tale from any number of other thrillers; without that one graphic sequence, this wouldnít remotely qualify as a horror entry.

I donít mind that ďbait and switchĒ particularly, perhaps because I didnít care for Hostel and didnít want to watch a virtual remake. At least the sadism of Hostel made it something different, though. I didnít like it, but I could see why its unusual nature might make it appeal to some folks.

Nothing about Turistas makes it involving or interesting. It lacks tension and doesnít even bother with rudimentary character development. The plot is negligible, and the tale never goes much of anywhere. Thatís why itís frustrating to wait so long before the potential action takes effect. Anyone who picks up this title wants some gruesome material and the usual genre elements; they wonít be happy the movie takes forever to deliver any of these and proves tepid even when it does so.

Does Turistas do anything right? Well, thereís some decent female nudity, and most of the women run around in skimpy bikinis through a lot of the flick. Otherwise, the movie is nothing more than a thin rip-off of Hostel. I never thought Iíd look back on that film in a positive light, but as little as I enjoyed it, I now see that it could have been much less interesting.
---
The DVD Grades: Picture A-/ Audio B+/ Bonus D+
---
Turistas appears in an aspect ratio of approximately 2.35:1 on this single-sided, double-layered DVD; the image has been enhanced for 16X9 televisions. Despite the filmís low-budget origins, it boasted very solid visuals.
At no point did any concerns with sharpness materialize. From start to finish, the movie featured concise, accurate elements. A little shimmering cropped up at times, but I saw no jagged edges, and edge enhancement seemed to be absent. Source flaws also failed to create concerns, as the movie was free from defects.
As for colors, Turistas went with a bold tropical palette during its early scenes. When the action turned grim, however, the hues went with it, so the film presented colder, desaturated tones. All of these fit the design and looked good. Blacks were dark and dense, while shadows showed fine clarity and delineation. Overall, this was a very satisfying transfer.
The Dolby Digital 5.1 soundtrack of Turistas worked nearly as well. Though not a tremendously ambitious mix, it opened up the action well. As one might expect from this sort of flick, the audio emphasized creepy ambiance. The mix conveyed a dire sense of circumstances and worked nicely in that regard. A few more active scenes appeared, but usually the track stayed with this environmental material. Along with eerie music, these pieces filled out the room neatly.
The various elements also boasted strong quality. Speech occasionally suffered from some awkward looping, but the lines remained crisp and natural otherwise. Effects seemed clear and dynamic, with good punch and range. Music was especially positive, as the score and songs demonstrated excellent life and vivacity. I liked the soundtrack and thought it worked for the film.
Turistas comes light on extras. Other than a teaser trailer for The Hills Have Eyes 2, all we find is a featurette called The Bloody Truth: The Special Makeup Effects of Turistas. In this 10-minute and two-second piece, we see movie snippets, behind the scenes materials, and interviews. We hear from director John Stockwell, underwater DP/2nd unit director Pete Zuccarini, prosthetics makeup supervisor Todd Masters, prosthetic makeup effects artist Michael Manzel, underwater camera assistant Bob Settlemire, underwater stunt double and coordinator Alex Krimm, and LA prosthetics supervisor Dan Rebert. They give us all the gory details on how they executed the bloody scenes. This offers a pretty tight, fact-filled exploration of the various techniques and proves satisfying.
Too bad I canít say the same for Turistas itself. Although the movie wants to ride the sadistic Hostel/Saw bandwagon, it works more like a predictable action flick. It doesnít combine the genres well and becomes forgettable. The DVD presents very good picture and audio but lacks significant extras. Skip this poor excuse for a horror movie.
| | |
| --- | --- |
| Viewer Film Ratings: 3.5 Stars | Number of Votes: 12 |