WARNER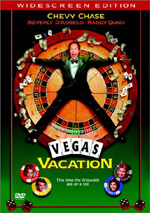 MOVIE INFO
Director:
Stephen Kessler
Cast:
Chevy Chase, Randy Quaid, Beverly D'Angelo, Ethan Embry, Marisol Nichols, Miriam Flynn, Shae D'Lyn
Writing Credits:
Elisa Bell, Bob Ducsay
Tagline:
This time the Griswolds are on a roll.
Synopsis:
When Clark Griswold puts his mind to something, we soon realize he hasn't got one. Still, nothing stops him when the vacation bug hits. This time he's chosen Las Vegas, the family entertainment capital of America!
Box Office:
Opening Weekend
$12.837 million on 1891 screens.
Domestic Gross
$36.429 million.
MPAA:
Rated PG-13


DVD DETAILS
Presentation:
Widescreen 1.85:1/16x9
Audio:
English Dolby Digital 5.1
French Dolby Digital 5.1
Subtitles:
English
French
Spanish
Closed-captioned

Runtime: 95 min.
Price: $14.98
Release Date: 10/7/2003

Bonus:
• Production Notes
• Trailer




EQUIPMENT
Sony 36" WEGA KV-36FS12 Monitor; Sony DA333ES Processor/Receiver; Panasonic CV-50 DVD Player using component outputs; Michael Green Revolution Cinema 6i Speakers (all five); Sony SA-WM40 Subwoofer.


RELATED REVIEWS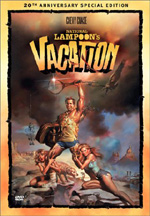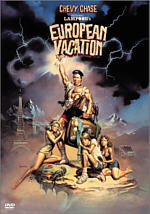 ---
Vegas Vacation (1997)
---
Reviewed by Colin Jacobson (November 7, 2003)

After an eight-year break between films, the Vacation series resumed in 1997 with Vegas Vacation. Fourteen years following first flick, Vegas finds the Griswold family on the verge of another trip. Father Clark (Chevy Chase) gets a big bonus at work so he decides to take the clan to Las Vegas, where he also wants to remarry wife Ellen (Beverly D'Angelo).

They cart kids Rusty (Ethan Embry) and Audrey (Marisol Nichols) – still in their teens after all these years – off to Sin City for some fun and frolic. A few subplots develop. As usual, Ellen's cousin Eddie (Randy Quaid) barges in on the Griswolds, and he spends some time with Clark, who whittles away the family's savings on unsuccessful gambling. After he obtains a fake ID, Rusty starts to place bets himself, but with much more positive results. Audrey hangs out with her stripper cousin Vickie (Shae D'Lyn), while Ellen deals with the romantic overtures of an infatuated Wayne Newton (himself).

That's not much of a plot, but it's actually more complex than any of the prior Vacation flicks. Those movies simply presented various sketches connected together by the vague theme of "Clark wants the perfect holiday". That element still appears in Vegas, but it branches out somewhat due to Clark's gambling addition; he actively supports a split among the family members, which means that we don't see his obsession in quite the same way.

Some may argue that detracts from the Vacation tradition, which it does. But I think it's a welcome change. Each successive film had gotten crummier and crummier, with fewer amusing or creative elements. Christmas Vacation apparently enjoys a good reputation among fans, but I can't figure out why; I think it provides a disjointed and unfunny mess.

I won't call Vegas a classic, but honestly, I like it more than any Vacation flick since the original. Part of this comes from the fact it does maintain an actual theme and is a little more than just a conglomeration of gags. The natural absurdity of the setting helps. Vegas is such a ridiculous place that it's easy for comedy to spring from it. The movie utilizes those elements moderately well and gives us a few decent laughs.

Though it's now a little creepy to watch Siegfried and Roy with their tigers, that scene provides some nice moments. Chase's performance contributes as well. From the original through Christmas, he became more and more manic with each successive flick. By Christmas, he turned into an inappropriately aggressive and broad presence. Chase seems much more subdued with Vegas. Some may see that as a lack of effort on his part, but I think his calmer demeanor works better, as it helps accentuate the various gags. For once, it doesn't feel like Chase is working relentlessly to entertain us, as he seems willing to let others horn in on the fun.

That connects to my favorite moments from Vegas: its guest stars. Wayne Newton isn't much of an actor, but he shows a nice willingness to poke fun at himself. Julia Sweeney provides a quick but fun cameo, and Wallace Shawn makes the most of his running character as a sadistic blackjack dealer. Without question, Shawn's bits are the best parts of Vegas. He's lithe and funny and interacts nicely with Chase.

Add to that the sexiest Audrey of the four and Vegas Vacation provides a moderately amusing experience. More than a few parts of it fall flat; it includes some painful self-referential humor, and an extended bit at Hoover Dam fails. Nonetheless, it presents enough decent moments to make it watchable and sporadically entertaining.
---
The DVD Grades: Picture B-/ Audio B-/ Bonus D-
---
Vegas Vacation appears in an aspect ratio of approximately 1.85:1 on this single-sided, single-layered DVD; the image has been enhanced for 16X9 televisions. An erratic transfer, the picture often looked great, but more than a few problematic segments appeared.
Most of the issues related to sharpness. Especially at the start, some scenes came across as rather fuzzy and ill defined. Much of the flick seemed acceptably distinct and detailed, but the picture lacked consistency. No issues connected to jagged edges or moiré effects occurred, but some mild to moderate edge enhancement was apparent. As for print flaws, a few specks popped up, but most of the movie seemed clean and without defects.
Given the bright palette of the Vegas setting, one might expect vibrant colors, and the flick usually delivered. The tones mostly came across as lively and full. Some scenes demonstrated a little muddiness, but the colors generally appeared dynamic and vivid. Black levels were a little flat at times, but they mostly seemed reasonably deep. Shadow detail could be somewhat murky. Some low-light shots looked acceptably discernible, but others were a bit on the dull side. Vegas Vacation boasted enough dazzling shots to boost my grade to a "B-", but it also presented more than its fair share of flat images.
While the Dolby Digital 5.1 soundtrack of Vegas Vacation demonstrated greater consistency, it also earned a "B-". That occurred because it seemed like a generally lackluster presentation. The soundfield didn't offer much life. Most of the audio remained firmly in the front and tended toward general ambience. Casinos and other Vegas settings could provide nice spread and dimensionality, but here they seemed somewhat subdued. The mix occasionally kicked into action with scenes like the one where Clark busted into Wayne Newton's house, but usually the track appeared fairly constricted in regard to its scope.
Audio quality was fine but unexceptional. Speech seemed crisp and natural, with no issues connected to intelligibility or edginess. Music was clear but not terribly dynamic. The score and songs occasionally betrayed greater range, but usually they were no better than average. The same went for effects, which showed no problems and seemed clean and distinctive but lacked much spark. Overall, the soundtrack of Vegas Vacation was little better than serviceable.
While the other three Vacation flicks include newly created supplements, Vegas simply reiterates the smattering of basic extras found on the original release from 1998. In addition to the film's theatrical trailer - presented anamorphic 1.85:1 with Dolby Surround 2.0 audio – we get a mix of text pieces. Cast Profiles includes simple biographies of actors Chevy Chase, Beverly D'Angelo, Randy Quaid, Ethan Embry and Wallace Shawn. Note that none of their filmographies have been updated to reflect work done since 1997.
Behind the Scenes tosses out little more than fluffy comments about how happy everyone was to return for another Vacation flick. It also presents fuzzy math as it claims that Vegas started production "more than 16 years" since the original (the difference is actually 14 years) and "six years" since Christmas Vacation (it'd been eight). In Siegfried and Roy, we find two screens of adulation for the illusionists. Jerry Weintraub provides a basic biography for the film's producer, while Newcomers mentions the movie's three most prominent performers new to the series: Embry, Marisol Nichols, and Wayne Newton. Lastly, On Location just lists some simple notes about the places where they shot parts of the film. It's a weak roster of extras.
No one will confuse Vegas Vacation for a great comedy, but I must admit I found it to offer a surprisingly – though sporadically – amusing affair. It mixes some weak moments with enough reasonably funny ones to create a generally watchable effort. The DVD presents erratic and fairly average picture and sound. Only a smattering of bland supplements appear. Fans of the series seem to disdain Vegas Vacation, but I think it's the second-best of the series. The DVD seems too lackluster to inspire much of a recommendation, but it might make for a decent rental.
| | |
| --- | --- |
| Viewer Film Ratings: 4.2758 Stars | Number of Votes: 58 |