DISNEY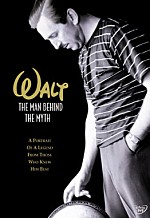 DOCUMENTARY INFO
Director:
Jean-Pierre Isbouts
Cast:
Various
Writing Credits:
Katherine Greene, Richard Greene, Jean-Pierre Isbouts

MPAA:
Not Rated.


DVD DETAILS
Presentation:
Widescreen 1.66:1
Audio:
English Dolby Surround
Subtitles:
English, French, Spanish
Closed-captioned

Runtime: 119 min.
Price: $29.99
Release Date: 10/8/2002

Bonus:
• "Walt: An Intimate View"
• "Disney Legends"
• "Actors, Directors and Friends"
• "The Making of Walt"
• Location Visits
• Home Movies
• DVD-ROM Features




EQUIPMENT
Sony 36" WEGA KV-36FS12 Monitor; Sony DA333ES Processor/Receiver; Panasonic CV-50 DVD Player using component outputs; Michael Green Revolution Cinema 6i Speakers (all five); Sony SA-WM40 Subwoofer.


[an error occurred while processing this directive]
---
Walt: The Man Behind the Myth (2001)
---
Reviewed by Colin Jacobson

A few years back, an e-mail hoax that made the rounds promised respondents a free trip to Walt Disney World. This letter came affixed with the virtual signatures of Bill Gates and Walt Disney, Jr. Lots of people fell for the scam, but had they seen Walt: The Man Behind the Myth, they'd have avoided it, since they'd know Disney had no male offspring.

Of course, you'll learn a lot more than just that from Walt. Narrated by Dick Van Dyke, the program offers a pretty decent general overview of Walt's life. Most of the film's material comes from contemporary interviews with a slew of folks who knew or studied Disney. When I say a "slew", I mean it. I plan to list all the participants, so prepare yourself! In the category of "family", we hear from daughter Diane Disney Miller, nephew and studio executive Roy E. Disney, niece Dorothy Disney Puder, son-in-law and former Disney exec Ron Miller, grandson Christopher Disney Miller, and granddaughters Joanna Miller-Runeare, Jennifer Miller-Goff, and Tamara Miller-Scheer.

No Disney project could leave out the folks who helped create the studio's legendary animated projects, so we find a mix of those people. We discover remarks from animators Ollie Johnston, Marc Davis, Mel Shaw, Frank Thomas, Ward Kimball, and Bill Melendez. Other Disney filmmakers – both animated and live-action include artist and storyman Joe Grant, artist Floyd Norman, costume designer Alice Davis, camera effects artist Bill Broughton, songwriters Richard and Robert Sherman, director Ken Annakin, artist and special effects designer Peter Ellenshaw, composer Buddy Baker, writer Jack Speirs, Director Richard Fleischer, and research consultant Harrison "Buzz" Price.

For a closer look at the creation of the Disney theme parks, we encounter members of its crew. This list included Imagineers Rolly Crump, Harriet Burns, Xavier Atencio, Bob Gurr, John Hench and Sam McKim. We also discover a mix of managerial sorts. We locate comments from studio executive Card Walker, WED Enterprises executive Mickey Clark, theme park executive Dick Nunis, and Imagineering executive Marty Sklar.

Surprisingly, no voice talent from any animated films appears during Walt, though a few of them show up during the supplements. However, we hear from some other actors who worked on Disney projects. In addition to host and interview subject Van Dyke, we discover Robert Stack, Virginia Davis, Buddy Ebsen, Kevin Corcoran, Karen Dotrice, and Mouseketeers Sharon Baird and Bobby Burgess.

We meet a few miscellaneous people connected with Disney in some fashion or another. We get material from animation producer Chuck Jones, author Ray Bradbury, union leader Bill Littlejohn, TV celebrity and friend Art Linkletter, and filmmaker John Lasseter. Finally, the program includes information from a mix of historically minded types. We hear from Disney Company archivist Dave Smith, Walt Disney biographer Bob Thomas, and author/historians Charles Solomon, J.B. Kaufman, Don Peri, John Canemaker, Paul Anderson, Leonard Maltin, Michael Broggie, Bruce Gordon, Bill Cotter, and Brian Sibley.

Whew – that's a long roster of speakers! Walt alternates "talking head" interview shots with narration, stills, and archival film footage. The latter area includes much behind the scenes and private material along with clips from Disney movies. One odd aspect of the presentation of the film snippets: most of them crop the original material to fit the 1.66:1 ratio. Strangely, they windowboxed the 1.37:1 "Skeleton Dance" but lopped off parts of its contemporaries like "Flowers and Trees". Classic Disney flicks such as Bambi and Cinderella also get the chop job.

Walt endeavors to take us through Disney's life from start to finish, and it does so. It starts with his childhood experiences and leads us through his early business attempts. In one cool touch, we see a rare cartoon fully animated by Walt himself. We then scoot through the studio's early years and learn a little about the creation of their seminal shorts and feature films.

Once we get to the Fifties, the emphasis shifts to favor Disneyland and other non-animated efforts. We still hear about the cartoons, but they shift to the background as we get info on the theme parks and live action efforts. This includes some discussion of Walt's early forays into television and also the work he supervised for the 1964 World's Fair.

Interspersed with the professional material, Walt tries to give us a look at Disney's personal life. We learn of the problems he and wife Lily encountered when they tried to have children, and we see home movies of Walt and the daughters they eventually nurtured. We watch them grow and get a feeling for Walt as dad and friend.

In addition to these elements, Walt tries to address some more controversial aspects of Disney's life and career. It discusses his alleged anti-Semitism and also goes over the strike that hit the Disney studios in the early Forties. Furthermore, we get a look at Walt's testimony before the House Un-American Affairs Committee during the "Red Scare" of the early Fifties.

Despite those short forays, don't expect anything juicy or controversial here. We learn that Walt doled out praise infrequently and could be a tough boss, but otherwise, we don't get anything that could be construed as negative about him. Actually, I don't know how much dirt one can actually dish on Walt, but this Mouse-approved program certainly won't go down any such paths. I wouldn't call Walt a sanitized biography, but it certainly stays on the happy side of the road.

And I don't mind that fact. Created in conjunction with Disney's 100th birthday, Walt exists as a celebration of his life and doesn't attempt to be a "warts and all" investigation. As I alluded, I honestly don't think that there is much negativity to relate about Walt's life. Most of the controversies that dogged him – such as the alleged anti-Semitism – didn't seem to actually exist. While clearly not a perfect man, Walt really appears to have been a fairly good guy.

As a documentary, Walt offers a decent view of the man's life, but it doesn't go down any new paths. As a modest Disney buff, I already knew most of the facts on display here. Walt stays on the main path and doesn't go down any interesting byroads, which means that it only hits the highlights of his career and life. That seems inevitable given the length of the piece. Any attempts to discuss someone as productive as Walt Disney in two hours will be forced to cut corners.

Walt really would have worked better as a long-form documentary of the sort Ken Burns creates. As I'll discuss, the DVD's supplements help address some of my concerns, but the brevity of the program make it less satisfying than I'd like. Still, it does cover the main topics well, and it moves efficiently. The interview subjects seem well chosen, and while the praise gets a little gushy at times, the information remains appropriate and useful.

We also get some tantalizing glimpses of different archival materials, which is the area that really would benefit from expansion. As I mentioned, we check out part of a cartoon animated by Walt, and we also see fun clips such as a voicing session in which Disney played Mickey Mouse. While I liked the interviews, Walt needed more of the historical documents. It also should have gotten into different issues to a deeper level. For instance, we don't learn much about the strike that deeply affected Walt; it comes and it goes awfully quickly for an event that heavily impacted upon the studio.

As I mentioned, Walt: The Man Behind the Myth will include little new material for Disney buffs, but it still provides a breezy and engaging piece of work. It acts as a nice primer for folks new to Walt's life, and it also includes enough cool tidbits to merit a screening for more knowledgeable fans. While Disney screams for a more extensive documentary, Walt does a decent job.
---
The DVD Grades: Picture C- / Audio C / Bonus B+
---
Walt: The Man Behind the Myth appears in an aspect ratio of approximately 1.66:1 on this single-sided, dual-layered DVD; the image has not been enhanced for 16X9 televisions. That choice seemed odd to me, as did the decision to letterbox the program at all; much of the footage came from 1.33:1 or so material, so I don't know why they bothered to crop it. It did appear that the interviews were shot letterboxed, however, so I suppose they adapted the other footage to match those clips. In any case, the picture quality of Walt seemed acceptable but unexceptional.
Any program with this much archival footage will be tough to rate, but Walt appeared watchable. Sharpness varied, and I found the new interview footage to look a little soft at times. Those shots came across as a bit muddy and flat, and they lacked much pizzazz. The same went for new images made to illustrate various locations. They failed to present strong clarity, and colors seemed somewhat bland and flat. The hues appeared reasonably positive, but they didn't present much depth or flair. A few examples of source flaws like specks and grit also cropped up at times.
Archival materials varied quite a lot, as one might expect. Walt included footage that dated as far back as the turn of the 20th century, so some of the work demonstrated a lot of flaws. Nonetheless, those pieces came across as reasonably clean and distinct given their age. Some edge enhancement appeared throughout the program, and I also noticed moderate examples of jagged edges and shimmering. For the archival footage, colors seemed erratic but usually tended to be somewhat flat and drab. Ultimately, Walt looked watchable but nothing better than that.
The Dolby Surround 2.0 soundtrack of Walt remained modest from start to finish, but it grew as the program progressed. At the beginning, the audio appeared monaural, and both speech and most effects remained oriented toward the center. Music also opened in the center, but as the show went along, those elements broadened considerably. The stereo imagining never seemed terrific, but it opened up to a big degree before it contracted again at the very end of the show. The audio climaxed with a computer-generated representation of Walt's original design for EPCOT. At its peak, the music spread nicely across all five channels, but the track remained pretty modest in scope.
Audio quality appeared decent but unexceptional. Speech sounded reasonably distinct and natural, and I noticed no issues related to edginess or intelligibility. Effects played an extremely small role in the production, but they came across as clean and accurate. Music popped up virtually constantly throughout the show, but it remained a background element. The score was subdued but it seemed acceptably vibrant and bright. Ultimately, the audio of Walt appeared lackluster but worked fine for this sort of program.
Walt: The Man Behind the Myth packs a decent roster of extras. Actually, before I launched the supplements, I thought I'd zip through them quickly. As it happens, however, we find roughly two hours of video materials here! We start with An Intimate View, a collection of six segments worth of interview outtakes. These total 28 minutes of footage, and we hear from Imagineer Bob Gurr, actress Karen Dotrice, artist Floyd Norman, camera effects artist Bob Broughton, actor Fess Parker, actress Virginia Davis, Imagineering executive Marty Sklar, Imagineer Rolly Crump, animators Frank Thomas and Ollie Johnston, artist and storyman Joe Grant, songwriter Richard Sherman, director Ken Annakin, artist/special effects designer Peter Ellenshaw, Disney executive Roy E. Disney, Television celebrity and friend Art Linkletter, daughter Diane Disney Miller, Walt's secretary Lucille Martin, son-in-law and studio executive Ron Miller, granddaughters Joanna Miller-Runeare and Tamara Miller-Scheer, artist and Imagineer John Hench, composer Buddy Baker, actresses Mary Costa and Ilene Woods, author and friend Ray Bradbury, author and historian Charles Solomon, author and historian Bill Cotter, author and historian Bruce Gordon, Imagineer Harriet Burns, theme park executive Jack Lindquist, actor Dean Jones, writer Jack Speirs, and actor Kevin Corcoran.
Nothing here really differs from the sort of information we received in Walt, but the notes help expand our knowledge of the man. I most enjoyed the comments about working with Walt, as those offered some interesting facts. The remarks about reactions to Walt's illness and death also provided compelling insight into his final days. Note that "View" includes comments from a number of folks who didn't appear during Walt, which makes it even more useful.
More of this kind of material appears in Disney Legends. We hear from Marc Davis, Ollie Johnston, Frank Thomas, Joe Grant, Ward Kimball, and John Hench. All told, the segments last 32 minutes and two seconds. Some of this information repeats bits heard elsewhere, but overall, they offer lots of fun information. The participants largely focus on their work, which is what I like to learn. They communicate anecdotes about their careers and their interactions with Walt, and these pieces seem very informative and entertaining.
Our last collection of additional interviews covers Actors, Directors and Friends. In this 31-minute and 54-second package, we get comments from Dick Van Dyke, Ray Bradbury, Ken Annakin, Richard Fleischer, Art Linkletter, and Dean Jones. These six men offer their comments about Walt and their interactions with him. Since many of these focus on issues related to Disney's work, that makes them especially interesting to me; I definitely prefer to learn about the projects rather than the personal life. These segments provide some solid information.
For a short look behind the scenes, we move to The Making of Walt. This eight-minute and 24-second piece combines some material from the film, behind the scenes bits, and interviews with grandson and executive producer Walter Elias Disney Miller, writers/producers Richard and Katherine Greene, and co-writer and director Jean-Pierre Isbouts. It contains rudimentary information about the production but doesn't really go beyond a certain level of fluffiness. It adds some knowledge about why its creators did the project but it doesn't shed much light on the film. (Ironically, the director mentions that Walt's legacy inspired him to shoot the whole program high-def 16X9, which makes it seem even more odd that it didn't appear with anamorphic enhancement.)
For a Disney travelogue, check out the Location Visits section. Narrated by Diane Disney Miller, we go to various parts of Chicago (92 seconds), Marceline (35 seconds), Kansas City (125 seconds), and Los Angeles (5:54). This takes us on a chronological trip through Walt's life, with a particular emphasis on what the various locations meant to Walt. It offers a somewhat dry but generally interesting affair.
Home Movies includes six different segments and runs a total of five minutes, five seconds. Also narrated by Diane Disney Miller, these cover shots from "The Early Years" – shot in the Twenties – through a final trip to Vancouver in the summer of 1966. Diane basically acts as a talking caption; she tells us who's who in the clips and gives us some additional information about settings and whatnot. There's nothing revelatory about these snippets, but they're a lot of fun to see. Lastly, the disc includes an Internet link to The Walt Disney Family Museum.
As a big fan of Disney films, I enjoyed my time with Walt: The Man Behind the Myth. I've studied the studio enough to already know much of the material, but the pleasant presentation offered a nice recap and seemed generally enjoyable. The DVD offered mediocre picture and sound along with a surprisingly deep and robust collection of extras. Folks with an interest in the history of Disney studios and its founder will likely want to give Walt a look.
| | |
| --- | --- |
| Viewer Film Ratings: 4 Stars | Number of Votes: 15 |