Reviewed by Colin Jacobson (May 21, 2013)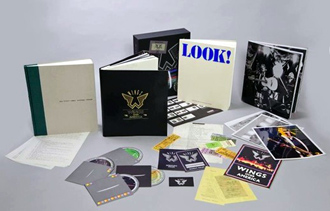 When asked for my all-time favorite movie, I traditionally reply Aliens, and that's been my go-to pick for years. However, Aliens does experience competition for my top slot. I can think of many other movies that theoretically could claim my pick as my favorite, so I can imagine that I might my choice at some point.
On the other hand, the odds that I'll ever dither about my all-time favorite album are microscopically low. Ever since 1977, Wings Over America has been my selection, and unlike Aliens, it has no competition; there's not a single other album I can think of that remotely compares to the love and devotion I've committed to America.
Understand that this doesn't mean I think America is the greatest recording ever released or even the greatest live album ever heard. It just means that it's my favorite, and that notion can't be argued; I've listened to it so much more than any other album that it's not close.
America hit the shelves in late 1976 and I got my copy for Easter 1977. Over the last 36 years, I've played it hundreds of times – maybe even into the thousands. Somehow I have yet to get sick of it, as I think it still sounds as fresh in 2013 as it did in 1977.
America compiles performances from Wings' 1976 US tour and replicates a full show. Paul McCartney's first US trek without his "former band", Wings played five Beatles songs: "Yesterday" (off of Help!, 1965), "I've Just Seen a Face" (Help!), "Lady Madonna" (single, 1968), "Blackbird" (The Beatles, 1968) and "The Long and Winding Road" (Let It Be, 1970). Wings also covered Simon and Garfunkel's "Richard Cory" and the Moody Blues' "Go Now", though Wings guitarist Denny Laine sang the Blues' version, so it's not a "traditional cover". The show closing "Soily" was a Wings original but it never was released as a studio rendition, so America remains the only legit source for it.
All of the remaining 23 songs came from various McCartney/Wings albums. 1970's McCartney offers "Maybe I'm Amazed", but the band skips 1971's Ram and Wild Life. 1972 gives us the single "Hi Hi Hi", while 1973's Red Rose Speedway provides "My Love". 1973 also delivers "Live and Let Die", the theme from the James Bond movie of the same name, and five tracks from Band On the Run: "Jet", "Picasso's Last Words", "Bluebird", "Let Me Roll It" and "Band on the Run".
A low-key year for McCartney and Wings, 1974 comes up a goose egg. (Wings played that year's "Junior's Farm" in 1975 but dropped it when they came to the States.) 1975's Venue and Mars brings a whopping nine tracks: "Venus and Mars", "Rock Show", "Spirits of Ancient Egypt", "Medicine Jar", "Call Me Back Again", "You Gave Me the Answer", "Magneto and Titaium Man", "Listen to What the Man Said" and "Letting Go". Finally, the then-current Wings At the Speed of Sound adds another four songs: "Let 'Em In", "Time to Hide", "Silly Love Songs" and "Beware My Love".
Given that McCartney's tours from 1989 to date have been heavily oriented toward Beatles songs, some may feel surprised to see how little Fabs material he played in the 1970s. 1972/1973 Wings shows were even less Beatles-oriented; unless you count Little Richard's "Long Tall Sally" – covered by the Fabs – McCartney didn't perform any Beatles material live until 1975.
Macca could "get away with this" in the 1970s because he was such a huge solo star in his own right. Decades later, I think people forget that when people went to see Wings, many of them went to see Wings, not to see "former Beatle Paul". Of course, his status with the Fabs was a major component in his popularity, but McCartney had so much solo success that he didn't feel a need to pad out the show with Beatles tracks.
I truly enjoy "modern day" McCartney concerts but I miss the days when he didn't feel the need to recreate his Fab past. America represents a setlist from someone with plenty of then-current popular material, and that gives it a zing that I think oldies-based shows lack.
Though it may seem strange that Venus and Mars dominates the show as it does. Ignoring the "Crossroads Theme" – added as a laugh to end Mars - America delivers all but three of the Mars songs – and one of the missing is simply a reprise of the title tune! On the other hand, the then-current Speed of Sound only gives us four of its 11 songs. Why didn't Wings trot out more of the brand-new album?
Laziness, I'm guessing. McCartney was and is conservative with setlists. The man has a catalog of hundreds and hundreds of songs but keeps a pretty consistent setlist from night to night. If you see circa 2013 McCartney on one evening, you'll hear a close to identical setlist the next– and the next, and so on. Unlike others such as Springsteen, he seems unwilling to shake things up from show to show, and that was true in 1976, when the songs remained largely static.
If you look at the setlist from the 1975 dates that promoted Mars, you'll see it's very similar to what Wings played to sell Speed of Sound. The 1975 shows lacked the four Speed of Sound songs, of course, but they featured "Junior's Farm" and the 1972 B-sides "Little Woman Love" and "C Moon" instead.
When 1976 rolled around, Wings just dropped those three and added the four Speed of Sound tracks – all plopped into the same spot, too. McCartney couldn't even be bothered to spread them around throughout the show! It feels like Macca thought he needed to promote Speed of Sound so he grabbed four songs – including the two singles, of course – and just dropped them into the set without fanfare.
My whining about laziness aside, I do love the setlist of America. Would the overall quality of the songs have been stronger if Wings did more Beatles material? Of course – only an insane person would think that "You Gave Me the Answer" is a better song than "Hey Jude" or that "Magneto and Titanium Man" tops "Helter Skelter".
But that's not the point. Whatever relative weakness one may assess in some of the songs, the overall impact remains tremendous, largely thanks to the quality of the performances. I remember when McCartney played in 1989 – his first post-Wings tour – some critics crowed that his then-current band could "play rings" around Wings.
Technically, they might've been right, but I don't think Macca's 1989-1993 bands had much chemistry. His current group – which has stayed with him since 2002 – comes much closer, but even then, I don't think they have the powerful connection and spirit Wings showed on America. Whether or not Laine, lead guitarist Jimmy McCulloch and/or drummer Joe English were technically great players remains irrelevant to me; along with Paul's wife Linda on keyboards - definitely not a skilled musician – that incarnation of Wings fit together to create amazing performances.
And they effing rocked, too. Over the decades, many have painted McCartney as a twee, lightweight tunesmith without much muscle behind his music. They tell us that Macca was the softie while Lennon was the "real rocker" in the Beatles.
To be sure, Paul could go "soft" at times, and we see some of that here. "My Love" remains a gooey concoction, and "You Gave Me the Answer" nods toward McCartney's affection for "granny music" – ie, throwbacks to light, quaint jazz tunes.
However, anyone who believes McCartney didn't rock will eat crow after one listen to America, as it displays the hard side of Macca in abundance. With tracks like "Rock Show", "Let Me Roll It", "Beware My Love", "Hi Hi Hi" and "Soily", we get some true "hard rockers" here – heck, "Soily" could qualify as borderline metal! (I left off tracks without McCartney vocals, but "Spirits of Ancient Egypt" and "Medicine Jar" – sung by Laine and McCulloch, respectively – rock hard as well.)
Even when the songs aren't true "hard rockers", they often display a real muscularity that gives them a delightfully rough feel – and an edge missing on the studio versions. Few will agree with me, but I think that every America performance represents the definitive version of the song. Yeah, that includes the Beatles tunes, too – there's nothing on this album that I think sounds better anywhere else.
Some of these are "close calls" – like "Yesterday" or "Blackbird" – but many America renditions mop the floor with the originals. The clunky studio "Listen to What the Man Said" seems cloying and rickety, but the live take bounces and swings. "Beware My Love" goes from a decent rocker to a chaotic balls-out killer. "Rock Show" leaves behind its flat aspirations to "rocking" and truly does, as it nails the listener to the wall.
I also doubt that McCartney ever sang better than he did in 1976. Music fans will always debate the greatest singer in rock history, but America makes it clear to me that McCartney should win that contest. He could do anything back then. He could handle sweet ballads and midtempo dance tracks and hard rockers with equal aplomb.
By 1976, Macca's voice had attained a minor, delightful roughness not there in his Beatles days, but he'd not lost range yet; while McCartney still sounded very good on the 1979 tour, he'd begun to decline, whereas America shows him at the top of his game. The album delivers a tutorial in What a Rock Singer Should Sound Like.
Remember earlier when I said I wouldn't claim that Wings Over America was the greatest live album ever released? Screw that – I retract that statement. America is the best live album in existence – it simply doesn't get any better than this. I look forward to playing it hundreds more times in the future.