PLAYBOY HOME VIDEO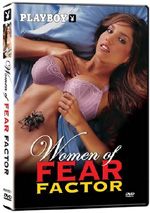 MOVIE INFO
Director:
Various
Cast:
Meghan Allen, Colleen Brewster, Meg Daleske, Amanda Dominick, Kelly Hopper, Tina Bishop, Monica Gonzales
Writing Credits:
Various
Synopsis:
Audiences love the daredevil stunts and gross-out challenges on "Fear Factor" but another strong draw is the abundance of gorgeous, scantily clad women who appear on the show. Now Playboy presents seven of the sexiest thrill-seekers as you don't get to see them on TV - up-close and personal - and nude! For all of these women, one of the greatest challenges they will ever face is baring it all in the pages of a national magazine. As you'll see in Playboy's Women of Fear Factor DVD, fear is definitely not a factor!
MPAA:
Rated NR


DVD DETAILS
Presentation:
Fullscreen 1.33:1
Audio:
English Dolby 2.0
Subtitles:
None
Not Closed-captioned

Runtime: 52 min.
Price: $19.98
Release Date: 3/15/2005

Bonus:
• "The Most Disgusting, Scariest Thing I Did on Fear Factor!" Interviews
• Outtakes
• Photo Gallery
• Previews




PURCHASE @ AMAZON.COM

EQUIPMENT
Sony 36" WEGA KV-36FS12 Monitor; Sony DA333ES Processor/Receiver; Panasonic CV-50 DVD Player using component outputs; Michael Green Revolution Cinema 6i Speakers (all five); Sony SA-WM40 Subwoofer.


[an error occurred while processing this directive]
---
Playboy: Women Of Fear Factor (2005)
---
Reviewed by Colin Jacobson (March 16, 2005)

When reality TV turned into a sensation, it became inevitable that Playboy would pursue magazine pictorials connected to the genre. Actually, they've knocked out a few spreads based on those shows, and we've also gotten one earlier DVD sensibly called Girls of Reality TV. This was a general program, however, that included women from a mix of different shows like The Real World and Road Rules. They go for a more specific emphasis with The Women of Fear Factor.

Factor presents seven contestants as they pose and chat about themselves. The show includes Meghan Allen from Erie, PA, Colleen Brewster from Las Vegas, Meg Daleske from LA, Amanda Dominick from Tampa, Kelly Hopper from Gatesville, TX, Tina Bishop from Dallas, and Monica Gonzales from Bradford, TX. The program shows them at their photo shoots as well as during other more casual moments. Usually those include semi-"extreme" activities like the models riding ATVs. They talk about posing, appearing on Fear Factor, and other interests.

In addition to the women, we hear comments from some Fear Factor personnel: senior producer Perry Barndt, director J. Rupert Thompson, associate producer Laurie Zink, cameraman Jon Walton, and executive producer Matt Kunitz. Among Playboy staff, we get remarks from set designer John Cranham, senior photographer Arny Freytag, and assistant set builder Chris Albracht. The show also tosses out statements from various friends and family.

All of this adds up to a lot of chat - too damned much talking for a program that focuses on attractive naked women. Some Playboy programs provide a mix of vignettes, but others like America's Sexiest Bartenders went with more of a documentary feel. This proves fairly unsatisfying since it doesn't work well in either regard. It doesn't offer enough quality nudity to be a good look at the women, and it doesn't present enough depth to be a good documentary.

Not that this means you won't find much skin in Factor, as it does include a lot of nice shots of the women. I simply could live without all the other elements. I don't think most Playboy fans really want to see all the behind the scenes bits - at least not as a main focus. It'd be good as a supplement, but not as the main program.

The inane soundbites don't help. They're always bland and silly. For example, one model states, ""I am striving for my personal best. I'm more striving just to experience everything. I just want to make sure that I get the best life has to offer." And of course, that includes eating bull testicles and getting buried in bugs.

As with other Playboy DVDs, how much you like Factor will largely depend on your thoughts about the women involved. For me, none of them is a killer, but the show also avoids any enormous disappointments.

I'd chalk up Dominick as the best of the bunch. She's very cute and natural. Brewster also comes close to being at the top, as she also has a nice "real" look and a killer body. Daleske is in the best shape, but she unfortunately chose to go with really bad implants. In fact, the tightness of her body emphasizes how odd they look.

Speaking of disappointments, Gonzales should have been the most appealing model, at least for me. I love Latin women, but she chose to get unattractive breast augmentation that doesn't suit her at all. We can still see the stretch marks in some shots, and those elements detract from an otherwise terrific package. Hopper is probably my least favorite overall, though; she's not nearly as pretty as Gonzales and also sports unappealing implants.

Ultimately, Factor goes down as another sporadically entertaining but often dull Playboy program. They make these semi-documentaries that don't shine as part of that genre or as nice exhibitions of beautiful women. Factor has some good moments, and most of the models are very appealing, but the execution falters too much for this to be a great show.
---
The DVD Grades: Picture C/ Audio C/ Bonus C-
---
Women of Fear Factor appears in an aspect ratio of 1.33:1 on this single-sided, single-layered DVD; the image has not been enhanced for 16X9 televisions. After the pretty good quality of the anamorphic picture found with America's Sexiest Bartenders, it was a disappointment to regress with this DVD's mediocre fullscreen transfer.
Sharpness seemed somewhat erratic. Most of the shots were reasonably concise and well-defined, but more than a few exceptions occurred. The program appeared acceptably crisp for the most part, but this failed to become a rule, as many scenes looked a bit loose and without great delineation. Minor examples of jagged edges and shimmering occurred, and only mild edge enhancement was apparent. Source flaws seemed absent, though video artifacting popped up during interior shots.
Colors stayed natural. The hues looked about the way I'd expect from a videotaped program: acceptably distinctive but not especially lively. The colors rarely faltered, but they also didn't often seem terribly vivid. Blacks also were erratic, as some shots showed pretty deep dark tones but others were inkier. Shadow detail depended entirely on the shooting conditions and usually was moderately weak. Overall, the program looked mostly average for this sort of piece.
As for the stereo soundtrack of Women of Fear Factor, it offered the kind of mix I expected. Actually, compared to the essentially monaural tracks found on most Playboy releases, it was a bit above average. Dialogue and effects stayed in the center, but the music that constantly accompanied the action showed pretty good stereo imaging.
Audio quality was acceptable and nothing more. Speech consistently came across as reasonably natural and crisp, though some mild edginess occurred. Effects were a minor component, as they had little to do in the production. Except for the distorted explosions that accompanied transitions, they were clean and accurate when they appeared. Music played a much more active - though still background - role. The various songs ran virtually constantly through the program and they showed reasonable vivacity. The music displayed decent range and presented nice low-end response. Granted, no one watches a Playboy video for the immersive audio experience, but I still thought this track didn't deserve anything above a "C".
As we head to the supplements, we find a few materials. Additional interviews come under the banner The Most Disgusting, Scariest Thing I Did on Fear Factor!. Each segment runs between 45 seconds and three minutes, 16 seconds for a total of 12 minutes, 20 seconds of footage. Some of their insights are pretty interesting, as they give us a frank perspective on their nasty experiences. However, I can't honestly say that this is what I want from a Playboy DVD; the material's better suited for a Fear Factor documentary. (By the way, only a tiny amount of nudity appears, as some of Dominick's chat shows her topless.)
A collection of outtakes includes raw footage of the participants. This section lasts a total of 10 minutes and 39 seconds as we see all the featured models in shots taken from their photo sessions as well as the various "on location" bits. Whereas prior sets of outtakes served essentially to offer lots of nudity and none of the banal interviews, this package comes as a disappointment. Yes, we do get some skin during the photo shoots, but these clips function more as blooper reel bits than as the bonus footage of prior DVDs. Some good shots show up, but they're not as prevalent as expected.
Next we get a Photo Gallery that presents pictures as either a stillframe set or as a running video piece. We get 67 shots of the program's models in this three-minute and 46-second segment. I like the option to watch them in two different formats, and they present consistently high-quality images.
The set also offers some previews. This includes promos for Women of Wal-Mart, 50 Years of Playmates, Playmate DVD Calendar Collection The Nineties, America's Sexiest Bartenders and Snoop Dogg's Buckwild Bus Tour.
Some of Playboy's "Women Of…" DVDs are great; the Starbucks release was absolutely stellar. Unfortunately, The Women of Fear Factor never rises above mediocrity. The women are uniformly attractive, as even my least favorite is pretty good, but the documentary focus doesn't work well. The DVD presents passable picture and audio plus some mediocre extras. If you want to see your Fear Factor faves in the buff, it's worth a look, but it's not one of the better Playboy DVDs.
| | |
| --- | --- |
| Viewer Film Ratings: 4.0921 Stars | Number of Votes: 76 |