Reviewed by Colin Jacobson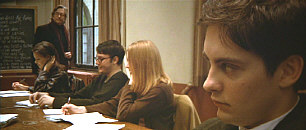 Not many directors can alter the early impressions made by their work, but Curtis Hanson seems to have effected just such a change. After all, this was the guy who made a name with semi-cheesy thrillers like The Hand That Rocks the Cradle and The River Wild. I never expected him to create a film that contained any true substance.
However, that's exactly what he did with 1997's LA Confidential. That picture provided a crackling film noir that paid homage to movies from the past but also seemed new and fresh. Were it not for the juggernaut called Titanic, chances are excellent it would have won the Best Picture Oscar for that year.
As his follow-up to LA Confidential, Hanson chose a project even farther from his roots: Wonder Boys, a quiet, introspective comedy about breaking out of well-established patterns and making connections. While it's not nearly as strong a picture as LA Confidential, Wonder Boys nonetheless offers a well-executed and stimulating program.
WB follows middle-aged college professor Grady Tripp (Michael Douglas), who teaches a writing class at a Pittsburgh university. Grady made a name with "The Arsonist's Daughter" some years earlier, but after the success of that prize-winning novel, he hasn't been able to complete a subsequent book. In a reverse of the expected pattern, however, it isn't writer's block that holds up the process; instead, Grady finds himself unable to stop composing as his text eventually exceeds 2600 pages!
For a variety of reasons, Grady's life comes to a head during one weekend when the college hosts its writing awards ceremony. During that time, his wife leaves him, his editor visits and pressures him for the finished book, and… well, a lot of stuff happens. I don't want to go through it all, partially because I don't want to provide any potential spoilers. I also don't want my review to fill 2600 pages, which it might if I cover all of the subplots in WB.
Strangely, I didn't actually realize just how many bits of business fill WB until I attempted to write this synopsis. I think that's a tribute to Hanson's skill as a director and to the script from Scott Kloves. At times I felt that some of the action felt contrived and unrealistic, but most of it blended together fairly naturally. Most movies with so many subplots would feel insanely "busy", but that wasn't the case here. If anything, the film almost seems drowsy at times; it's not until I looked back on it that I noticed just how much occurred.
On the other hand, the action is odd in that almost all of it fits into "MacGuffin" territory. That means most of the intrigue really doesn't matter in the greater scheme of things; a lot of the bits are just devices that seem important at the time but are not very worthwhile on their own.
Ultimately, WB is very character-driven, and the pieces of business serve simply to guide our characters into certain interactions. As a whole, the different parts are interesting, but only Grady receives any sort of deep exposition. He's the only character we ever begin to understand and explore to a great degree. His student/semi-apprentice James (Tobey Maguire) starts as an enigma and remains that way through much of the film, and editor Terry (Robert Downey Jr.) exists as little more than a plot device. The school's chancellor and Grady's love interest Sara (Frances McDormand) gets little exposure, and sexy student/boarder at Grady's house Hannah (Katie Holmes) seems to be in the film just as an example of the road Grady normally would take.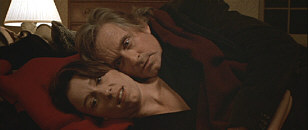 Since the movie is about challenging usual patterns, I guess such a device is necessary, but it would have been nice to see greater exploration of the supporting characters. Nonetheless, the solid cast makes the different roles seem better developed than they are. Maguire is especially good as the aloof and mysterious James. Maguire has always seemed like such an earnest actor that it's interesting to see him play such a diffident, dishonest role, and he does quite well in the part.
Douglas also provides a more rich characterization than usual. He's always been the leading man sort, and Grady's enough of a schlub to distance himself from that persona. Happily, however, Douglas doesn't play up the comic possibilities to an extreme, and he ultimately makes Grady a nicely real and vivid character.
Ultimately, Wonder Boys offers a solid, gently comic exploration of some characters who aren't quite certain what they want. By the end of the film, they may or may not achieve what they need, but the movie provides an interesting ride along the way.
One odd note: at the start of the movie, we find a disclaimed that reads "This film has been modified from its original version. It has been edited for content." According to Paramount, a name in a list of people stated by James has been deleted.