SONY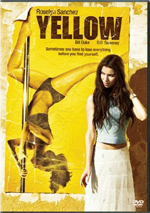 MOVIE INFO
Director:
Alfredo De Villa
Cast:
Roselyn Sanchez, Bill Duke, D.B. Sweeney, Jaime Tirelli, Sully Diaz, Richard Petrocelli, Nancy Millan, Manny Perez
Writing Credits:
Nacoma Whobrey (and story), Roselyn Sanchez (story)
Tagline:
From Tragedy to Triumph Nothing Shines Brighter Than Yellow.
Synopsis:
Family: a necessary burden. Amaryllis Campos is young and beautiful, a classically trained dancer delivering pizzas in Puerto Rico, living with her parents and her drug-selling chump of a boyfriend, her dream deferred. When family tragedy and betrayal hit in the same week, she goes to New York with help from an unlikely friend. There, she lucks into an apartment and befriends an elderly neighbor. She looks for work, taking a job at a strip club. By day, she answers casting calls; at night, she's a hit at the Club Labrador. When the possibility of romance appears unexpectedly, Amaryllis must choose between its promise and the faint shadow of her dream.
MPAA:
Rated R


DVD DETAILS
Presentation:
Widescreen 2.35:1/16x9
Audio:
English/Spanish (Theatrical) Dolby Digital 5.1
English (Dub) Dolby Digital 5.1
Spanish Dolby Digital 5.1
French Dolby Surround 2.0
Subtitles:
English
French
Spanish
Chinese
Korean
Closed-captioned
Supplements Subtitles:
English
Spanish

Runtime: 93 min.
Price: $24.96
Release Date: 7/31/2007

Bonus:
• Interview with Roselyn Sanchez
• 18 Deleted Scenes
• Previews




PURCHASE @ AMAZON.COM

EQUIPMENT
Sony 36" WEGA KV-36FS12 Monitor; Sony DA333ES Processor/Receiver; Panasonic CV-50 DVD Player using component outputs; Michael Green Revolution Cinema 6i Speakers (all five); Sony SA-WM40 Subwoofer.


[an error occurred while processing this directive]
---
Yellow (2006)
---
Reviewed by Colin Jacobson (August 28, 2007)

When I recently rewatched Rush Hour 2, I was reminded just how hot Roselyn Sanchez is. By coincidence, I got an offer to check out her recent starring effort Yellow. A glimpse at the specs for its "R" rating indicated that the film featured some nudity. Did the movie sound interesting? I don't know – they had me at "Roselyn Sanchez" and "nudity".

Here Sanchez plays Amaryllis Campos, a Puerto Rican who studied ballet as a child. However, this doesn't last into adulthood, and she gets stuck in a dead-end life with her family. When her father (Jaime Tirelli) commits suicide, she decides she needs to do something different so she heads to New York.

Unfortunately, Amaryllis doesn't find it easy to launch herself as a ballerina, so she gets a job at a strip joint to earn a living. There she meets a doctor (DB Sweeney) who's a regular at the club. The movie follows their relationship as well as her attempts to become a legit dancer.

First things first: yes, Sanchez, shows some skin in Yellow. The most revealing scene comes early when she has sex with her boyfriend in Puerto Rico, but her strip scenes also bare some flesh. That's a good thing, though Sanchez seems painfully thin. She's still gorgeous, but she needs to put on some weight; she's awfully bony.

Does Yellow boast any pleasures beyond the sight of an unclad Sanchez? No, not really. Most of the time it feels like a vanity project for Sanchez. Since the actor co-wrote the flick, that probably shouldn't come as a surprise. It's not clear how old Amaryllis is supposed to be, but I'd guess that the character is significantly younger than the 34-year-old Sanchez. Her mother (Sully Diaz) looks like she's not at a much more advanced age, so Sanchez doesn't fit well into a part that should probably be around 20.

In addition to this side of things, much of the story acts as a paean to the majesty that is Amaryllis. We hear lots and lots about how amazing she is, and the film likes to dwell on never-ending shots of her as she does very little. Indeed, it feels like half the movie just shows images of Amaryllis as she dances or simply wanders around town.

That doesn't leave much time for story or character development. Amaryllis herself comes across as a cipher. She shows little personality and never does much to make herself memorable beyond her beauty. We never really care what happens to her because she's such a nothing of a character. She's a babe without anything else to make her stand out to us.

Really, Yellow impresses me as a Latin remake of Showgirls. We get the ambitious girl who has to strip to make ends meet but who eventually rises to the top. No more depth emerges than that, as the film keeps things skin-deep, both literally and figuratively.

I should say that this is a letdown, but given my own shallow reasons for watching Yellow, I can't say the flick comes as a disappointment. I got to see a fairly naked Roselyn Sanchez and that was my primary goal. The movie built around her beauty does nothing to impress me.
---
The DVD Grades: Picture B+/ Audio B-/ Bonus C
---
Yellow appears in an aspect ratio of approximately 2.35:1 on this single-sided, double-layered DVD; the image has been enhanced for 16X9 televisions. The movie featured a very good transfer with only a few minor weaknesses.
Sharpness became the weakest link, though not in a problematic way. While the occasional wide shot looked a bit ill-defined, most of the movie seemed crisp and accurate. No issues with jagged edges or shimmering occurred, and I noticed no edge enhancement. Source flaws also remained absent, as I detected no marks through the flick.
Colors offered a high point, especially in the Puerto Rican scenes. Those provided bright, dynamic hues. The tones became a bit more subdued in New York, but the movie continued to present vivid colors. Blacks were deep and dense, while shadows tended to be clear and smooth. This was a consistently satisfying presentation.
As for the Dolby Digital 5.1 soundtrack of Yellow, it proved fine for the material. Music dominated the soundfield. The score and various songs provided good stereo imaging, and those elements also spread to the rear in a compelling manner. The rest of the mix was less involving. Some effects added minor life to the spectrum, but they didn't give us much. Outside of the music, this was a fairly limited soundscape.
Audio quality was fine. Again, the music presented the best parts of the mix. Those elements were pretty lively and concise. Speech seemed reasonably natural and clear, while effects were fine. They never quite stood out from the crowd, but they gave us good definition. This was an acceptable soundtrack without notable issues.
In terms of extras, we begin with a featurette called Roselyn Sanchez on Yellow. During this 12-minute and 21-second piece, the actor discusses her goals for the film, her own background as an actor and a dancer, her training for Yellow, some aspects of the story and characters, shooting in Puerto Rico, and working with the others involved. Though Sanchez offers a few decent insights about her career and the flick, most of the time this feels like a fluffy piece intended to promote the movie.
18 Deleted Scenes fill a total of 28 minutes, 53 seconds. Normally I list all the cut pieces, but with so many, I'll pass! Some of these actually might have made the movie more interesting. We find more background about a few of the supporting characters like Franco and Miles, so a few of the clips actually help flesh out many of the underdeveloped subplots. Would they have made Yellow a good movie? Probably not, but they might have allowed it to become more three-dimensional than it is.
A few ads open the disc. We find promos for The Last Time, Vacancy and Hard Luck. These also appear in the Previews area along with clips for Wind Chill, God Grew Tired of Us, Revenge and Donnie Brasco. No trailer for Yellow pops up on the disc.
Essentially a vanity project to remind us of Roselyn Sanchez's beauty, Yellow has little to offer as a narrative or a character piece. It acts as a version of Cinderella by way of Showgirls and never forms into anything interesting. The DVD presents very good picture with acceptable audio and extras. Unless you're simply desperate to see Roselyn Sanchez naked, skip Yellow.
| | |
| --- | --- |
| Viewer Film Ratings: 4.12 Stars | Number of Votes: 25 |