WARNER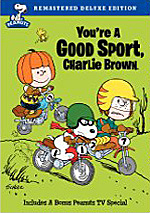 MOVIE INFO
Director:
Phil Roman
Cast:
Duncan Watson, Melanie Kohn, Stuart Brotman, Jimmy Ahrens, Gail Davis, Liam Martin
Writing Credits:
Charles M. Schulz
Synopsis:
Tennis anyone? Well, if that's not your racket (and it's certainly not Snoopy's after a surprise opponent out-volleys him fair and square), the Peanuts kids invite you to join them for the spills, thrills and fun of a motocross race!
Breaking from the pack and battling for the lead are a beagle-eared Masked Marvel and energetic tomboy, Peppermint Patty ... but wait, who's this? Chugging over hill and stream and closing ground on rickety bike number 13 is - are our eyes playing tricks? - Charlie Brown! Yes, the good ol' round-headed kid is following his heart and clinging to his bike as he makes his bid for victory. Of course, how can any kid wearing a pumpkin for a helmet hope to come out a winner? More specifically, how can a pumpkin-helmeted kid named Charlie Brown hope to win? We're with you all the way, Charlie Brown!
MPAA:
Rated NR


DVD DETAILS
Presentation:
Fullscreen 1.33:1
Audio:
English Monaural
Japanese Monaural
Portuguese Monaural
Subtitles:
English
French
Portuguese
Japanese
Thai
Chinese
Closed-captioned
Supplements Subtitles:
Chinese
Japanese
Portuguese
Thai

Runtime: 25 min.
Price: $19.98
Release Date: 1/27/2009

Bonus:
• "You're the Greatest, Charlie Brown" Special
• "Dust Yourself Off and Pick Yourself Up, Charlie Brown" Featurette
• Trailers




PURCHASE @ AMAZON.COM

EQUIPMENT
Panasonic 50" TH-50PZ77U 1080p Plasma Monitor; Harman/Kardon DPR 2005 7.1 Channel Receiver; Toshiba A-30 HD-DVD/1080p Upconverting DVD Player using HDMI outputs; Michael Green Revolution Cinema 6i Speakers (all five); Kenwood 1050SW 150-watt Subwoofer.


[an error occurred while processing this directive]
---
You're A Good Sport, Charlie Brown: Deluxe Edition (1975)
---
Reviewed by Colin Jacobson (October 17, 2008)

Most of the Peanuts TV specials revolve around holidays, but not all. 1975's You're a Good Sport, Charlie Brown takes on the expected athletic theme, though perhaps not in the way one might anticipate.

As implied by the title, we focus on sports here. Though we see a little tennis, baseball and football, motocross becomes the program's main focus. Peppermint Patty (voiced by Stuart Brotman) invites Charlie Brown (Duncan Watson) to participate in a big motocross race. Though he doesn't own a bike, Linus (Liam Martin) agrees to pool their money so he can purchase one and get into the competition. We follow his endeavors as he battles against Peppermint Patty and a mysterious rogue known only as the Masked Marvel – who looks a heckuva lot like Snoopy (Bill Melendez).

Sport hit screens exactly through the 50-year run of the Peanuts strip. Most fans feel that Charles Schulz's work went downhill as the years progress, and I agree, though I can't pinpoint when the decline became the most obvious. We're up to 1970 in Fantagraphics' great reissue series; though the strips are becoming more absurd, they remain pretty good.

Make no mistake: Sport gets into that spirit of absurdity. The first scene shows a tennis match between Snoopy and Woodstock, and then Snoopy becomes a hotshot motocross rider. I shouldn't gripe too much about the intensely anthropomorphic depiction of Snoopy here, as that trend had been present for years; heck, this is the same dog who won a holiday decoration competition 10 years earlier in A Charlie Brown Christmas.

Still, the focus on Snoopy makes things a little tedious, and Sport doesn't compensate with a lot of comedy. Ironically, I have to admit that the most amusing aspect of Sport results from the fact that no one seems to recognize Snoopy in his Masked Marvel disguise. A dog with a mask enters a race and no one thinks twice about it; I'm not sure what – if any – point Schulz wanted to make, but it's funny.

And a few other good gags emerge here as well, though the show stretches credulity quite often for the sake of jokes. For instance, Charlie Brown and the Masked Marvel wipe out early in the race. They go to human and animal hospitals – though the expected locations get switched for comedic purposes – and yet manage to leave and return to the race in time to lead the competition.

Huh? That's pretty ridiculous, and it makes the story hard to swallow. Yeah, I know – I accept a motocross-riding dog in a mask who eventually drives a tennis ball-serving machine instead of a bike, so perhaps I shouldn't question any stretches like these. It comes down to internal consistency, I suppose; we accept the anthopomorphic Snoopy but not the concept that two riders can be off the race for at least an hour – if not more – and still compete.

Even if I ignore that stretch and other goofy concepts, I don't find many charms in Sport. At times it feels more like a promotion for motocross than a TV special, and it just never possesses much life or heart. Essentially a Charlie Brown take on "The Tortoise and the Hare", it's mildly entertaining and that's it.
---
The DVD Grades: Picture B-/ Audio C+/ Bonus C
---
You're a Good Sport, Charlie Brown appears in an aspect ratio of 1.33:1 on this single-sided, single-layered DVD; due to those dimensions, the image has not been enhanced for 16X9 televisions. The show provided an inconsistent but usually satisfactory picture.
Sharpness seemed fine. The program presented good definition and clarity at all times, as I noticed very little softness. I detected no signs of moiré effects or jagged edges, and edge enhancement seemed to be absent. Print flaws were a moderate concern. The program generally seemed slightly dirty and gritty, and a few blotches appeared as well. Some of these flaws stemmed from poor clean-up animation, but I got the impression some of them could be blamed on a messy source.
Colors came across well, as the tones usually presented nice vivacity. The show went with basic hues, and the transfer delivered them in a lively manner. Black levels remained acceptable and shadow detail - already not much of a concern in a brightly-lit cartoon - was fine. The transfer never became stellar, but it did enough right for a "B-".
The monaural audio of Sport also seemed relatively good. Dialogue appeared clear and acceptably crisp, without edginess or other issues. Music showed decent range, with a bit of bass along the way. Though the score lacked great dimensionality, it offered acceptable dynamics. Effects weren't a major factor here, but they seemed fine; those elements demonstrated acceptable clarity. This was a positive track for an old TV program.
In terms of extras, we start with a bonus special. 1979's You're the Greatest, Charlie Brown goes for 24 minutes, 25 seconds. In this one, Charlie Brown competes in the decathlon. He goes up against Marcie – who's actually his backup, though it's not clear why one school gets two competitors – as well as obnoxious Freddie Fabulous and the mysterious Masked Marvel.
Overall, I think I like Greatest more than Sport. To be sure, it's not a classic, and it often feels like a lesson in good sportsmanship; it clearly warns competitors not to be too arrogant or cocky. Still, it boasts a much tighter plot than we find in Sport, and it also includes a few more good gags. It's a decent special.
A featurette called Dust Yourself Off and Pick Yourself Up, Charlie Brown runs 11 minutes, 35 seconds. It provides notes from Charles Schulz's son Craig, Peanuts historian Nat Gertler, animation historian Jerry Beck, and Raising Winners author Shari Young Kuchenbecker. We learn how Craig's interest in motocross influenced Sport as well as aspects of the special's creation. "Dust" gives us an enjoyable look at the special, though it tends to ramble as it progresses.
A few ads open the DVD. We get clips for Be My Valentine, Charlie Brown and It's the Easter Beagle, Charlie Brown. The Trailers area includes clips for It's the Great Pumpkin, Charlie Brown, A Charlie Brown Thanksgiving, A Charlie Brown Christmas, Tom and Jerry Tales Volume 6, and Scooby-Doo, Where Are You? Volume 1.
With You're a Good Sport, Charlie Brown, we get a decidedly mediocre Peanuts special. The show provides a pleasant enough time but never turns into anything particularly memorable. The DVD offers fairly good picture and audio along with a couple of interesting extras. This is a perfectly adequate disc for an average show.
| | |
| --- | --- |
| Viewer Film Ratings: 4.75 Stars | Number of Votes: 8 |