Picture/Sound/Extras: B-/B-/B+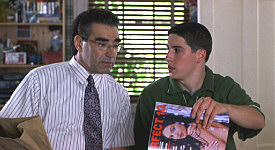 Last summer both American Pie and Detroit Rock City hit screens within a few weeks of each other. Both shared many similarities. They were about high school students and focussed on four male friends who worked toward a specific goal (a KISS concert in DRC, getting laid in AP). Both were fairly raunchy and included some of the same actors (Natasha Lyonne, James DeBello). Each film even featured an alumnus of SCTV, possibly the greatest TV program; DRC gave us Joe Flaherty while AP had Eugene Levy.
And that's where the similarities end.
DRC stunk up the joint. It was a crass, crude soulless affair that completely tanked at the box office; it earned only about $2 million dollars and was pretty much out of theaters after one week. AP, on the other hand, not only struck a chord with audiences as it grossed a little more than $100 million, but it also was a pretty decent and funny little movie. Yeah, it offered more than its fair share of gross-out humor, but it also seemed reasonably witty and even charming at times.
All of which I found to be a huge surprise. It's pretty clear we're going to be seeing the bastard children of the Farrelly brothers for quite a while as movies try to outgross each other by grossing out the audience. There's Something About Mary became the prototype for brainless filmmakers to use as "inspiration" for their tasteless and unfunny comedies. I didn't like TSAM, and I didn't like its imitators either.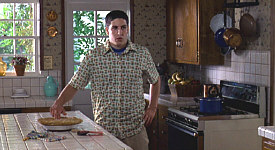 Before I saw it, I lumped AP into that category. Previews and early reviews emphasized the various crude aspects of the film and definitely made it out to be another TSAM clone. It also evoked strong memories of Eighties "classic" Porky's.
When I actually watched the movie, I found that while these comparisons were actually accurate in many ways, they didn't tell the whole story. Yes, AP offers some pretty gross images, and it even "pays homage" to Porky's in that both pictures show (covered) erections during the early parts of the movies.
Nonetheless, I found AP to be wittier and more heartfelt than either of those films or any of the other TSAM wannabes. Amazingly, the characters actually grew as they went on their quests. Did all of this change ring true? Yeah, for the most part, though it seemed a bit artificial. But at least we saw some maturation and some recognition of other points of view. Amazingly, DRC made its characters attempt to see KISS into a much seedier, more sordid affair than these teens' machinations to get some.
AP also was a decently funny little movie. My sides didn't hurt afterwards, but it provides enough laughs to be worthwhile. Many of them come more from the actors than from the situations or the script. AP offers a strong cast who help create their characters above and beyond what was on the written page. Jason Biggs as Jim particularly stands out; although the film appears intended to spotlight each of its four primaries equally, he seems the focal point of the film.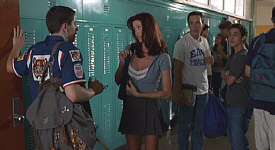 Much of the humor in the movie comes from the outstanding supporting cast. Of particular note are Seann William Scott as Stifler and Alyson Hannigan as Michelle, the character who gets the movie's single funniest line. (I'll let you find it for yourself.) Even very minor parts - such as the "MILF" guys - are well-portrayed.
(By the way, though Shannon Elizabeth - who plays "Nadia" - ain't much of an actress, she appears in some scenes that make the movie very appealing to me. Use your imagination...)
Ultimately I found American Pie to be a pretty funny and entertaining film. It's not a classic by any stretch of the imagination, but when one considers how bad it could have been, it looks very good.
The DVD:
American Pie appears in its original theatrical aspect ratio of 1.85:1 on this single-sided, dual-layered DVD; the image has been enhanced for 16X9 televisions. Although it generally looks pretty good, the picture features some significant flaws that forced me to mark down my rating.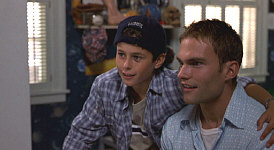 Sharpness seems consistently quite strong, with only a little softness creeping into some of the wider shots. While moire effects weren't frequent annoyances, they definitely occurred more often than I'd like; a variety of objects - from houses to blinds to even some shirts - shimmer noticeably. The print used for the transfer seemed very clean and displayed no apparent grain, marks, scratches, hairs or speckles.
Colors look outstanding; they appear rich, deep and accurate throughout the film, though they rarely seemed very bright. Why is that? Because "AP" offers one of the most consistently dark pictures I've seen. Some daylight shots looked okay, but nearly every indoor or nighttime scenes appeared far too dark. In that context, shadow detail actually seemed pretty good, but the truth is that way too much of the movie appeared in the shadows. Was this an issue that stemmed from the source material? Perhaps, but I definitely don't remember the movie looking so dark in theaters. The film remains watchable, but I couldn't help but feel that a lot of nuance was being lost in the blackness.
American Pie offers a pretty mediocre Dolby Digital 5.1 mix. Overall quality is fairly good. Dialogue is always clear and intelligible, but I thought it seemed too loud and prominent in the mix and thus appeared somewhat unnatural; I got the potentially-mistaken impression that much of it was dubbed. Music sounds excellent, with a nice dynamic range and clarity; the good use of modern rock tunes was the highlight of the soundtrack. Effects are very subdued and are a rather inconsequential aspect of the mix, but they sound fine.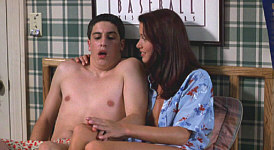 As I mentioned in that last paragraph, AP offers a sound mix pretty heavy on dialogue and music but light on effects. That's fine, but I still was surprised at how meek this soundtrack appeared. The soundstage is dominated by music, which blasts pretty effectively from all five speakers, though the rears mainly provide some reverberation. Effects tend to be fairly quiet and tend toward the ambient range; we never hear more activity from the rears than this soft atmosphere. AP provides a decent mix that's fairly adequate for the film but nonetheless a bit disappointing.
In regard to extras, one concerns the film itself. The DVD is available in two versions: rated and unrated. For this review, I watched the unrated edition. What's the difference between the two? Not much - in fact, the additional footage in the unrated cut is so minimal that I wouldn't have noticed much of it had I not known it was there. We see slightly more explicit shots for a few scenes, including those of Jim and the titular pie, Nadia and her hand, Vicky's first orgasm, and a sex manual. The pie scene differs the most from the theatrical version; whereas in that one, Jim dabbles with the pie while standing, in the unrated cut he gets a piece while mounting it on a kitchen counter. That case doesn't show additional footage; it substitutes an alternate version.
But don't take that "more explicit" statement to mean much; it's not like the addition of graphic sex scenes into Caligula. So don't be upset if your local video store only rents the "R"-rated version; you're not missing much.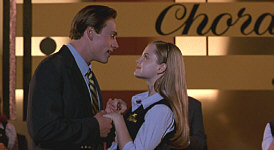 The main supplement on AP is a running audio commentary from a variety of participants: director Paul Weitz, producer Chris Weitz, screenwriter Adam Herz, and actors Jason Biggs, Eddie Kaye Thomas, and Sean William Scott. It's not a great track, but it's a reasonable amount of fun as we hear the guys discuss the film and interact with each other (unlike many commentaries, all six participants were recorded in the same room at the same time). We learn a decent amount of interesting details about the movie and have a good time along the way.
The DVD also contains a nice complement of other extras. A brief featurette called "Spotlight on Location" appears. This ten minute piece offers a perfunctory but entertaining look behind the scenes of the film; yeah, it's a promotional piece, but it's more fun than most. Another video segment provides about a minute and a half of outtakes. I didn't find these to be terribly interesting; watching actors flub lines and laugh got old a long time ago.
In what seems to be a new trend for Universal - they also did it for Fast Times At Ridgemont High - a few disc-access options appear in addition to the standard chapter search. "Music highlights" lets you skip straight to any of 22 songs featured in the film, and "classic quotes" sends you right to any of 20 different phrases in the movie. Neither of these does much for me, but they're thoughtful additions.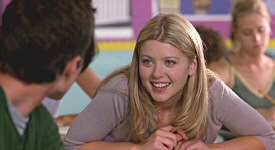 Production notes add some useful and interesting background information on the film through their text; note that this information also appears in the DVD's booklet. Pretty good biographies appear for eleven of the actors plus the director and producer (the link just mentions the director, but he and the producer are brothers and both of them are discussed in the entry).
The "soundtrack presentation" gives us an ad for that album but also provides a music video, "You Wanted More" from Tonic. This is generally a conceptual piece that shows a rather lovesick high school; these scenes are intercut with movie snippets and some semi-straight performance shots of the band. It's a decent little clip.
Finally, a myriad of trailers are included on this DVD. We get the very effective promo for AP itself plus ads for The Blues Brothers, Animal House and American Graffiti in the "Recommendations" section. The "Universal Showcase" portion of the DVD also offers trailers for current Universal releases Man On the Moon and Snow Falling On Cedars. While some might see these ads as crass commercial moves, I like them; I think it's fun to have trailers for current movies on DVDs. Yeah, I know that they'll be outdated before long, but so what? If you don't like them, don't look at them.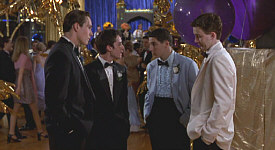 Whoops - that was a premature "finally" in the last paragraph. That conclusion applies to those of use who don't own DVD-ROM drives, but for the lucky folks who do, the show continues. According to the DVD itself, the DVD-ROM features "include additional materials about the movie, sound clips from the film, behind the scenes interviews and other information." Still no DVD-ROM drive for me equals still no comments about them, but at least you know they're there!
While American Pie isn't a great movie and also definitely isn't for everybody, I thought it was a pretty enjoyable and funny little film. It offers a good number of laughs and stands up well to extra viewings. Both picture and sound are somewhat disappointing but still seem very solid, and the DVD provides some fine supplements. American Pie definitely merits a rental, and don't be surprised if you ultimately want to own a copy - I do.