Reviewed by Colin Jacobson (and Blake Kenny) (November 2, 2011)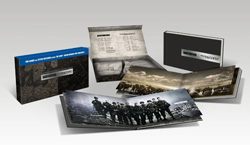 When I was a kid, I thought that war movies were nothing more than pure, unadulterated entertainment. I didn't watch films to get a history lesson. I was in it for the action - the guns, bombs, explosions and everything else of mass destruction. I was in it to see the "good guys" lay the smack down on the enemy.
With maturity, I'd like to say there came a little wisdom. It took a film like Saving Private Ryan and its brutally realistic depiction of war to show me a side of the conflicts that I never really knew existed. I remember watching the film in the theatre, and while I was thoroughly impressed with the action, its stark realism coupled with the film's ability to put you on the battlefield let me see World War II from a different perspective.
Ryan was the first film to really make me understand some of what these men had to go through. Sure, I knew that much of the movie's plot was fictional, but if the intent was to take a fictional tale and at the same time make you understand some of the horrors of war, then without a doubt that effort succeeded.
I walked out of the movie theatre with my jaw hanging open, as I simply couldn't get the film's imagery out of my mind. No, the movie isn't as shocking now that I've seen it a dozen times, but that initial viewing was something I won't soon forget. If the purpose of Saving Private Ryan was to get one person - namely me - to have an epiphany in the darkened spaces of my aisle seat, then it succeeded. I get it now, I understand. Sure, I may never know what war is like first hand, but at least I'll have a greater appreciation of what soldiers have to deal with.
Knowing that the HBO miniseries Band of Brothers had Ryan alumni Steven Spielberg and Tom Hanks involved as the executive producers made me very curious to see it. Sure, I wanted to watch it for the action, but I also knew that I would probably learn something from it.
Band of Brothers focuses primarily on the men of the US Army's 506th Regiment of the 101st airborne division: the men of "Easy Company". The 10-part series follows them from boot camp to their jump into Normandy on D-Day. It then traces their exploits across war-torn Europe right up until they capture Hitler's famous "Eagle's Nest" mountain retreat.
DISC 1:
PART 1 - Currahee (1:13:14):
While awaiting the appropriate weather conditions to allow the invasion of Normandy, soldiers Richard Winters (Damian Lewis) and Lewis Nixon (Ron Livingston) take time to reflect on their period in basic training together at Camp Toccoa in Georgia. This offered an especially unenjoyable period during which they were under the iron thumb of hard-nosed and overbearing commanding officer Captain Herbert Sobel (David Schwimmer).
Not only is Sobel a hard-ass, but he also seems to have no aspirations to earn the respect of his men. In fact, many of his actions seem to lean more towards brown-nosing his superiors in order to further his career. Needless to say, much of this episode centers on the divisions growing hatred of Sobel and Winters' desire to see him exposed for the weak-minded CO that he is.
Much of this first part deals with a hill on the training grounds named Currahee, a hill that proves an important location as Sobel takes great pleasure in making his soldiers run up and down its steep slopes over and over again – and at all hours of the day. While having soldiers train hard in the military is nothing new - and is to be expected - Sobel seems to go a little too far sometimes.
Winters turns out to be a man in a unique position. As platoon leader, he's given some command over the troops in his division, and unlike Sobel, he maintains the respect of these men. Sobel and Winters are constantly at odds - especially when it becomes evident that Sobel is an incompetent commanding officer and his men are afraid to follow him into battle. In the end, many of the men put themselves in a bad situation when then decide to risk severe disciplinary action rather than serve under Sobel's command.
Overall, this was a great starting point for the series. It was a way for us to get to know a few of the primary characters, and it also eases us into the next episode. Episode 2 is where the war really starts to pick up some steam and the battle for Europe - at least for these men - really begins. This part is the calm before the storm.
PART 2 - Day of Days (52:01)
For action buffs who are trying to decide if they're interested in watching a mini-series - especially one based on the exploits of some real men - this is the episode to watch. Once you see this one, you'll be hooked. It manages to shatter all of your preconceived notions about the quality of a television production and makes you realize that this is no cheap war story. This series is going to deliver the goods.
It's June 6th, 1944, and the men of Easy Company finally get the green light. With weapons in hand and parachutes on their backs, dozens of planes lift the men into the air and take them towards their designated drop zone.
Still, even in the black on night, reaching this location comes with its share of danger. The planes are fired upon from the ground in what can only be described as one of the most riveting war sequences I have ever seen on film – even if much of it is CG, the intensity and feeling of shear urgency is incredible, and even a little horrifying. The scene is pure mayhem as planes are torn apart in mid-air with their passengers still on board. Burning soldiers even jump from flaming airplanes in a vain effort to save themselves. It's unbelievable to think that so many people died that night is so many horrible ways. The sight really hits home.
With planes being shot out of the air and diving into the ground on every side of them, the paratroopers jump from the planes from fear of being killed before they even reach the ground. From here, much of the episode follows Winters as he reaches the surface and tries to pick up the pieces of his separated platoon. Inevitably he manages to locate a few soldiers and reach base camp, though not without a few enemy encounters along the way.
Upon reaching camp, Winters and a few of his men are almost immediately sent out on a mission to destroy some German 88s that are firing upon the landing at Utah Beach. With what can only be described as another awesome segment, Winters and his men head out to destroy the cannons. It's here that Winters looses his first man and the brutality of war hits home. It's also about this time that you realize you dare not miss another episode.
DISC 2:
PART 3 - Carentan (1:05:21):
On June 8th, 1944 – two days after D-Day and the invasion of Normandy - the men of Easy Company are assigned a mission to take control of the German occupied town of Carentan. It's a particularly vicious and hard fought battle, but when it's all over, the town is liberated and the Germans withdraw.
While this episode still deals a lot with Richard Winters and a few of the more prominent members of Easy Company, much of the show centers around Private Albert Blithe (Marc Warren). In fact, as you watch the series you will come to realize that each episode tends to focus on a different soldier, allowing the viewer to witness the war from many different perspectives. Blithe is soldier who has a difficult time adjusting to military life and especially to combat. When we first meet him he's seen staring into the sky, like a young boy might stare in amazement at anything new to him. While I wouldn't want to say he's a coward - since I have doubt I would fare much better under those circumstances - he does have a tendency to stay hidden from danger rather than put himself in jeopardy.
In many ways I think this episode tries and make the audience understand what war must have been like for those who had no choice but to fight it. Let's face it: war is a horrible thing for anyone to have to experience, but some men deal with it better than others. While many can muster the courage to run into a battlefield, others can't seem to make themselves take that first step. It's a great episode that makes you thankful you weren't there.
After the troops take back Carentan, they buckle down for a second battle in which they fight off a German counter attack involving an armored division. It's here that Blithe becomes a new man. Shooting his first enemy soldier he feels a new sense of empowerment, and from that day forth Blithe's level of confidence gets boosted to a new level. Still, in the end we learn that even a confident soldier can be vulnerable.
After many victories, the men of Easy Company head back to England for some much needed rest. Its at the end of this episode that we learn they're being sent back into the thick of things, and it's here that we as the viewer see the toll the war begins to take on Easy Company's numbers.
PART 4 - Replacements (59:43):
Having lost a great deal of men since arriving in Europe, Easy Company eventually receives some new replacements: young, wet behind the ears soldiers that give a new meaning to the word "green". While they're eventually accepted into the fold - especially when the bullets start flying - they're still treated like the newbies they are in the beginning.
New soldiers and veterans will have to work together during Operation: Market Garden. The plan is for Easy to jump into Holland and liberate the town of Eindhoven from German occupation. Once they clear it, they are to maintain control of the town and its surrounding areas so that a British Armored division can move in. If successful, the allies intend to bring about the end of the war by Christmas.
On September 17, 1944, Easy Company jumps into Holland to carry out their mission. However, things don't go quite as planned when they discover that the Germans are no longer in Eindhoven. While the Dutch greet them with open arms, the company sees no reason to hang around and eventually moves out. In the next town they finally run into some superior enemy resistance.
It's here the much of the episode swings about to focus on Bill "Bull" Randleman (Michael Cudlitz). Bull is somewhat of a veteran now, especially in the eyes of the newbies under his command.
When the German forces let the strength of their numbers be known - destroying several British tanks in the process - Easy decides their best course of action is to retreat. It's during this action that Bull gets separated from his men and forced to hide out in a barn within the German occupied town. Surrounded and fully aware of his precarious situation, Bull is forced to do what he must to stay alive and get back to his men.
On the home front, several of Bull's friends - including a few of the replacements - decide to attempt a rescue. Since no one saw him killed, they're not convinced that he's dead.
DISC 3:
PART 5 - Crossroads (55:42):
While Richard Winters (Damian Lewis) appeared in virtually every episode of Band of Brothers since the beginning, this episode follows some of his time in the Airborne even more so than previous shows did. Since the start of the series, Winters demonstrated not only his natural leadership ability, but also his undeniable ability to think strategically. This time around he leads his men against a group of German soldiers who have set up position near a dike that intersects a major roadway outside Arnhem, Holland.
As a man who needs little time to act upon his plans, Winters launches an impressive attack that lasts throughout the night. In the morning the Germans have suffered incredibly high casualties, while Winters has only lost one man to the battle.
The astonishing thing is that Easy Company had no idea about the true strength of the enemy force. It wasn't until later that they discovered how severely outnumbered they really were – but thanks to Winters' leadership and planning, they won the day. This resounding victory results in his promotion to Executive Officer of the 2nd Battalion.
Later, news reaches the men of Easy Company that a strong enemy force in the Ardennes Forest threatens to break through the allied lines. In addition, the German forces are said to contain a Panzer Division. Easy is sent in to not only relieve that line to some degree, but also to also help strengthen it. This issue is complicated by the fact that the men are dangerously low on ammunition and the appropriate equipment needed to sustain them during the particularly cold weather they are certain to face.
PART 6 - Bastogne (1:07:13):
Ill-equipped for the cold weather and short on rations and ammunition, the men of Easy Company are ordered to hold the line in a forest just outside Bastogne, Belgium. Snow is falling almost constantly now and the men are dug in for what will probably be an extensive stay. The German forces on the opposite side of the line keep the men of Easy Company on their toes with constant shellings. Injuries are commonplace in this foreboding environment and principal medic Eugene Roe (Shane Taylor) is a major player during this episode, dealing as best he can with life on the front lines.
As one of only a couple medics in the area, Eugene is pushed to the limits. Overwhelmed by his responsibilities, exhausted mentally and physically, he's constantly on the edge. He's short on supplies, with hardly any bandages and little morphine to relieve pain. On top of that he must deal with many other medical issues, from Bill Guarnere's (Frank John Hughes) possible urinary infection to locating a pair of basic, size 9 army issue combat boots for Joe Toye (Kirk Acevedo).
His only comfort comes from a nurse in Bastogne named Renee (Lucie Jeanne). She works in a decrepit, makeshift hospital that serves to treat the injured men coming in from the line. Being two people who work in a similar fields during the war, they quickly become friends. Unfortunately, war has a way of rearing its ugly head when people least expect it.
DISC 4:
PART 7 - The Breaking Point (1:12:50):
Like each previous episode, we once again focus on one particular solider. This time it's Sergeant C. Carwood Lipton (Donnie Wahlberg). He's a man who is extremely well respected by the men, and this show serves to demonstrate Lipton's dedication to not only his rank but also to the well-being of the men he fights along side.
After fighting back the Germans in Bastogne, the men of Easy Company get new orders to take control of the town of Foy. Before entering the town, the men must first clear the forest to the east and west of enemy forces. However, removing the enemy resistance gets complicated by the merciless and seemingly endless shelling the men must withstand. Trees are blown apart in every direction, and even the relative safety of a foxhole doesn't necessarily keep the men free from harm. To make matters worse, new commanding officer Lt. Norman Dike (Peter O'Meara) has started to prove himself a liability to the men of Easy. Not only is he nowhere to be found a majority of the time, but also his ability to wisely lead the men seems questionable.
After days of shelling, the men of Easy finally manage to clear the forest and are prepared to take control of the town. However, their efforts do not come without a cost, as they have sustained a considerable number of casualties while in the forests. Many of the men are lost in battle due to shell shock, severe injuries and death. The only thing that stands in the way of Easy Company's success over Foy is the incompetence of their own CO.
PART 8 - The Last Patrol (58:59):
Easy Company arrives in Haguena, a town divided by a river – and occupied on the opposite side by German forces.
Much of Part 8 centers around two soldiers. Private David Webster (Eion Bailey) was with Easy Company in the beginning on D-Day. However, he's been out of contact with the other men for quite a while due to an injury he sustained 4 months earlier. Since then he's been under hospital care as well as in rehabilitation.
Websters' return is not met with kindness as many of the men think he should have tried harder to rejoin them after recovering from his wounds. He's a little shocked to learn how much happened since the last time he saw them. After the serious pummelling they received in Bastogne, he learns that many of the men were either injured or killed. Bastogne was a brutal time for the men, and since he wasn't there to fight along side them, he becomes somewhat of an outcast.
The episode also follows the arrival of Lt. Henry Jones (Colin Hanks). A recent graduate from West Point and a replacement, he's also eager to get his feet wet and earn some combat experience. His rank seems to be somewhat meaningless though, as soldiers beneath him are given more responsibility due to having fought in many battles already.
Overall this episode deals a lot with Jones and Webster's desire to fit in with the rest of the men. They're given their chance when they are sent along with 15 men assigned to cross the river during a daring night time raid to capture a few German hostages. Needless to say, the bonds of war are strong, and after the mission both men gain a little experience and a little acceptance.
DISC 5:
PART 9 - Why We Fight (58:11):
After months of pain and suffering and many incredibly hard fought battles, the men of Easy Company finally enter Germany and face little enemy resistance in the process. The German forces are beginning to crumble – and for the first time the men of Easy are starting to get the feeling that the war may at last be coming to an end for them.
However, even with the last remnants of German resistance being swept away, it's hard for the men to forget the horrors they've seen, especially when they make one last grisly discovery. It's truly a saddening and tragic reminder of the horrors of war. It would surprise me if anyone could watch this episode and not get a lump in their throat. While I'm sure the sight of these camps would have been far worse in real life, the degree of pain and suffering these people had to endure is captured on film in a very powerful way.
PART 10 - Points (1:02:15):
In July of 1945, the men of Easy Company enter the Bavarian town of Berchtesgaden, a spot that was once home to many of the top officers of the Third Reich. Soon afterwards they advance up the mountains and capture the Eagle's Nest, Hitler's famous mountaintop fortress.
This episode marks the unconditional surrender of the German army, and with that many of the men are happy to learn that they may finally be going home - if they have earned enough points. Those who don't have enough points will be deployed out to the Pacific to help fight the Japanese. Fortunately, by the end of the episode the Japanese also surrender and the war comes to an end.
The remainder of the episode nicely wraps up the series. Narrated by Damian Lewis as Major Richard Winters, we learn what became of many of the men after the war.
In the end we get to hear a few words from the actual survivors of the war. While each episode within the series began with brief comments from the true men of Easy Company, this final episode finally puts names to these faces.
The addition of these comments adds strength and credibility to this series. To hear what they had to say about the war and some of the events they witnessed simply blew me away. Then to sit back and watch an episode from their lives play out on the screen made you truly understand what these men went through for their country.
While I don't pretend to know what it must have been like to watch your friends die in battle, I think this series nicely achieves what it sets out to do. That is, it makes us understand the sacrifices people made during the war.
After watching all of this incredible series for the first time since it saw it on cable, I'm left thinking that this has to be one of the greatest prizes within my collection. War has always captivated me, and Band of Brothers captures moments and emotions within a war that I hardly knew existed. It's simply masterful.
Band of Brothers shows us war in a realistic fashion. It's not sugar-coated so the kiddies can enjoy it too. This is as close to the real thing as one can get without having been there.
As I mentioned above, I feel Saving Private Ryan is one of the greatest war movies ever made. A mini-series like Band of Brothers expands on that idea, allowing us to journey with these men though all kinds of situations. We see acts of incredible courage and bravery – and acts of cowardice. It's powerful stuff with a powerful message. It shows us war through the eyes of many different men. Band of Brothers is simply one of the greatest programs I have ever seen.