A Beautiful Mind appears in an aspect ratio of approximately 1.85:1 on this single-sided, double-layered DVD; the image has been enhanced for 16X9 televisions. As befit a recent movie of such high stature, the picture looked very good from start to finish, though it didn't quite seem terrific.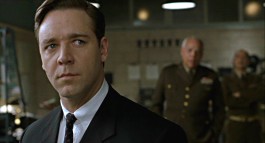 Sharpness seemed immaculate. I found virtually no evidence of softness or fuzziness at any point. Instead, I felt the film appeared crisp and detailed. Jagged edges and moiré effects caused no concerns, but I did notice a slight amount of light edge enhancement at times. That issue remained minor and didn't create any substantial problems, however. As for print flaws, I detected a little light grain at times, but not enough to present concerns. Otherwise, the movie remained free of defects.
Parts of Mind featured a moderately stylized palette, particularly in the early parts of the film. Howard obviously tried to give it that golden glow typical of "period" flicks, and this worked well. Overall, colors looked nicely rich and warm throughout the film. I didn't think the stylization ever became oppressive, and the tones appeared quite vivid and vibrant to me. Black levels always came across as deep and dense, while shadow detail was appropriately heavy but never too thick or opaque; low-light sequences looked very clear and distinct. Despite a few minor issues, I found A Beautiful Mind to present a generally strong image.
Also good was the film's Dolby Digital 5.1 soundtrack. I felt surprised that Universal didn't include a DTS mix as well, since they often do so, but I'd guess that they didn't want to sacrifice picture quality. Mind runs 136 minutes also includes two audio commentaries and almost a half an hour of deleted scenes on one disc; that may have meant that the DTS track would cause a degradation in picture quality, so the DVD's producers opted to omit it.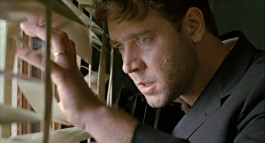 Given the limited scope of the movie's soundfield, I can't say I really missed the DTS option. Overall, Mind offered a track with a fairly heavy forward emphasis. Music displayed a good stereo presence, while effects created a modest but reasonably involving image. Most of the mix consisted of general ambience, but the audio did come to life decently on a few occasions. Most of those dealt with Nash's mental state. At times, the surrounds kicked in nicely, as we heard Nash's thoughts swirl around the various speakers. Segments such as a thunderstorm and a car chase also showed good use of the different channels. Nonetheless, the mix lacked a great deal of ambition, though it remained appropriate for this kind of film.
Audio quality seemed positive. Dialogue came across as natural and distinct, with no signs of edginess or problems related to intelligibility. James Horner's score appeared bright and vibrant, and the music displayed good fidelity and depth. Effects usually were modest, but they still seemed clean and accurate, and they appeared clear and rich on the few occasions when the volume jumped. Overall, the soundtrack of A Beautiful Mind provided an unambitious but solid auditory experience that worked for the movie.
This two-disc "Awards Edition" of A Beautiful Mind packs a lot of extras, and a surprising amount of them appear on the first disc. That platter includes two separate audio commentaries. One comes from director Ron Howard, who provides a running, screen-specific piece. Overall, Howard gives us enough useful information to make the track worth a listen, but it seems inconsistent. On the positive side, the director covers a lot of his intentions for the movie, and he also goes into the reality behind the fictionalized film and chats about working with the actors. He even acknowledges the absence of his brother Clint, who actually does appear in the film - sort of. However, Howard often repeats himself - the word "again" appears about a million times during his chat - and quite a few empty spaces occur. The track works well enough to merit a listen, as it does contain a lot of good material, but it remains a mixed bag.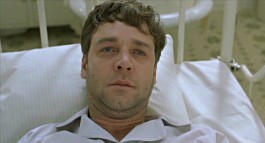 The second commentary offers remarks from screenwriter Akiva Goldsman, who also offers a running, screen-specific track. Although he seems chattier than Howard does - fewer empty spots occur - Goldsman also provide less useful information. The writer delves into character development well, and he also offers some remarks about the facts behind the story and production notes. However, Goldsman frequently does little more than relate information that already seems obvious to us. I should note that the commentary improves as it progresses, though, and it appears reasonably interesting and informative for fans of the movie.
In addition to those commentaries, DVD One includes 18 deleted scenes. The image is non-anamorphic 1.85:1 with Dolby Surround 2.0 sound. All the clips run as one continuous program that lasts 26 minutes and 50 seconds, though chapter encoding allows you to skip through them easily. All of the clips can be viewed with or without commentary from director Ron Howard. In addition, an audio piece from Howard opens the section, as he quickly explains the concept of deleted scenes.
As for the excised segments, some of them seem interesting. Actually, most of them appear interesting, but I think virtually all of them deserved to be cut. In his comments, Howard usually - but not always - discusses the reasons for the deletions, and he adds some other useful remarks as well.
A couple of other minor pieces round out DVD One. We find a good overview in the text Production Notes as well as some decent information in the Cast and Filmmakers area. The latter offers listings for director Howard, producer Brian Grazer, writer Goldsman, and actors Russell Crowe, Jennifer Connelly, Ed Harris, Paul Bettany, Adam Goldberg, Judd Hirsch and Christopher Plummer. These resemble similar features on other Universal DVDs; they seem fair but unspectacular. Some additional text appears in the DVD's booklet.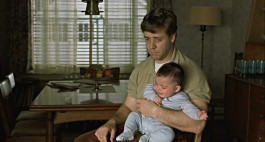 As we move on to DVD Two, we encounter a slew of additional extras. Most of the features provide short featurettes. A Beautiful Partnership takes a five minute and 22 second look at the working relationship between Howard and Grazer. Mostly this consists of a joint interview with the pair; it shows some "talking head" shots of the two and also runs their dialogue on top of some film clips and behind the scenes footage. This program seems mediocre. The two cover a few interesting issues, but overall they present little insight into their partnership.
Development of the Screenplay provides a more informative affair. The eight minute and 16 second program offers interviews with Grazer and Howard but it mostly focuses on writer Goldsman. It uses the same format as "Partnership" except some of the film clips and behind the scenes shots provide audio of their own; they're not all silent partners beneath the interviews. Goldsman gives us a good chat about the working process and collaborating with others that helps flesh out how they created this aspect of the film.
During Meeting John Nash, we observe an encounter with the film's subject himself. It includes some interview clips with Howard, but mostly we watch a videotaped chat between the director and Nash in which the latter discusses one of his concepts. That factor makes the eight minute and 27 second program fairly dry, but it remains cool to get a better look at the real person behind the film.
We see more of Nash in Accepting the Nobel Prize in Economics, a 116-second clip from the 1994 ceremonies. This doesn't present Nash's speech. Indeed, the oratory he oggers in the movie doesn't exist. This just depicts his formal receipt of the award. It's a nice archival piece to have, but it seems bland.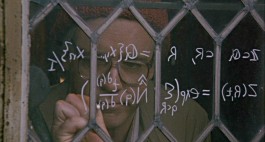 Casting Russell Crowe and Jennifer Connelly obviously discusses the actors. During the five minute and 56 second program, Howard and Grazer go over their casting and chat about what it was like to work with the pair. The piece includes some decent information, but it seems puffy as a whole, and it suffers from the absence of the actors in question.
More interesting is The Process of Age Progression, a seven minute and 13 second look at that topic. It provides quick interview snippets from Howard and Grazer but mainly offers material from makeup creator Greg Cannom. He covers his subject well and tells us a lot of good notes about the subject. In addition, we see some fine test footage that demonstrates the work.
Another valuable chat comes in Creation of the Special Effects. Again, it provides a few snippets from Howard and Grazer, but the focus remains on visual effects supervisor Kevin Mack. He dominates the 10 minute and 46 second program as he discusses the material and shows us many examples of the work. It's a good look at the way they integrated effects into a movie one wouldn't associate with that medium.
As one might expect, Scoring the Film focuses on the music of Mind. The ubiquitous Howard and Grazer pop up briefly, but we mostly hear from composer James Horner along with singer Charlotte Church. The five minute and 54 second featurette offers a few decent tidbits about Horner's work, but overall it seems a bit bland and superficial.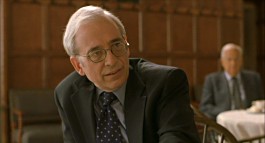 The Storyboard Comparisons let us check out five different scenes. The piece starts with a 28-second introduction from Howard. Three of these bits appeared in the final film, while the other two look at deleted segments. We watch the movie footage in the top half of the screen, while the boards reside in the lower half. In a nice touch, you can enlarge the boards to fill the screen at any point. The segments run between 51 seconds and 130 seconds for a total of seven minutes, 27 seconds of footage. I've never much cared for storyboards, so these did little for me, but it seemed to be a solid presentation.
Inside A Beautiful Mind offers the standard promotional program typical of those seen on cable channels. The 22 minute and 30 second show combines movie clips, shots from the set and interviews. In the latter domain, we hear from Howard, Grazer, author Sylvia Nasar, Crowe, Connelly, Nash, Goldsman, Alicia Nash, Senator Paul Wellstone and Tipper Gore. The last two appear mostly in an official capacity to recognize the way Mind helped inform people about mental illness.
While it was good to finally see the primary actors and I also liked the involvement of both John and Alicia Nash, this show remained superficial. Some of the comments seemed useful, and I enjoyed parts of the behind the scenes shots, but I felt the program rarely lost its promotional bent. Film clips dominated the show and made it watchable but lackluster.
One interesting addition comes in the Academy Awards domain. There you'll find the three minute and 54 second Best Picture acceptance speech from Grazer and Howard. We also watch short clips from the backstage interviews with winners Howard (41 seconds), Connelly (25 seconds), and Goldsman (20 seconds). I wish we got their acceptance speeches as well, but it remains a cool extra.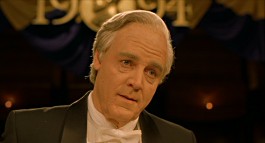 Some more ordinary features round out the second disc. We find the film's theatrical trailer as well as promotional materials for other Universal flicks in the Now Showing domain. There we get short ads for Apollo 13, The Family Man, K-Pax and Patch Adams. One interesting touch: in addition to the generic promos, we find some quick excerpts of each DVD's supplements. In addition to an ad for the movie's soundtrack, we get a listing of organizations; that area shows links to schizophrenia related groups.
For DVD-ROM users, the fun doesn't end there. However, it did for me as I reviewed A Beautiful Mind. The disc includes something Universal call "Total Axess". This offers a link to a site that will provide additional material related to the movie. This stuff might be good or it might not, but since I reviewed the DVD a month before street date, none of it appears active; when I clicked the link, it went to a dead end. Unusually, the disc provides none of the standard weblinks to other Universal sites; perhaps they're built into "Total Axess".
One strange aspect of this DVD: I don't know why all of the extras didn't appear on the second disc. By my rough calculations, DVD Two includes about 100 minutes of video footage. That left more than enough room for the deleted scenes and other bits found on the first disc. It seemed odd that DVD One got stuffed so full of material when all this additional space existed.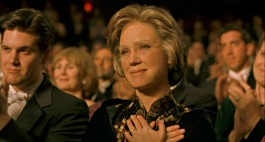 While I didn't expect to care for A Beautiful Mind, I actually found it to offer a reasonably engaging experience. The movie suffered from some of director Ron Howard's soppy tendencies, but it usually came across as a believable and compelling examination of one man's battle with mental illness. The DVD offered very good picture and sound plus a solid roster of extras. Overall, Universal created a satisfying package with the DVD release of A Beautiful Mind.
Note: A Beautiful Mind can be purchased in both widescreen and fullscreen editions. I haven't seen the latter, but the former's cover distinguishes itself in only a minor way. At the bottom of the front, it notes "widescreen", and I think the two covers appear identical otherwise. This means you should take care if you attempt to purchase it at a store; you might easily mistake one for the other.