FOX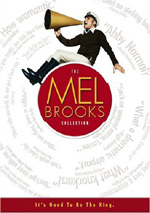 MOVIE INFO
Director:
Mel Brooks
Cast:
Gene Wilder, Cleavon Little, Slim Pickens, David Huddleston, Liam Dunn, Alex Karras, John Hillerman, George Furth, Jack Starrett, Mel Brooks, Harvey Korman, Madeline Kahn
Writing Credits:
Mel Brooks, Norman Steinberg, Andrew Bergman, Richard Pryor, Alan Uger
Synopsis:
The railroad's got to run through the town of Rock Ridge. How do you drive out the townsfolk in orderito steal their land? Send in the toughest gang you've got ... and name a new sheriff who'll last about 24 hours. But that's not really the plot of Blazing Saddles, just the pretext. Once Mel Brooks' lunatic film many call it his best gets started, logic is lost in a blizzard of gags, jokes, quips, puns, howlers, growlers and outrageous assaults upon good taste or any taste at all. Cleavon Little as the new lawman, Gene Wilder as the wacko Waco Kid, Brooks himself as a dimwitted politico and Madeline Kahn in her Marlene Dietrich send-up that earned an Academy Award nomination all give this sagebrush saga their lunatic best. And when Blazing Saddles can't contain itself at the finale, it just proves the Old West will never be the same!
Box Office:
Budget
$2.600 million.
Domestic Gross
$119.500 million.
MPAA:
Rated R


DVD DETAILS
Presentation:
Widescreen 2.35:1/16x9
Fullscreen 1.33:1
Audio:
English Monaural
Spanish Monaural
French Monaural
Subtitles:
English
French
Spanish
Closed-captioned

Runtime: 93 min.
Price: $99.99
Release Date: 4/4/2006

Available as Part of the "Mel Brooks Collection"

Bonus:
• Interview with Director Mel Brooks
• Cast
• Production Notes
• Trailer




PURCHASE @ AMAZON.COM

EQUIPMENT
Sony 36" WEGA KV-36FS12 Monitor; Sony DA333ES Processor/Receiver; Panasonic CV-50 DVD Player using component outputs; Michael Green Revolution Cinema 6i Speakers (all five); Sony SA-WM40 Subwoofer.


RELATED REVIEWS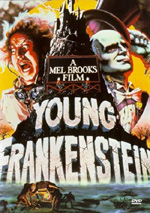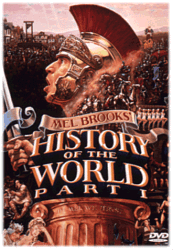 [an error occurred while processing this directive]
---
Blazing Saddles (Mel Brooks Collection) (1974)
---
Reviewed by Colin Jacobson (April 7, 2006)

One might say that Mel Brooks experienced a "career year" in 1974, as the director put out two comedy classics that year. Brooks led the horror flick parody Young Frankenstein by the end of the year, and it proved to be a nice hit.

However, Brooks' first effort in 1974 became his most successful and probably best remembered film. Blazing Saddles put Brooks on the map as a popular practitioner of parodies and wound up as the year's biggest box office success.

Set in 1874, Saddles introduces us to an operation to lay railroad track in the west. Taggart (Slim Pickens) supervises this operation and antagonizes black worker Bart (Cleavon Little) when he sends him to test ground for quicksand and makes no attempt to save him. As retribution, Bart whacks Taggart in the head with a shovel, which ends him up in jail and a date with the hangman.

In the meantime, we meet Taggart's boss, governor's assistant and attorney general Hedley Lamarr (Harvey Korman). He works as the mastermind behind the railroad and he wants to make millions off the land through which the train will run. This means he needs to run out the residents of Rock Ridge so he can grab the territory.

Lamarr hires goons to run rampant through town and drive off the locals, but they decide to band together and fight against them. They need a new sheriff and demand that Governor Lepetomane (Mel Brooks) send them one. Lamarr sends Bart to do the job since he thinks the locals will react poorly to a black sheriff and he'll eventually win.

Initially, he's correct, as the folks in Rock Ridge don't take well to Bart. His only friend comes from drunken prisoner Jim (Gene Wilder). He used to be known as the Waco Kid with the "fastest hands in the world", but his skills are shot due to the shakes.

When the folks of Rock Ridge don't totally dismiss Bart, Taggart sends Mongo (Alex Karras) to kill the new sheriff. He fails, so Lamarr gets Lili Von Shtupp (Madeline Kahn) to seduce and abandon him. This also backfires as she becomes enamored of him. From there, Bart slowly starts to learn of Lamarr's plot to evacuate Rock Ridge, and the rest of the film follows how things unfold. All of this culminates in a wild ending.

And I do mean wild! Throughout the first two acts of Saddles, Brooks occasionally makes nods to outside influences. There's a self-awareness that the inhabitants exist in a movie, and flippant anachronisms run rampant. However, these all feel like appetizers for the chaotic conclusion. I won't go into detail, but the participants actually leave the movie at one point, and matters become truly - and amusingly - absurd. Brooks maintains no boundaries, as everything's fair game.

Those elements end the movie on a very high note, but the rest of the movie seems less consistent. Some delightfully ridiculous bits appear, especially when Brooks mocks the clichés of westerns. I loved Gabby Johnson (Claude Ennis Starrett Jr.) and his "authentic frontier gibberish", and Korman makes a wonderful, moustache-twirling villain. The scene where he freaks because he doesn't have his rubber froggie in the bath tub is terrific, and the movie features more than a few similarly funny pieces.

However, too much of the movie emphasizes racially-oriented humor. We simply find too many gags that rely on consciously politically incorrect usages of the "N"-word. These feel like they try to hard to make a social point, and they rely on our shock at the use of the phrase and the attitudes to gain laughs; they lack much inherent funniness, and they date the flick.

Some of the film's raunchier elements also cause its slower spots. Its most famous scene comes from the farting by the campfire, but I'll be damned if I can figure out why this segment earns such accolades. I thought it'd include something clever, but it's just a long string of farts with no other dynamic involved. Fart jokes are the lowest form of humor, so stringing together a bunch of them just seems cheap and pointless.

The excellent cast helps make occasionally pedestrian material more winning. I already noted that Korman brought a lot to the movie, and the other main actors also make the scenes work. Alex Karras deserves special note for a delightfully dopey turn as Mongo. A non-actor at the time, the former football star does moronic well, and Mongo's few scenes are winners.

When Blazing Saddles avoids cheap and raunchy gags and embraces the absurd, it turns into a very funny movie. This culminates in a remarkable ending. However, the film's gags seem too scattershot for it to be a total winner. It's generally funny, but it lacks the coherence of better Brooks flicks such The Producers or Young Frankenstein.
---
The DVD Grades: Picture D+/ Audio C-/ Bonus C
---
Blazing Saddles appears in an aspect ratio of approximately 2.35:1 and in a fullscreen rendition on this double-sided, single-layered DVD; the widescreen image has been enhanced for 16X9 televisions. Only the letterboxed image was examined for this review. An erratic presentation from the early days of DVD, this sucker showed its age.
The movie seemed unstable much of the time. It wavered and looked edgy more than I'd expect. This affected sharpness, which varied a lot. Much of the film demonstrated decent delineation, but things went soft and blurry with moderate frequency. I noticed some jaggies and shimmering, and I saw a fair amount of edge enhancement. Print flaws seemed moderate for a film of this era. Periodic specks or bits of grit showed throughout the film and created more than a few distractions.
I thought the colors of Saddles were similarly erratic. The film featured a bright palette, but the tones rarely lived up to expectations. The hues occasionally appeared solid, but they often became murky and flat. Black levels were acceptably deep and rich, while shadows seemed clean and appropriately opaque. All these concerns meant this was a "D+" transfer.
Blazing Saddles featured the film's original monaural soundtrack. Audio quality was erratic. On the negative side, speech displayed a lot of edginess. I always understood the lines, but they sounded rough much of the time.
Effects lacked much heft, but they retained acceptable fidelity and clarity despite sporadic bouts of distortion. Music sounded quite strong, as the songs and score were bright and rich. They featured surprisingly positive bass response and seemed pretty dynamic considering their age. The positives attached to the music gave the mix a boost, but the frequently rough speech knocked my grade down to a "C-".
Although Warner Bros. put out a 30th Anniversary Edition of Blazing Saddles, the version included in this "Mel Brooks Collection" is the same one originally released in 1997. Its picture and audio quality don't compare favorably with the newer disc. The newer disc provided a consistently superior presentation of the film by a wide margin. This old one wasn't nearly as strong in either way.
The old disc also includes fewer extras than the "30th Anniversary Edition". We start with an Interview with Mel Brooks. Actually, this provides more of an audio essay from Brooks, as he chats over the film with no direct reference to the onscreen action. It lasts for about 55 minutes and ends during "I'm Tired". Brooks starts with the origins of the project, how he became involved in it, its writing and development, casting, various anecdotes and production comments, studio tampering and the film's reception. Brooks discusses his state when Saddles came along well and lets us know his issues with the project, and his notes about finding a cast are very good.
Things become especially interesting when we learn all the folks Brooks attempted to land for the Waco Kid role and how Wilder finagled the part for himself. We also hear cool information like the fact that Hedy Lamarr sued the production for the use of her name. Brooks' chat might not be a full-fledged audio commentary, but it's a brisk and informative piece that offers lots of fun notes.
In addition to the film's trailer, we get some text materials. Cast presents biographies and filmographies for actors Cleavon Little, Gene Wilder, Slim Pickens, David Huddleston, Mel Brooks, Harvey Korman, and Madeline Kahn. These offer decent overviews of the various participants.
The Production Notes are virtually worthless. They provide very minor information about the flick and barely merit a look.
Too inconsistent to really earn its status as a comedy classic, Blazing Saddles fires well at times. Many of its gags fall flat, but enough succeeds to make it generally amusing and lively. The DVD presents mediocre to weak picture and audio along with a small set of extras. Fans will want to get the superior 30th Anniversary release, as it significantly improves upon this older disc.
Note that this version comes as part of the eight-movie "Mel Brooks Collection". It also includes The Twelve Chairs, Young Frankenstein, Silent Movie, High Anxiety, History of the World Part I, To Be or Not to Be, and Robin Hood: Men In Tights. The "Mel Brooks Collection" packages all eight movies together with a list price of $99.98.
To rate this film, visit the 30th Anniversary Edition review of BLAZING SADDLES