SONY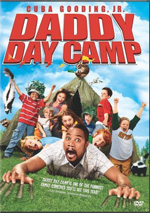 MOVIE INFO
Director:
Fred Savage
Cast:
Cuba Gooding Jr., Lochlyn Munro, Richard Gant, Tamala Jones, Paul Rae, Josh McLerran, Spencir Bridges
Writing Credits:
Geoff Rodkey (and story; and characters), J. David Stem, David N. Weiss, Joel Cohen (story), Alec Sokolow (story)
Tagline:
The summer is going to be in tents.
Synopsis:
Daddy Day Care pals Charlie and Phil are back in this hilarious, all-new adventure: Daddy Day Camp! When the dads expand their childcare magic to Camp Driftwood - serving up sports, crafts and teaching the kids a thing or two about nature, they discover the camp has everything it needs except a plan to put the bullies of rival Camp Canola to shame. With some quick thinking, teamwork, a secret weapon and some off-the-wall crazy antics, the dads and kids unite to make sure Daddy Day Camp secures its rightful place in kid camp history!
Box Office:
Budget
$6 million.
Opening Weekend
$3.402 million on 2332 screens.
Domestic Gross
$13.235 million.
MPAA:
Rated PG


DVD DETAILS
Presentation:
Widescreen 1.85:1/16X9
Audio:
English Dolby Digital 5.1
Spanish Dolby Digital 5.1
French Dolby Digital 5.1
Subtitles:
English
Spanish
French
Closed-captioned
Supplements Subtitles:
English
Spanish

Runtime: 89 min.
Price: $28.95
Release Date: 1/29/2008

Supplements:
• "How I Spent My Summer: Making Daddy Day Camp" Featurette
• "What I Learned at Camp" Interactive Quiz
• Previews




PURCHASE @ AMAZON.COM

EQUIPMENT
Sony 36" WEGA KV-36FS12 Monitor; Sony DA333ES Processor/Receiver; Panasonic CV-50 DVD Player using component outputs; Michael Green Revolution Cinema 6i Speakers (all five); Sony SA-WM40 Subwoofer.


RELATED REVIEWS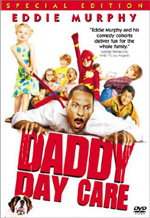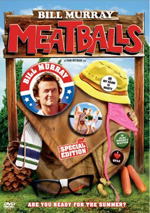 [an error occurred while processing this directive]
---
Daddy Day Camp (2007)
---
Reviewed by Colin Jacobson (January 23, 2008)

Can a sequel that leaves out the original flick's star succeed? Sure, but this becomes much less likely if the first film boasted a particularly charismatic and/or noteworthy performer. If a big star played in the seminal movie, it becomes exceedingly difficult for the follow-up to stand on its own.

Let's call that the "Jim Carrey Rule" since we've seen three Jim-free sequels to Carrey films and each one either flopped or at least disappointed at the box office. (2007's Evan Almighty made too much money to be considered a bomb ala genuine stinkers like Dumb and Dumberer or Son of the Mask, but it still badly underperformed expectations.)

However, this rule certainly doesn't apply only to Carrey. As proven by 2007's Daddy Day Camp, it also fits Eddie Murphy. 2003's Daddy Day Care offered a truly bad movie, but the combination of Murphy's charisma and the family-friendly subject matter made it a moderate hit. Apparently that was good enough to greenlight Daddy Day Camp, a follow-up in which Cuba Gooding, Jr. takes over for Murphy as Charlie Hinton, the proprietor of a male-operated day care business.

Along with his buddy and partner Phil (Paul Rae), they've made Daddy Day Care a highly successful business. When they send their kids to camp, they want them to go to Camp Driftwood just like they did. Unfortunately, it's in big trouble, so Charlie buys into the business to get it afloat – and also keep it out of the hands of longtime foe Lance Warner (Lochlyn Munro). The movie follows the adventures at their new business as well as the competition with Lance and his Camp Canola.

Since I disliked Daddy Day Care quite a lot, one could reasonably ask why I'd bother to view Camp. And that's a good question, one that I can answer in two words: perverse curiosity. I see a lot of movies, which means I see a lot of bad movies. However, regression to the mean usually comes into effect, so it's not easy for anything to stand out as tremendously noteworthy. Most of the bad flicks are poor in a generic way; only occasionally does something like the absolutely abysmal Eagle Vs. Shark come along to provoke a true negative emotional reaction in me.

In Camp, I eyed a film that just might go down as something really, really memorable – in a bad way. I like Eddie Murphy, but his presence couldn't hope to redeem Care. I gave up on Gooding years ago. He used to have talent, but apparently he took "show me the money" to heart, as he's made one poor choice after another for the last decade, a factor that's made it difficult to care for his work anymore. With Gooding and his endless mugging and idiocy in the lead, how could Camp not be incredibly terrible?

Answer: it couldn't. The opening shot of Camp telegraphs what kind of flick this will be. An adorable tyke slowly pulls a big sheet cake off of a kitchen counter – and shock of all shocks, it falls to the floor and splatters! Wow – betcha didn't see that joke coming, did you?

And the insufferable cuteness doesn't stop there. Seconds later we see a mop-headed boy from behind as he pees – and scratches his pudgy little tushy! Tiny twins eat watermelon together! Whee – what adorable fun!

If you collect Hummel figurines, this material probably works for you. For everyone else… not so much. Actually, most of the cutesy footage crops up in the first reel; after that, the movie more eagerly embraces the kind of comedy apparently adored by nine-year-olds. You'll find a nearly nonstop parade of pee, fart and puke jokes on display here along with the requisite abundance of cheap pratfalls and slapstick. There's not a single creative or original gag to be found, and none of it proves even remotely amusing. Heck, if you took a drink every time you recognized a joke stolen from another movie, you'd be blitzed within half an hour tops.

I hesitate to say that Camp represents the worst of Gooding's performances. After all, this is the man who made Boat Trip. Still, it's hard to imagine that Gooding could seem more pathetic than he does here. Did he get paid by the facial expression? He offers one of the most over-acted performances on record as he constantly mugs and over-emotes for the camera.

Actually, there's not a single even remotely low-key – or human – performance in the entire film. Apparently Fred Savage's sole direction is "bigger!" This means an incessant parade of precocious youngsters who annoy with their mugging and over the top antics.

I suppose there are worse "family films" than this, as the two Baby Geniuses movies come to mind. Nonetheless, that doesn't make Daddy Day Camp less of an atrocity. Witless, sappy and genuinely stupid, this is lowest common denominator filmmaking at its worst.
---
The DVD Grades: Picture A-/ Audio B+/ Bonus D
---
Daddy Day Camp appears in an aspect ratio of approximately 1.85:1 on this single-sided, double-layered DVD; the image has been enhanced for 16X9 televisions. We got a surprisingly excellent transfer with this film.
At no point did sharpness falter. All shots – both close and far – looked tight and well-defined throughout the movie. No issues with jagged edges, moiré effects or edge enhancement developed, and source flaws remained completely absent at all times.
With its outdoors setting, Camp went with a lively, natural palette. The colors always seemed vivid and well-defined. Blacks appeared deep and firm, while shadows looked smooth and clear. This was a consistently top-notch visual presentation.
The Dolby Digital 5.1 soundtrack of Daddy Day Camp also satisfied. I don't expect much of comedies, but this one featured enough "action" settings to create some vivid sequences. The track used the sides and rears for good effect during some broad bits like exploding latrines and flying arrows. Music also featured nice stereo imaging, and the track presented a pretty good sense of environment.
Audio quality was strong. Music showed nice vivacity, as the score and songs were bright and lively. Effects demonstrated good accuracy and clarity, with clean highs and deep lows. Speech was also natural and concise. This was a better than average soundtrack.
Only a few minor extras complete the set. We get a featurette called How I Spent My Summer: Making Daddy Day Camp. This 11-minute and 55-second piece presents the standard mix of movie clips, shots from the set and interviews. We hear from director Fred Savage, producer Jason Schuman, and actors Cuba Gooding, Jr., Sean Patrick Flaherty, Jack Taggart Hurtubise, Katie Fischer, Molly Jepson, Lochlyn Munro, Spencir Bridges, Tad D'Agostino, Talon Ackerman, Telise Galanis, Tyger Rawlings, Brenden Geisler, Carson Geisler, Dallin Boyce, Joshua McClerran, Zachary Allen, Paul Rae and Richard Gant.
The kids tell us about their roles, and we get thoughts about Gooding, effects, stunts, and the atmosphere on the set. This is a tremendously fluffy and superficial program. We learn almost nothing about the movie, as it focuses on the cute kiddies and their observations. It's a waste of time.
Next comes an interactive quiz called "What I Learned at Camp". In a weird move, "Camp" doesn't test our knowledge of the film; instead, it quizzes our memory of the "Making" featurette! It covers 10 questions, most of which you could answer without seeing "Making". If you complete the easy quiz with a perfect score, you get bupkus; there's no prize for successful completion.
As usual, some ads open the DVD. We get promos for The Water Horse: Legend of the Deep and The Final Season. These also appear in the Previews area along with clips for Roxy Hunter and the Mystery of the Moody Ghost, The Prince and the Pauper, Storm Hawks, Are We Done Yet?, Daddy Day Care, Surf's Up and The Last Day of Summer/Shredderman Rules! No trailer for Camp shows up here.
Has any Oscar-winning actor worked as hard to degrade himself as Cuba Gooding, Jr.? I don't think so, as he apparently will do anything for a paycheck – and he produces a never-ending series of ever-worsening performances. Daddy Day Camp becomes another stinker in the Gooding filmography, an abysmal piece of "family entertainment" that lacks even the most remote sense of reality or comedy. The DVD provides very good picture and audio, but it lacks substantial extras. Only serious masochists should watch this terrible flick.
| | |
| --- | --- |
| Viewer Film Ratings: 2.5416 Stars | Number of Votes: 24 |