WARNER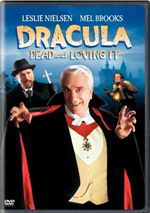 MOVIE INFO
Director:
Mel Brooks
Cast:
Leslie Nielsen, Mel Brooks, Peter MacNicol, Steven Weber, Amy Yasbeck, Lysette Anthony, Harvey Korman, Mark Blankfield
Writing Credits:
Bram Stoker (characters), Rudy De Luca, Steve Haberman, Mel Brooks
Synopsis:
Mel Brooks, the unhinged movie parodist whose Blazing Saddles sent us Westward ho-ho-ho and whose Young Frankenstein electrified with mad-scientist nuts and jolts, now stokes the Bram Stoker vein with the comedy transfusion: Dracula Dead and Loving It. Leslie Nielsen plays the title role, and what's not to love?
His Count is a pratfalling evil prince of a guy who believes in long relationships. Brooks portrays vampire hunter Van Helsing who won't give a bloodsucker an even break. Stakes, garlic, mirrors and more - they're all part of vampire lore. And along with top supporting players Steven Weber, Peter MacNicol and Harvey Korman, they're all part of Brooks' tricks and shticks assuring that from dusk to dawn, the hilarity's on.
Box Office:
Domestic Gross
$10.693 million.
MPAA:
Rated PG-13


DVD DETAILS
Presentation:
Widescreen 1.85:1/16x9
Audio:
English Dolby 2.0
Subtitles:
English
French
Spanish
Closed-captioned

Runtime: 90 min.
Price: $19.97
Release Date: 6/29/2004

Bonus:
• Audio Commentary with Director Mel Brooks, Co-Writers Rudy DeLuca and Steve Haberman, And Actors Steven Weber and Amy Yasbeck
• Trailer




PURCHASE @ AMAZON.COM

EQUIPMENT
Sony 36" WEGA KV-36FS12 Monitor; Sony DA333ES Processor/Receiver; Panasonic CV-50 DVD Player using component outputs; Michael Green Revolution Cinema 6i Speakers (all five); Sony SA-WM40 Subwoofer.


RELATED REVIEWS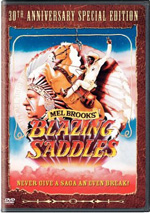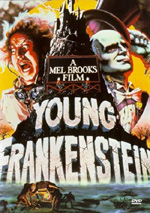 [an error occurred while processing this directive]
---
Dracula Dead And Loving It (1995)
---
Reviewed by Colin Jacobson (June 29, 2004)

As of June 2004, 1995's Dracula Dead and Loving It stands as Mel Brooks' final directorial effort. That's probably a good thing, for over the decade and a half prior to its release, he showed that he'd largely lost the satirical talent that made him such a success. Seventies' efforts like Blazing Saddles and Young Frankenstein made Brooks a household name, but later tripe like Spaceballs and Life Stinks did nothing but tarnish his reputation.

Dead exists as a sad conclusion to Brooks' directorial career. Obviously prompted by Francis Coppola's moderately successful Dracula adaptation in 1993, Dead retells the legend as a spoof. It opens in Transylvania circa 1893, British solicitor Thomas Renfield (Peter MacNicol) goes to meet Count Dracula (Leslie Nielsen) on business. The local folk warn him against this since they believe vampires live at the castle, but he pooh-poohs their concerns and goes ahead with his schedule.

Renfield goes ahead and meets with the creepy Count. Dracula wants to purchase Carfax Abbey, and that legal business brings Renfield to his home. After those matters end, however, the Count hypnotizes Renfield and makes the Brit his slave. He orders Renfield to care for the Count's coffin as they travel to England.

After Dracula devours the ship's crew, he arrives in London. There we meet Dr. Seward (Harvey Korman), the man who cares for institutionalized "raving lunatic" Renfield. Seward's sanitarium abuts Carfax Abbey. We also meet Seward's assistant Jonathan Harker (Steven Weber), his fiancée - and Seward's daughter - Mina (Amy Yasbeck), and her friend Lucy Westenra (Lysette Anthony). Lucy indicates lust for the Count, who later flies to her room and bites her neck.

When Lucy seems ill, Seward contacts Dr. Abraham Van Helsing (Brooks), an expert in obscure diseases. He attributes Lucy's malady to supernatural causes and relates the existence of vampires. Van Helsing warns that if the vampire gets the chance to return, he'll complete his work and make Lucy one of his kind.

They attempt to ward off this attack, but eventually the Count succeeds. Van Helsing urges further efforts, and he starts to believe that Dracula caused the damage. The rest of the movie follows their efforts to combat the undead menace.

Just like the original Dracula, of course. As with Young Frankenstein, Dead follows the source fairly closely but attempts laughs with its quirky variations on the original. This worked nicely in Young, as it poked the prodded the older flick with amusing and glib comedic twists. In Dead, however, Brooks' well has run dry, as it offers little more than dopey slapstick gags and bad puns.

As an homage, Dead succeeds quite well. Brooks recreates the look of older films well, even though he doesn't shoot in black and white ala Young. Much of the film takes place on obvious soundstages, which seems like a fun way to both lampoon and pay respect to the source material. The movie looks truly great, as its creators demonstrated loving attention to the details. Dead also tosses in references for fans like "Madame Ouspenskaya".

All that's great, but unfortunately, the movie lacks almost any sense of humor. The sole amusing moments come from Korman's turn as a stereotypically blustery upper crust Brit. When he interacts with Renfield about the latter's consumption of insects, Korman makes a predictable and lame sequence shows glimmers of life.

Unfortunately, that's not enough. The cast ham it up mercilessly as they try to sell the lackluster material. We see scads of lame slapstick plus cheap scatological gags. The verbal humor fails as well - does anyone think the reference to a "daymare" is funny?

Maybe, but I don't. With Dracula Dead and Loving It, Mel Brooks sets up inevitable comparisons with Young Frankenstein, and it pales in all ways. The movie offers a detailed homage to earlier horror efforts but can't muster more than an occasional snicker due to it tired stabs at humor.
---
The DVD Grades: Picture B+/ Audio B-/ Bonus C
---
Dracula Dead and Loving It appears in an aspect ratio of approximately 1.85:1 on this single-sided, single-layered DVD; the image has been enhanced for 16X9 televisions. Despite a mix of minor flaws, overall I found the picture to appear quite satisfying.
Sharpness consistently appeared nicely crisp and distinct. At no point did any significant softness interfere with the presentation, though the many dimly-lit interior shots certainly could have appeared fuzzy. Instead, they remained quite clear and accurate, and the movie presented a very attractive image. Moiré effects and jagged edges caused no noticeable concerns, and the film seemed to be largely free of edge enhancement. Some minor print flaws cropped up along the way, but these remained fairly insignificant. Grain appeared a little heavy at times, and I also saw a few speckles and a blotch or two. Nonetheless, the concerns stayed in the background through most of the movie.
Colors appeared warm and rich throughout the film. Dead featured a vivid palette, and the DVD replicated the tones with solid accuracy. Colors always came across as nicely vibrant and distinct, and they showed no signs of bleeding or noise. Black levels also seemed deep and dense, and shadow detail was appropriately opaque but not excessively heavy. Overall, the picture showed some modest issues, but it largely looked very good.
Is it too much to expect a studio flick from 1995 to include 5.1 audio? No, but unfortunately, Dracula Dead and Loving It only presented a Dolby Surround 2.0 mix. In any case, the soundtrack seemed adequate. The soundfield favored the music and ambience, and it portrayed the elements with solid stereo separation. Effects also created a pretty good sense of general atmosphere, and the elements meshed together well. Surrounds contributed some general material but mostly reinforced the forward spectrum. The scope of the mix remained modest but it worked fine for this material.
Audio quality varied but generally seemed quite good. Speech occasionally betrayed a little edginess, but the lines mostly sounded natural and distinct. Effects appeared clean and accurate. They played a fairly small role in the proceedings, but they created no concerns. Music sounded fine, as the score presented fair range and clarity. Bass response seemed tight and warm. Overall, the audio of Dead didn't blow me away, but it appeared positive.
In addition to the film's trailer, Dracula Dead and Loving It included an audio commentary. This featured director Mel Brooks, writers Rudy DeLuca and Steve Haberman, and actors Steven Weber and Amy Yasbeck. The piece consists of two separate running, screen-specific tracks edited into one. Brooks, DeLuca and Haberman sit together, while the actors chat together in a different session.
Despite all the participants, not much of interest shows up in this very spotty commentary. Haberman presents the most useful moments, as he tells us about influences of other films and references to different works. We get some stylistic and writing choices, and that's about it. Mostly the writers and director laugh about the film, while the actors amuse themselves with jokes. More than a little dead air pops up along the way. Overall, the commentary lacks enough useful information to merit a listen.
That's not a surprise, for the movie fails to hold our attention either. Dracula Dead and Loving It shows the degradation of Mel Brooks' talent, as the director displayed virtually none of his prior skill here. The DVD offers very good picture plus slightly above average sound for its era. The extras disappoint, however, as the audio commentary fails to provide much depth. A sad footnote to Brooks' career, Dracula is a dud.
| | |
| --- | --- |
| Viewer Film Ratings: 3.5135 Stars | Number of Votes: 37 |