Picture/Sound/Extras: C-/B-/C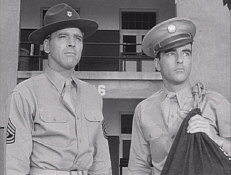 Add another to the pile of AFI 100 films I finally saw! 1953's From Here to Eternity made 52nd on that chart, and it leaves me with 90 down, 10 to go.
While Eternity won't qualify as one of my favorites among the films of the list, it still offered a generally solid experience, and one that wasn't what I expected. Like most people, I know of Eternity's most famous image: the shot of Warden (Burt Lancaster) and Karen (Deborah Kerr) as they smooch on the beach. How could I not be aware of that shot? The Police even referred to it in their song "Born In the Fifties"!
Anyway, that visual led me to some misconceptions about Eternity. I thought it'd be little more than a sappy love story. I knew it involved some military aspects, but I still believed the romantic elements would dominate.
I was wrong. To be certain, the love story aspects occupied a significant part of the movie, but it included quite a lot more to become a fairly compelling character examination and a look at the burdens of responsibility.
Set in Hawaii during the months that preceded the December 1941 attack on Pearl Harbor, As Eternity starts we meet Private Prewitt (Montgomery Clift), who just transferred to a new infantry unit. He'd been with the bugle corps but requested a change for personal reasons. Known as an excellent boxer, his new commanding officer, Captain Holmes (Philip Ober), wants Prew on the squad, but he refuses for more personal reasons. This puts him on his boss's bad side, and Holmes ladles on the punishments to try to break Prew.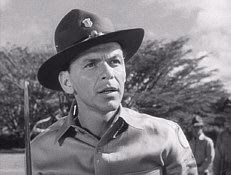 Speaking of Holmes, he and his wife Karen have a poor relationship, mostly due to his philandering. She gets around, too, and eventually the captain's assistant, Warden, makes his move. This starts an affair that leads to gritty make-out sessions on the beach, among other things, and the two try to figure out how they could eventually be together in a less sneaky manner.
Prew starts his own romance with Lorene (Donna Reed), a somewhat gruff employee of a local social club at which the female employees dance and chat with soldiers. Prew also stays close to his pal Maggio (Frank Sinatra) and tries to help him through his problems with violent Sergeant Fatso Judson (Ernest Borgnine).
All of this leads inexorably toward the attack on Pearl Harbor. Director Fred Zinnemann offers subtle reminders of this important date but he doesn't telegraph them too badly. Of course, the characters show no signs of awareness, but we see characters who read newspapers with headlines related to the Japanese, and we also witness shots of calendars that state "December 6". These keep the impending events in front of us but fail to become too portentous or forced.
For the most part, Eternity neatly avoids excessive melodrama as it combines romantic elements with male bonding. Actually, if I had to pick a theme for the movie, it'd be "duty over dames". I don't want to spill too much of the story, but the main characters run into problems due to their conflicting desires; do they do what's most important for themselves or do they go for what might be the greater good? Not surprisingly - given the era in which it was made - Eternity largely opts for social responsibility, but not for the expected reasons; the characters see more personal motivations to do the right thing.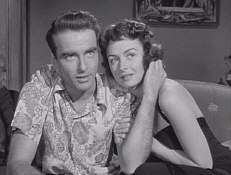 I found the participants to offer fairly rich and deep explorations of roles that could have been little more than stereotypes. Sinatra helped resurrect his career with his turn as Maggio, and he does a nice job in the role for which he won a Best Supporting Actor Oscar. However, I knew that Sinatra had earned additional fame for his work here; what surprised me was the fairly dark and sullen turn by Reed as Lorene. I'm mainly aware of Reed from her wholesome roles like on her TV show and in It's a Wonderful Life; I wasn't prepared to see her show any form of edge. She brings it off naturally, and she fully deserved the Best Supporting Actress award she nabbed.
At times parts of Eternity felt contrived, especially in regard to the run-ins between Judson and Maggio; the latter seemed to act out of character to a degree just to suit the story. However, I still felt From Here to Eternity offered a nice character piece that provided a fairly rich and involving experience.
The DVD:
From Here to Eternity appears in an aspect ratio of 1.33:1 on this single-sided, double-layered DVD; due to those dimensions, the image has not been enhanced for 16X9 televisions. Overall, the picture seemed watchable and occasionally quite good, but a mix of concerns rendered fair amount of problems.
Sharpness usually appeared reasonably solid. At times the image became slightly soft and fuzzy, but this occurred infrequently. As a whole, the picture looked well defined and accurate. No moiré effects or jagged edges caused issues, but I did see a little edge enhancement at times.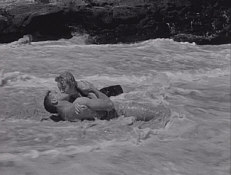 Black levels mainly came across as fairly deep and dense, but contrast could appear a little weak. Some interiors seemed to be too brightly lit, and nighttime exteriors occasionally looked too dense. Shadow detail normally appeared pretty clear and acceptably visible, however, as I thought the low-light scenes were nicely balanced for the most part.
Where Eternity encountered the most problems related to print flaws. At times, the image looked fairly clean, but during most of the film I witnessed a mix of concerns. Grain showed up throughout the movie, and some blotches also marred the presentation. White speckles made up the most significant defect, as they popped up all over the place. Some scenes lacked them, but they still made themselves known a lot of the time. Lose the print flaws and Eternity gets into "B" territory, but as it stands, the DVD earned nothing better than a "C-".
More impressive was the monaural soundtrack of From Here to Eternity. Some of the dialogue was poorly looped - especially the beach shots, which seemed very artificial - but the speech usually appeared reasonably warm and distinct, and I detected no problems related to intelligibility or edginess. Effects showed thinness typical of the era, but they remained acceptably clean and accurate, and the explosions even offered a modest boom. Music displayed good clarity and depth as well. A slight hum appeared on a couple of occasions, but overall the mix lacked source defects. Overall, this was a good representation of an older monaural soundtrack.
The DVD release of From Here to Eternity packs in a few extras, starting with an audio commentary from Tim Zinnemann - the son of director Fred - and Alvin Sargent, a bit actor in Eternity who later worked with the elder Zinnemann on 1977's Julia and who also became a successful screenwriter; he snared Oscars for his work on Julia 1980's Ordinary People. Both men were recorded together for this running, fairly screen-specific track.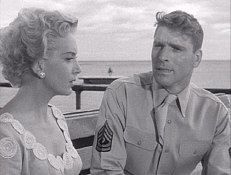 On the positive side, the commentary starts off very well. During the first half of the movie, the two contribute a lot of useful information. Zinnemann relates many details about the production and his father, and he tosses in some personal perspective from childhood encounters with some of the stars, especially Montgomery Clift. Sargent also provides good notes about Fred Zinnemann and his brief experiences on Eternity as well as some of his later work.
However, the track peters out badly during the second half of the movie. Long stretches of silence start to dominate, and even when the men speak, their remarks tend to be fairly bland. Some interesting facts still appear from time to time, but with much less frequency. Overall, I think this is a fairly good track at times, but be warned that it doesn't keep up its early pace.
A few other supplements appear as well. Possibly the crummiest program of its sort, we find a two minute and 25 second piece called The Making of From Here to Eternity. No, that's not a misprint; the featurette really does last less than two and a half minutes. In its entirety, it tells us that only Burt Lancaster was anyone's unanimous choice among the main actors; all the others had foes. We also find out the romantic beach scene is famous. We glimpse scant shots of Fred Zinnemann's behind the scenes home movies from the set, but these amount to maybe 10 seconds total; otherwise we simply hear a narrator and watch snippets from the film.
All of the information already appeared in the commentary, and in greater detail. Whose idea was this joke? It's about as useless a featurette as I could imagine; it's pointless and it seems actively insulting to find something this inane presented as a "making of" program.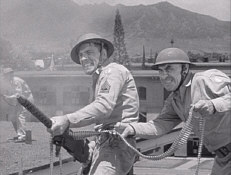 Somewhat stronger - but not by a ton - were the Excerpts from Fred Zinnemann: As I See It. This nine and a half minute program combined movie clips, more home movies, and interviews with Zinnemann. Most of the latter seemed to come from the Nineties, though one appeared to be from the Fifties or Sixties. The brief home movies continued to be moderately interesting, but Zinnemann's remarks became redundant after the commentary, which provided most of the same information, and in more detail, too. For example, Fred Zinnemann discussed the studio's original choice to play Prewitt but didn't name him; Tim Zinnemann told the same tale but let us know who Columbia wanted. The program also included far too many movie snippets; I'd estimate those filled more than half of the short show. Ultimately, it was mildly watchable, but not very compelling as a whole.
Lastly, the DVD concludes with some minor pieces. We find Filmographies for Fred Zinnemann, screenwriter Daniel Taradash, and actors Burt Lancaster, Montgomery Clift, Donna Reed, Deborah Kerr, and Frank Sinatra. We also get trailers for Eternity as well as The Guns of Navarone and The Bridge On the River Kwai and some decent Production Notes inside the DVD's booklet. Oddly, these contradict some information heard elsewhere, which makes me wonder who has it correct.
Overall, From Here to Eternity offered an interesting and surprisingly gritty experience. I didn't get what I expected, but that was fine with me, for I enjoyed it a lot more than I anticipated. The movie showed its age at times, but it still appeared to work quite well. The DVD wasn't quite as successful, however, as it combined mediocre picture with decent sound and a weak roster of extras supported solely by a commentary that seemed good for half of the movie. Ultimately, From Here to Eternity was a strong enough film to merit a look, but the DVD presentation seemed lackluster.