DISNEY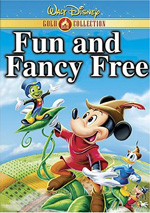 MOVIE INFO
Director:
Jack Kinney, Hamilton Luske, William Morgan, Bill Roberts
Cast:
Walt Disney, Dinah Shore, Cliff Edwards, Clarence Nash, Pinto Colvig, Edgar Bergen, Luana Patten
Writing Credits:
Homer Brightman, Eldon Dedini, Sinclair Lewis (story, "Bongo"), Lance Nolley, Tom Oreb, Harry Reeves, Ted Sears
Synopsis:
Fun And Fancy Free, Walt Disney's 9th full-length animated masterpiece, is a delightful gem that sparkles with charm and is right in history-making Disney moments. It was the last animated feature starring Walt Disney as the voice of Mickey Mouse, and the only film featuring all four of Walt Disney's most famous characters - Mickey Mouse, Donald Duck, Goofy and Jiminy Cricket. Following Disney's classic tradition of great storytelling, unforgettable characters, music and adventure, Fun And Fancy Free is the joyful telling of "Bongo" and "Mickey And The Beanstalk" - two timeless tales magically brought to life by the beloved Jiminy Cricket and the dazzling combination of animation and live action. A beloved cast and unparalleled fun are yours to enjoy in Fun And Fancy Free - perhaps Disney's most joyous film ever.
MPAA:
Rated NR


DVD DETAILS
Presentation:
Fullscreen 1.33:1
Audio:
English Monaural
French Monaural
Spanish Monaural
Subtitles:
English
Closed-captioned
Supplements Subtitles:
None

Runtime: 74 min.
Price: $19.99
Release Date: 6/20/2000

Bonus:
• "The Story Behind Fun and Fancy Free" Featurette
• DVD Storybook
• Trivia Game
• Sneak Peeks




PURCHASE @ AMAZON.COM

EQUIPMENT
Sony 36" WEGA KV-36FS12 Monitor; Sony DA333ES Processor/Receiver; Panasonic CV-50 DVD Player using component outputs; Michael Green Revolution Cinema 6i Speakers (all five); Sony SA-WM40 Subwoofer.


[an error occurred while processing this directive]
---
Fun And Fancy Free: Disney Gold Classics Collection (1947)
---
Reviewed by Colin Jacobson (January 24, 2008)

Between 1943 and 1949, Disney released six primarily animated films plus Song of the South, which featured mostly live action but included a strong cartoon component. That era's So Dear to My Heart also tossed in some animation with the live action but did so to a rather negligible degree.

All of these primarily animated movies were what they called "package" pictures. That means that none of them maintained a single narrative ala most of Disney's other animated films such as Pinocchio or Bambi. Instead, these pictures combined a variety of pieces into one feature-length film. Most of them toss in a whole bunch of short cartoons, but two exceptions exist: 1947's Fun and Fancy Free and 1949's The Adventures of Ichabod and Mr. Toad. Those pictures split their running times down the middle with two different stories per movie, so instead of a slew of brief cartoons, we get two reasonably long ones.

While I generally enjoy these "package" films, they're clearly some of the weakest work that's emanated from Disney animation studios. Actually, if you examine Disney's first 30 plus years of feature films, they are the worst projects to appear in that time frame. Only the malaise that affected the studio after Walt's death in 1966 - and which wouldn't lift until the release of The Little Mermaid in 1989 - prevents these pictures from representing the nadir of the studio's output. Although I'm not wild about offerings such as Melody Time or Saludos Amigos, I definitely prefer them to relative clunkers like The Fox and the Hound or The Rescuers.

Of all the package films, Fun and Fancy Free may be the best. Neither of its pieces can be considered a classic, but both are quite enjoyable in their own right.

The first - "Bongo" - is about a circus bear who dreams of living the free life in the country with others of his kind. No part of the piece features dialogue from the characters. Instead, Dinah Shore tells the tale and actually sings much of it. The result is thoroughly charming and occasionally amusing little piece. (Oddly enough, it's adapted from a story by Sinclair Lewis, an author not known for cute bear epics.)

"Bongo" suffers from some padding. The plot itself is obviously quite simple: we see a little of Bongo's circus life - mainly to understand why he wants to split - and then we observe his adjustment to forest living and his problems interacting with other bears. Bongo quickly falls in love and much of the cartoon concerns his travails in that department.

That's not much of a story to take up roughly a half an hour of space, so Bongo's romance with Lulubelle gets stretched to its limits. A musical interlude accompanies their initial infatuation, and it just seems to go on and on without end. "Bongo" features a couple of other musical pieces as well, but none appear quite as interminable as this one - it really slows the momentum of an otherwise strong piece.

But "Bongo" remains a lot of fun nonetheless. The cartoon possesses a great deal of charm and even can be quite amusing as well. I particularly enjoyed the segment in which the country sounds that are new to Bongo freak him out.

Called "Mickey and the Beanstalk", the second is roughly on a par with "Bongo" in regard to quality, but it's a much more famous cartoon. That's probably due to the presence of Disney original three superstars: Mickey Mouse, Donald Duck and Goofy. Actually, without the package features, those characters never would have made it into a feature-length film. Mickey appeared in 1940's Fantasia, Goofy showed up in Saludos Amigos, while Donald could be found in Saludos, Three Caballeros, and Melody Time as well.

In any case, "Beanstalk" offers a fun retelling of the story of "Jack and the Beanstalk" with our heroes ably filling Jack's shoes. Actually, Mickey's the real replacement for Jack, with the other two more or less along for the ride. And I'm happy they are, or at least that Donald's there. Goofy has little to do in the story, but Don provides some of the cartoon's funniest moments. Neither Mickey nor Goofy ever did much for me, but the Duck always could be counted upon to spice up a story, and he doesn't fail to do so here. The scene in which he goes nuts from hunger is terrific.

The rest of the program doesn't quite live up to that, though a few other scenes of Don's are pretty good, such as when he sees the dragonflies). Mickey's just so darned dull; he makes a decent hero, but his dreariness almost leads us to root for the much more colorful giant. In any case, "Beanstalk" has some slow spots, but it's generally a pretty entertaining piece.

Although "Beanstalk" features dialogue, it resembles "Bongo" in that it also is supposed to be told by a narrator. In this case, Edgar Bergen leads the story. He's accompanied by his "friends" Charlie McCarthy and Mortimer Snerd while they attend a "party" for child actress Luana Patten. (Ah, such innocent times! Why is it I think that a celebration thrown by a grown man who plays with puppets for a very young girl would look rather creepy these days?)

Anyway, Bergen's narration runs over the cartoon, plus we also hear occasional interjections from the other three. The cartoon is also preceded by a brief live action scene that introduces those four - and includes Jiminy Cricket, the overall guide of Fun - and gets the show rolling. An additional live action portion ends the movie. The Bergen segments are actually surprisingly entertaining; he could be quite clever and witty through McCarthy and Snerd, and what might have been dull transitional scenes become fairly entertaining in their own right.

"Fairly entertaining" remains a pretty good description for Fun and Fancy Free as a whole. It's not classic Disney animation, but it's a cute and charming piece overall. It works well when you're in the mood for some quick and light Disney.
---
The DVD Grades: Picture B+/ Audio B-/ Bonus C-
---
Fun and Fancy Free appears in an aspect ratio of 1.33:1 on this single-sided, double-layered DVD; due to those dimensions, the image has not been enhanced for 16X9 televisions. While a few of Disney's animated titles have offered fairly mediocre pictures, most have been real winners, and Fun fell firmly into the latter category. It includes too many flaws to quite earn an "A"-level grade, but it looks much better than any 60-year-old film has a right to appear.
Sharpness almost always seemed very clean and well-defined, with only a smattering of slightly soft images to mar the presentation. Moiré effects and jagged edges did not appear at all, as far as I could see. The print itself looked marvelously clean for such an old film - or for a new one, honestly. I noticed some light grain on a few occasions, but that was it; I never detected any scratches, nicks, hairs, speckles or other flaws.
Colors were less consistent. For most of the animated material, they seemed lovely, with rich hues that looked properly saturated and bright. A few times we saw inaccurate colors - for example, a few times during "Beanstalk", Mickey's face looked white - but these occasions were rare.
However, the hues during the live-action scenes were much worse. They seemed very pale and flesh tones were way off-base; Bergen and Luana Patten looked vaguely pink. These scenes weren't colorized, but they featured the same appearance found with films that have gone through that process. Colors seemed flat and inaccurate for the most part. The remainder of the live-action scenes looked fine, but frankly, the colors were so bad that this aspect of Fun alone knocked it down from an "A-" to a "B+".
Black levels and shadow detail were also somewhat inconsistent, but not to a similar degree. Blacks generally appeared nicely deep and rich, but on occasion they could seem somewhat gray. Shadow detail also usually looked appropriately dense, but at times, it could be a little overly opaque. Nonetheless, despite a few concerns, I found the image of Fun to seem tremendously pleasing - it's amazing to see such an old film look so good.
Not as strong but still relatively positive was the film's monaural audio. Dialogue sounded warm and pretty natural on a fairly consistent basis. A few lines here or there - such as the last ones delivered by Willie the Giant - seemed muffled and flat, but they're the exception, as most of the speech appeared clear. Effects were relatively lively for a dated soundtrack, and the music generally seemed clean and bright. At times the songs could appear somewhat rough - especially when they hit their loudest points - and they evidenced little dynamic range, although drums occasionally bounced out some adequate bass. A slight amount of source noise could be heard throughout much of the movie, but it's fairly subtle and usually seemed hard to discern. Overall, the audio wasn't special, but it's pretty good for an ancient monaural track.
Fun tosses in a few decent supplemental features, the best of which is a 14-minute and 50-second documentary called "The Story Behind Fun and Fancy Free". Despite its brief running time, this feature packs in a lot of solid information and offers a very satisfying look at the picture. We get basic details of how the two segments reached the screen, but best of all, we see some very compelling "behind the scenes" material. For example, we find rare film footage of Walt performing the voice for Mickey Mouse. It's a really fun and entertaining little piece.
The remainder of the supplements are less compelling. We get a Read-Along Storybook version of "Mickey and the Beanstalk" plus a music video for "Disney Mambo No. 5" from one-hit wonder Lou Bega. The storybook is nice for little kids, especially since it's potentially educational, but the video is a complete waste.
Finally, the DVD includes a 16-question trivia game about the movie. Actually, the questions only cover "Mickey and the Beanstalk" - oddly, none of them concern "Bongo". The queries are easy for anyone who's seen the movie, but it's still a cute little feature that will probably be more fun for the little ones.
At the start of the disc, we find ads for the Disney Gold Classic Collection as a whole plus promos for The Little Mermaid II, The Tigger Movie and Toy Story 2.
As with the other "package" films made by Disney in the 1940s, Fun and Fancy Free will probably be more popular with collectors than with general audiences. However, I feel more comfortable recommending it to casual fans than I have with the others because it's more consistent. Both of the film's two cartoons and charming and entertaining, and the program as a whole works nicely. The DVD features very strong picture plus relatively good audio and a fine - but brief - documentary amidst some less compelling supplements. If you only want to buy one or two Disney animated DVDs... get something else. But if you're open to a greater variety of titles, Fun and Fancy Free should be on your list.
| | |
| --- | --- |
| Viewer Film Ratings: 4 Stars | Number of Votes: 7 |