DISNEY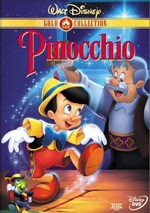 MOVIE INFO
Director:
Hamilton Luske, Ben Sharpsteen
Cast:
Mel Blanc, Don Brodie, Walter Catlett, Marion Darlington, Frankie Darro, Cliff Edwards, Dickie Jones
Writing Credits:
Carlo Collodi (story), Ted Sears (story adaptation), Otto Englander (story adaptation), Webb Smith (story adaptation), William Cottrell (story adaptation), Joseph Sabo (story adaptation), Erdman Penner (story adaptation), Aurelius Battaglia (story adaptation)
Tagline:
For anyone who has ever wished upon a star.
Synopsis:
On a magical starlit night, a blue fairy brings Geppetto's beloved marionette Pinocchio to life, beginning a fantastic adventure that will test the puppet's bravery, loyalty and honesty - virtues he must learn to become a real boy. Despite the warnings of his wise friend, Jimmy Cricket, Pinocchio gets entangled in one humorous predicament after another, leading to his valiant quest to save Geppetto, who's trapped inside Monstro the whale! Honored with two Academy Awards for Best Song ("When You Wish Upon A Star") and Best Original Score, Pinocchio reminds us all of the power of love, family and believing in your dreams - making it "arguably, the greatest animated adventure of all time!" (TV Guide)
Box Office:
Budget
$2.6 million.
MPAA:
Rated G


DVD DETAILS
Presentation:
Fullscreen 1.33:1
Audio:
English Dolby Digital 4.0
French Dolby Surround 2.0
Subtitles:
English
Closed-captioned
Supplements Subtitles:
None

Runtime: 88 min.
Price: $29.99
Release Date: 10/26/1999

Bonus:
• Trailer




[an error occurred while processing this directive]
---
Pinocchio: Disney Gold Classics Collection (1940)
---
Reviewed by Colin Jacobson (March 16, 2009)

At a point in time when animated feature films are a staple of multiplex screens and even have their own Oscar category, it's hard to imagine that it wasn't always that way. Well, it wasn't, and when Walt initiated the creation of 1937's Snow White and the Seven Dwarfs, he pioneered a new form: the full-length cartoon. Few thought it would work - the film commonly was called "Walt's folly" - but, of course, Disney proved them wrong, as that movie went on to become a huge hit and silenced all nay-sayers.

As such, the reception for Disney's next animated feature, 1940's Pinocchio, was set to be brighter, but it's a mistake to think that the film's success was guaranteed. Snow White easily could have been viewed as a one-time fluke, and the burgeoning field of feature animation could have died a quick death with the failure of Pinocchio.

Although Pinocchio wasn't tremendously successful at the box office during its initial release - it actually lost money, mainly due to the film's then-huge cost of about $2.6 million - its quality further verified the validity of feature animation. Could Disney have withstood a major critical and financial flop with their second release? Maybe, because the short cartoons were still their commercial bread and butter, but it would have been much more difficult.

As it currently stands, Pinocchio eventually turned a profit due to multiple reissues, and it ultimately achieved the standing it currently enjoys as one of the greatest animated films of all time. While I'll quibble with the "classic" title being assigned to some Disney pictures, I have to second that emotion for Pinocchio; it's easily the best of the early features, and it certainly could be argued that it's their best ever.

Pinocchio isn't a perfect film. It runs a little too long, the episodic nature lacks a coherent plot, and it seems somewhat dated at this point in time. However, it's strong enough to easily overcome all of those flaws. The characters are compelling and well-rounded, each episode works nicely and moves along the story, and the film presents an excellent balance of humor, terror, magic and pathos. Really, with the exception of romance, there's pretty much something for everyone in this package.

Three of those four aspects are common to most Disney films, but I have to admit that I think the horror in parts of Pinocchio is remarkably well-portrayed. The menace of Stromboli and the way he states Pinocchio's ultimate fate works well, but the scenes in which the boys are turned into donkeys are truly frightening. The sight of Lampwick's shadow as he mutates into a literal jackass becomes a brilliant method. Since this was animation, they obviously could have depicted the whole thing in front of the camera, but the use of the profile makes the whole thing much scarier; sometimes a hint of terror is more horrifying than blatant symbols.

After nearly 70 years, Pinocchio remains one of the great animated films. I used to only enjoy newer Disney fare, but Pinocchio was one of the movies that convinced me the older classics actually had something to offer.
---
The DVD Grades: Picture C/ Audio C+/ Bonus D-
---
Pinocchio appears in an aspect ratio of 1.33:1 on this single-sided, double-layered DVD; due to those dimensions, the image has not been enhanced for 16X9 televisions. Pinocchio looked decent for such an old film, but some flaws kept it from becoming one of Disney's better transfers.
Sharpness seemed a bit up and down. Most of the movie exhibited good definition, but more than a few exceptions occurred. Some of these stemmed from edge haloes, and other artifacts appeared as well; the movie sometimes took on a rough, "digital" look. Put simply, the transfer lacked the smoothness of a DVD with better encoding; it seemed unnatural at times.
It also demonstrated a mix of source flaws. Grain was mild to moderate, and I saw instances of dust, specks and marks. No, these weren't heavy for a movie from 1940, but they created distractions.
Colors looked fine most of the time. The grain and dust affected them, however, and occasionally made them seem somewhat dingy. Still, the hues usually worked well. Black levels were unexceptional but perfectly adequate, and shadow detail seemed acceptable. Overall, the transfer remained watchable but it failed to become anything above average – at least not for Disney.
Remixed from the original monaural source, Pinocchio featured a Dolby Digital 4.0 mix. The soundfield seemed pretty well anchored in the center channel. The music spread to the sides a bit, and we heard the occasional effect from the right or left, but for the most part, it remained a mono mix. The surrounds backed up the music gently and that's about it.
Dialogue appeared a bit tinny but was always intelligible and acceptably clear. Music seemed smooth, though the score and songs lacked bass or much range. Effects were also fairly thin but without prominent distortion. Small amounts of background noise could be heard on occasion, but these instances were mild. It's not a memorable soundtrack, but for such an old picture, it seemed decent.
Almost no extras appear here. We get the film's trailer and that's it. At least we find an ad from the flick's 1940 run and not one from a reissue.
Pinocchio stands as a terrific achievement in animation and a darned entertaining film as well. If it's not the greatest animated film of all-time, it's close. The DVD provides mediocre picture and audio along with no significant supplements. A great film like Pinocchio deserves better treatment.
To rate this film visit the Platinum Edition review of PINOCCHIO