Picture/Sound/Extras: B+/B+/A
Although he first made his name through the decidedly modest scale of TV's thirtysomething, director Ed Zwick seems to specialize in larger-than-life, heroic films, and he usually makes these subjects succeed. Actually, his movies work as long as Denzel Washington appears in them. Both 1996's Courage Under Fire and 1998's The Siege worked much better than they should, partially due to the presence of Washington, and one of Zwick's few films without Denzel - 1994's Legends of the Fall - was a complete load of tripe.
Into the "success" category also falls 1989's Glory. A film that views the Civil War from an unusual perspective, it provides a moving and compelling look at Zwick's usual topics of bravery and freedom and does so in a passionate and entertaining manner.
Glory focuses upon the 54th Regiment of Massachusetts, one of the first all-black units former during the Civil War. Headed by white Colonel Shaw (Matthew Broderick), this group joins the cause with passion and becomes a strong, disciplined fighting unit. The film covers their experiences, both positive and negative.
Among the soldiers, Glory mainly concentrates on a few different characters. There's older, wiser Rawlins (Morgan Freeman), educated free-man Searles (Andre Braugher), stuttering, innocent, and apparently less-than-brilliant Sharts (Jihmi Kennedy), and fiery, cynical Trip (Washington). To say that these roles are little more than stereotypes would be very accurate; we've seen these sorts of characters before, and little about the ways in which they're written makes them stand out from the pack.
However, the cast helps elevate the predictable characterizations to a much more compelling level. Washington won an Oscar for his work as Trip, and it's easy to see why as you watch Glory. Washington feels natural and real in the role; he's able to show the character's lack of education without making him seem dumb or ignorant. He also develops the role in a clear manner that depicts true, believable growth. It's a solid performance from an actor who deserves all the accolades he's received.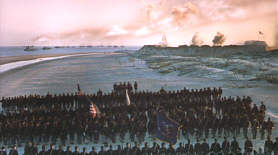 I'm completely in the bag for Freeman, and while Rawlins doesn't represent his absolute best work - I still think Se7en is his finest hour - Glory displays his marvelous talent to good effect. In some ways, Rawlins is similar to Freeman's other 1989 role, that of Hoke, the faithful chauffeur in Driving Miss Daisy; he's another character who displays quiet strength and pride without the overt anger of other folks like Trip. It's to Freeman's credit that although he could play such a role in his sleep, he doesn't just mail in his performance. Freeman takes the sketchy material and creates a full-blooded character. It's clear that the story doesn't love Rawlins as it adores Trip, but Freeman nonetheless does a fine job.
The remainder of the supporting cast also seems excellent. As for Broderick, he's received quite a lot of criticism over the years for his somewhat squirrely performance as Shaw. Folks have picked on his shakiness in front of the camera and his apparent lack of strength and composure in the film's battle scenes.
Frankly, I think the criticisms are off-base. When Broderick appears quivery, it fits the story. At the film's start, we see that Shaw's been rattled in battle, and he's not going to be gung-ho and stolid in combat. Broderick manages appropriate levels of strength and conviction in other scenes, such as one good segment in which he harasses his soldiers when they start to view warfare as fun and games. Broderick's New England accept was extremely erratic and unconvincing - it's a "now you hear it, now you don't" affair - but I otherwise thought he provided a surprisingly solid performance.
Zwick is an emotional filmmaker who wears his heart on his sleeve. While this tendency can result in over-emotive claptrap like Legends of the Fall, for the most part his work has been moving and rousing. Such was the case with his first theatrical drama, 1989's Glory. Some will fault the film for its historical liberties - Civil War buffs hate even the smallest inaccuracies - but in this case, the message overrules the minor flaws. Glory tells an important story and does it well.
The DVD:
Glory appears in both its original theatrical aspect ratio of approximately 1.85:1 and in a fullscreen edition in this two-DVD. The widescreen version can be found on the first disc, while the fullscreen one is on the second DVD; both discs are single-sided, dual-layered. The letterboxed image has been enhanced for 16X9 televisions. Only the widescreen picture was rated for this review. All in all, I found the image to be extremely pleasing; although it included a few problems, the movie looked clearer and more attractive than I expected.
Sharpness seemed consistently excellent. Throughout the film, all images appeared crisp and detailed without any signs of soft or hazy images. Moiré and jagged edges seemed absent, but the print did display more flaws than I would have liked to have seen. These defects aren't constant, but they crop up frequently enough to moderately detract from the experience. Grit and white speckles were the main concerns, and I also saw some general debris and a few nicks. The scene on the South Carolina beach when Shaw volunteers the brigade for an assignment presented the most significant problems; it appeared excessively dirty. Otherwise, the movie largely looked clean and fresh.
Colors appeared nicely accurate and vivid. The film featured a natural and pleasing palette, and the DVD reproduced these hues well. From the rich blues of the uniforms to the reds seen in flags and other components, all tones looked rich and bold. Black levels also were deep and strong, and shadow detail appeared appropriately heavy but never excessively opaque. Without the print flaws, Glory would have been an "A"-level picture; as it stands, it'll have to settle for a still-solid "B+".
Also very satisfying was the movie's Dolby Digital 5.1 soundtrack. The soundfield seemed surprisingly broad and engaging. The forward channels offered a wide and involving experience that spread sounds neatly and created a realistic auditory environment. The sound blended together well and appeared convincing. Surrounds kicked in with lots of useful audio that reinforced the forward speakers to great effect. James Horner's score was bolstered nicely by the rear channels, and I also heard very positive use of various effects. From quieter ambient sounds like those heard in the mess hall to more vivid effects such as warfare or thunder storms, these scenes came across with a natural and convincing presence that was much better than I expected from a 1989 release.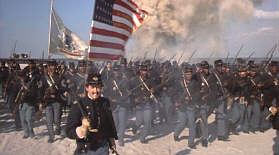 Audio quality was generally good, but it displayed some concerns that forced me to drop my rating to a "B+". Dialogue always seemed intelligible and it was reasonably natural, but a fair amount of edginess and stiffness harmed the speech; quite a few lines seemed excessively harsh and crackly. Effects also showed too much distortion at times. These problems appeared during war scenes, as explosions and gunfire often came across as brittle and slightly distorted. These segments still showed some nice realism and heft, however; they just lost points in the upper register.
Music consistently seemed strong. The score appeared clear and bright without any of the distortion concerns that affected the rest of the track. The music was deep and rich, and it offered a satisfying experience. Without the edginess heard elsewhere, the soundtrack of Glory would have made it to "A"-level, but it was still a good track in any case.
Glory marks the most recent in Columbia-Tristar's (CTS) continuing revisiting of their back catalog. A lot of their older DVDs included virtually no supplements, and Glory fell into that category. Originally released in January 1998, the DVD tossed in a trailer and nothing else. (Oddly, Image Entertainment claim that the old release includes a documentary, but according to the variety of reviews I've read, this is not the case.)
This new DVD rectifies the old situation with a nice complement of materials. On the first disc we get a new rendition of one of CTS's pet features: a video commentary. This component first appeared on Ghostbusters and can also be found on both Muppets From Space and Men In Black. However, Glory alters the presentation of those programs in that it uses a small inset box to show the participants. The prior releases functioned in MST3K-style; silhouettes of the commentators appeared at the bottom of the screen.
Frankly, neither format really seems better than the other. The MST3K version probably worked best during MIB if just because director Barry Sonnenfeld made occasionally positive use of a telestrator. Otherwise, the silhouettes provide virtually nothing of interest; there's little to see.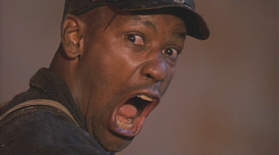 The same is true for the video commentary on Glory. Is there any advantage to being able to see the speakers as they make their remarks? None that I could discern. Essentially this video track is just another audio commentary with a gimmick.
Happily, at least it's an interesting commentary. We hear from director Edward Zwick plus actors Morgan Freeman and Matthew Broderick, all of whom were filmed individually and whose appearances were edited together. Their remarks aren't continuous but we do hear from them during a strong majority of the film; not too much of the piece passes without any discussion.
All in all, the three men offer a lot of good information about the film and other subjects. The commentary provides a solid mix of details about the production and historical perspective about the topic. Both Freeman and Zwick are veterans of many commentaries, and they give us lots of interesting reflections on the material. Broderick is a "newbie" to the format as far as I know, but he still adds compelling thoughts on a variety of subjects. While I thought the video format was somewhat useless, the information conveyed was definitely interesting.
In addition to the video piece, we also get a traditional audio commentary from Zwick on his own. Clearly this scene-specific piece comes from the same interviews that resulted in Zwick's remarks for the video piece; we hear the same quotes that he provided during that segment. Despite this annoying redundancy, Zwick's track provides enough interesting material to make it worth a listen. He touches upon a variety of different topics from historical discussions to production details and he makes them acceptably compelling. I would have liked to have heard more about why Zwick felt that Broderick and Elwes disliked each other, but I still found this commentary to be a solid experience.
(Note that although the audio commentary appears during both the widescreen and fullscreen editions of Glory, the video commentary can only be viewed on DVD one.)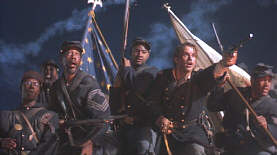 The remainder of the package's extras appear on the second disc. Most prominent among these is "The True Story of Glory Continues", an oddly-titled but generally interesting 45-minute and 10-second documentary. Narrated by Morgan Freeman, this show details some of the events covered in the film but - as implied by the title - goes past the movie's ending to offer additional facts. Actually, even the portions that focus on the flick's storyline include new data, since the film took some liberties with history; the documentary apparently sticks more closely to reality.
"The True Story" uses a combination of photos and art from the period plus footage of Civil War re-enactors to tell its tale. The latter add a nice element of visual flair to the show. While I found "The True Story" to be a little dry at times, it nonetheless provides a good look at the subject.
"Voices of Glory" takes another look at some of the actual soldiers from the 54th Regiment. Narrated by Georg Stanford Brown, this program includes interview snippets with historian James O. Horton and also offers excerpts from letters written by the soldiers; these are read by three different actors including Sean Patrick Thomas of the recent hit Save the Last Dance The 11-minute and 15-second piece focuses mainly on the pay issue covered in the movie, though a few other topics are discussed as well. Some of the actors over-emote, but it's a compelling program anyway.
We also find an "Original Featurette". This piece comes from the time of the film's theatrical release and it lasts seven and a half minutes. Since the movie is Glory, it's appropriate we get a "glorler": a glorified trailer. Actually, it's a little better than most, as it combines some interview snippets with film clips and shots from the set, but it's clearly promotional in nature and doesn't offer a lot of information.
Glory includes two "Deleted Scenes". "The Apple Picker" focuses on Trip, Rawlins and Sharts as they encounter their first scent of death, while "Crisis of Conscience" looks at a chat between Shaw and his compatriot, Major Forbes (Cary Elwes). The first clip lasts three minutes, while the second runs two minutes, 35 seconds. Both are interesting - though the second is a little lame - but both were also redundant and needed to be cut. Director Zwick discusses the scenes and the reasons for their omission in an optional commentary track.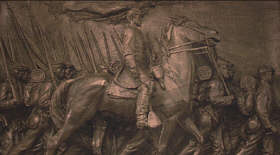 Lastly, Glory finishes with a few common extras. We find the usual bland "Talent Files" that mar many CTS DVDs. Largely uninformative listings appear for Broderick, Elwes, Freeman, Washington and Zwick. We get trailers for Glory plus fellow Washington projects A Soldier's Story and Devil In a Blue Dress. We also find a brief but solid text production summary inside the DVD's booklet.
Packages like Glory show why Columbia-Tristar are one of the very best studios when it comes to DVD. Although they'd already released the film in a "bare bones" edition, they went back and re-issued it as a packed special edition. The movie itself is a solid effort that tells an important story in a compelling and evocative manner; Zwick usually does well with this kind of material, and Glory is no exception. The DVD offers very positive picture and sound plus an excellent array of supplements.
If you don't already have a copy of Glory, you should definitely check out this new release; it's a terrific set. For current owners of the "movie-only" edition of the film, I think a re-purchase is definitely warranted; the new 2-DVD version adds so much terrific information that any fan of the picture will greatly enjoy the new experience.
Menu: DVD Movie Guide | Archive | Top