Austin Powers in Goldmember appears in an aspect ratio of approximately 2.35:1 on this single-sided, dual-layered DVD; the image has been enhanced for 16X9 televisions. An attractive picture, Goldmember fell short of excellence, but it mostly seemed strong.
Sharpness usually seemed solid. Some wide shots betrayed a little softness, but those caused few concerns. For the most part, the image remained nicely crisp and detailed. No jagged edges appeared, but a little shimmering occurred at times, mostly because the movie featured lots of grates. As for print flaws, I noticed a smidgen of grain at times, but otherwise the movie looked clean and fresh.
Goldmember offered a varied and vivid palette, and the DVD displayed those tones well. The colors consistently came across as vibrant and lively, and they showed no concerns related to bleeding, noise or other traits. Studio 69 looked especially good due to its warm golden tint. Black levels appeared deep and dense, while shadow detail was appropriately heavy but not overly thick. In the end, the picture of Goldmember almost made it to "A" territory, but it still managed to earn a positive "B+".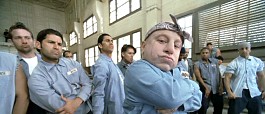 I also liked the Dolby Digital EX 5.1 and DTS ES 6.1 soundtracks of Goldmember. When I compared the two, I detected very few differences. As usual, the DTS track provided marginally superior bass response and integration, but I still felt both seemed very similar, and the DTS program's improvements were minor.
While it lacked the flair and flash that I'd expect from a big budget spectacular, the soundtrack worked well for this film. For the most part, the audio image remained biased toward the front channels. When it appeared, rear usage seemed pretty good, especially during the movie's action sequences. However, those occasions occurred fairly infrequently. Still, the stereo imaging appeared good, and the overall auditory impression remained reasonably broad and lively.
I found no issues related the quality of the audio, as the mix consistently sounded excellent. Dialogue seemed natural and crisp, with no issues related to edginess or intelligibility. Effects came across as realistic and clear, and they presented some very fine low-end material when appropriate; explosions and big sounds like that appeared deep and rich. Music sounded full-bodied and vibrant and also displayed solid bass. The rap songs came across as especially vivid in that regard. Ultimately, the soundtracks lacked the ambition to merit a grade over a "B+", bit they seemed very satisfying nonetheless.
Goldmember comes as the latest in New Line's "infinifilm" series. Normally I'd discuss what that means in this space, but since I've already reviewed a number of other infinifilm titles, that explanation feels somewhat tiresome. If you're not clear on the details of what infinifilm means, please consult my review of Thirteen Days for a full chat about it. Essentially, infinifilm offers an interactive way to watch movies and their extras, and the review I just linked tells how New Line does this. For the purposes of this article, however, I'll largely just examine the supplements like I would for any non-infinifilm DVD.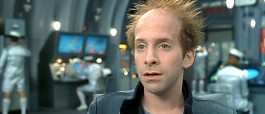 The special features split into two different areas: Beyond the Movie and All Access Pass. Under the Beyond the Movie category we found five pieces that mostly cover issues related to the film's topics but not to the making of the picture itself. MI-6: International Men of Mystery provides a four-minute and 23-second featurette about the British spy organization. We see shots from the Austin Powers movies, behind the scenes images from the Goldmember set, and interviews with director Jay Roach, actor Michael York, and author Ernest Volkman. This short piece chats about MI-6, its agents, and inspirations for Powers. The show offers a moderately interesting little look at the topic, but it's too brief to be anything particularly useful.
For a short view of Cockney rhyming slang, check out English, English. The two-minute and 28-second clip features comments from actors Mike Myers, Michael Caine, and Michael York. Myers' remarks prove especially useful as he reminisces about his father's use of the slang and the ways it embarrassed him as a kid.
To learn a little more about the music of Goldmember, take a look at Disco Fever. This four-minute and 21-second featurette offers notes from music executive Danny Bramson, actor Mike Myers, music supervisor John Houlihan, costume designer Deena Appel. They discuss disco music and fashions and how they influenced the movie during this modestly useful program.
The last show briefly touches on it, but Fashion Vs. Fiction gives a little more depth about the film's outfits. We see lots of early sketches and hear from Mike Myers, Deena Appel, department head hairstylist Candy L. Walken, and production designer Rusty Smith in this 117-second piece. Despite the extreme brevity of the program, it covers the topic surprisingly well and conveys a lot of good information about the subject.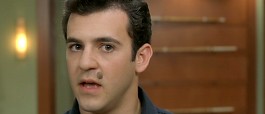 Also under the "Beyond the Movie" domain comes the infinifilm Fact Track. This text commentary uses the subtitle area as it provides small factoids that appeared throughout the flick. It covers subjects such as alternate ideas for the film, facts about the actors and others, and facts about issues related to the flick. For example, we learn about subjects such as sumo wrestling and talent agencies.
The material usually seems fairly interesting, but the factoids don't pop up very frequently. I doubt many people will want to try to attend to the film itself and read the fact track at the same time, as it could become very distracting, especially since the infinifilm features offer a frequent element of visual confusion. On the other hand, if you check out the movie just to examine the subtitles, you'll feel irritated by the infrequent use of the feature. I like the concept, and the "Fact Track" includes some good material, but the presentation doesn't work especially well.
That finishes the "Beyond the Movie" area, so now we can move to the "All Access Pass". This launches with an audio commentary from Jay Roach and Mike Myers, both of whom sat together for this running, screen-specific piece. The two also offered commentaries for the first two Powers movies, and this one seems pretty similar to those. Actually, it probably provides the best of the bunch, mainly because Myers feels more comfortable here. He tosses out some funny material – such as an impression of George C. Scott as Patton interpreted through Dr. Evil – and keeps things light and lively. The track covers a nice mix of influences for the film as well as technical issues and anecdotes, and it gives us a good selection of subjects. A few too many empty spaces occur, and Roach too frequently falls into excessive praise mode, but this nonetheless feels like an entertaining and useful commentary.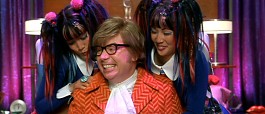 The Deleted Scenes domain includes 14 excised segments plus an "Outtake Montage". The clips run between 31 seconds and three minutes, 57 seconds for a total of 22 minutes and 27 seconds of footage. Presented anamorphic 2.35:1 with Dolby Digital 5.1 sound, the scenes offer a fair amount of amusing material. Some of them fall flat, but many of them provide good stuff that definitely merits a look. Even the outtakes come across as abnormally entertaining.
One can watch the deleted scenes with or without commentary from director Jay Roach. He offers information about each of the clips and also usually relates why he dropped the segments. Occasionally he fails to convey that information, but Roach normally divulges why he cut the pieces, and the track gives us some good facts for the most part.
"The World of Austin Powers" splits into five smaller sections. Jay Roach and Mike Myers: Creative Convergence gives us a six-minute and 15-second featurette that tells us more about the main pair behind the Powers flicks. We hear from Roach, Myers, actors Verne Troyer, Michael York, Michael Caine, Beyoncé Knowles, Seth Green, and Mindy Sterling, makeup designer Michele Burke, production designer Rusty Smith, choreographer Marguerite Derricks, and editors Greg Hayden and Jon Poll. Parts of the piece just inform us how wonderful Myers and Roach are, but we also get some nice notes about the challenges of Myers playing so many different characters. We also learn a little about the collaboration among the filmmakers, and "Convergence" seems like a generally watchable program.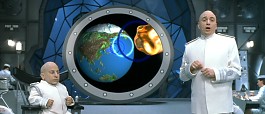 Confluence of Characters contributes short programs about Goldmember (4:03), Foxxy Cleopatra (4:21), Nigel Powers (2:10), and Masters Powers and Evil (5:03). These run a total of 15 and a half minutes and offer shots from the set as well as remarks from Roach, Myers, actors Michael York, Michael Caine, Beyoncé Knowles, Josh Zuckerman, Aaron Himelstein, costume designer Deena Appel, makeup designer Michele Burke, department head hairstylist Candy L. Walken, producer John Lyons, and choreographer Marguerite Derricks. The "Foxxy" section doesn't provide much useful information – it mostly tells us what a natural Knowles is – but the other three segments offer some fun material. We get information about the background of the characters and the actors and also see some great behind the scenes shots, especially for the bits about the young versions of Evil and Austin.
We get an examination of Goldmember's slam-bang starter scene with the Opening Stunts featurette. A combination of shots from the set and interviews, we hear from stunt coordinator Jack Gill, stuntman Andy Gill, stunt motorcyclist Donna Evans, and skydiver stuntment Eli Thompson. The brief 135-second featurette loosely touches on the stunts but it doesn't offer much depth.
Another short piece, The Cars of Austin Powers also runs two minutes and 15 seconds, but it packs a little more information than "Stunts". We see behind the scenes material and hear from picture car coordinator Josh Hancock and production designer Rusty Smith. Again, the information doesn't delve too deeply, but we get a few nice facts about the different vehicles seen in Goldmember.
Anatomy of Three Scenes examines "Dancing at the Gates" (4:54), "Roller Disco" (2:18), and "Sumo Battle" (4:02) for a total of 11 minutes, four seconds of clips. Each of these combines footage from the set with commentary from the filmmakers. We hear from Roach mostly, but we also get some notes from choreographer Marguerite Derricks. The remarks from the participants add some nice information, but the behind the scenes shots seem like the real gold here, as they give us some really cool material such as improvs from Myers.
In the Visual Effects area, we get an "Introduction" that runs four minutes as visual effects supervisor Dave Johnson gives us an overview of the work done for Goldmember. He runs through a number of effects shots in this quick but useful discussion. In addition, we can use the "angle" feature to zip through five different stages of the eight-second scene in which Goldmember drives into Dr. Evil's sub.
The Music Videos section gives us four different numbers. Beyoncé's tries to channel Tina Turner (visually) and Aretha Franklin (vocally) for "Work It Out". The video offers the standard combination of lip-synching and movie clips. Britney Spears' "Boys" seems more successful: no film snippets, and it actually incorporates new shots of Myers as Austin.
Ming Tea's "Daddy Wasn't There" mostly comes from the movie. It shows the song performance in the flick along with some additional Goldmember bits. It offers a full version of the tune, though, which makes it more useful. Dr. Evil and Mini-Me's "Hard Knock Life" also presents an alternate version of what we see in the finished film.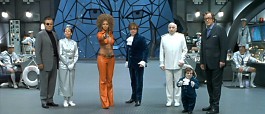 Within the trailers domain, we find five ads. We get four different teasers as well as one theatrical trailer. The first teaser is the best of the bunch, as it presents a ton of unique footage created just for the promo.
Lastly, Goldmember tosses in some DVD-ROM materials. Like a feature found on Shrek, the "Revoice Studio" allows you to record your own takes of 12 different movie scenes. I should accentuate that it allows you to record your own takes of 12 different movie scenes; my microphone is buried underneath the wreckage that is my computer room, so I wasn't able to try this segment. It sounds pretty cool, though.
The "Downloads" section includes 20 different wallpapers, while the rest of the DVD provides various links. We get connections to austinpowers.com, and minime.com plus the "Hot Spot". On other DVDs, the "Hot Spot" sent you to a New Line site that apparently offers revolving pieces of information and activities. When I checked it out for other discs like Dungeons And Dragons, it went to a trivia game that asked questions about a variety of New Line films. The same happened when I checked for Goldmember. The DVD also promises "exclusive online content", but with more than three weeks to go before its street date, the site offers nothing right now.
Not as good as the first but much better than the second, Austin Powers In Goldmember doesn't offer a comedy classic, but it provides enough humor to merit a look. The movie wallows in a little too much excrement – literally – but it enjoys some good performances and quite a few solid moments. The DVD presents fine picture and sound along with a nice roster of extras. A positive package all around, Goldmember comes with my recommendation as a reasonably fun movie and a very good DVD.