GEFFEN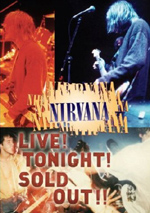 MOVIE INFO
Director:
Kevin Kerslake
Cast:
Kurt Cobain, Krist Novoselic, Dave Grohl
Synopsis:
This DVD, originally conceived by Kurt Cobain, is a video document of the band's rise from a scruffy trio from the Pacific Northwest into one of the most iconic and important bands in the history of rock music. Combining live material from their 91-92 Nevermind tour, this DVD features color-corrected and digitally remastered live performances of their top hits, mixed with loads of interview footage from across the world - as originally viewed through the eyes of Cobain himself. Additional to the complete original program, several previously unreleased performances are included as extras.
Includes the live tracks "Aneurysm", "About a Girl", "Dive", "Love Buzz", "Breed", "Smells Like Teen Spirit", "Negative Creep", "Come as You Are", "Territorial Pissings", "Something in the Way", "Lithium", "Drain You", "Polly", "Sliver", and "On a Plain".
MPAA:
Rated NR


DVD DETAILS
Presentation:
Fullscreen 1.33:1
Audio:
English Dolby Digital 5.1
English Dolby Stereo 2.0
Subtitles:
None
Not Closed-captioned

Runtime: 83 min.
Price: $19.98
Release Date: 11/7/2006

Bonus:
• Five Bonus Tracks Live in Amsterdam 1992




PURCHASE @ AMAZON.COM

EQUIPMENT
Sony 36" WEGA KV-36FS12 Monitor; Sony DA333ES Processor/Receiver; Panasonic CV-50 DVD Player using component outputs; Michael Green Revolution Cinema 6i Speakers (all five); Sony SA-WM40 Subwoofer.


RELATED REVIEWS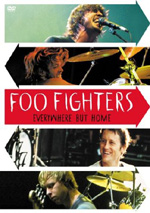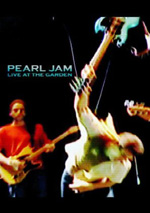 [an error occurred while processing this directive]
---
Nirvana: Live! Tonight! Sold Out! (1994)
---
Reviewed by Colin Jacobson (December 14, 2006)

As I've reflected in some other music reviews, I go to a lot of rock concerts. Over my 25 years of show attendance, I've seen almost every act I'd like to see – of those I could see. Sure, I'd love to say I'd gone to shows by the Beatles, Hendrix and Led Zep, among others, but given my age, all of those were impractical or impossible.

There are a few now-defunct acts I could've – and probably should've – seen but never did. At the top of that list we find Nirvana. In a gesture of unfortunate timing, I didn't really get into their work until about a month prior to Kurt Cobain's April 1994 suicide. I definitely would've gone to a show of theirs if Kurt hadn't died, but his demise made that impossible.

So I'll have to settle with a taste of Nirvana in concert via 1994's Live! Tonight! Sold Out!!. A compilation program, it offers a melange of tunes recorded on various stages from 1991 to 1993. The performances come from their first two albums and various singles prior to 1993; we find nothing from that year's In Utero.

From 1989's Bleach, we find "About a Girl", "Love Buzz" and "Negative Creep". 1991's smash hit Nevermind features "Smells Like Teen Spirit", "Come As You Are", "Lithium", "Breed", "Polly", "Territorial Pissings", "Something in the Way", "Drain You", "On a Plain", "Polly" and "Endless, Nameless". "Aneurysm", "Sliver" and "Dive" all appeared on 1992's Incesticide, a compilation release made up of B-sides, rare tracks and outtakes.

It's too bad Live lacks material from In Utero and balances so heavily toward Nevermind. Don't interpret that as a criticism of their breakthrough album; it's actually my favorite work of theirs. I just would prefer to get more from the band's other stages. The DVD includes live performances of almost every Nevermind song. Only "Stay Away" fails to appear in any form. ("Lounge Act" pops up during the end credits, but it's the studio version.)

Despite the strong orientation toward Nevermind, the DVD ends up as a fairly satisfying product – for what it is. The program doesn't tout itself as a be-all, end-all summary of Nirvana as a live band. It functions more as a general snapshot with a particular emphasis on one specific era.

Will we ever get a more comprehensive view of the band's catalog? In the world of Nirvana, that's anyone's guess. The various sides who must approve various releases often disagree, which is good and bad. On the negative side, we've not found much from the Nirvana vaults over the last 12-plus years, but at least this has prevented an absurd proliferation of incomplete work ala the raping of Tupac's legacy in the 10 years since his death.

To my surprise, the various interview/media bits are the DVD's most interesting elements. Kurt alternates between an appearance of sneering arrogance and wide-eyed fear. It's fascinating to see the various reactions that he and his fellow bandmembers Krist Noveselic and Dave Grohl had to their unexpected success. These make the many shots of the media as they tout/exploit Nirvana all the more bizarre and compelling. It's fascinating and sort of sad to see Kurt – who really seemed tremendously ambivalent toward his success – have to deal with it.

As for the performances themselves, they tend to be pretty hit or miss. A few genuinely exhilarating renditions pop up, but the screw-ups may be more interesting. Of note are Kurt's attempts to sabotage their hits. We get a woefully off-key "Come As You Are" and a "Smells Like Teen Spirit" in which he croons the lyrics ala Morrissey.

Anyway, Live seems likely to frustrate fans due to its erratic nature, but they'll still likely embrace the ability to check out various aspects of Nirvana's 1991-93 shows. I know I'd much prefer a couple of complete concerts on DVD; assuming the source material still exists, I don't know why this wouldn't happen. Until/unless it does, Live will have to keep us entertained.
---
The DVD Grades: Picture D+/ Audio D+/ Bonus C-
---
Nirvana: Live! Tonight! Sold Out!! appears in an aspect ratio of 1.33:1 on this single-sided, dual-layered DVD; due to those dimensions, the image has not been enhanced for 16X9 televisions. Given the band's rough, no-budget proclivities, it strikes me as somewhat ironic and absurd to critique the picture quality of this Nirvana release, but hey, that's the gig, so here goes!
I expected Live to look like death, and for the most part, it did. The material came from a wide array of video sources, most of which presented pretty terrible visuals. Occasionally we got some fairly attractive stuff. For instance, the smattering of songs from Amsterdam in 1991 looked more than halfway decent. I also felt reasonably pleased with the three Seattle 1992 songs.
The DVD compensated with lots of blurry, murky shots in most of the other segments, though. Most of the time, definition was soft and muddy, while colors tended to be messy and runny. Blacks usually seemed wan and gray, and low-light shots appeared too dense.
What can I say? Live was meant more as a video encapsulation of Nirvana's performances and it never touted itself as a flawless product. Objectively I couldn't give the picture a grade above a "D+" but I also didn't have any real problems with the visuals. They were exactly what I expected from the program.
Similar thoughts greeted the Dolby Digital 5.1 audio of Live. Imaging varied quite a lot but usually struck me as broad mono. Instruments spread to the side speakers but rarely showed distinctive placement of various elements. It all kind of mushed together, a fact almost certainly due to the quality of the source material. Surround usage tended to reinforce these elements, though they also tossed in some crowd noise at times. It was inconsistent and not terribly satisfying.
The same went for the up and down quality of the audio. Actually, most of the tunes seemed perfectly listenable, at least once I adapted to the fairly low-fi world of this track. Nothing ever came across as particularly clear, but I can't say I expected it to sound that way. Bass response was good, though the low-end seemed like it'd been pumped a little too much; perhaps to compensate for the flatness of everything else, the producers may have accentuated the bass to make it seem more dynamic. For better or for worse, the audio usually matched the visuals.
In terms of supplements, Live throws in five tunes from Amsterdam 1992. We get "School", "About a Girl", "Been a Son", "On a Plain" and "Blew". All together, these fill a total of 13 minutes, 45 seconds. These are a treat to see. The band sounds good, and the quality of the footage is pretty good – well, good compared to the standards of Live, at least. I don't know if this is all the surviving footage from the concert in question, but I'd sure like to see more. A full Nirvana show from any era would be great, especially if it's competently produced like these clips.
I don't know if we'll ever get a full concert DVD of that sort, so maybe Nirvana's Live! Tonight! Sold Out!! is the best we'll receive. It acts as an entertaining and fitfully fascinating documentation of Nirvana post-stardom, but it's too erratic to become great. The DVD offers inevitably flawed picture and audio with some extra songs that tease us. Live probably works best for the serious Nirvana fans, as I don't know if others will get much from it.
| | |
| --- | --- |
| Viewer Film Ratings: 3 Stars | Number of Votes: 3 |