DISNEY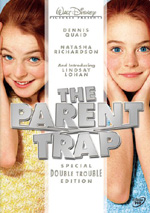 MOVIE INFO
Director:
Nancy Meyers
Cast:
Lindsay Lohan, Dennis Quaid, Natasha Richardson, Elaine Hendrix, Lisa Ann Walter, Simon Kunz, Polly Holliday, Maggie Wheeler, Ronnie Stevens, Erin Mackey
Writing Credits:
Erich Kästner (book, "Das Doppelte Lottchen"), David Swift, Nancy Meyers, Charles Shyer
Tagline:
Twice the Fun. Double the Trouble.
Synopsis:
What if you spent your whole life wishing for something you didn't know you already had? Mollie Parker and Annie James are about to find out. From Walt Disney Pictures and the creators of Father Of The Bride comes the hilariously fresh and contemporary retelling of the classic hit The Parent Trap.
Mollie is a cool girl from California. Annie is a fair rose from London. When the two accidentally meet at summer camp, they think they have nothing in common except ... they're identical twins (both played by Lindsay Lohan). Now they're up to their freckles in schemes and dreams to switch places, get their parents (Dennis Quaid and Natasha Richardson) back together and have the family they've always wished for. With "two thumbs up" from Siskel & Ebert, this charming, heartwarming and delightfully clever comedy adventure will enchant your entire family.
Box Office:
Budget
$75 million.
Opening Weekend
$45.033 million on 3471 screens.
Domestic Gross
$102.543 million.
MPAA:
Rated PG


DVD DETAILS
Presentation:
Widescreen 1.85:1/16x9
Audio:
English Dolby Digital 5.1
French Dolby Digital 5.1
Subtitles:
English
Spanish
French
Closed-captioned

Runtime: 128 min.
Price: $19.99
Release Date: 5/31/2005

Bonus:
• Audio Commentary from Director Nancy Meyers, Producer Charles Shyer and Director Of Photography Dean Cundey
• "Updating a Classic" Featurette
• "The Accent on Fun" Featurette
• "How Hallie Became Annie" Featurette
• Deleted Scene




PURCHASE @ AMAZON.COM

EQUIPMENT
Sony 36" WEGA KV-36FS12 Monitor; Sony DA333ES Processor/Receiver; Panasonic CV-50 DVD Player using component outputs; Michael Green Revolution Cinema 6i Speakers (all five); Sony SA-WM40 Subwoofer.


[an error occurred while processing this directive]
---
The Parent Trap: Special Double Trouble Edition (1998)
---
Reviewed by Colin Jacobson (May 31, 2005)

Boy, it's now hard to see Lindsay Lohan in her childhood state! Almost in the blink of an eye, she developed from spunky Disney all-American gal to sexy ingénue. When we look back at her first flick - 1998's remake of The Parent Trap - it's hard to believe it's the same girl who now makes so many tabloid covers.

As with the original, the movie starts with a wildly improbably premise. Pampered but sweet Brit 11-year-old Annie James (Lohan) heads off to American summer camp for the first time. There she encounters another girl who looks just like her. Hallie Parker (Lohan again) comes from California, and she displays a wilder, more typically American personality in contrast to Sharon's reserved English demeanor. Initially the two loathe each for reasons unknown; apparently they resent their resemblance. However, after they get stuck together in isolation as a punishment, they come to care for each other.

That process accelerates when they discover that there's a good reason for their physical resemblance: they're actually twin sisters! Their parents split when they were very young. Father Nick (Dennis Quaid) took Hallie to live in rural California, while mother Elizabeth (Natasha Richardson) brought Annie to reside with her parents in London. Quickly the two decide that they no longer want to live apart, and they also don't want to have to spend half their time in one place and half in the other.

So the twins concoct a plan. Unbeknownst to their parents, they'll switch places; Annie will go to California, while Hallie will head to England. For a time, they pretend to play each other, and they also bask in the pleasures of their unknown parents. However, after a while they need to spring "the parent trap" and reveal their altered identities. This process gets accelerated when Nick becomes engaged to gold-digging Meredith Blake (Elaine Hendrix), with a wedding date set for the very near future. Even after more than a decade apart, Elizabeth retains love for Nick, so she accompanies Annie out west to try to regain her man.

From there the movie follows mainly a comedic path as the sisters work their magic. They try to sour Nick on Meredith and vice versa, all which they attempt to make Elizabeth seem like his perfect match. This leads us toward an ending that I won't reveal other than to indicate that it seems absolutely inevitable.

If you compare this synopsis to what I wrote for the original 1961 Parent Trap, you'll find that I changed very little. The remake doesn't just use its predecessor as inspiration; it remains extremely close to its source and creates only minor variations.

Rarely have I been quite so tempted to simply cut and paste my critique of a movie as I am now. After I watched the remake, I re-examined my comments on the original. Imagine my surprise when I realized that both flicks demonstrated virtually identical strengths and weaknesses.

To wit:

-It still makes no sense to me that two kids from radically different locations attend the same summer camp. Actually, this seems even more bizarre in the remake. At least the original's kids both were Americans - one from California and the other from Boston. Since the remake takes the Bostonian and relocates her to London, it becomes ever nuttier that she attends camp somewhere in Unspecified Rural Location, USA.

-I continue to really take issue with the concept that their parents separated these kids at a very young age and went along with no further contact. What kind of horrible person abandons one of their children, allegedly for the good of the other? Both films offer the most specious rationale for the separation, and it doesn't ring true at all. Of course, Nick and Elizabeth split up the kids simply because if they didn't, there'd be no movie, but that doesn't mean I have to accept the idiocy of it all.

-Just as Hayley Mills presented a sweet and likable turn in the original, Lohan does nice work here. Occasionally she almost becomes obnoxious, but this never happens. Just as Mills couldn't handle both accents, Lohan also falters in that realm. However, the problematic inflection flip-flops in the newer flick. British Mills wavered when she did her California accent, while the American Lohan gets lost with her English tones. Both girls helped carry their movies as well as possible anyway.

-Neither film soars, but neither stinks. The original lacked a lot of creativity or excitement, but it had a few cute comedic moments and was moderately entertaining. The same goes for the remake. While it doesn't ever turn into anything terribly fun, it remains harmless entertainment.

-Both films don't know when to end. Each one runs over two hours, and that's just too much for a story with such a flimsy plot. At least the new flick's visual effects improve on those from the original. The 1961 efforts trickery was good for its era, but the modern take gives us duplicate Lohans in a more effortless manner.

I can't say I disliked the new Trap, as it does what it sets out to do. It's probably not fair for me to come down too hard on it anyway. As a 38-year-old man, I'm awfully far from its target audience of "tween" girls.

I must admit I'm not sure what purpose the remake serves, though. Unlike other reworkings like Freaky Friday and Assault on Precinct 13, it slavishly adheres to the original's story. Sure, I expected a similar tale, but although this one doesn't go the Psycho '98 route and duplicate its predecessor shot for shot, it comes close. The two films are incredibly similar.

Why bother? Money, I suppose, since modern girls probably don't want to watch some old movie like the original Trap. And I guess the remake earned decent bucks, so mission accomplished. As a creative endeavor, however, it has little reason to exist. I find it hard to respect a movie that takes so few pains to differentiate itself from its predecessor, and the whole thing strikes me as a cynical piece of product.
---
The DVD Grades: Picture B+/ Audio B-/ Bonus B-
---
The Parent Trap appears in an aspect ratio of approximately 1.85:1 on this single-sided, dual-layered DVD; the image has been enhanced for 16X9 televisions. A new transfer that replaced the old non-anamorphic presentation of the prior DVD, this one looked very good overall.
Sharpness rarely faltered. Occasional wider shots demonstrated a few iffier impressions, but these never created consistent issues. The vast majority of the flick offered concise and distinctive visuals. No problems with jagged edges or shimmering occurred, but some light edge enhancement made things a little fuzzy at times. Surprisingly, virtually no source concerns occurred. The movie was clean at all times; other than some grain, I saw no flaws.
With its summer scenes and many outdoor segments, Trap featured a bright and natural palette. The colors always came across as lively and distinctive, and they presented one of the transfer's stronger elements. Blacks were dark and firm, while shadows appeared well-defined and smooth. Lose the minor edge enhancement and this would be an "A"-level transfer.
No serious flaws popped up during the Dolby Digital 5.1 soundtrack of The Parent Trap, and no serious strengths occurred either. Very much in the mode of a "comedy mix", the audio stayed heavily focused on the forward speakers. Music showed nice stereo imaging, while the rest of the package stayed almost exclusively with general environmental information. I noticed almost no instances of more distinctive definition to the track, and the surrounds had almost nothing to do.
At least the quality of the audio seemed positive. Music was the strongest element, as the score and songs displayed lively, peppy tones. Speech always came across as concise and crisp, with no edginess or other concerns. Given their subdued nature, I didn't take much from the effects, though they were appropriately accurate and clear. The audio served the material and that was it.
This "Double Trouble Edition" of The Parent Trap includes extras that begin with an audio commentary from director Nancy Meyers, producer Charles Shyer, and director of photography Dean Cundey. At times all three appear to sit together and offer running, screen-specific commentary, but this situation seems to vary; sometimes it sounds like it's just Meyers and Shyer, and a few of Cundey's remarks come across as solo offerings.
Whatever the case may be, the whole package adds up to a surprisingly involving piece. The three participants cover a wide mix of topics. Apparently recorded in the late Nineties, we learn about story and issues related to the adaptation of the original flick, casting and acting problems, the movie's look and cinematography, locations and set design, visual effects and general production tidbits. The subjects mix well, especially photography and effects, since the nature of the dual Lohans required those two to intertwine. Too much banality and praise occurs, especially during the second half; you'll learn much more through the flick's initial hour. Still, there's more than enough good content to make this a useful track.
One deleted scene lasts two minutes and 49 seconds. Called "Meeting the Queen", it shows an impromptu visit by Hallie-as-Annie to Buckingham Palace. It's not a bad scene, but given the movie's already excessive length, it was a good cut, especially since it does nothing to advance the story. We can watch the clip with or without commentary from Meyers and Shyer. They tell us why they axed the scene and also relate some good production notes in this useful piece.
Three featurettes follow. Updating a Classic runs 18 minutes and 33 seconds. Created in 1998, this piece presents a mix of shots from the set, movie clips, and interviews. We find notes from Meyers and actors Lindsay Lohan, Lisa Ann Walter, Simon Kunz, Polly Holliday, Maggie Wheeler, Dennis Quaid, Natasha Richardson, Joanna Barnes and Elaine Hendrix. The program looks into casting and characters, working on the set and a few comparisons with the original. The focus is relentlessly promotional, so we learn almost nothing useful about the production. Tons of movie clips make this little more than a trailer much of the time. However, some decent footage from the shoot makes this moderately interesting, but it's not a good program.
Next comes the three-minute and 58-second The Accent on Fun. In it we hear from dialect coach Joel Goldes and dialect consultant Jessica Drake. They chat about how they train actors to take on different accents. Short but tight, this piece gives us a nice look at their work.
For more about the technical elements, we head to How Hallie Became Annie. This eight-minute and 23-second program includes remarks from Lohan, visual effects supervisor Dr. Ken Jones, visual effects sync supervisor Fred Johnston, digital assistant Peter Brancaccio and senior composite artist Greg Oehler. We hear about how they made the shots with two Lohans and all the required techniques. The commentary discusses some of these issues, but this piece gets into the issues with greater detail. It also benefits from visuals that show us the effects in action. It comes across as lively and informative.
A fairly pointless remake, 1998's The Parent Trap does little to alter the original flick. It sticks with a pretty literal recreation of its predecessor and seems like a simple attempt to squeeze out some money without much work involved. The DVD features very good picture along with decent sound and a minor roster of extras highlighted by a generally interesting commentary. Trap isn't a bad movie on its own, but it has little reason to exist and doesn't stand as an improvement over its inspiration.
| | |
| --- | --- |
| Viewer Film Ratings: 4.7096 Stars | Number of Votes: 31 |