Picture/Sound/Extras: A-/C+/F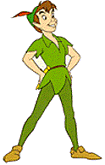 While the story of Peter Pan has been told and retold many times over the years, I really think that Disney's version is the most entertaining. To be frank, I don't know how faithfully it represents J. M. Barrie's original play, but I really don't care; Disney's Peter Pan offers an absolutely delightful and charming rendition of the tale.
Although the 1940s generally has been regarded as Disney's "Golden Age" - with the appearance of classics like Pinocchio, Fantasia, Bambi and Dumbo - I really think the 1950s were a much more productive decade for the studio. For one, all of those "classics" were bunched tightly together in the first few years of the decade; Disney released nothing highly regarded after 1942's Bambi and only issued "meat and potatoes" (Walt's phrase) cartoons like Three Caballeros and Make Mine Music until 1950.
To be honest, I'm not all that fond of many of those alleged classics of the 1940s. I love Pinocchio but the other three aren't all that great. The animation is well-drawn and executed, but I've always found significant portions of Bambi, Fantasia and Dumbo to be rather uninteresting. Ultimately, I think the films are good but not terribly fascinating.
The same is not true for Disney's offerings in the next decade. Starting with the wonderful Cinderella in 1950, Disney released a string of winners that remained unbroken all the way through 1961's 101 Dalmatians. Alice In Wonderland, Peter Pan, Lady and the Tramp and Sleeping Beauty make for an imposing roster of films. While some of the animation may not be as stellar as that seen during the studio's earlier efforts, these movies are still impeccably executed and they're simply a great deal more entertaining.
Such stiff competition actually means that Peter Pan may only rank third with me for the decade (after LATT and Alice...), though it may be unfair to rank them; they're all bunched together so tightly that ratings seem arbitrary. In any case, Peter Pan makes for a terrifically enchanting film. Rarely has Disney conveyed a sense of magic as wonderfully as we see here; the scene in which the children learn to fly is absolutely thrilling and charming all at the same time,and it conveys a sense of wonder that's a thing to behold.
One difference between the Disney films of the 1940s and 1950s is that the studio seemed more willing to vary the comedy in the second decade. Styles in PP run the gamut, from cuteness and charm through some wild slapstick. Most of the latter occurs due to the wild presence of Captain Hook, one of the best villains in the Disney roster. No, he's not nearly as scary as Malificent or the Queen in Snow White (still probably Disney's most frightening baddie); actually, Hook isn't too scary at all, since he never seems like much of a threat against the near omnipotence of Pan.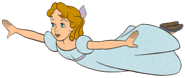 Nonetheless, Hook's so tremendously entertaining that I didn't mind his less than ominous personality, which is in keeping with the path Disney started to take at that time. After a traditionally nasty villain in Cinderella, the baddies got more comic in Alice... with the blustering Queen of Hearts. Hook followed in a similar vein, one which would come to include characters such as Cruella DeVil in 101 Dalmatians and Madame Mim in The Sword In the Stone. Hook's my favorite of that more comic bunch. Hans Conreid offers a stellar performance as the Captain. He brings him to life with delightful wit and charm and helps make our vengeful Captain a thorough delight.
Peter Pan isn't a perfect film; it can drag a little at times (especially when Hook's not onscreen) and to call its portrayal of the Indians as less-than-politically-correct would be an understatement. Nonetheless, it's still terrifically entertaining, and mixes broad humor with touching sentiment easily and convincingly.
The DVD:
Peter Pan appears in its original theatrical aspect ratio of 1.37:1 on this single-sided, single-layered DVD; the image has not been enhanced for 16X9 televisions. Although it's not perfect, this picture offers yet another terrific image for a Disney animated film.
Sharpness generally seems quite good, with a picture that usually looks very crisp and well-defined. At times, some very gentle softness interferes with the detail, but it's vague and not much of a problem. I detected no jagged edges or moiré effects, and the print used appeared absolutely spotless; I witnessed no signs of grain, scratches, speckles or other defects.
Colors seem quite brilliant and vibrant; Peter Pan makes wonderful use of a variety of hues, and they all seem accurately and cleanly replicated on this DVD. Black levels are deep and rich, and shadow detail appears appropriately dense but not overly so. In a nutshell, Peter Pan looks pretty terrific.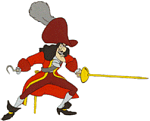 Unfortunately, the Dolby Digital 4.0 soundtrack doesn't come close to matching up with the picture. While that might seem to be a given since the film is nearly 50 years old - audio technology wasn't nearly as sophisticated back then - ironically I find some of the problems to result from attempts to modernize the sound.
Although most of these older Disney animated films appeared theatrically with monaural soundtracks, the studio has created remixes for many of them that remake them as surround tracks. Some of these are 5.1 channels - like Lady and the Tramp or Sleeping Beauty - but most are like Peter Pan and they go for three forward channels and monaural surrounds.
Most of these audio mixes also take a fairly gentle approach; they usually keep most of the dialogue and effects planted firmly in the center channel, with music and occasional effects spread to the sides. The surrounds mainly bolster the score in a quiet way, though they also toss out some effects once or twice during the films.
Peter Pan follows that model, but does so in a sloppier manner. 101 Dalmatians had some trouble with dialogue bleeding to speakers other than the center, but it was fairly infrequent. PP shares the same problem, but it occurs more regularly and it also happens with effects at times. It's not a horrible issue, but it does cause a distraction during the film and it seems careless.
The quality of the audio appears fairly decent for its period, though speech can come across as a bit harsh and rough at times. Music seems clear but lacks low end and doesn't possess any "heft", and effects display similar qualities. For such an old audio track, it still seems slightly above average, but I must admit I found it disappointing after the finer soundtracks of the other Disney films.
Even more disappointing is the lack of supplements on the Peter Pan DVD. we get nothing - not even a trailer. This despite the fact that even the $30 CLV laserdisc released in 1997 included a nice 15-minute featurette, and the $50 CAV version tossed in a bunch more. C'mon, folks - it can't be that difficult to port over a few extras!

Despite the lack of supplements, I still have to recommend Peter Pan. The DVD looks very good, and although the sound is a little weak, it's still a nice presentation of the film. Ultimately, it's the high quality of the movie itself that forces me to recommend the DVD. Peter Pan is one of Disney's absolute best animated features, and it remains a complete delight almost 50 years after its initial release. This is a film that deserves a permanent home in any DVD collection.
Menu: DVD Movie Guide | Archive | Top