DISNEY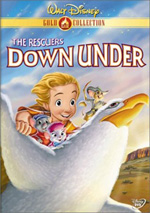 MOVIE INFO
Director:
Hendel Butoy, Mike Gabriel
Cast:
Bob Newhart, Eva Gabor, John Candy, Tristan Rogers, Adam Ryen, George C. Scott
Writing Credits:
Margery Sharp (books, "The Rescuers", "Miss Bianca"), Jim Cox, Karey Kirkpatrick, Byron Simpson, Joe Ranft, Brenda Chapman (story)
Synopsis:
Hold on tight for a thrilling, fast-paced adventure unlike any other with The Rescuers Down Under! The world's bravest mice, Bernard and Miss Bianca, answer a call for help from deep in the heart of Australia's vast and unpredictable Outback! With a crazy crew of local critters, these top mouse agents rush to the aid of Cody, a young boy struggling to save a magnificent eagle from a ruthless poacher. But with restless natives and unexpected dangers popping up at every turn, who knows if they'll come to the rescue in time! Say "G'Day" to a classic Disney adventure full of unforgettable characters and incredible animation in this down-under delight you'll cherish for years to come!
Box Office:
Domestic Gross
$27.931 million.
MPAA:
Rated G


DVD DETAILS

Presentation:
Widescreen 1.66:1/16X9
Audio:
English Dolby Digital 4.0
French Dolby Surround 2.0
Spanish Dolby Surround 2.0
Subtitles:
English
Closed-captioned
Supplements Subtitles:
None

Runtime: 77 min.
Price: $29.99
Release Date: 8/1/2000

Bonus:
• Read-Along Storybook
• Trivia Game
• Theatrical Trailer
• Preview Trailers




PURCHASE @ AMAZON.COM

EQUIPMENT
Sony 36" WEGA KV-36FS12 Monitor; Sony DA333ES Processor/Receiver; Panasonic CV-50 DVD Player using component outputs; Michael Green Revolution Cinema 6i Speakers (all five); Sony SA-WM40 Subwoofer.


[an error occurred while processing this directive]
---
The Rescuers Down Under: Disney Gold Classics Collection (1990)
---
Reviewed by Colin Jacobson (January 25, 2008)

After all of the "dark years" experienced by Disney after Walt's death in 1966, the studio's animation department experienced a well-deserved resurgence with the 1989 release of The Little Mermaid, which was both a critical and financial success. This began what most saw as a consistent string of Disney hits. Although the grosses dipped a bit during the mid-Nineties, they remain fairly strong for more than a decade.

Every rule needs an exception, and that's where we find 1990's The Rescuers Down Under. It seems somewhat like an odd fallback as it pops up between Mermaid and 1991's Beauty and the Beast, another box office hit that achieved that remains unique. It took home an Oscar nomination for Best Picture. By no stretch of the imagination is Down Under a bad film, but it does stand out as a dip in quality amidst such strong competition.

While Down Under remains a minor Disney work, it's a fairly fun one, and it easily outdoes the movie upon which it was based. 1977's The Rescuers is arguably my least favorite of all Disney's animated works. I thought that movie was a dull and cutesy drag that succeeded on very few levels. Down Under, on the other hand, may seem light and basic compared to its era-mates, but the film itself is fairly entertaining.

Ironically, the story is one in which our heroes - Bernard (voiced by Bob Newhart) and Bianca (Eva Gabor), returning members of the Rescue Aid Society (RAS), a mouse-run altruistic group based in New York - perform little active work until near the end of the film. A young Australian boy named Cody (Adam Ryen) helps and then befriends a trapped golden eagle named Marahute. When nasty poacher McLeach (George C. Scott) discovers this connection, he kidnaps Cody so he can wring the info out of him.

A little mouse who Cody saved sends out the alert, and our heroes from the RAS fly over from New York on the back of Wilbur (John Candy), an albatross who takes over the same position filled in the first movie by his brother Orville. When they get to Australia, they meet up with local Outback-savvy mouse Jake (Tristan Rogers), who immediately vies against Bernard for the affections of Miss Bianca as they try to find and rescue little Cody.

As I alluded, the fact is that our heroes actually have little to do for most of the film. Cody and the other trapped animals he encounters at McLeach's lair all seem fairly capable of success on their own. No, they don't make it out of their cages by themselves, but they display a great deal of grit and ability. As for the exploits of the mice, Jake does most of the work there. He's the one who takes charge and gets things going, while our protagonists are just along for the ride.

Inevitably, Bernard takes charge by the end to redeem himself. All his bumbling was necessary to make the Jake and Bianca romantic subplot viable. Still, Bianca never does diddly, and I couldn't help but think it was odd that the heroes of the story had so little direct effect on the outcome for much of the way.

Nonetheless, Down Under provides a pretty good adventure tale. Although the overall level of animation seems unspectacular, the artists do create some absolutely lovely Australian vistas. At worst, these look convincing and bold, but at their best, they become positively breathtaking, as during the computer-assisted flights conducted by Marahute. The latter scenes are simply gorgeous and offer some of the most visceral and exciting animation seen from Disney.

Although the rest of the film doesn't live up to those moments, it remains fun and engaging. It's a slight story with very little depth, but the characterizations are good, especially in the case of Cody, who seems more real and less of a cipher than most Disney children. Unlike Penny in the first movie, he's not just a little cutey along for the ride. The vocal talent seems strong, with a fun performance from the late, great Candy, and nice work from Scott as well, who neatly straddles the fence between evil and comic as McLeach.

(Speaking of those two, I must note the Rescuers curse: anyone who's played a chief villain or an albatross in a Rescuers film is now dead! Yeah, most of the cast of Pinocchio is dead, too, but some of these actors passed on relatively young. Obviously Candy went the earliest, as he was only 43 when he went, but Geraldine Page - nasty Madam Medusa in the first flick - went at a not-that-ancient 62, while Scott was 71 when he left us. Okay, that was actually pretty old, and Jim Jordan was a whopping 91 when he died, but I still maintain that a curse exists. If they make another sequel, I'd be reluctant to take one of those roles!)

All curses aside, Disney proved it was possible to outdo an original product with a sequel via the modest success of The Rescuers Down Under. Granted, since the prototype in question was arguably their worst film, that doesn't say much, but take the glory where you can, boys! However tainted its predecessor may have been, Down Under provides a mildly entertaining and exciting little action story that's sure to interest most Disney fans.
---
The DVD Grades: Picture C+/ Audio B+/ Bonus D-
---
The Rescuers Down Under appears in an aspect ratio of approximately 1.66:1 on this single-sided, double-layered DVD; the image has been enhanced for 16X9 televisions. Though generally good, the transfer seemed rather up and down, as it lacked consistency.
Sharpness seemed pretty good throughout the film, as the majority of the action appeared reasonably crisp and well-defined. Some vague murkiness intruded at times, but not very frequently, so expect an image that featured good delineation. No problems with jagged edges or shimmering interfered, and edge enhancement seemed to be absent.
Source flaws were a bigger concern, though. The film became awfully grainy at times, and I noticed sporadic instances of specks, grit and other small blemishes. Except for the grain, these weren't pervasive, but they occurred more often than I'd expect from a fairly modern Disney release and they could create distractions.
Colors seemed accurate and rich. None of the hues stood out in any particular way, but they all appeared nicely saturated with no signs of bleeding or noise. The graininess did occasionally make them a little dingier than I'd like, though. Black levels looked quite deep and dark, and shadow detail was similarly thick without displaying excessive opacity. The source flaws caused problems here; the rest of it looked pretty good, but those defects knocked this one down to a "C+".
For its age, the Dolby Digital 4.0 soundtrack of Down Under worked well. The front soundfield seemed very rich and displayed some compelling activity. Stereo separation for music and effects was quite good, with all audio appearing distinct between channels, and the different speakers also blended well. Panning seemed clear and smooth. The surrounds provided gentle reinforcement of the forward channels but complemented them fairly well. They appeared rather quiet in comparison with the active front speakers but they provided enough information to warrant their existence. Snow scenes fared well, and a few other environmental bits added to the spectrum to a satisfying degree.
Audio quality was very good. Dialogue seemed vaguely flat on a couple of occasions but it usually sounded warm and natural, with no issues related to intelligibility. Effects were crisp and clean and also displayed some nice low-end at appropriate times, such as when McLeach's truck rumbled past us. The music seemed equally bright and deep, with pretty nice bass there as well, particularly due to the presence of some low "Australian" instrumentation - I think it's a didgeridoo, if I'm not mistaken. Whatever the case, I liked the soundtrack of Down Under, as it seemed clear and rich and nicely complemented the action.
Only some minor extras appear here. We discover a DVD Storybook - which lets kids read the tale of Down Under either on their own or through the narration - plus a 16-question trivia game and the film's original theatrical trailer. Not much, huh?
At the start of the disc, we find some ads. We get promos for the Disney Gold Classic Collection as a whole plus Buzz Lightyear of Star Command: The Adventure Begins, The Little Mermaid II, The Tigger Movie and Toy Story 2. These also appear in the Preview Trailers domain.
The Rescuers Down Under will never qualify as one of Disney's classics, and it's probably always going to seem weak when compared to the studio's other work from the era. However, on its own it offers a moderately delightful experience. The story seems more action-based than most of their pieces, and it lacks the usual showtunes, but it works pretty well. The DVD itself features erratic but acceptable picture and pretty nice sound. Unfortunately, it includes almost no supplements. That latter factor tempers my recommendation, but I still think this is a decent product that will appear very enjoyable to many Disney animation fans.
| | |
| --- | --- |
| Viewer Film Ratings: 3.6 Stars | Number of Votes: 15 |