Picture/Sound/Extras: C+/B/B+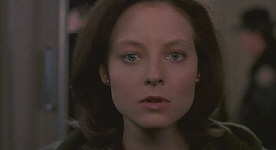 As I've whined in a few other reviews, Oscar and I have a strained history. It all started in 1975 when the Academy failed to bestow its Best Picture honor on my fave, The Towering Inferno. (For the record, today I do not actually argue that TTI should have bested Godfather 2, though my seven-year-old self felt otherwise; hey, I have a soft spot for TTI, but not a soft head.)
That horrible incident set the stage for many years of crushing disappointments (in life as well as on Oscar night - not that I'm bitter or anything): Jaws losing to One Flew Over the Cuckoo's Nest; Star Wars falling to Annie Hall; Raiders of the Lost Ark dropping to Chariots of Eggs. And the final blow: the absurd victory of Gandhi at the expense of E.T.
Oscar made a slight improvement in 1985 when a movie I actually liked a lot, Amadeus, won, but after that it was back to the loser parade for me. This reached its nadir again when Scorsese's marvelous Goodfellas lost to pretentious clunker Dances With Clams. (By the way, I wonder if history will repeat itself this year. In both 1980 and 1990, Scorsese produced films regarded as classics - Raging Bull and GF, respectively - which were beaten by Ordinary People and Dances..., both of which were first-time directorial efforts from pretty-boy actors. Marty, you'd better hope Keanu Reeves isn't helming a movie this year!)
After that bitter defeat, things could only go up, and they did. For 1991, the Academy picked the most improbable Best Picture winner since Midnight Cowboy and its "X"-rating: Jonathan Demme's The Silence of the Lambs. To say that TSOTL didn't look like typical Oscar-bait is an understatement; this was essentially a thriller/horror film, after all, with some fairly graphic scenes. Frankly, I had been astonished that it simply received a nomination, though the Academy clearly felt somewhat frisky that year, as they nominated an animated film - Disney's Beauty and the Beast - for the first time ever.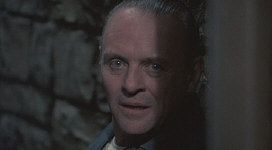 It was an odd year for my Oscar rooting interest as well, since I actually would have been happy if any one of three nominated films won. TSOTL, BATB and JFK were all movies I really liked and I would have cheered the victory of any of those choices. Hell, all five options were solid: I didn't want them to win, but Bugsy and Prince of Tides were also very good films.
In retrospect, I've done a complete 180 on JFK, though, largely due to its callous manipulation of history. I still like BATB a lot, and TSOTL has only come up in my eyes. It wasn't my first choice during the 1992 award ceremony, but I now see it as clearly the best picture of 1991.
TSOTL offers that rarest of beasts: a thriller that remains tremendously compelling despite repeated viewings. Usually this sort of film goes flat when you see it again; after all, when you know all the plot twists, what's left to enjoy? However, as with semi-soulmate Seven, TSOTL easily rises above its genre; it's so incredibly well-executed that it stays fascinating even through many rescreenings.
Also like Seven, TSOTL creates an immensely creepy atmosphere that pervades virtually every frame of the film. One time a few years ago I tried to eat a snack while I watched it but I discovered I couldn't do it without feeling sick. This isn't because TSOTL is a terribly graphic film; while it shows some unpleasant sights, the movie actually depicts surprisingly little violence or gore. No, my nausea simply resulted from the general aura of the film; director Jonathan Demme so absolutely infused his production with this atmosphere that discomfort was inevitable.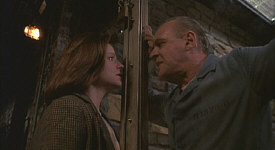 In addition to Demme's masterfully created aura, the film owes much of its long life to the terrific acting. While I'm not sure Jodie Foster actually deserved an Oscar for her role as FBI agent (in training) Clarice Starling, there's no question that she ably inhabited the part. She adds a few too many self-consciously showy flourishes for my liking - such as the way she repeats "wrongful death" while examining a victim - but Foster nonetheless remains true to the character and makes her a surprisingly real and three-dimensional person.
As Hannibal Lecter, Anthony Hopkins attempted no such thing, and we're all much happier because of that. Make no mistake, Lecter is a cartoon, a broad theatrical creation that bears no resemblance to any actual human being. And so what? Hopkins so magnetically and fully brings Lecter to magnificent life that no one cares how flamboyant he is; Hopkins offers one of the most compelling and memorable performances in years, so damn the fact it's not realistic. Hey, not everything has to be 100 percent true to life, and Hopkins displays how exciting and vibrant a "movie monster" part can be in the hands of a talented actor.
In fact, Hopkins provided such a stunning turn that he received the Best Actor Oscar even though the role should have qualified only for Best Supporting Actor. Lecter appears in only about 25 percent of the film, but it's a tribute to Hopkins that we think he's there for much more of it. The aura of Lecter pervades the movie so strongly that it almost becomes a fault; we are so drawn to him that we occasionally forget Buffalo Bill (Ted Levine), the actual target of the film.
TSOTL is not a perfect movie, but it certainly delivers the goods. Demme has made a film that seems to grow in stature as time passes. To this day I remain stunned that the Academy, the pretentious windbags who normally select whatever gassy "epic" appeared that year, chose a movie, not a film, as their Best Picture of 1991. Good for them!
The DVD: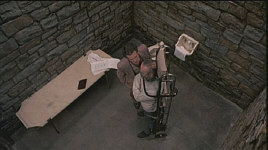 The Silence of the Lambs appears in its original theatrical aspect ratio of 1.85:1 on this single-sided, dual-layered DVD; the image has not been enhanced for 16X9 televisions.
Overall, this DVD offers a satisfactory but fairly mediocre viewing experience. The image looks reasonably sharp and crisp, but moire effects occasionally interfere with it; for example, you can see some jagged edges on Scott Glenn's glasses early in the film, and the sides of buildings occasionally shimmer. The print used for the transfer is generally decent but it does betray some flaws; speckles show up fairly frequently, and we also discover some scratches and a hair or two.
TSOTL was shot with a rather restricted palette - it's a very brown movie - but the colors seem fairly well-reproduced. Probably the least satisfactory color image occurs when Clarice is bathed in red light at the asylum; the hues seem less well focussed than they should. Still, colors generally appear satisfactory. Black levels are good, as is shadow detail for the most part. However, the latter sometimes becomes a problem. Since TSOTL is a very dark film, that occurrence was almost inevitable, I suppose, but some scenes - such as when Gumb assaults and kidnaps Catherine - appear overly opaque and it can be difficult to discern the action. Much of TSOTL looks quite good, but the presentation definitely suffers from a fair number of flaws.
The DVD offers the film with its original Dolby Surround 2.0 soundtrack, and it's a fairly good one. The front soundstage is quite broad and adds a lot to the experience; music and effects are consistently spread out across the front speakers, and we also hear some dialogue from places other than the center. The monaural rear channel sticks with just music and effects, but it does so nicely; I got a terrific feeling of atmosphere when it was used.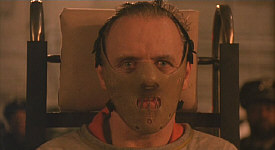 Quality of the audio is generally good though not exceptional. Dialogue seems easily intelligible but slightly edgy, and the music also appears somewhat harsher than it should. Effects come across as the most natural and realistic parts of the mix; from them we even hear some very effective bass. The quality of the speech and the score aren't poor; they just seemed to present a more metallic sound than I'd expect. Still, it's a pretty good track that helped accentuate the experience.
This DVD from Criterion originally began its life back in 1994 as a $100 laserdisc. In its translation to the new medium, not all of the components made the trip - more on that later - but most of the supplements came along for the ride.
First up is an excellent audio commentary. Criterion invented this format and they remain the best executors of them. As with most Criterion tracks, the commentary is edited and includes snippets from a variety of participants, all of whom were interviewed separately. On this track, we hear Foster, Demme, Hopkins, screenwriter Ted Tally, and FBI agent John Douglas. They add a tremendous amount of compelling information to the mix. Both Hopkins and Foster discuss their methods and interpretations of the characters, Tally and Demme talk about their goals and their techniques, and Douglas provides a grounding influence as he tells us the reality behind the situations. Although it's not the best Criterion commentary I've heard, this one is a very strong track that really added to my appreciation of the film.
Next up are a number of deleted scenes. We see seven segments in all, which run for a total of almost 22 minutes; these vary in length from about 8 minutes to a minimum of about one minute. Most of these are extensions to existing scenes. Only two of them are "stand-alone" pieces, and one of those doesn't really count; we get to see the preacher program that runs silently in Lecter's cell while he talks with Clarice. The other solo scene is definitely the most interesting of the bunch, but even it's not so great. While I liked getting the opportunity to see these cut portions, it's pretty clear why they were removed; they're good for historical value but not much else.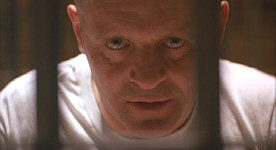 The DVD presents a slew of storyboards. We see drawings for seven different scenes. Six of these appear on their own, whereas the other is offered in the form of a film to storyboard comparison; this means it's shown with the drawings on part of the screen and the actual movie footage on another segment. The section also presents conceptual drawings for one of the storyboarded scenes. I'm not a big fan of storyboards - they're only of interest if they're for scenes that weren't shot, which isn't the case here - but these are well presented.
A fair amount of text information appears on the DVD. Portions of the FBI's Crime Classification Manual can be found. These document their definitions of a few different types of acts and also provide some case studies. Information on "profiling from crime scene evidence" also is featured. This is a pretty cool segment that lets us learn a little about real-life cases and is very interesting, although disturbing.
Even more unsettling is the next text section, Voices of Death (which was called "Voices Inside Their Heads" on the LD; I have no idea why they changed the name - maybe it reminded too many people of the Police's song?). This text piece offers a slew of quotes from real serial killers, with their charming views on life, murder, and other issues. It's tremendously provocative and compelling but pretty scary, too.
The DVD rounds out its replication of the LD in its booklet. This area includes some strong notes from film journalist Amy Taubin that originally appeared in the LD's gatefold. As with most Criterion texts, they're definitely worth a read.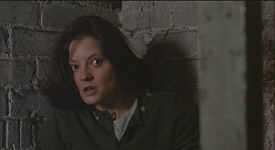 That completes the Criterion DVD of The Silence of the Lambs, but as I mentioned earlier, the LD added other features. All of these were text offerings. We got filmographies and essays about Demme, Foster and Hopkins, and also another text feature that discussed other films within the same genre. These materials are all solid pieces and I don't know why they failed to appear on the DVD - since they all use text, there would have been enough space for them. However, don't feel you're missing out on a lot if you have the DVD instead of the LD; these pieces are all useful but not crucial, unlike, say, the commentary.
The Silence of the Lambs has earned a place in American culture and folklore, and it's well deserved. The movie stands at the top of its genre and also as one of the best films of the last decade. Criterion offer the movie with decent picture and sound and a nice complement of supplements. This is a DVD that belongs in all collections - highly recommended.