Event attended by Colin Jacobson (October 12, 2005)

On October 6, 2005, I attended a press event to tout the DVD release of Revenge of the Sith. This led me to northern California and Skywalker Ranch - aka "Geek Graceland" – for a day of activities connected to the Sith DVD as well as the new Battlefront II video game.

Upon arrival at Skywalker, I passed through security with the standard full cavity search where they confiscated my "Han Shot First!" banner. From there I headed to the ranch's main visitor building, which is where most of the activities would take place. Once there, I found… not much. The morning session lacked a whole lot of scintillating material, as the main element came from a home theater demo.

Just like the old tour at Universal Studios, they scheduled us for various time slots, so I had about half an hour to kill before I took in the demo. The folks at Lucas set up some Battlefront II stations to placate us nerds while we waited, but I passed on that. I didn't want to expose my absolute lack of mad gaming skillz to the masses, so I sat quietly and waited for my tour.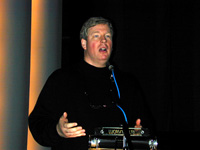 Once that time arrived, I was escorted along with a handful of others to check out some scenes from the Sith DVD. At the screening room, we met Jim Ward, senior vice president of Lucasfilm and president of Lucasarts. He introduced us to the flick and chatted a little before we checked out a couple of scenes from Sith. He showed us the movie's opening space battle along with the Mustafar duel.
Unsurprisingly, both looked and sounded quite good on the THX setup, though I must admit I wasn't quite as dazzled as I expected. I figured that their equipment would blow me away and make me want to trash my own configuration as soon as I arrived home, but that wasn't the case. To be sure, I'd happily accept a trade of theirs for mine, but the setup wasn't quite the mind-blowing experience I anticipated.
Once this brief demo ended, we went for something unusual. The folks at ILM created a situation in which the attendees could be placed in a scene from Sith. We'd take the place of Darth Sidious in holographic form as he addressed General Grievous. We got to improvise our lines with predictably idiotic results. To check out this embarrassing piece, click here.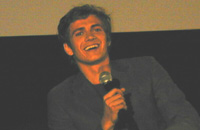 At this activity's conclusion, we broke for a while until we'd reconvene at 1 PM for the event's main session. However, those of us with an interest were taken on a tour of Skywalker's main house. This gave us a look at their library and a few other spots in a moderately interesting glimpse behind the scenes. We had no signs of George Lucas, though; I'd hoped to see him wandering the grounds in a bathrobe, muttering to himself and scratching inappropriate spots, but that didn't occur.
From there we headed to lunch, and I chatted with some of my peers. I yakked with John Puccio of DVD Town and Mike Restaino of DVD File. Since I'm normally a shut-in shunned by all forms of human contact, I enjoyed the chance to talk to others in the business and get their take on things.
When 1 PM finally rolled around, we headed to a large screening room for the main event of the day. There Ward addressed us again and took us through a sampling of the Sith DVD's supplements. This taster of those elements was nice, I suppose, though it somewhat seemed like a waste of time since we'd check out the DVD later anyway. I suppose the Lucas folks figured they should provide a preview to make sure we'd want to watch the extras on our own time.
Maybe I was just impatient to get through the preliminaries so we could head to the meat of the meeting: the Q&A session. This started with Ward himself as he fielded a few queries about the DVD and Battlefront II. I tossed out a question about whether or not fan and critic opinions affected the content of the Sith DVD.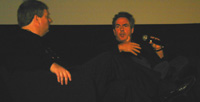 No offense to Ward, but we looked forward to the other participants more eagerly. Producer Rick McCallum came next. He talked about the Star Wars flicks, upcoming animated and live-action series planned for that universe, and a few other issues. I wasn't able to get in a question for him at that time, but this would change soon.
When we got our press packets in the morning, the list of Q&A participants mentioned a possible "surprise guest". Geeky fantasies immediately ensued, as we – okay, maybe just I - hoped for Natalie Portman and a re-enactment of her stripper role from Closer.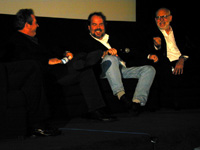 That didn't happen, but I was happy with the surprise guest anyway. Along with Sith animation director Rob Coleman, Yoda voice actor Frank Oz came out for the next portion of the session. They talked about issues related to Yoda and his depiction. Some controversy came from the information that they would eventually replace the Phantom Menace Yoda puppet with a CG version to better match the character in the other two prequels. All involved firmly denied that they'd ever do a similar makeover for Empire Strikes Back and Return of the Jedi, though.
I stirred the pot myself in regard to a similar character. I asked Coleman and McCallum if Jar-Jar Binks received so little screentime in Attack of the Clones and Sith because fans hated him so much in Menace. This question received a pretty detailed response, and Oz leapt to Jar-Jar's defense as he stated he loved the character.
It also meant that Ward would later bestow the derogatory moniker of "Mr. Jar-Jar" on me.
Once Coleman and Oz finished, McCallum left with them and we got another big name in the Sith universe: Ian McDiarmid, the actor who played Emperor Palpatine/Darth Sidious. He went over a lot of issues connected to his role and his place in the Star Wars universe. I got in my final question of the day to him as I asked what were the easiest aspects of the part and which were the most difficult. This brought on a nice long discussion of Palpatine's challenges.
After McDiarmid wrapped up, we met our final participant: Hayden Christensen, the actor who portrayed Anakin Skywalker. He went over topics similar to those addressed by McDiarmid, though obviously he offered his own take on things. I enjoyed the chance to hear from all the actors involved and they provided useful and informative comments.
When the session concluded, that essentially finished the day. The gamers would soon head to the new Lucas facility at the Presidio in San Francisco, but the DVD folks moved on at that point. Actually, I guess I could have gone to the Presidio if I'd desired, but I had to catch a plane back to Virginia, so I didn't have the time.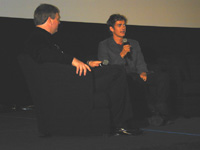 I did get the chance to head to the Skywalker gift shop, though. Actually, before that happened, I had one of the day's odder events – from my point of view, at least. As I left the men's room, McDiarmid entered. Damn – if I'd held it a few minutes longer, I could've peed next to Palpatine! This would have confirmed whether or not lightning shoots out of his dick as well as his fingers, but I'll have to remain ignorant in that regard.
Once the dust settled, we got our escort to the gift shop. (We weren't allowed to wander off on our own – I suppose they wanted to make sure we didn't hide in some corner so we could search the ranch after dark.) I was surprised the ranch had a gift shop since Skywalker's not open to the general public; I didn't think there'd be enough prospective shoppers to merit its existence. However, I was told that between journalists, VIPs and others, they get some business.
It's a pretty small spot anyway, so I can't imagine it requires a lot of effort to keep open. I grabbed a couple of hats for our webmaster David but restrained my own consumer desires. I own enough Star Wars junk as it is, and I figure that I'm a big enough nerd already – I don't need to advertise that fact with "Skywalker Ranch" T-shirts.
Besides, they gave us a nice goodie bag at the event and I didn't think I'd have enough room in my carry-on suitcase. Of course, we snagged the Sith DVD, really the only crucial item we wanted, as we threatened full-on Pasty White Boy Riots if we didn't receive it before we left Skywalker. We also got a book about the making of the film, a T-shirt, and the piece de resistance, a toy lightsaber. Don't get jealous – this wasn't any different than what you'd buy at a toy store. Still, it was a fun touch, even though I worried that airport security would stop me and subject me to my second strip search of the day.
Fortunately – or not – that didn't occur, and my brief jaunt out west ended well. As a nearly lifelong Star Wars fan, I enjoyed the chance to get to visit their main facility. I also thought the event went nicely. All the folks from Lucas and other PR firms were pleasant and helpful, and they made things run smoothly. It was nice to meet other folks in the DVD website business and get to socialize a little. Since so many of us are spread all around the country – and the world, for that matter – it's cool to meet up and put faces and voices with the names.
Hopefully the people at Lucas will soon provide a transcript of the Q&A. My tape recorder decided not to function, so I don't have my own record of the event. (Besides, if I needed to transcribe an hour or so of chat, I'd go insane.) We'll update this page when/if that occurs plus better pictures if we get them. I did my best with my wee digital camera, but hopefully we'll receive some professional shots.
All told, this was a fun time. I had a harried trip out to San Francisco from Virginia; I don't recommend anyone to fly out one day and jet back the next, as it saps you for days afterward. But it was worth it, as I got to experience something unusual and quite enjoyable. Thanks to all involved for a cool time.