Picture/Sound/Extras: B+/B+/C+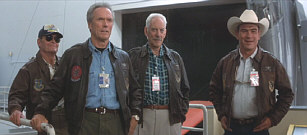 If nothing else, I have to give credit to the producers of Space Cowboys for one thing: they managed to resist the urge to feature Steve Millerís song ďThe JokerĒ within the film. Happily, Homer Simpsonís fave tune - "Some people call me a space cowboy/Some people call me the gangster of love" - makes no appearance. However, since the movie does include a tune called ďSpace Cowboy (Yippie-Yi-Yay)Ē - from *NSYNC of all people - so any points earned by the omission of the Miller tune are totally ceded.
Perhaps the *NSYNC ditty appeared in the hope that their attachment might draw a younger crowd to the multiplex. After all, the four stars of SC - Clint Eastwood, Tommy Lee Jones, Donald Sutherland and James Garner - boasted an average age of more than 65 years of age when the movie premiered in August 2000; that varied from elder statesman Garner (72) to spring chicken Jones (53). This knowledge makes Jonesí casting seem like a poor choice; not only is his age an outlier among the others - who ranged from 66 to 72 - but it means that he would have been only 11 when he was supposed to be flying jets in the movieís opening shots; those take place back in 1958.
I donít mind that stretch, however; we easily accept actors who play much younger characters, so itís no big deal to imagine a performer as a decade or so older than he is in reality. However, thatís not the only problem I found in Space Cowboys. Though the film presented some entertaining bits and generally was watchable, it seemed very derivative and lacked much spark or inventiveness.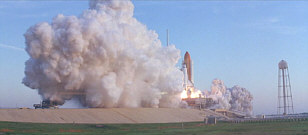 In 1958, a crew of military pilots - Frank Corvin (Eastwood), William ďHawkĒ Hawkins (Jones), Jerry OíNeill (Sutherland), and ďTankĒ Sullivan (Garner) - are denied their desired chance to fly in space by back-biting bigwig Bob Gerson (James Cromwell). Instead, a chimp takes flight and they apparently scatter to the wind. More than four decades later, a Russian satellite that mysteriously utilizes Frankís design for SkyLab has begun to lose it orbit. For reasons we donít learn until late in the film, the NASA honchos arenít willing to let it simply flop into the atmosphere, so astronauts need to intercept it and fix it.
Unfortunately, their newest crop of go-getters canít make heads or tails of Frankís ancient design. As such, heís called back into duty - by Gerson, natch - to make things right. Frankís none too fond of his old boss, of course, so when he agrees, itís with one condition: he and the rest of ďTeam DaedelusĒ have to be the ones who go into space.
Ultimately, Gerson agrees, and the wheels are set into motion. Frank settles an old feud with Hawk and rounds up the others for their brief training. Inevitably, they encounter much resistance along the way before they prove themselves on the mission itself.
Basically, Space Cowboys offers the same old thing in brand new drag. The story is nothing more than a creakier rehash of Armageddon with a little bit of The Right Stuff thrown in for good measure, and a lot of it didnít make much sense. Many plot points are resolved too quickly, such as the long-time animosity between Frank and Hawk; they buddy up very rapidly, and I have a hard time believing that wounds heal that fast.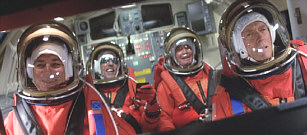 Of course, Armageddon had just a few teensy logic flaws as well, so I wonít come down too hard on SC for those elements. However, the derivative nature of the story really did turn me off to a large degree. The whole thing is just so darned similar to Armageddon in so many ways. Iíd prefer not to go into too many details so I donít provide spoilers, but the two follow very similar paths.
The main difference comes from the age of the actors, as SC creates a story for the geriatric set. Thatís really the only thing that differentiates the movie from the others; the advanced seniority of the performers makes them natural underdogs. Unfortunately, that creates a tale that is even more predictable than usual. If anyone thinks the old dogs wonít teach the young pups a lesson or two, then you donít get out much. Itís absolutely inevitable that our protagonists will overcome a variety of obstacles and prove that old folks can still kick some booty.
SC boasts a strong cast, but none really gets much of an opportunity to shine. Eastwood plays his usual squinty-eyed tough guy, and heís always fun even in the face of a tired story like this. Likewise his compatriots, and I will acknowledge that it was nice to see a strong group of veteran actors together in one place. Iím always happy to see stellar character performer Cromwell; he plays both nasty and nice with equal aplomb, and heís often the best part of the movies in which he appears.
In the end, Space Cowboys offers a generally watchable and moderately entertaining experience. Unfortunately, that becomes disappointing when you examine the talent involved with the project. By no stretch of the imagination was it a bad film, but it did seem pretty lackluster and ordinary. I didnít mind the time I spent with the movie, but I didnít get much of a charge from it either.
The DVD: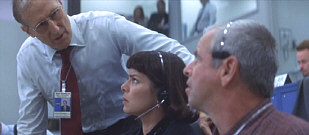 Space Cowboys appears in an aspect ratio of approximately 2.35:1 on this single-sided, double-layered DVD; the image has been enhanced for 16X9 televisions. Though not perfect, the picture of SC consistently looked very good, just as one might expect for such a recent film.
Sharpness seemed strong for the most part. During a few interior shots, I found the image to present some mild softness, but these concerns were minor. As a whole, the picture appeared crisp and well-defined. Unfortunately, I did discern occasional examples of moirť effects; those problems cropped up in objects like blinds, computer keyboards, and striped shirts. Print flaws appeared virtually non-existent. I witnessed no concerns related to specks, grit, hairs, scratches, blotches, grain or other defects in this nicely clean and fresh film.
Colors could seem slightly over-saturated at times, but those occasions were rare. For the most part, the hues looked quite bright and tidy, especially in relation to all of the appropriately patriotic reds and blues we witness; these came across as bold and accurate. Black levels seemed deep and rich, and shadow detail was appropriately opaque but not excessively thick. Ultimately, Space Cowboys presented a very attractive visual experience.
Also largely solid was the filmís Dolby Digital 5.1 soundtrack. The soundfield often remained oriented toward the forward spectrum, where it displayed good breadth and openness. Sounds seemed appropriately placed across the front, and they moved cleanly between channels. The surrounds contributed general reinforcement for much of the movie, but they definitely came to life during various flight scenes. Whether we heard jets early in the film or spacecraft during the final sections, these segments provided very engaging and active use of all five channels; audio nicely surrounded me and created a lively atmosphere.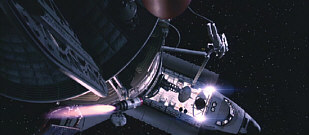 Sound quality had a few minor concerns but it generally seemed positive. Music was a little subdued but the score and the various songs featured appeared fairly bright and clear, with decent low end as well. Effects displayed modest distortion during louder sequences - mainly when we heard engines fire - but otherwise those elements sounded realistic and clean, and they boasted some extremely deep bass; I donít know if the shuttle lift-off matches the bone-rattling depth of a similar scene in Apollo 13, but it worked well nonetheless. Some dialogue appeared a little edgy, but most lines came across as natural and distinct, and I had no problems related to intelligibility.
Actually, speech showed one concern that wasnít related to quality. During the scenes that take place in 1958, younger actors fill in for Eastwood, Sutherland, Garner, Jones and Cromwell. Although we see different performers, we hear the aged versions; all of the dialogue was dubbed in these scenes to make the voices match the older characters.
It doesnít work. For one, the looping doesnít fit the mouth movements very well; it always seemed obvious that the speech wasnít natural, and this was some weak ADR work. Also, these young actors simply sound old, and since itís so apparent that a trick is being used, it makes it hard to concentrate on the action; the gimmick involved took me out of the scene. In any case, this bad creative choice didnít affect my grade of ďB+Ē, but I thought Iíd mention it. Space Cowboys offered a generally good - and occasionally great - auditory experience despite this awkward situation.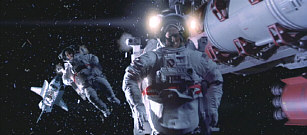 The DVD release of Space Cowboys isnít packed with extras, but it features a smattering of features. Mostly we get a variety of featurettes. First we find Up Close With the Editor. This interview with editor Joel Cox runs for seven minutes and it offers a short but solid look at the making of the film. Cox provides some basic production notes and also gives us a glimpse at his theories about editing; itís too brief but itís good stuff.
Next up is Tonight With Leno. This 11-minute and 35-second piece mainly includes the unedited appearance by the Cowboys on the Tonight Show; we see snippets of this fake guest shot during the movie, but here we can watch the whole thing. This fun extra also features a few comments from Leno about how he became involved with the movie.
The Effects takes a seven minute and five second look at the movies special effects. We see film clips and raw footage and hear from Visual Effects Supervisor Michael Owens and Global Effects guy Chris Gilman as they discuss their work. Again, itís too short to be substantial, but it still offered an interesting glimpse at the film, especially when Gilman talks about the kinds of props needed.
Lastly, the final featurette is the most substantial. Running 28 minutes and 10 seconds, Back at the Ranch: A Look Behind the Scenes provides a general view of the making of SC. It mixes film clips, shots from the set, and a slew of interviews. In addition to comments from the four principal actors, we hear from folks like production designer Henry Bumstead, screenwriters Ken Kaufman and Howard Klausner, and cinematographer Jack Green. All of them offer nice remarks about the creation of the film, but easily the programís best parts came from a variety of NASA personnel. They comment upon the realism of the movie and what would happen in a similar situation. Ultimately, itís a well-done little piece that added some solid information.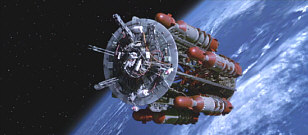 Rounding out the DVD are the movieís theatrical trailer and a Cast and Crew section. That area provides filmographies for 10 actors. Some crew members are listed but no additional information about them can be accessed; however, since Eastwood also directed SC, I guess that means at least one technical person made the cut!
We also get a few DVD-ROM features on Space Cowboys. Actually, most of them are simply links to on-line sites. Two of these go straight to the official website, while the other heads to the usual ďOn-line EventsĒ page. The former may be awaiting some announced features; weíre supposed to be able to perform a ďSpace Shuttle ChallengeĒ there, but I found no evidence of one - perhaps itíll start when the DVD officially hits shelves on April 17, 2001 (Iím writing this on March 19). As for the ďOn-line EventsĒ, that site appears on many other Warner Bros. DVDs, and it still hasnít been updated since spring 2000!
The DVD also includes connections to the WB Studio Store, WB Home Video, WB Online, and Entertaindom.com plus ďDVD SamplersĒ of a few titles. We find trailers and DVD listings for Contact, Mars Attacks!, Forbidden Planet and The Right Stuff in addition to SC. I donít think the DVD-ROM area offers the ďpayload of enhanced featuresĒ touted by the case, but itís not a total bust.
Nor is Space Cowboys a flop as a movie. As a whole, I found it to offer a decently entertaining experience, but I couldnít help but think it was a disappointment. Thereís an awful lot of talent involved in this flick for it to be so uninspired and derivative. The DVD provides very good picture and sound plus a modest complement of extras. In the end, Space Cowboys is worth a look for fans of the performers but it doesnít offer as much general appeal as one might expect.