Picture/Sound/Extras: B+/B/A-
With the new Criterion edition of Spartacus, the mini-epoch of film epics on DVD comes to a close. Through ups (Lawrence of Arabia), downs (The Greatest Story Ever Told), and creamy middles (Cleopatra, Ben-Hur), it's been a fun process, and an educational one; I'd never seen three of these five movies prior to their recent DVDs.
All good things must come to an end, and Criterion's Spartacus is a fine conclusion to the process. However, my enjoyment of the DVD may come from moderately surprising sources, as I didn't think that the movie itself was the most compelling part of this package.
This was my third or fourth screening of the film, but it did nothing to change my opinions of it. As in the past, I found Spartacus to be an uneven but generally solid film. Interestingly, it appeared to be less strongly a "Kubrick" piece than any other work of his I've seen; the director's signature style - described as cinematic cynicism elsewhere in this package - didn't really seem to be on display. Actually, I really didn't see much that differentiated it from other "epics" that were so popular in that time period; Spartacus stands up nicely when compared to pictures like Ben-Hur or Cleopatra, but it doesn't outdo them, and it never approaches the heights of Lawrence of Arabia.
Spartacus did manage to offer some parts that were very nicely done and fairly emotional. Its best scenes appeared during the final third or so of the picture; one large battle and the movie's emotional conclusion both worked tremendously well and stood out as the picture's high points. Other than that, however, I simply didn't see much that made the film stand out from the other movies typical of the era and the genre.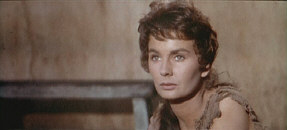 One interesting aspect of the film was how strongly the "good guys" differentiated from the "bad guys." Overall, I found our heroes - mainly Kirk Douglas, Jean Simmons, and Tony Curtis - to be dull and wooden. All of them made for pretty and attractive presences, but their acting wasn't terribly effective, especially in the case of the ridiculously-miscast Curtis, who offers some terrible "singing" in his role; I didn't mind his accent too much, but he was woefully unconvincing as a "singuh of sawngs". Simmons was beautiful but bland, and Douglas was able to do little more than stick out his prominent chin and snarl; his attempts to provide other emotions seemed thin and lifeless to me.
The villains of the piece, however, were all tremendously well-acted and vibrant. This was mainly because our chief bad guys were played by Laurence Olivier, Peter Ustinov - who won the Academy Award for Best Supporting Actor - and Charles Laughton; that's an awfully high-powered trio, and they acquitted themselves well. There's simply a subtlety to their work that I found lacking among the protagonists; those characters seemed to be cartoons whereas our villains appeared as much more full-blooded people. Ustinov may have won the Oscar - thankfully, he kept the occasionally-overwhelming mannerisms that mar some of his work in check here - but I think Laughton provided the best performance; his Gracchus really straddled the line between good and bad and made for a very interesting character despite limited screen time. Olivier also seemed effectively oily and powerful, and the trio created personalities that provided a great deal of life to Spartacus.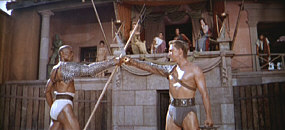 Overall, I found the scenes that featured our antagonists to really be the only ones that kept me going. It's a looong movie, and the parts that featured Spartacus, et al., frankly seemed pretty dull. Some of this may have been by design - you never really know with Kubrick - but I think most of the responsibility fell with the actors; they simply couldn't keep up with their competition.
As a whole, Spartacus provided an interesting but erratic experience. It could become something of an endurance test at times. I loved the scenes with Olivier, Ustinov and/or Laughton, but most of the rest of the film bored me somewhat. Ultimately, it's a good film, but I didn't think it's tremendously special.
The DVD:
Spartacus appears in its original aspect ratio of approximately 2.20:1 and spreads across a single-sided, dual-layered DVD; the image has been enhanced for 16X9 televisions. While the picture looked quite good for an older movie with a troubled history, it still contained a number of flaws that mitigated any praise I might be able to heap upon it.
Sharpness generally seemed accurate and well-defined. Some moderate softness could interfere on occasion, but for the most part, these instances were rare. The majority of the film appeared crisp and detailed. Moiré effects and jagged edges caused no concerns, but print flaws were a periodic problem. Throughout the movie, I discerned occasional examples of grit, speckles, nicks, blotches, and small hairs. These never became overwhelming, but they definitely were present and could be a distraction; some reviewers' claims that the image was absolutely pristine are very off-base.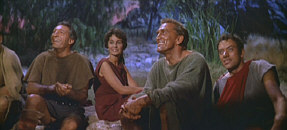 Colors tended to look a little thick and heavy at times, but they usually seemed to be fairly accurate and rich. I wouldn't state that Spartacus boasted a naturalistic palette, and that may have led to some of the film's slightly excessive saturation at times. Nonetheless, hues largely came across as vivid and solid, with few causes for concern. Black levels seemed nicely deep and dense, and shadow detail appeared appropriately dark but not overly opaque; low-light sequences were well depicted. Ultimately, this new transfer of Spartacus provided a very satisfying visual experience, but some of its problems still cropped up at times.
The Dolby Digital 5.1 soundtrack of Spartacus also offered a generally positive but erratic experience. The soundfield seemed to be pretty heavily weighted toward the forward channels. I felt that the front soundstage seemed to be nicely delineated for a film of this era. Sounds panned across the front three channels very neatly and added greatly to the film's ambiance. Check out a gladiator battle that took place about 45 minutes into the film; because it was presented from Spartacus' point of view, we actually see almost none of the fight, but we hear the combatants tussle across the three front speakers. That's a solid presentation that added to the effectiveness of the film.
In regard to surround performance, the rear channels seemed reserved for musical reinforcement and some very rare effects. The forward spectrum really was the primary focus of this track, which was fine with me, since the front channels added such a solid layer of involvement.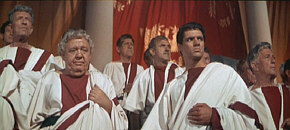 More problematic was the quality of the audio. Of all the different components, Alex North's score definitely fared best. The music didn't present a tremendous amount of dynamic range, but it generally seemed clean and crisp, and the nice stereo imaging made the score appear even better presented. Low end was sufficient for the music, though I didn't discern a lot of bass action.
Effects were less consistent. They seemed to be generally thin and lackluster, and at times they could become somewhat strident. This wasn't a major concern throughout the whole film, and the problem often accompanies older movies, but it occurred nonetheless.
Even more erratic was the film's dialogue. Much of Spartacus was looped. Some of this dubbing took place for the original shoot, while some was performed for the 1991 restoration; for example, Anthony Hopkins redid some of Olivier's lines because the originals were lost. These instances were very noticeable and distracting, but even without those concerns, the original speech had a lot of problems. Some dialogue appeared to be acceptably clear and accurate, but quite a lot of lines were thin and brittle. At other times, the speech could sound rather flat and muffled. The dialogue remained intelligible throughout the movie, but the lack of warmth and natural tones could become a concern at times.
In addition, moderate hiss appeared at times throughout the movie; most of the film passed without this interference, but when it occurred, it became very distracting. Ultimately, the broad and engaging soundfield of Spartacus still was above average for the era, but the soundtrack's variety of problems meant that it only earned a "B" grade.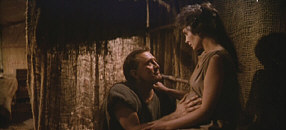 Although the original Universal DVD of Spartacus presented almost no extras, the new Criterion release offers a veritable treasure trove of materials on this two-DVD set. A port of an old laserdisc package, most of the extras are on the second disc, but we start with a terrific audio commentary on DVD One. Recorded back in 1991, this track includes remarks from actors Peter Ustinov and Kirk Douglas, novelist Howard Fast, producer Edward Lewis, designer Saul Bass, and restoration expert Robert A. Harris. As is usually the case with Criterion commentaries, all of the participants were recorded separately and the results were combined for this edited track.
As also is usually the case for Criterion offerings, it's a thoroughly terrific commentary that shed a lot of light on the production. Quite a lot of information about Spartacus appears here, from issues related to the Hollywood blacklist to production concerns to technical points to general anecdotes. Ustinov excels at the latter, and his portions of the track were the most enjoyable, especially when he discusses the less-than-genial relationship between actors Charles Laughton and Laurence Olivier. Actually, this commentary possessed a more critical tone than most; at times these kinds of tracks degenerate into love-fests, but although you'll hear periods of praise for the film, there are also lots of negative comments. In particular, Fast does not seem enamored of Douglas or his work in the title role, and he isn't afraid to tell us this.
Douglas offers his side of the picture and also gets into his role behind the camera as producer, while Bass provides a lot of good details about visual aspects of the film; he's especially interesting when he talks about his work on the climactic battle scene. Lewis gives us more information about the struggles to bring the movie to the screen, and Harris aptly tells us how tough it was to get the film back into fighting shape after more than 30 years of disrepair. All in all, I thought this was a thoroughly entertaining and compelling commentary.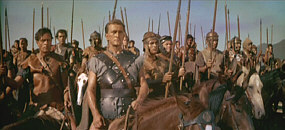 One unintentionally entertaining aspect of the commentary came from the multiple pronunciations of "Ustinov". Although I believe it's "yoo-stin-ov", Kirk Douglas calls him "Oo-stin-ov", while Howard Fast terms him "Ahst-in-ov". It's confusing but amusing. Some variations also affect "Kubrick", though those are limited to the age-old "koo-brick" vs. "que-brick" debate.
A second audio track also appears on the first disc. This piece combines some unused score compositions from Alex North and a narration that provides screenwriter Dalton Trumbo's scene-by-scene analysis. Read by Michael McConnohie and put into context through periodic remarks from Barbara Goodson, these notes are quite interesting and they reveal a lot of good information. We hear Trumbo's reasoning behind much of his script and also discover his reactions to the film as shot and some of the in-fighting that went on behind the scenes. Though I found the commentary to be a little more compelling, these notes were quite stimulating and illuminating. Geez - and I thought I disliked Tony Curtis' performance in the film! Wait until you hear Trumbo's thoughts!
Also found in the area that houses access to this track is "A Study of the Score". Written by Leslie Zador, these notes discuss Alex North's music and provide some decent text information about it and the composer himself.
In addition, we find a Restoration Demonstration on DVD One. This three minute program offers a little information about the processes used to bring the movie back to life, and we also see a couple of "before and after" shots of the film.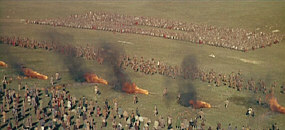 On DVD Two, we get a variety of additional extras. First we get some Deleted Scenes, though some of these are mildly mislabeled. In the first - "Spartacus Meets Varinia" - we actually get two different cuts of the same sequence. One shows the UK version, and it adds a disruptive shot, while the other offers the US snippet, which is the one found on the main DVD in the film itself. The "1967 Finale" also is a demonstration of edits. Due to complaints from religious groups, the 1967 reissue of Spartacus removed most of the shots of Spartacus on the cross at the end; this clip shows how poorly the cut version worked.
In "Gracchus' Suicide", we hear audio portions of a removed scene; apparently it was filmed but the visual segments have been lost. Lastly, "Public House/Slum Street" gives us the screenplay snippets for another scene that was shot but has not been recovered.
The Behind the Scenes Footage segment provides five minutes of semi-candid material from the gladiator school set. We see some shots of the principals as they interact, and there's a fair amount of views of the appropriate performers as they trained. None of the audio from the original film remains; instead, North's score appears over the top of the footage.
In a relic from a bygone age, we find a Jean Simmons TV Interview. This three minute and 35 second piece used a format popular back in the Sixties; it's an "open-ended" interview in which blank spots are left in the track so that your local TV personality can make it appear as if he or she is actually speaking with Simmons. While I wish they'd provided the questions as well - a flaw that affected a similar program on the recent Dr. Strangelove special edition DVD - this was still a fun little clip.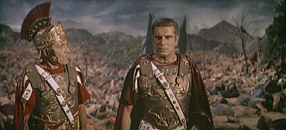 Also entertaining was Spartacus Via Newsreel. Here we discover five different newsreel segments; all in all they run four minutes and 50 seconds. As usual, these are pretty fluffy, but they're interesting. I most enjoyed the first one which shows one of the film's premieres; I found it oddly entertaining that during one long shot of some obscure royalty, Kubrick walks right past the camera, apparently unnoticed.
Peter Ustinov Reminisces gives us some excellent interview footage from 1992. The segment includes 24 minutes and 20 seconds of material, most of which is very compelling. I guess we didn't hear everything that Ustinov had to say during the audio commentary, and he adds a lot more good information and details. In addition, we get a two minute and 50 second "1960 Interview" with Ustinov. Though it's not open-ended, this piece was similar to the clip with Simmons; it was mildly fun but nothing special.
In the Breaking the Blacklist section, we get more information about that topic. The Hollywood Ten was a short film from 1950. During this 14 minute and 35 second movie, we're introduced to the 10 men who were soon to be jailed due to their unwillingness to cooperate with the House Un-American Affairs Committee. I liked this look at the men behind the names, though the program offered little more than propaganda of its own sort.
The rest of the "Breaking the Blacklist" area provided text notes about a variety of topics. "Spartacus and the Blacklist" looked at the film's role in ending the list's affects - and the controversies that surrounded these actions - while the "American Legion Letter" shows the protest made by that organization. "Dalton Trumbo" includes some photos and a brief text biography of the writer.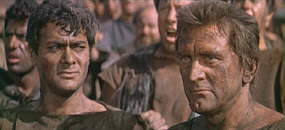 Another text feature called "The MPAA Responds" offers a glimpse inside the Production Code process. Dated August 14, 1958, this letter provides the filmmakers a list of changes they would need to make before the film would meet the strictures of the code. It's an interesting look at that issue.
Saul Bass Storyboards offers exactly what the title implies. Here we find 24 screens of Bass' art. More drawings appear in the "Stanley Kubrick" section. Under "Kubrick's Sketches", we discover 14 crudely-drawn storyboards composed for the final scene of the film. In addition, "Kubrick and Spartacus" gives us photos and text about the director; the piece provides a brief biographical overview with a minor emphasis on Spartacus itself.
The Promotional Materials area includes a mix of different extras. "Production Stills" shows 235 photos, some of which are accompanied by text captions. There are 15 "Lobby Cards" and 25 "Posters and Print Ads". In addition to the film's "Original Theatrical Trailer" - which actually accompanied a post-Oscar release - we get some snippets of a Spartacus "Comic Book". 35 frames appear from this unusual adaptation.
The DVD's extras wrap up with some text inside the package's booklet. There's a brief discussion of the transfer, which also includes comments about the five released versions of Spartacus. In addition, we get a nice essay from film critic Stephen Farber that adds some interesting production notes.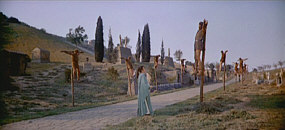 Ultimately, Criterion have produced another solid package with their DVD release of Spartacus. The movie itself was erratic and occasionally wearying, but it offers quite a few solid moments, most of which came due to some terrific supporting performances from the film's antagonists. The movie also picked up as it progressed, and much of its most satisfying material took place during its final act.
The DVD provides a mildly flawed but still quite solid picture. The audio was also somewhat problematic but relatively positive, and the nice mix of extras added a lot to the experience. The films of Stanley Kubrick have not been well-served on DVD, but the new Criterion release of Spartacus is an exception to that rule. Fans of the movie should definitely be very happy with this fine product.