Picture/Sound/Extras: A/A/B+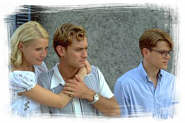 How do you follow up a critically and financially successful movie that captured the industry's biggest honor, the Academy Award for Best Picture? In the case of director Anthony Minghella, you make a better film.
In 1996, Minghella created The English Patient, a surprisingly popular picture that accomplished all of the above-listed feats. However, that doesn't mean the movie lacked detractors, and I was - and remain - firmly in that camp. For the details of my problems with TEP, you can check out my full review, but suffice it to say that I really didn't like it.
Based on the first half of the trailer for TTMR, I expected to encounter a similar reaction to it. In that segment, the film appears to be some sort of inane character piece in which a young man experiences a magical summer in Europe; he learns, he loves, he grows, blah blah blah. I would have reacted negatively to that piece of work no matter who directed the film, but the statement that this picture came from the director of TEP inspired even more disdain from me.
However, the second half of the trailer altered my impression. At that point we learn that all is not as idyllic as it seems; what looked to be a silly "coming of age" fantasy quickly goes down a more sinister and disturbing path. My wariness toward Minghella remained - I'm telling you, I really disliked TEP - but this trailer for TTMR definitely piqued my curiosity.
As such, I took in the movie during its theatrical run. I found it to be a mild disappointment, as it wasn't quite as dark and moody as I expected, but I certainly preferred it to Minghella's prior film. (Have you heard? I really didn't like The English Patient!) The Talented Mr. Ripley didn't fully succeed as a neo-Hitchcockian psychological thriller, but it remains a provocative and well-produced thriller.
Interestingly, TTMR works as a reverse Cinderella story. Tom Ripley (Matt Damon) starts the film as a poor shlub, but he quickly works his way into the beautiful world of seaside Italy in the late 1950s, where he ingratiates himself with sun-dappled, idle rich lovers Dickie Greenleaf (Jude Law) and Marge (Gwyneth Paltrow). Tom has been sent to Italy on a mission funded by Dickie's father (James Rebhorn) to elicit the return of the wayward younger Greenleaf.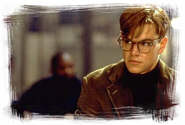 Tom gets this job via false pretenses, and he continues to present himself as something and someone he's not when he arrives in Italy and meets up with Marge and Dickie. The story follows his time at the ball, as it were, until inevitably the clock strikes twelve and he is forced to transform back to his old self. However, unlike Cindy, Tom doesn't go quietly, and his reaction to the end of the party is what motivates the more intense activities that occur during the remainder of the movie.
To give away more than that would be unfair; while I can't say that the twists and turns of TTMR are unexpected, the still should be kept under wraps until you actually see the movie. (As such, don't watch this DVD's teaser trailer or "Inside TTMR" documentary before you view the film - both give away too much!) Suffice it to say that TTMR presents a consistently intriguing and smart psychological thriller in the Hitchcock tradition.
Much of the reason TTMR succeeds comes from its cast, which reads like a "Who's Who" of accomplished young actors. Matt Damon takes some serious risks in the title part. He's onscreen for virtually the whole movie - I don't think there's a single scene in which he doesn't appear - and he carries it pretty well. At times Damon doesn't appear up to the psychological complexities of the part, but overall, he provides a more than adequate performance. I also must give him credit for taking on such a risqué role, as Ripley isn't exactly the sort of character by which he will endear himself with his following of teen girls.
The remainder of the cast also offers some fine work, though a few of them are hampered by my own subjective feelings toward them. Every once in a while I see a movie that features an actor I don't know, and that performer completely blows me away in the part. This happened when I saw Edward Norton in Primal Fear, and it also occurred when I witnessed Gwyneth Paltrow in Seven and Jude Law in Gattaca.
Norton's nowhere to be found in TTMR, but we do get both Paltrow and Law, and I must admit I have difficulty objectively assessing their work because whenever I know they're in a film, I always expect the rush I got from their first (to me) efforts. That can never happen - you can't go home again! - so I need to find some way to distance myself from those thoughts. In any case, both actors are quite good here. Law received an Academy Award nomination for his portrayal of the shallow but magnetic Dickie, and the plaudits were justified, as he pulls off the nuances of the role well. Paltrow kind of disappears in TTMR since she's overshadowed by the more powerful parts occupied by the men, but additional viewings of the film seem likely to wring extra nuance from her performance.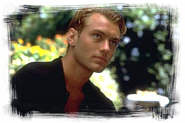 The remaining supporting cast all ably portray their characters. Phillip Seymour Hoffman adds another wonderful characterization to his resume through the arrogant and smug Freddie, and both James Rebhorn and Philip Baker Hall are quite strong in their minor parts as Dickie's father and a private investigator, respectively. (Though am I the only one who has a hard time not thinking of Hall as Mr. Bookman from an episode of Seinfeld? This doesn't always happen, but arises mainly when he plays gruff authority figures, as he does here.) Finally, Blanchett gives a pretty good performance as rich gal Meredith, though she has difficulty with the American accent; every time she spoke, her voice reminded me of Alan Rickman's brief "American guy" ruse in Die Hard, which isn't a very convincing example of that sort of inflection.
Despite that minor flaw, The Talented Mr. Ripley by and large offers a strong viewing experience. The movie follows the Hitchcock tradition of psychological thrillers and provides a compelling story that is executed quite effectively. Forget The English Patient; this is Anthony Minghella's best film.
The DVD:
The Talented Mr. Ripley appears in its original theatrical aspect ratio of approximately 5:1 on this single-sided, double-layered DVD; the image has been enhanced for 16X9 televisions. Remember back when Paramount was a studio that was viewed derisively by DVD fans? Those days are long gone, as stellar efforts like Sleepy Hollow and now The Talented Mr. Ripley establish.
Sharpness seems terrifically crisp and clear from start to finish; if there's any soft scenes to be found here, I must have blacked out during those passages. (Note to self: stop playing drinking games with the dog during DVDs.) Jagged edges and moiré effects pop up a few times during the film - one early scene between Tom and Meredith features some shirts that the TV doesn't like - but not with any significant frequency, and the artifacts from the anamorphic downconversion on my 4X3 TV are fairly mild. The print itself largely seems clean. I saw one black speckle early in the movie, and I witnessed maybe four or five more during the scene in which Dickie and Tom are alone at sea, but that was it; the remainder of the film lacks any signs of grain, nicks, scratches or hairs.
Colors are rich and accurate throughout the picture and frequently seem beautiful and lush. The hues seemed appropriately shaded and lacked any signs of bleeding or noise. Black levels appeared wonderfully deep and solid, and shadow detail was nicely heavy without being overly opaque. Due to the few examples of moiré effects and the five or six speckles, I actively debated whether I should rate this image with an "A" or an "A-". I went with the former just because the overall quality of the picture is so strong that I found myself more willing to forgive the small flaws than usual.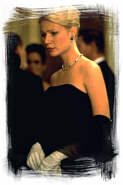 I also spent much of The Talented Mr. Ripley arguing with myself over the DVD's Dolby Digital 5.1 soundtrack, but not due to flaws. No, the main issue here concerned the scope of the mix. TTMR supplies a surprisingly broad and active soundstage for this sort of film. Usually we only find really involving mixes for action movies, but this one does a great job of using all five channels to enrich the experience. Each of the three forward speakers display a great deal of unique information which also meshes together and blends extremely well. The surrounds occasionally stand out on their own - one "nightmare" sequence works particularly nicely in that regard - but for the most part, the rears stick to audio that reinforces the sound from the forward speakers.
That was the factor that forced me to waffle between an "A" or an "A-" rating for the film's sound. The audio environment was solid and encompassing, no doubt, but I wasn't sure it used all five channels actively enough to warrant a full "A".
I decided to go with the higher grade simply due to the fantastic quality of the audio in TTMR. From start to finish, the movie sounds absolutely amazing, with some tremendously rich and lush audio. Dialogue usually appears natural and warm, and intelligibility is never an issue. However, a few scenes were obvious dubbed and don't integrate particularly well with the rest of the track. When Tom imitates Dickie's dad, and a few times when Meredith speaks, the re-recorded nature of the sound seemed very apparent.
However, the rest of the track makes up for that small issue. Effects are very clean and realistic and greatly enhance the movie's impression, and the music - oh, the music! The various songs and Gabriel Yared's score sound simply wonderful. They are always smooth and full, and present crystal highs and deep lows. The rest of the mix could have sounded like death and I still would have liked the track just because of the beautiful quality of the music. However, since the other facets of the audio seem generally well-executed, I have few qualms about awarding the soundtrack of TTMR an "A"; it provides a genuinely fine listening experience.
One of the reasons so many DVD fans disliked Paramount for so long stemmed from their apparent disdain for supplemental features. Alone among all of the major studios (and most of the minors), Paramount never released a true special edition laserdisc, and they've been very slow to embrace extras for DVDs as well.
Happily, that's gradually changing, and TTMR represents one of Paramount's better efforts in that regard. Its supplements won't make anyone forget Fight Club, but they provide a decent little collection nonetheless.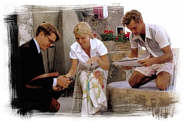 First up is an audio commentary from director Anthony Minghella. This appears to be Minghella's second commentary, but it's his first on his own; his only prior effort came with the Criterion edition of The English Patient, and for that he was apparently joined by novelist Michael Ondaatje and producer Saul Zaentz . Interestingly, I listened to the commentary for TTMR soon after I heard Michael Bay's track for Bad Boys; although the films themselves couldn't be much more different, both men shared the common bond due to the fact Bay's only prior commentaries were for Criterion efforts as well (The Rock and Armageddon).
However, Minghella makes the solo transition more adequately. While I really enjoyed Bay's comments during Bad Boys, he left too much of the running time silent. That doesn't happen during TTMR, as Minghella provides a nearly-continuous stream of statements; I remain astonished he didn't pass out from a lack of air.
"More" isn't always necessarily "better", so you're excused if you feel concerns over Minghella's constant comments; after all, there are no guarantees he didn't spend that time babbling about nonsense. Happily, that's far from the truth. Indeed, Minghella offers one of the more consistently solid and compelling commentaries I've yet heard.
Most of these kinds of tracks discuss aspects of the production in varying levels of detail, and Minghella includes some details of that nature. However, the vast majority of the track consists of his interpretations of the characters and the story, and it's very strong material. The track much more closely approximates an audio essay than it does a standard commentary, and Minghella's statements added greatly to my understanding and enjoyment of the film.
I picked up a great deal of detail I hadn't noticed as I watched the movie. For instance, Minghella provides additional insight into Paltrow's character and helped bring Marge to life for me. Even if you didn't care for TTMR, this track deserves a listen. I'm actually tempted to dig up a copy of the Criterion TEP and air that commentary - Minghella's words may actually alter my opinion of it!
"Inside The Talented Mr. Ripley" offers a 22 and a half minute glimpse at the creation of the film. Actually, it's more of a Cliffs Notes version of the movie, as almost the entire thing is devoted to telling us the plot, including quite a few twists and turns. Through cast and crew interviews and film clips, unwary viewers will learn more of the storyline than they'd probably like. The piece includes a few interesting shots from the set, but other than that, it really is nothing more than a glorified trailer and doesn't provide much of interest.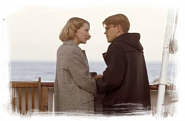 The "Cast and Crew Interviews" - actually titled "Reflections On TTMR", as we discover when it starts - are much more interesting. This 14 and a half minute long program features sound bites from all of the main actors in the film along with Minghella as they reflect on the various characters and the meaning of the movie. Some of the comments seemed redundant since I'd heard similar statements from Minghella in his commentary, but the interviews still offer a fair amount of insight and provide some valuable information.
Another brief documentary called "Making of the Soundtrack" appears as well. It lasts for eight minutes and 20 seconds and includes interviews with Minghella, composer Yared, Damon and Law. It follows closely along the same lines as the "Cast and Crew Interviews" segment and also provides some insight into the use of music in the film.
Two music videos appear, one for "My Funny Valentine" and another for "Tu Vuo Fa L'Americano". These are literally comprised of nothing more than film clips. "MFV" intercuts the shots of Damon singing the song with other scenes from the movie, while "TFVL" simply presents the jazz club scene in its entirety. I found these "videos" to be pretty useless, but they don't hurt anybody, I suppose.
Finally, the DVD concludes with the theatrical trailer that so intrigued me plus a much less effective teaser trailer. TTMR may lack extreme amounts of supplements but it compensates with quality, as most of the pieces - with the very notable exception of "Inside TTMR" - are excellent.
The Talented Mr. Ripley showed me that I shouldn't automatically write off a director based on one weak movie. I had essentially done so with Anthony Minghella. Rumor has it that I really didn't like The English Patient, but I nonetheless found its follow-up - TTMR - to provide a generally compelling and provocative thriller in a Hitchcockian vein. The DVD provides absolutely fantastic picture and sound, and it also features some good extras; I especially enjoyed the tremendously insightful and informative audio commentary from Minghella. The Talented Mr. Ripley definitely warrants your attention.
Menu: DVD Movie Guide | Archive | Top