American Beauty appears in an aspect ratio of approximately 2.35:1 on this single-sided, double-layered DVD; the image has been enhanced for 16X9 televisions. Overall the picture looked pretty good but I found it mildly disappointing.
Sharpness caused some problems. For the most part, the image seemed acceptably clear and well-defined, but a moderate amount of softness and murkiness interfered with a number of shots. These concerns were mostly prevalent during some low-light or wider scenes. Moiré effects and jagged edges presented small issues, and I saw moderate artifacts from the anamorphic downconversion on my 4X3 TV. Print flaws were minor but surprisingly heavy for a major studio movie from 1999; at times I witnessed light grain and some black grit, and while these were never more than small nuisances, they seemed excessive for this recent a film.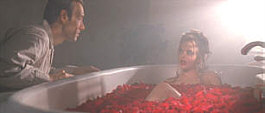 Colors were a strong point of American Beauty. They appeared consistently true and correct, with some especially rich and vibrant reds at the forefront; that was especially important here since roses play such a key role in the film. Black levels seemed reasonably dark and deep but could appear slightly bland at times, and shadow detail occasionally was slightly murky and drab; these low-light situations generally seemed clear and accurate, but the lack of great depth to the dark tones offered some minor concerns. Ultimately, American Beauty presented an acceptable image but not one that I thought looked exceptionally good.
On this DVD, we find two separate soundtracks. We get both Dolby Digital 5.1 and DTS 5.1 mixes. Personally, I dread having to contrast and compare the two, because it's almost a no-win situation. The various camps have become so antagonistic, and the whole issue has been so heated, that any impressions I or others may provide are inflated to exaggerated importance and meaning.
In general, I've found DD and DTS mixes to seem fairly similar, though the DTS tracks usually get a slight nod. The only occasions I can recall in which I felt there was a genuinely significant difference between the two occurred for two Spielberg films: Jaws and Saving Private Ryan. (In the latter case, my letter grade was an "A+" for both, but I still thought the DTS track was substantially better than the DD one; because of the rating system we use, there was no way I could reflect that in my grade, unfortunately.)
Time to toss a little more fuel on the fire: I found the DTS mix of American Beauty to sound significantly cleaner and smoother than the DD track. Both offered fairly similar soundfields. Unsurprisingly, the audio used the forward channels for most of its information. These speakers showed nice breadth and spread the sound appropriately across the spectrum; they created a modest but effective and engaging forward presence. The surrounds generally provided moderate reinforcement for these front channels; they operated mainly as extensions of the forward soundstage and bolstered the mix adequately in that regard.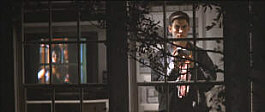 The differences between the two soundtracks stemmed from the quality of their audio. The DTS track featured significantly more crisp and detailed audio. Dialogue showed the largest differences. On the DTS side, I heard consistently clear and distinct speech that seemed warm and intelligible and displayed no signs of distortion. However, the DD dialogue came across as somewhat brittle and edgy at times; although it seemed listenable and clear, the speech sounded less natural.
Effects and music were reasonably similar on both tracks except when we discerned the low end. For both DD and DTS, effects sounded realistic and clean and lacked noticeable distortion, and the score was detailed and smooth. Highs were clear and bright on both tracks and lacked excessive treble or any signs of muddiness.
The bass was where the two differed the most. Although the Dolby mix displayed some fairly deep low end at times - mainly from the music - the bass appeared vague and muddled; it should have been more taut and distinct. The DTS track accomplished those goals as it seemed clean and solid at all times. This version lacked the tentative qualities I heard on the DD mix and it acquired additional depth and power. Ultimately, both soundtracks serve the movie adequately, but I found the DTS mix significantly preferable to the Dolby Digital edition.
DreamWorks are calling the DVD of American Beauty "The Awards Edition". Frankly, I'm not sure what that means, since there's no other version, and "The Awards Edition" doesn't explain much about the content, but I guess it's just another name for a special edition.
As such, we find a smattering of decent supplemental features on the DVD. First up in a running audio commentary from director Sam Mendes and writer Alan Ball. Actually, that's not really true, since Mendes strongly dominates the proceedings. Ball says nearly nothing during the track; he offered one or two semi-substantial remarks and also mutters words similar to "I loved that part" on occasion, but that's it - we hear nothing else from Ball.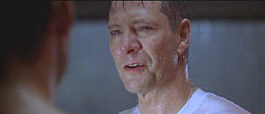 As for Mendes, he provides a fairly decent commentary virtually on his own. He combines details about the production with his opinions of parts of the film and some interpretation of it. Probably the most useful are his statements about different ways the movie could have gone; from deleted scenes to alternative interpretations, he gives us a nice look at some unused possibilities. Mendes provides an above-average commentary but not one that I found tremendously engaging or informative.
The same goes for American Beauty: Look Closer, a 21-minute and 50-second featurette about the film. The program involves all the prominent cast and crew such as Mendes, Ball, Spacey, Bening, and others, and it offers a decent view of how the movie got made. We get the usual mix of interview snippets, film clips and behind the scenes footage, and it all adds up to a fairly promotional and mildly superficial but watchable program.
Storyboard Sequences provides a discussion of the use of this form of art during American Beauty. We hear a conversation between director Mendes and director of photography Conrad L. Hall. This 61-minute and five-second piece shows a storyboards on the left side of the screen and their filmed counterparts on the right. We usually see three boards at a time and get about 43 screens in all for a total of roughly 120 boards (some screens have fewer than three boards on them).
While these comparisons are interesting, it's the commentary from Hall and Mendes that makes this feature valuable. Many films use storyboards but we don't hear much about how the filmmakers work from them, so this discussion adds valuable information and does so in a genial and engaging manner. Since the two interact in a much more involving and compelling manner, it's too bad the screen-specific commentary didn't feature Hall with Mendes instead of Ball; maybe Hall was slated to appear but a typo resulted in Ball's inclusion.
A few other common DVD features appear as well. We get two theatrical trailers for AB plus Cast and Crew Biographies. In that area, we discover listings for 10 actors and for seven crew members, all of which include fairly ordinary and brief descriptions of the participants' careers.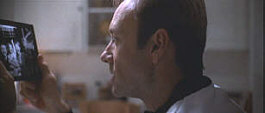 Production Notes features additional text that provides a pretty decent overview of the making of AB. More interesting are some notes from Mendes that appear in the DVD's booklet; these show a somewhat more personal look at his thoughts about the film.
Finally, AB includes some DVD-ROM content. Most significant is "Script and Screen", a feature that allows you to watch the movie alongside the complete screenplay and storyboards. It puts the script on the right side of the screen, with the movie in the middle left, and storyboards (when available) on the bottom left. Oddly, on two different machines that I used, the movie itself appeared in the upper left corner and the box in which it should have been seen was blank. Despite this glitch, the feature worked pretty well and should be useful for anyone who wants to see the ways the story was transformed into a film.
The DVD-ROM area also includes a weblink for doesn't work. Click "Go Online!" and you're sent to here. Maybe it'll function eventually, but right now (October 8 2000), it's a dead link.
Although I still feel American Beauty is an overrated film, it clearly is unusual and entertaining. It's a fairly thought-provoking little affair that should stay with you for a while after it ends. The DVD provides decent but flawed picture plus very good DTS sound and adequate Dolby Digital audio. We also find some strong extras in this package. I don't know if American Beauty merits a purchase, but it definitely deserves a screening.