SONY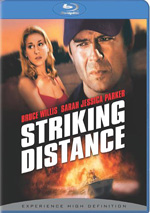 MOVIE INFO
Director:
Rowdy Herrington
Cast:
Bruce Willis, Sarah Jessica Parker, Dennis Farina, Tom Sizemore, Brion James, Robert Pastorelli, Timothy Busfield, John Mahoney, Andre Braugher
Writing Credits:
Marty Kaplan, Marty Kaplan
Tagline:
They shouldn't have put him in the water, if they didn't want him to make waves.
Synopsis:
Homicide detective Tom Hardy, a fifth generation Pittsburgh cop, is paying dearly for testifying against his partner (and cousin) Jimmy Detillo in a police brutality case. Since spilling the beans, life has been hell for Hardy, and it gets worse when a serial killer murders his chief of homicide father. To top it all off, he's practically kicked off the force for insisting his father's murderer is a cop.
Two years later, Hardy's been demoted to the river rescue squad, and all this trauma has almost driven him to an alcoholic state. The black-sheep of the fraternal force, Hardy receives little encouragement from his team-playing uncle Nick Detillo, who has been promoted to chief since his brother's death. But as the killer's body count gets higher, Tom gets closer and closer to the truth.
Box Office:
Domestic Gross
$23.798 million.
MPAA:
Rated R


DVD DETAILS
Presentation:
Widescreen 1.78:1
Audio:
English Dolby Digital TrueHD 5.1
French Dolby Digital TrueHD 5.1
Spanish Dolby Digital 5.1
Portuguese Dolby Digital TrueHD 5.1
Subtitles:
English
French
Spanish
Portuguese
Closed-captioned
Supplements Subtitles:
None

Runtime: 102 min.
Price: $28.95
Release Date: 6/16/2009

Supplements:
• Previews




PURCHASE @ AMAZON.COM

EQUIPMENT
Panasonic 50" TH-50PZ77U 1080p Plasma Monitor; Sony STR-DG1200 7.1 Channel Receiver; Panasonic DMP-BD60K Blu-Ray Player using HDMI outputs; Michael Green Revolution Cinema 6i Speakers (all five); Kenwood 1050SW 150-watt Subwoofer.


[an error occurred while processing this directive]
---
Striking Distance [Blu-Ray] (1993)
---
Reviewed by Colin Jacobson (June 29, 2009)

Already successful on TV, Bruce Willis became a legit movie star with 1988's Die Hard. However, within six years, he fell so far that he needed the comeback that 1994's Pulp Fiction brought to him. What happened in the interim? Too many high-profile disasters like Bonfire of the Vanities and Hudson Hawk and too many generic action flicks.

Into the latter category falls 1993's Striking Distance. In this one, Willis plays Tom Hardy, a Pittsburgh homicide detective who gets shunned by his peers when he testifies against his partner – and cousin - Detective Jimmy Detillo (Robert Pastorelli) in a police brutality case. He also ends up injured – and his cop father (John Mahoney) dead – after he tangles with a sadistic serial killer nicknamed "The Polish Hill Murderer". To cap it off, Detillo commits suicide rather than go to jail.

Due to too much boozing after all that tragedy – and his insistence that a cop was behind the Polish Hill murders - Hardy gets demoted to river patrol. Though the authorities arrested and convicted someone for the earlier serial killings, Hardy thinks they got the wrong man. When a new victim emerges, Hardy decides to independently reopen the case and try to find the real killer. As additional victims – all women Hardy dated – pile up, his spunky new "by the book" partner Jo Christman (Sarah Jessica Parker) joins in the hunt.

Question: can an action flick directed by a man named "Rowdy" be anything other than terrible? Answer: maybe, but probably not. I think that if you choose to allow yourself to be called "Rowdy", you've set yourself up in a certain way. "Quality director" isn't a term one can easily associate with someone who takes on that name. "Rowdy Hitchcock"? "Rowdy Scorsese"? "Rowdy Kubrick"? Doesn't really fit, does it?

Of course, none of those directors ever created anything quite as awful as 1989's Road House, Herrington's main claim to fame. Alas, fans of that camp classic will find nothing as appalling – or potentially hilarious – in the tedious Distance. While it occasionally plays as a parody of its genre, it lacks the goofy idiocy of Road House.

It also lacks much basic entertainment value. In truth, it may not be right to classify Distance as an action flick, as it more closely hews along the lines of a thriller. Since we do get a few action set pieces and Willis plays a character not unlike John McClane, most will view it as part of that genre, but it doesn't light up the screen with vivid, dynamic fireworks.

Which is too bad, because a few cool action scenes might've added some life to this predictable, tepid affair. Granted, I can't say I anticipated every twist to be found here, as a couple caught me by surprise. Nonetheless, any viewer with an IQ over 82 will peg the killer about five minutes into the flick, and the occasional curveballs don't add anything to the experience. They may surprise us, but they don't bring life to the piece.

That's really the main problem with Distance: it simply lacks any charm or style. There's nothing vivid or clever on display, and everything seems relentlessly average. Hardy is little more than a dull version of McClane, and the addition of Parker as his partner/love interest feels like it came right out of Cinematic Conventions 101.

All of this makes for a long 102 minutes. At least Striking Distance boasts a solid cast; that's about the best I can say for it. Nothing else about the movie distinguishes itself. It provides a collection of clichés packaged together without a hint of panache or life.
---
The Blu-ray Grades: Picture C+/ Audio B-/ Bonus D-
---
Striking Distance appears in an aspect ratio of approximately 1.85:1 on this Blu-ray Disc. While not without its charms, the transfer seemed lackluster.
The biggest problems connected to sharpness. Some shots displayed good clarity and definition, but quite a lot of the film came across as rather soft and fuzzy. This affected wide shots and closer elements; there was no rhyme or reason involved, but the end result was an inconsistent, often bland presentation. No issues with jagged edges or shimmering occurred. The flick also lacked edge enhancement or source flaws; other than a small speck or two, the film looked clean.
Colors were pretty good. The movie didn't boast a particularly dynamic palette, but the hues remained reasonably full and rich. Unfortunately, blacks came across as a bit inky, and low-light shots tended to be moderately dense. They weren't overly dark, but they suffered from some muddy qualities. Enough of the movie looked good to make this a "C+" transfer, but overall it disappointed.
Additional ups and downs came from the Dolby Digital TrueHD 5.1 soundtrack of Striking Distance. On the positive side, the movie featured a good soundfield. Music showed very nice stereo imaging, and effects spread around the spectrum well. Of course, the action scenes featured the best use of the various channels, and they mixed together to create a pretty active and engaging setting.
Unfortunately, audio quality wasn't quite as good. The main culprit stemmed from excessive bass. Too much of the time, both effects and music suffered from too much low-end. That made matters somewhat dense and muddy, as the bass overwhelmed the rest of the audio.
That wasn't a relentless problem, though, so when the low-end didn't dominate, the track sounded fine. Speech was consistently natural and concise; some awkward dubbing occurred, but most of the time the lines seemed well-reproduced. When we didn't get stuck with the heavy bass, music and effects showed fairly good clarity and accuracy. The negatives knocked down my grade, but there was enough good here to merit a "B-".
A few ads open the DVD. We get clips for The International, Lakeview Terrace, and The Da Vinci Code. These also appear in the Previews area along with promos for Tears of the Sun, Vantage Point and 88 Minutes. No trailer for Striking Distance pops up here.
I've seen worse action movies than Striking Distance, but I've not watched many that are quite so anonymous and forgettable. Nothing particularly entertaining or engaging occurs in this bland, generic enterprise. The Blu-ray follows suit, as it offers mediocre visuals, decent but erratic audio, and no real extras. Skip this clunker and rewatch Die Hard instead.
| | |
| --- | --- |
| Viewer Film Ratings: 2 Stars | Number of Votes: 8 |