FOX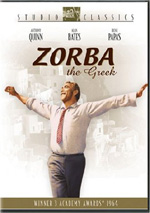 MOVIE INFO
Director:
Michael Cacoyannis
Cast:
Anthony Quinn, Alan Bates, Irene Papas, Lila Kedrova, Sotiris Moustakas, Anna Kyriakou, Eleni Anousaki, Yorgo Voyagis
Writing Credits:
Michael Cacoyannis, Nikos Kazantzakis (novel)
Synopsis:
The 1964 winner of Academy Awards® for Best Cinematography, Supporting Actress (Lila Kedrova) and Art Direction/Set Decoration, Zorba The Greek was also nominated for Best Picture, Actor (Anthony Quinn), Director, and Writing.
When he hires an eccentric stranger named Zorba to work in a mine he has inherited on Crete, Basil, a timid English writer (Alan Bates), finds himself drawn into a world far more exciting and dangerous than any he has known.
Zorba courts too many women, endures perils in the mine that scare off the other workers, and defies a group of men seeking vengeance on a young widow who has rejected their advances. Eventually, Zorba's undying exuberance forces Basil to undergo a transformation into becoming a more active participant in his own life.
Brimming with "inspired acting, perfect direction, artful photography" (Cleveland Press) Zorba The Greek is arguable one of the most passionate studies of human nature ever put to film.
MPAA:
Rated NR


DVD DETAILS
Presentation:
Widescreen 1.85:1/16x9
Audio:
English Stereo
English Monaural
Spanish Monaural
French Monaural
Subtitles:
English
Spanish
Closed-captioned

Runtime: 142 min.
Price: $14.98
Release Date: 8/3/2004

Bonus:
• Audio Commentary with Director Michael Cacoyannis and hsdak Demetrios Liappas
• A&E Biography "Anthony Quinn: A Lust for Life"
• Movietone News Footage
• Trailers
• Still Gallery




PURCHASE @ AMAZON.COM

EQUIPMENT
Sony 36" WEGA KV-36FS12 Monitor; Sony DA333ES Processor/Receiver; Panasonic CV-50 DVD Player using component outputs; Michael Green Revolution Cinema 6i Speakers (all five); Sony SA-WM40 Subwoofer.


[an error occurred while processing this directive]
---
Zorba The Greek: Fox Studio Classics (1964)
---
Reviewed by Colin Jacobson (August 4, 2004)

Despite roles in classic films like Lawrence of Arabia and The Ox-Bow Incident, Zorba the Greek went down as Anthony Quinn's signature flick. At its start, we meet English writer Basil (Alan Bates) as he tries to go to Crete. A storm delays his ship.

As Basil waits, he encounters Alexis Zorba (Quinn), a Greek who asks Basil to take him along as a cook. Basil inherited property on Crete from his father, so he goes there to mine lignite on the grounds. He agrees to take jack of all trades Zorba with him to help with the mine.

When they get to village, they meet the locals and stay with French widow Madame Hortense (Lila Kedrova). A faded flower, she recounts past glories and Zorba romances her. We also meet a spirited young widow (Irene Papas) who's not treated well by the local men largely because they all lust after her but can't have her. Pavlo (George Voyadjis) has the worst case of the hots for her, and his father Mavrondoni (George Foundas) seems unhappy about that. Though all the men want her, Zorba thinks Basil is the only one who can get her. Basil resists but Zorba pushes him to go after her.

As the film progresses, Zorba and the others start to work the mine while he continues his minor romance of Hortense. Slowly we see Basil start to approach the widow, but it takes a long time. When their relationship eventually does go somewhere, it causes negative repercussions in the village. The rest of the film views those issues plus others connected to Zorba and Basil.

Between Zorba and My Big Fat Greek Wedding, I'm starting to think that Greeks are the most obnoxious people on earth. Loud and overbearing characters abound in Zorba, but with little charm to leaven their annoying overtones.

Actually, Zorba features two kinds of Greeks. In Zorba himself, we find the larger-than-life sort who swallows down hunks of life in big gulps. He lives for today and seems generally hedonistic. Of course, we're supposed to adopt that spirit from him, as he exists mainly to inspire the bookish and conservative Basil to loosen up and dance, dance, dance!

On the other hand, we have the local villagers. Possibly the most horrible folks ever committed to film, they never emerge as anything more than bitter, cold personalities. They attack with little provocation and work via their narrow-minded viewpoints.

What does this all add up to in the end? A big stinking mess of a film with little discernible point, that's what. At first I thought Zorba would be one of those flicks in which the uptight white dude learns to loosen up and live life to its fullest. That would be the example Zorba sets for Basil, would it not? However, the movie doesn't exactly reward either man for his attempts to broaden his horizons, as unintended negative repercussions follow their actions.

I suppose this has a point, as we see how Zorba doesn't let heartache get to him. Early on he tells us about the death of his son and his reaction: dance, dance, dance! That's apparently the way Zorba deals with all form of tragedy: boogie! He also fails to present the ability to hold in a single emotion, and apparently the film wants us to feel that this is a good tendency. I guess we're all supposed to be hedonists who repress our grief and just party instead.

Nonsense. Granted, I appreciate the worldview that we shouldn't always remain uptight and distant, but Zorba takes this trend to an absurd extreme. Like Harold and Maude's female lead character, Zorba does what he wants without much thought for the consequences. Actually, I suppose that's not totally true, as he shows sporadic concern for Hortense; he tries hard to keep her from heartache. Nonetheless, he usually comes across as irresponsible and incompetent.

Perhaps this wouldn't be as problematic if the movie actually went anywhere. Unfortunately, it presents dull characters and bland situations. Not much happens in the film, as it meanders through the main plot lines with little to interest the viewer. Instead, it plods along from one tragedy to another and forgets the issues quickly.

Ultimately, Zorba the Greek doesn't offer much. The acting seems competent, but the thin characters fail to engage, and some of them - notably the local villagers - appear actively unlikable. The movie plods along and goes nowhere.
---
The DVD Grades: Picture B+/Audio C-/Bonus B
---
Zorba the Greek appears in an aspect ratio of approximately 1.85:1 on this double-sided DVD-14; the image has been enhanced for 16X9 televisions. This wasn't an exceptional transfer, but it replicated the source material well.
Sharpness appeared solid. Some wider shots displayed a smidgen of softness, but those examples seemed very minor. The majority of the flick came across as nicely detailed and distinctive. I noticed no issues connected to jagged edges or moiré effects, but light edge enhancement appeared periodically throughout the film.
Blacks looked nicely deep and firm, and contrast seemed good. The low-light shots demonstrated solid clarity and definition, with no issues connected to excessive opacity except for some awfully dark day-for-night shots. Mild print flaws cropped up sporadically through the film, but they remained modest for a 40-year-old flick. I noticed occasional examples of specks, grit and spots, but overall the image was reasonably clean. The movie looked quite good.
As with many prior Fox Studio Classics releases, Zorba the Greek included a remixed stereo soundtrack. As with many prior Fox Studio Classics releases, Zorba featured a messy stereo soundtrack. The soundfield of the stereo mix displayed very little sense of spatial accuracy. Instead, the audio elements came from a vague place that simply spread the material broadly across the various speakers. This meant the speech came from the sides in an odd way that appeared loose and distracting. It appeared that nothing specific emanated from various locations; instead, speech, effects and music just created an auditory mush that seemed unrealistic.
Audio quality for the stereo mix didn't seem terribly good either. The track suffered from an excessive sense of reverb that made everything loose and boomy. At times the package sounded like it was recorded in a tunnel, while other parts seemed to have been taped in a closet. The problems lessened in quieter scenes, but when things became more complicated - such as during the opening storm sequence - the results were ugly.
Happily, the included monaural soundtrack seemed much more satisfying. Though the mix showed its age, it appeared quite clear and pleasing. Speech was more natural and distinct, and the audio lacked that sense of echo and coldness that tainted the stereo version. At times the mix seemed a little harsh, but overall I found the mono track to seem fine for its age. It's definitely the only acceptable option for Zorba, and I'd give it a "B-".
When we look at the DVD's extras, we open with an audio commentary from director Michael Cacoyannis and historian Demetrios Liappas. Both were recorded separately for this edited program. Though not without some lulls, the commentary mostly succeeds. Cacoyannis discusses bringing the novel to the screen, casting and a few difficulties in that department, other areas of his career, and comparisons with the novel. Liappas mostly chats about the life and career of author Nikos Kazantzakis, though he broadens into general Greek history for the era in which the film takes place as well and a few other elements of that sort. The two sides mesh well and present an informative and useful commentary.
The other supplements show up on Side Two of the DVD. We begin with an episode of A&E's Biography entitled Anthony Quinn: A Lust for Life. It runs 44 minutes, 13 seconds and presents the usual assortment of movie clips, archival materials and interviews. We hear from biographer Daniel Paisner, daughter Christina Quinn, director Edward Dmytryk, actors Anthony Franciosa and Jacqueline Bisset, photographer Sam Shaw, and producer Dino DeLaurentiis. The program covers Quinn's family and his early life, his path to acting and initial efforts, his marriage and beginning career, his growing success and personal concerns, various roles and his interest in European cinema, his work as an older actor and later life. Many of these Biography shows concentrate heavily on personal scandals, and "Lust" includes some of that, particularly when the married Quinn fathers a child with another woman. However, it focuses more strongly than most on his career, which makes it more useful than expected.
Next we find an alternate intro. It goes four minutes, six seconds, and it presents a fantasy of Zorba's concept of God. (Not surprisingly, He looks a lot like Zorba.) It's very odd.
In the Movietone News area, we get two clips: "On Location" (76 seconds) and "Premiere" (five minutes, 12 seconds). Neither includes sound, which limits their usefulness. Still, they're interesting as historical curiosities.
The Behind the Scenes Still Gallery presents 14 photos from the set. We also get a slew of ads. The disc includes the teaser and theatrical trailers for Zorba as well as a TV spot and promos for other Studio Classics. That domain contains ads for An Affair to Remember, The Grapes of Wrath, All About Eve, The Day the Earth Stood Still and 300 Spartans.
Zorba the Greek went down as Anthony Quinn's best-known flick, but it certainly wasn't his best. Actually, the movie seems silly and pointless, without much to maintain interest. The DVD features very good picture quality and a nice collection of extras. As for the audio, the stereo remix seems weak, but the original monaural track is more satisfying. As a DVD, Zorba fares well, but the movie itself isn't good.
| | |
| --- | --- |
| Viewer Film Ratings: 4.3333 Stars | Number of Votes: 27 |