Picture/Sound/Extras: A/A-/A-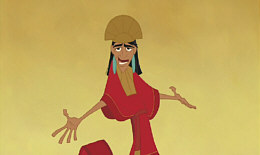 If we examine the box office performance of Disney's two animated films from 2000, we see a study in contrasts. First up was May's Dinosaur, and it took in a lot of cash; after an opening weekend gross of $38 million, it went on to nab $137 million in the US. That's not an unbelievable take, but it's a solid payday.
On the other hand, when The Emperor's New Groove hit screens in December, it was greeted by a sad $9 million opening weekend, and it ultimately grabbed $88 million when it's run was done. That's almost 50 percent less than the gross of Dinosaur, so why does TENG feel like the much bigger hit of the two?
Expectations, baby! Disney prepped Dinosaur as one of the big flicks of the summer, and though it obviously took in quite a lot of money, it dropped rapidly after that initial opening weekend. The film enjoyed little positive buzz as the general consensus felt it was visually stunning but fairly lackluster and formulaic.
A different mindset greeted TENG. Apparently Disney didn't see it as their holiday hit, as they spent most of their time and money hyping November's live-action 102 Dalmatians. Bad move: 102 D pretty much stiffed at the box office; its gross of only $67 million was fairly pathetic considering the studio's expectations. TENG crept into theaters with little fanfare, and when one views that lousy opening weekend take of $9, it looked like the movie would slink out of town quickly. However, TENG enjoyed excellent word of mouth, and its revenues steadily increased as time passed. While the final gross of $88 million meant that TENG took in less money than any Disney animated film since 1990's The Rescuers Down Under, the numbers don't tell the whole story.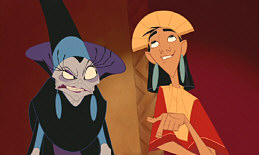 TENG overcame a lack of publicity and weak opening figures to do reasonably well. As such, I consider the film to qualify as a hit. It probably doesn't hurt that I really liked the movie. I'm fond of most of Disney's recent animated flicks, and I have difficulty rating them. Nonetheless, TENG definitely stands among the cream of the crop from the last decade.
TENG tells the story of Emperor Kuzco (voiced by David Spade), a spoiled brat who rules his land via his impulsive whims. This means that he tramples over the desires of folks like Pacha (John Goodman), a kind peasant whose village Kuzco will trample to build "Kuzco-topia", his new vacation resort. Yzma (Eartha Kitt) assists Kuzco; she's a sorceress who he fires due to her repeated attempts to usurp power from the emperor. With the help of her hunky but dense good Kronk (Patrick Warburton), Yzma tries to poison Kuzco but instead turns him into a llama. When Kronk fails to be ruthless enough to follow Yzma's commands and kill Kuzco, the llamafied emperor ends up in the back of Pacha's cart and accompanies him to the peasant's village.
From there we go through a somewhat standard buddy tale in which the two guys are initially at odds - mainly due to Kuzco's selfishness - but they eventually learn to work together so they can both succeed. Actually, that description puts too much blame on Pacha; he's always willing to do the right thing. Kuzco has to take the steps to learn trust and friendship before he can return to defeat Yzma and regain his old human form.
Based on that plot synopsis, TENG doesn't sound to be much different than many other Disney flicks. Selfish character learns to be more giving and ultimately becomes happier; it's the usual happy fare we've seen time and again. However, though the message may be familiar, the execution sure isn't, as TENG provides a much wilder and wackier affair than we normally find from Disney.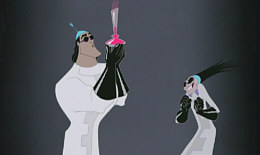 Truthfully, TENG usually has more in common with the old Looney Tunes shorts than it does the standard Disney fare. The flick offers none of the usual songs, and we get no romantic elements either; though Pacha is married to ChiCha (Wendie Malick) with two kids and another on the way, they're simply depicted as a happy family, and Kuzco never encounters any possible love affairs along the way. Wackiness is the main emphasis, though of course some nice Disney heart comes along with the package; as nutty as the characters may be, they retain enough charm so that we care about them and hope for their success.
Well, most of the characters, that is; I can't say that we want Yzma to have a happy life. Still, TENG isn't the kind of dark flick in which we find a villain whose demise we crave. Unlike something such as Snow White and the Seven Dwarfs or Sleeping Beauty, TENG goes with a comic approach. As such, Yzma more strongly resembles someone like Hook in Peter Pan or Cruella in 101 Dalmatians; we root against her but we still enjoy her presence and find her fun to watch.
This factor is aided by a solid vocal performance by Kitt who makes Yzma cartoonishly nasty but exciting and catty. Actually, all of the voice talent was excellent in TENG. Spade offers the usual level of insolence and smarminess as Kuzco, but he still lets him become sympathetic and human when necessary, while Goodman grounds the piece as salt-of-the-earth Pacha. Warburton nearly steals the show with goony and delightful work as simple but earnest Kronk.
TENG offers edgier fare than the usual Disney piece. The DVD's box touts its similarities with 1992's Aladdin, the huge hit generally regarded as the studio's wackiest flick to date. However, that's not really true. Aladdin's humor came almost totally from the presence of Robin Williams; beyond his antics, it was still a pretty straightforward affair, though one that was very well made and delightful.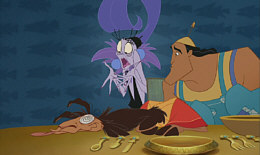 While TENG benefits from its actors, it doesn't rely so strongly on any one of them; it's more of an ensemble, whereas Aladdin succeeded mostly due to the talents of one performer. In truth, TENG is probably more closely connected to Toy Story and Toy Story 2. Those are buddy flicks that work on the connection between a variety of characters, and they showed similar forms of edgier humor. Disney films aren't known for their wild gags, which means that when we do find efforts with wackier comedic sides, they stand out, and TENG fits in well with some of the nuttier aspects of the Toy Story films.
I don't think The Emperor's New Groove quite approaches the heights of those two terrific flicks, but it's definitely a solid effort. The movie goes for a fairly raucous comedic approach and provides a terrific amount of wild and entertaining humor throughout its 77 minutes. It's a well-executed and delightful film that I thoroughly enjoyed.
The DVD:
The Emperor's New Groove appears in an aspect ratio of approximately 1.66:1 on this single-sided, dual-layered DVD; the image has been enhanced for 16X9 televisions. At this point, a review of a Disney animated DVD feels like déjŕ vu; they maintain such a consistent standard of excellence for these films that my opinions seem redundant. TENG easily lived up to their high standards as it provided yet another exquisite visual experience.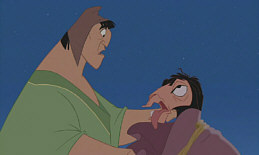 Sharpness appeared absolutely immaculate at all times. I never witnessed any hints of softness or haziness as the movie always seemed wonderfully crisp and detailed. No jagged edges or moiré effects appeared, and print flaws were absent as well; the film seemed gloriously clean and fresh.
TENG featured a wild and vibrant spectrum of colors, and the DVD reproduced them wonderfully well. Not many films offer this much variation in hues, but you'll see a wide array of purples, reds, blues, greens, yellows, and pretty much everything else here. The colors always were solid and lacked any signs of noise, bleeding or other concerns. Black levels were deep and rich while shadow detail seemed appropriately dark but never excessively heavy. Ultimately, the DVD presented an exceedingly-satisfying picture that fit in well with Disney's other works.
The soundtracks of The Emperor's New Groove were also solid, though they didn't quite match up to the highs of the picture. As with many recent Disney DVDs, TENG offered both Dolby Digital 5.1 and DTS 5.1 soundtracks. To my ears, I could detect no differences between the two mixes; they seemed identical.
Although the track occasionally showed some surround usage, for the most part the audio stuck strongly to the forward spectrum. Across the front channels, the sound presented a nicely broad array due to a combination of stereo music and some strong ambient sounds. Effects weren't quite as wild as I might have expected from this kind of frenetic film, but they seemed compelling and acceptably active throughout the movie; sounds popped up in the correct places and they panned well across speakers. Surrounds were also somewhat less active than I might have thought they'd be, but the rears added a nice kick to the mix and made it a fun and appropriately frantic affair.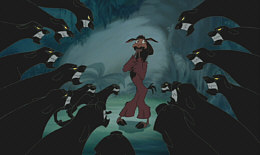 Audio quality appeared excellent. Dialogue always seemed crisp and natural with no signs of edginess or problems related to intelligibility. Effects were quite clean and realistic, and when appropriate, they showed some solid dynamics. Music could have provided a little more depth to its low end, but the score largely sounded clear and bright with acceptably appropriate bass. Although the soundtrack lacked a great deal of ambition, it still provided a good auditory complement to the wild visuals.
In this two-DVD set of The Emperor's New Groove, we find a slew of extras, most of which appear on the second disc. However, DVD One also tosses in some goodies, starting with an audio commentary. We hear from producer Randy Fullmer, director Mark Dindal, art director Colin Stimpson, character designer Joseph C. Moshier, head of story Stephen Anderson, Kuzco supervising animator Nik Ranieri, and Pacha supervising animator Bruce W. Smith. For the most part, we hear from Fullmer and Dindal, both of whom were recorded together. At times, some snippets from what appears to have been a session with all of the men pop up in this edited piece. It's an odd system, but it melds together well for this compelling track.
Many animation commentaries tend to be dry and slow, but that's not a problem here. Quite a few topics that related to the making of TENG cropped up here, and we get a nice look at the process. Some remarks about the technical aspects appear, but we also learn a lot about the creative side of the equation. It's those elements that often fail to appear in animation commentaries, so I really appreciated them here, and I enjoyed the discussions of pacing and tone that were vital to the film. Ultimately, I thought this was a very good commentary that added to my enjoyment of the movie.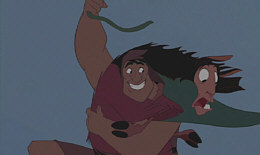 A few other extras crop up on DVD One. The Emperor's Got Game is a quick puzzler notable mainly because it uses the voice talents of Eartha Kitt and Patrick Warburton. They reprise their film roles as Yzma and Kronk for this contest. Two mini-games appear. In the first, you need to correctly answer five trivia questions about the game, whereas during the second, you have to "pour" three vials of potion in the right sequence. It's a short contest that has little replay value - the questions and answers are identical with each attempt - but it's worth a look just because it's fun to hear more from Kitt and Warburton.
Sneak Peeks gives us the usual complement of ads for other Disney flicks. There are previews for the upcoming theatrical runs of Atlantis: The Lost Empire and Monsters Inc. plus trailers for The Hunchback of Notre Dame II, Snow White and the Seven Dwarfs and 102 Dalmatians.
There's also a music video from Rascal Flatts for "Walk the Llama Llama". During this 90-second piece, we watch the band lip-synch the song and also see some kids dance and film clips. At the bottom of the screen some dork demonstrates the dance for us. (I'm not trying to be cruel: this dude defines the word "dork".) It's a pretty fluffy little piece.
The final components of DVD One feature DVD-ROM materials, most of which send you online. "Register" sends you to the Disney Video and DVD website where you can check out other titles and enter any available sweepstakes. The "Exclusive Online Content" link moves you to this page where you can check out two QuickTime video clips. The "Making of 'The Emperor's Got Game'" gives us 65 seconds worth of Warburton and Kitt as the record their lines, while "What Is Funny?" provides a two minute and 20 second discussion of humorous elements of the film. The former is too short but worth a look, but the latter was essentially a waste of time.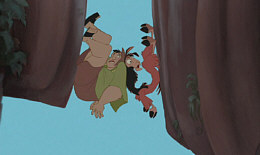 At the official TENG site you can learn some basics about the movie and its stars and also work through a number of activities; you can send electronic postcards, download some screensavers, and print out a llama mask, coloring pages or mazes. Clearly the site's mainly oriented toward the little ones, but it's a fun endeavor nonetheless.
The remaining DVD-ROM extras require you to install them separately. The "Emperor's Groove Center" demo didn't work well on my machine; the sound skipped and was scratchy. What I saw wasn't worth the effort anyway, at least for me; it looked like stuff that might be fun for little ones, though the performance of the "Center" was problematic enough that I didn't spend much time with it. You know, with a PIII 933 machine that has 320 MB of RAM, a GeForce 2 MX 32MB video card and a SoundBlaster Live! sound card, I really shouldn't run into these kinds of problems with a piddly "Activity Center".
Another demo arrives for the "Emperor's Action Game". This looked like your standard "Mario"-esque "gather the coins, jump on things" effort. It wasn't much fun, and it doesn't look like a very promising project.
Interestingly, this packaged tossed in a separate CD-ROM activity that advertises the upcoming theatrical release of Atlantis. "Search for the Journal" provides a first-person experience in which one, well, searches for a journal. I gave the game a quick spin but I'll admit I didn't go far; that kind of first-person format can make me a bit queasy, and "Search" definitely started to inspire such feelings. In any case, it's a neat little addition to the package.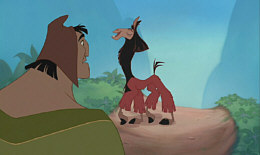 As we move on to DVD Two, we find a variety of options. The disc starts with a two-minute and 10-second introduction from director Dindal and producer Fuller; we'll see much more from them throughout this platter. Never let it be said that the folks at Disney don't listen to criticism, as TENG demonstrates some changes to the usual presentation of supplements. Many of these deluxe animation packages offered short featurettes that discussed the various subjects; while the information found during these pieces was good, the format could become irritating and many longed for longer, traditional documentaries.
While TENG still provides the usual featurettes, it allows for a few different forms of viewing. Primary among these is the "Studio Groove", a program that for 24 minutes and 45 seconds. It takes us through the animation process, from a project's genesis through the story department to layout, animation, color and sound. As with most of the DVD, these pieces are hosted by Dindal and Fuller, who seem to have taken the antics of the Pixar crew on the Toy Story Ultimate Toy Box as their inspiration. Unfortunately, their attempted wackiness isn't nearly as funny as what John Lasseter and the others showed in their package, but Dindal looks a lot like David Hyde Pierce, which has to count for something.
In any case, the "Studio Groove" provides a nicely compact and convenient way to watch the different segments. Another sequence offers the same treatment for some split-screen material. If you select the "Animation Groove", you'll find a sequence of comparison shots. After a 10-second introduction from Dindal and Fuller, we get a segment in which story reels (filmed storyboards with audio placed on top of it to show an extremely rough version of the movie) appear in the top half of the screen and background paintings on the bottom.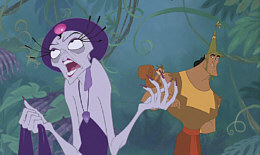 Next up we get the backgrounds from the prior segment at the top of the screen, while rough pencil animation fills the bottom. After that, the comparison puts the rough drawings at the top with cleaned-up animation in the bottom half. Following this piece, the clean-up shots head to the top while final colored animation goes to the lower part of the screen. All in all, this area lasts for five and a half minutes and gives us a decent look at the different stages of animation.
Once we've gotten through both "grooves", it's onto the meat of the package and a more traditional presentation. The DVD progresses through a variety of topics, and we start with Development. In that area, "The Process" simply takes the first chapter of the "Studio Groove" and presents it on its own; it lasts for three minutes and 15 seconds. After that, "The Research Trip" shows a trek taken by the animators to Machu Pichu. In this 85-second program, we watch some aspects of this mission; it was a short but enjoyable look at the study done for the movie.
"Story Treatment" shows the text synopsis of the tale provided to get the project off the ground, while "Visual Development Gallery" includes 33 screens of thumbnails. Via 268 enlargeable images, we find lots of art created to inspire the movie's locations, sets, props and other characteristics; it's a thorough and enjoyable look at these elements.
Development finishes with "Kingdom of the Sun". After a 12-second intro from Fuller and Dindal, we get 22 images of concept art done for the early version of TENG. This was easily the most disappointing aspect of the DVD, for reasons that I'll explain during my summary toward the end of the review.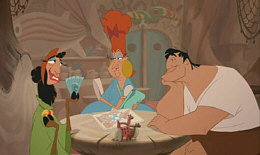 The next section is called Story and Editorial. There we get the second segment of the "Studio Groove"; again titled "The Process", this one runs for five minutes and 20 seconds. "The Pitch" begins with another short intro from Dindal and Fuller before we find three different "story pitch" segments. The first two show animators as they present storyboards and their ideas to others; each of those lasts about 105 seconds. The third runs for two minutes and 35 seconds and it shows the final story reel for the film's opening segment. I liked the look at the ways in which the movie's start changed, and these were a nice addition to the package.
"Putting It Up On Reels" gives us a two minute and 55 second overview of the story reel process and other elements of that part of the production. Frankly, this piece should have popped up in the menu prior to "The Pitch", but it's still a decent segment, especially since we get a few shots of the actors as they record their work.
Lastly, "Deleted and Unused Scenes" provides three different parts that failed to make the final film. All of them start with the usual introductions. Two of these appear in story reel form; "Pacha's Family" was a substantial piece that lasted seven minutes and five seconds, while "Original Kuzcotopia Ending" is a shorter and less significant clip that runs for three minutes and 25 seconds. "Destruction of Pacha's Village" actually made it to full animation and almost was fully finished before the segment was taken from the film; the part we see goes for two minutes and 15 seconds. "Pacha's Family" is easily the most interesting of the bunch, but all three are fun to see.
Now we move on to the Layouts and Backgrounds area. This begins with "The Layout and Background Departments", a three minute and 50 second video that takes the third part of the "Studio Groove". After that, "Inside Scene Planning" looks at a few different subtopics. "Scene Planning" gives us a three minute and 35 second snippet that showcases the CAPS process and describes what the scene planning department does; it's an illuminating view of their work.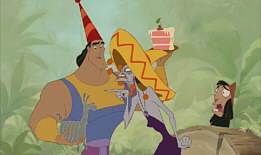 "Storyboard to Background Comparison" takes the first segment of the "Animation Groove" for that 82-second piece, while "Workbook Gallery" adds a 20-second introduction from Dindal and 32 images of boards from the poisoning scene.
Back to the main area of this section, "Layouts" gives us a 17-second introduction from Fuller and Dindal and then offers a gallery with 61 thumbnailed images. "Backgrounds" follows the same format. After a 15-second intro from the guys, we get the "Color Key Gallery" (143 pictures) and the "Background Gallery" (117 stills). All of these are nice elements to inspect.
Once we complete Layouts and Backgrounds we can move to Animation. "The Animation Process" shows part four of the "Studio Groove" in a four minute and 35 second clip. "CGI Props" offers a two minute and 20 second video in which 3D effects technical director Ian J. Coony demonstrates the process used to create computer-animated secondary elements; it's a short but solid overview of those techniques.
"Character Animation" includes a variety of subsections. "Character Voices" shows a five minute and 10 second video in which the primary actors and their main animators talk about their work on the film. We also get to see some of the performers in action, so this was a fun piece.
"Background to Rough Animation Comparison" grabs the second section of the "Animation Groove"; including an introduction, it runs for 85 seconds. Lastly, "Character Design" gives us a slew of materials that relate to the movie's personalities. "Kuzco" starts with five and a half minutes of rough pencil "Animation Tests" and then includes 39 still frames of "Character Design" drawings.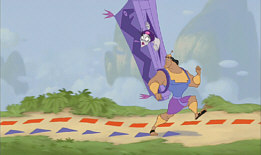 "Pacha" begins with 83 seconds worth of "Rough Animation" before we go to the 22-image "CD" gallery, while "Yzma" includes 2 minutes and 15 seconds of "Rough Animation" and 27 "CD" images. Kronk's "Rough Animation" only goes for 40 seconds, and the gallery tosses in 24 pictures.
The final two areas of "Character Design" include only thumbnailed galleries. "Pacha's Family" contributes 12 drawings, while "Miscellaneous Characters" offers 108 stills. As usual, these pieces provided a nice way to check out the evolution of the characters and were entertaining to examine.
Back to the main menu of the Animation area, "Production Progression" allows you to get some use out of the "angle" button on your remote. Through this piece, you can check out the poisoning scene through the storyboard, rough animation, clean-up animation, and final stages. After a 30-second introduction from Fuller and Dindal, this 70-second piece is essentially an alternate way to watch the material found in the "Animation Groove". While I like the interactive format, this would have been more useful if it'd featured material not found in another part of the DVD.
Speaking of the "Animation Groove", the third part of that program appears as "Rough Animation to Clean-up Animation Comparison"; including Dindal's intro, this snippet lasts about 80 seconds. Lastly, the "Character Model Sheets" provide closer looks at all of the design tablets used to maintain continuity for the various characters; all in all, we get 71 images in this thumbnailed gallery.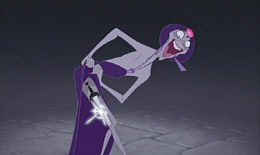 With Animation behind us, we move on Putting It All Together. "Ink and Paint Compositing" takes the fifth section of the "Studio Groove" for a two minute and 27 second segment. "Clean-Up Animation to Ink and Paint Comparison" then grabs the fourth part of the "Animation Groove"; it runs for 84 seconds including an introduction. Finally, after a 12-second intro from Dindal, the "Color Models" area provides an extremely modest gallery; there are only five images, each of which shows a main character (Kuzco, Kuzco Llama, Pacha, Yzma, and Kronk).
Music and Sound begins with "Music and Sound Effects", the sixth segment from the "Studio Groove"; it lasts for five minutes and 18 seconds. The music video for Sting's "My Funny Friend and Me" offers an unusual piece. It combines film clips, shots of Der Stingle as he records the tune, and interview bits into a two-minute and 50-second video. It ain't much, but it's worth a look.
Finally, the "Mixing Demo" duplicates a program found on some other Disney Collector's Editions. This piece allows you to watch the bridge-crossing scene with different combinations of sound. You can add or drop dialogue, music and effects to check out the segment with any mix of those elements. It's a moderately fun experience, though it'd work best if you haven't run through the similar segments on the other discs.
Almost home - the Publicity domain completes the DVD. Fuller and Dindal give us their final introduction; this one runs for 55 seconds. We then find two theatrical trailers for TENG and three TV spots. "Posters and Ad Campaigns" tosses in another stillframe gallery with 24 different examples of these promotional efforts.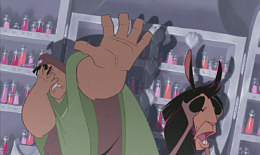 More may exist, but I was only able to locate one "Easter Egg". If you click to the right on Disc Two's main menu, you can check out the DVD credits. That finishes a nice little package of extras that highlighted a terrific flick.
While TENG earned a still-solid "A-" rating for its supplements, this was the lowest grade I've yet given to one of Disney's multi-disc animation packages. A few - A Bug's Life, the "Ultimate Toy Box", and the Fantasia Anthology - grabbed elusive "A+" marks, while others - such as Dinosaur and Tarzan were able to each grab an "A". On the surface, the extras for TENG seem to be comparable to at least those last two, so why the lower grade?
One word: perspective. Though the supplements for TENG give us a good look at many of the nuts and bolts components of the film's creation, we discover little about the project's genesis. Normally these packages give us a good idea of how they evolved from the germ of an idea; check out Toy Story to find a detailed look at the tale from the very beginning.
That never happens during TENG, and this is for one strong reason: it's potentially embarrassing for Disney. Remember back when I stated that the "Kingdom of the Sun" section of the DVD was its most disappointing? That's because we learn virtually nothing about the subject. Here's what I understand: KOTS was the original version of TENG, and it was to be a more dramatic flick. It was to feature a "Prince and the Pauper" type tale that bore some similarities to TENG but not a ton. A few elements of KOTS survived to make it into TENG - such as the South American setting, cast members Spade and Kitt and the llama transformation - but the two projects otherwise were quite different.
Why did KOTS fail to make it to the screen? Apparently because the film simply never gelled. As costs mounted, Disney brass didn't like the way it was going, so they threatened to pull the plug if the filmmakers couldn't reverse the negative trend. Overall, the production sounds like it was a total mess, and it's amazing that anything decent was salvaged; for the resulting movie to be this terrific is a total miracle.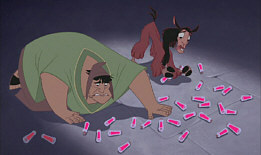 On one hand, I'd think that Disney might like to show this more problematic side of the filmmaking process. TENG went through a messy genesis but the final flick was still great - isn't that a positive message to send? I guess they worried that any negative aspects of the production would reflect poorly on them.
As such, we learn virtually nothing about the long, troubled production of KOTS. We get the general information about TENG but the DVD lacks the back story. On its own, the package provides a great deal of good material about TENG, so it warranted that "A-" grade. However, without the full story, I thought the set lacked the depth necessary to be a truly great release.
Nonetheless, I still am very pleased with the 2-DVD "Ultimate Groove" set of The Emperor's New Groove. The movie itself is a total joy to watch. It provides compelling characters, lively animation, and more laughs per minute than almost any other Disney animated flick. As for the DVD, it offers the usual exemplary picture with very good sound and a generally positive package of supplements. The lack of historical perspective means that the extras weren't as compelling as they could have been, but I still heartily recommend this excellent package.